Ladies and gentlemen, pasta lovers, may I present to you, the Egyptian version of baked pasta with bechamel. One of life's true pleasures, a comfort food that only pasta lovers will appreciate.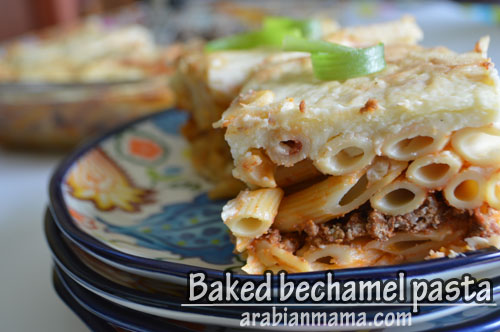 Layers of pasta and – a little tangy – ground beef stacked together then topped with thick, brown and bubbly bechamel sauce that is not runny but not dry too … what else can you look for?!!. This is a very common dish in Egyptian banquets specially in holidays.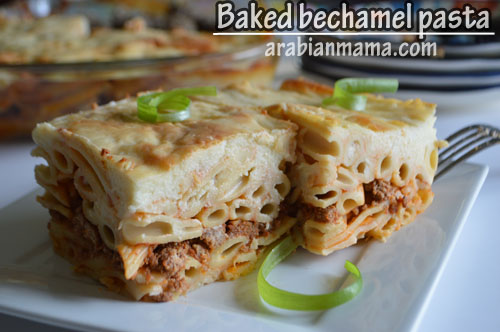 This is a one dish meal, all you need is some salads to go along but nothing more I promise. Be aware that this dish is really addictive and not for dieting people. You can make it healthier though, by using a whole wheat pasta and making the bechamel with whole wheat flour also substituting butter with olive oil. This pasta can easily serve a crowd and – aside from making the bechamel- just takes 10 minutes to assemble, kid friendly and filling. I hope you'll like it, Enjoy the rest of the week.
Here is a short video with the details, thanks for watching.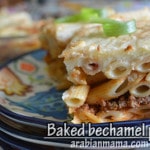 Baked bechamel pasta
Ingredients
1

package of pasta.

1

lb

ground beef.

4

Tablespoon

tomato paste.

5

cups

of liquids I usually use 3 milk + 2 broth.

milk/broth/ water

15

Tablespoon

flour.

1

2 cup of butter/oil or a combination.

1

medium onion

diced.

Salt and pepper to taste.

Optional: an egg.
Instructions
In a pan over medium heat, melt butter, add flour and stir for a couple of minutes.

Add the liquids gradually, one cup at a time stirring vigorously as the sauce will thicken.

When it is bubbly and thick, turn off the heat and let it cool down.

Meanwhile brown the beef by, sauteing the onion in oil then add the meat, season and let it cook until done. When it is done add 2 tablespoons of tomato paste and stir to combine.

Cook pasta according to package directions.

Add 2 Tablespoons of tomato paste to the pasta and about half a cup of the bechamel sauce and combine well.

In a 9x13 pyrex oven dish, spread about 1 cup of the bechamel sauce evenly top with half the pasta , then spread the meat mixture. Add the remaining half of the pasta and level.

Cracj an egg over the remaining bechamel sauce and combine well.

Pour the bechamel over the pasta and spread evenly.

Cook in a 350 pre heated oven for almost 45 minutes or until it is golden brown.

Let it cool down, slice and serve.

Enjoy