A delicious authentic Middle Eastern – Lebanese – salad, very easy and adaptive. An all time favorite along with tabbouleh. Absolutely outstanding with its salty, tangy and garlic-y dressing.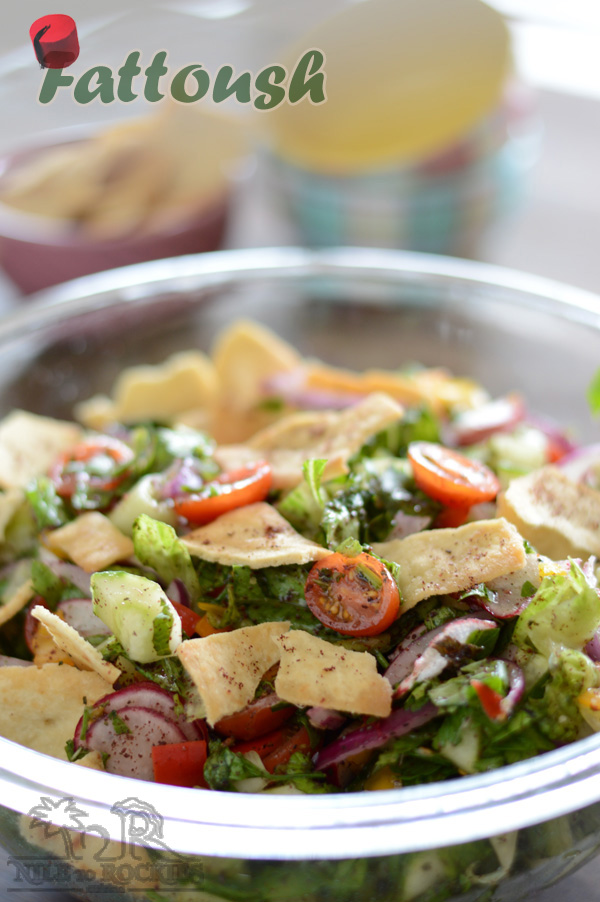 Fattoush is a Lebanese salad that had spread all over the Middle East or dare I say it is one of the Lebanese greatest culinary inventions that had spread all over the world. It has a lemony,minty and salty dressing that really makes you drool, So if you do not like tangy stuff try reducing the amount of lemon and sumac in this recipe.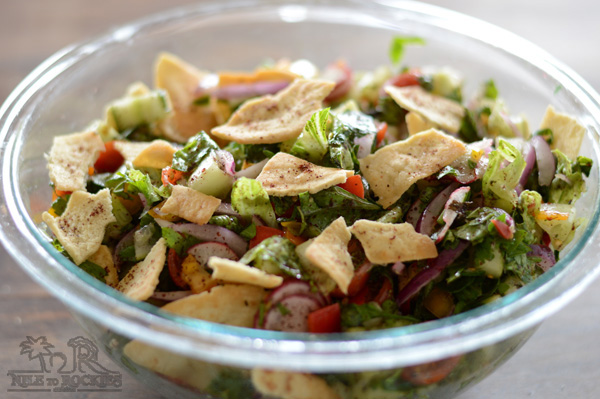 For the bread, I've used store bought pita chips, but I have to tell you this is not the best option. I did that for my own convenience, but when I have time I always like making my own. Deep frying the bread is your tastiest option but not healthiest, otherwise you can drizzle the pita with some olive oil and roast in the oven, not quite as tasty but healthier indeed.
Some people use spinach instead on lettuce or along with lettuce, some people do not even use lettuce. Others add crumbled feta cheese which I am sure adds a lot of taste to this great salad, but I did not add it as my kids do not like it. I've also noticed that many people add purslane, black olives, scallions,pomegranate molasses and many other things, so here is my take, put whatever you like as long as you are not keen about authenticity :). But I need to tell you that Sumac is a crucial ingredient, try to find it if you plan on making this recipe.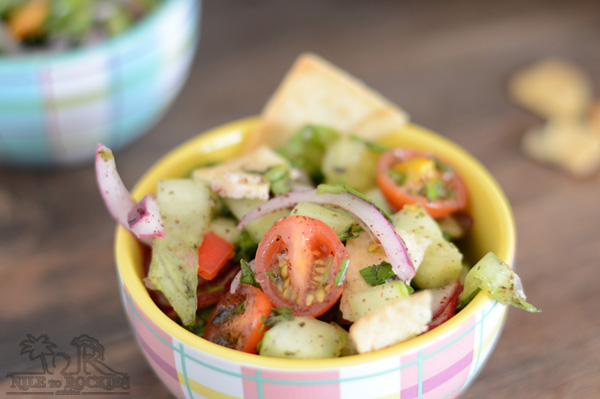 You can also make it a meal by adding some grilled chicken strips, it is so wonderful. I have to say that this salad is better made and served at once, as the bread will get soggy by time and you do not want that. Your best option is to mix veggies dress them up and wait – but not too long- then add the bread just before serving so everything will be crunchy and greens are not wilted. This makes a great lunch idea, you can pack it in a jar and add the pitas when it is lunch time, a yummy and easy lunch.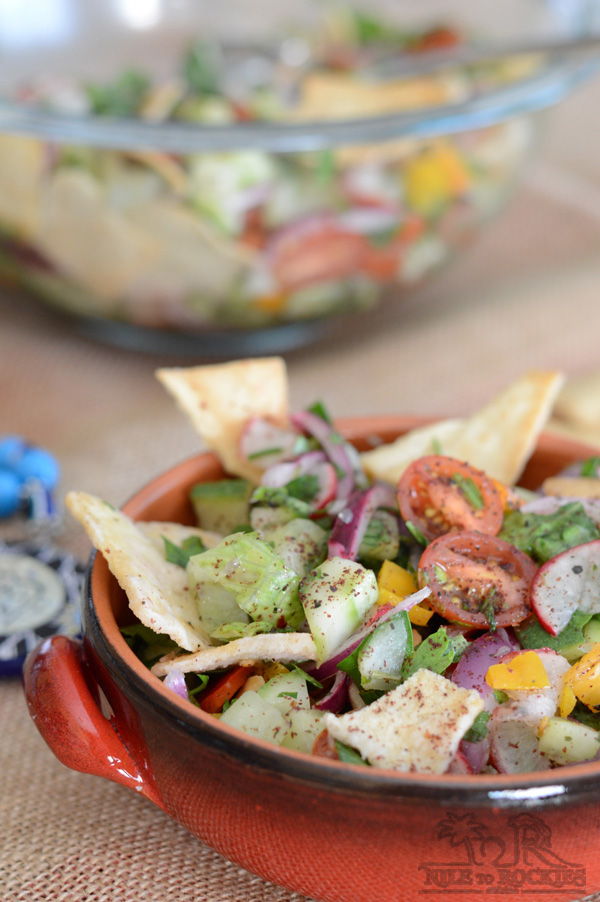 If you have never made a traditional Arabic salad, I highly recommend starting here. I hope you'll enjoy making and eating fattoush … until next recipe, Enjoy your weekend.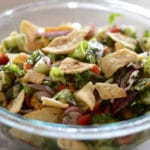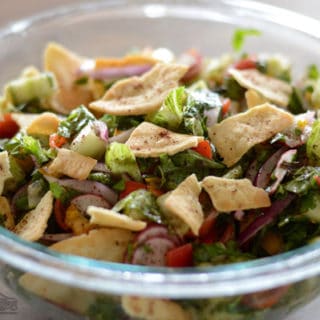 Fattoush
Ingredients
1/2

romaine lettuce head

chopped.

Half a pint of grape tomato

halved.

2

cups

of diced cucumber.

1/2

cup

of sliced red onion.

1/2

cup

bell pepper

diced.

1/2

cup

flat leaf parsley

chopped.

1/3

cup

sliced radish.

1/4

cup

fresh mint

chopped.
For the dressing
2

Tablespoon

olive oil.

1/4

cup

lime juice.

1

Tablespoon

of sumac

more for sprinkling on the top.

2

big garlic cloves

crushed..

1

teaspoon

dried mint.

salt to your taste

I've used 1 teaspoon.
For the pita chips
2

small pita breads

4 inch, torn into pieces.

2

Tablespoons

extra-virgin olive oil.
Instructions
Combine salad ingredients together in a deep bowl.

Place pita pieces in a medium bowl; pour oil over and toss to coat. Season pita to taste with salt. Roast in the oven until golden brown and crispy.

Combine dressing ingredients well together.

Pour the dressing over the salad and mix well together.

Right before serving, add the pita chips and mix well.

Add more pita pieces on top and sprinkle with sumac powder.

Enjoy!!
Need more authentic sides? See our collection here.
Meanwhile here are some of our favorite.