Crispy, pan fried tilapia are extremely flavorful, tasty and light. A family favorite, kid friendly quick recipe for those busy weeknight dinners.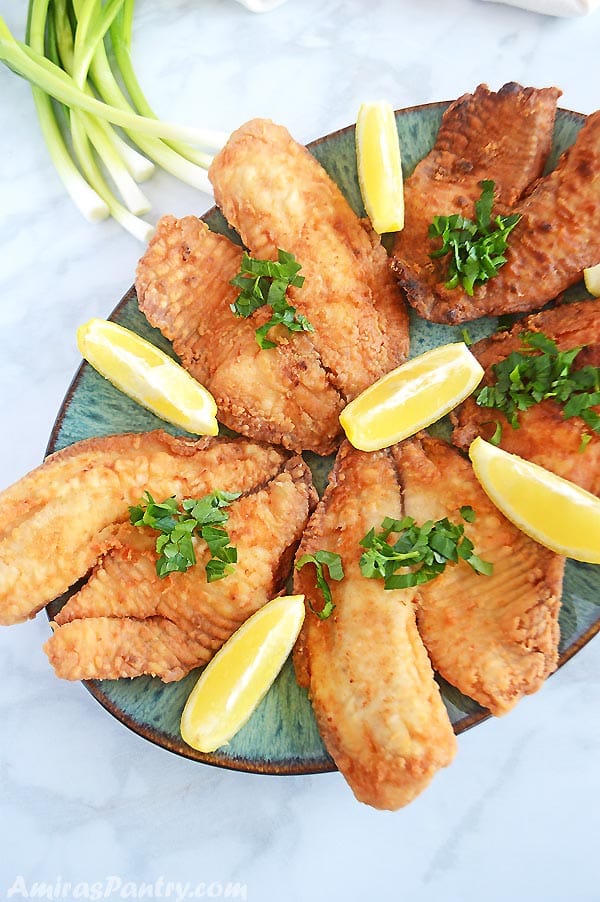 Tilapia fillets with crispy, salty skin and flaky flesh is a pleasure to have on your dinner table. With a side of rice or vegetables, dinner is ready in no time.
This tilapia recipe along with the simple baked salmon are two of our family favorite fish recipes.
Jump to:
❤️ Why You'll Love It
Very easy tilapia recipe qualifies to be called a "no recipe" kind of recipe.
Foolproof and a very forgiving recipe.
5 minutes of prep time and in less than 30 minutes dinner is ready.
Can be used for whole tilapia too.
This recipe is a kid friendly recipe which helps me feed my family more fish, so if eating more fish is one of your goals you are in the right place. I was brought up to this recipe and I've made it countless of times so pretty much tested for more than half a century.
📝 Recipe Ingredients
Tilapia fillets, you can also use whole tilapia in this recipe.
Garlic.
Salt and cumin for spices. Some people also use ground black pepper
Flour.
Lemon Juice.
Oil for frying.
🥄 Instructions
Note: This is an overview of the instructions. The full instructions are in the recipe card below.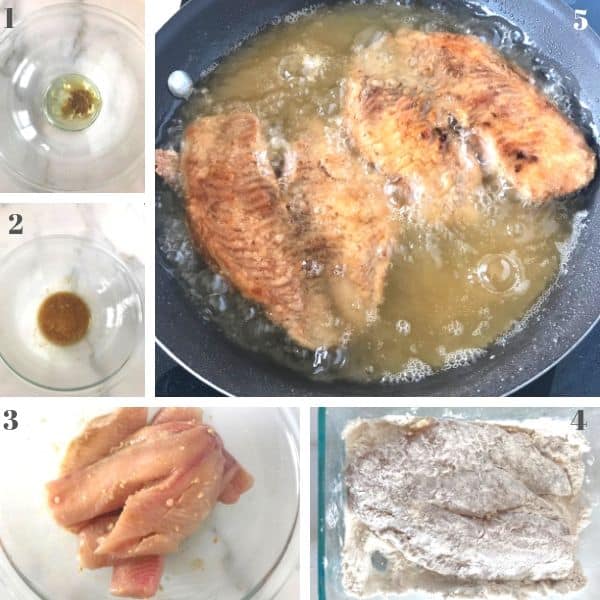 In a deep bowl, combine marinade ingredients, garlic, salt, cumin, lemon juice and oil.
Mix marinade well and taste to adjust to your taste.
Add tilapia fillets and coat well, cover and marinate for 30 minutes.
In a skillet over medium high, heat oil to cover half the fillet. Dredge fish on both sides with flour and shake excess flour off.
Pan fry each fillet on each side until it reaches the desired color, usually this takes about 6 minutes per side.
💡 Expert Tips
For a more kid friendly fried tilapia: my aunt make tilapia this way for her grandchildren. I've tried this recipe and it was well received by my kids. Anyways, she makes them exactly like fried chicken. meaning flour, eggs then bread crumbs.
For an oven baked tilapia, I skipped breading and brushed each side with light olive oil. Bake for 15 minutes turning once in between.
For pan seared fried tilapia, heat 2 Tablespoons of oil in a skillet and fry fish for 3-4 minutes each side on medium-low. Watch out as fish can burn easily.
For a low carb/ keto option, coat with almond flour generously. Heat two tablespoons of butter and fry on medium on both sides. Also watch out for the fish to burn. Do not skip dipping in eggs as this will cause the coat to fall off as you can see in the third photo below.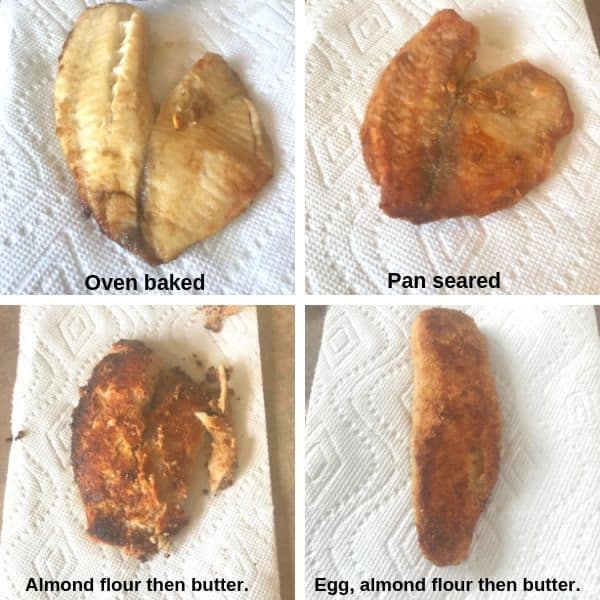 So which one to vote for? It depends greatly on your preference. My husband like the almond flour and the oven baked. For me I liked the almond flour and the pan seared more. So you see it is really a matter of personal preferences.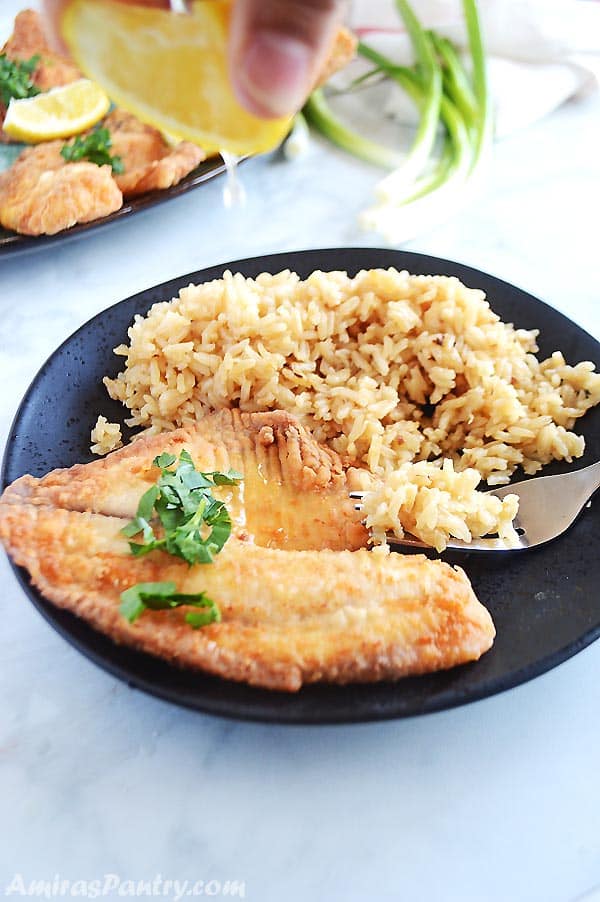 💬 Recipe FAQs
What goes good with fried tilapia?
It is common for me to serve tilapia fillets with browned rice, fries and big bowl of green salad. A simple salad of greens, cucumber, tomatoes and red onion is a must for my kids with this type of fish.
Is fried tilapia healthy?
Fish are considered one of the healthiest foods on earth. Tilapia is a lean source of protein and provides lots of vitamins, minerals and rich in B12. Source. Concerns have been raised about farmed tilapia in China. I sometimes, can get a hold of wild caught tilapia and almost always find farmed tilapia from trusted locations such as USA and Canada. So just to be safe consuming tilapia, it is better to avoid the brands farmed in China.
Can you fry fish in vegetable oil?
I like using neutral oils such as vegetable and canola when frying tilapia. If you prefer to use olive oil then go for the light olive oil and not extra virgin.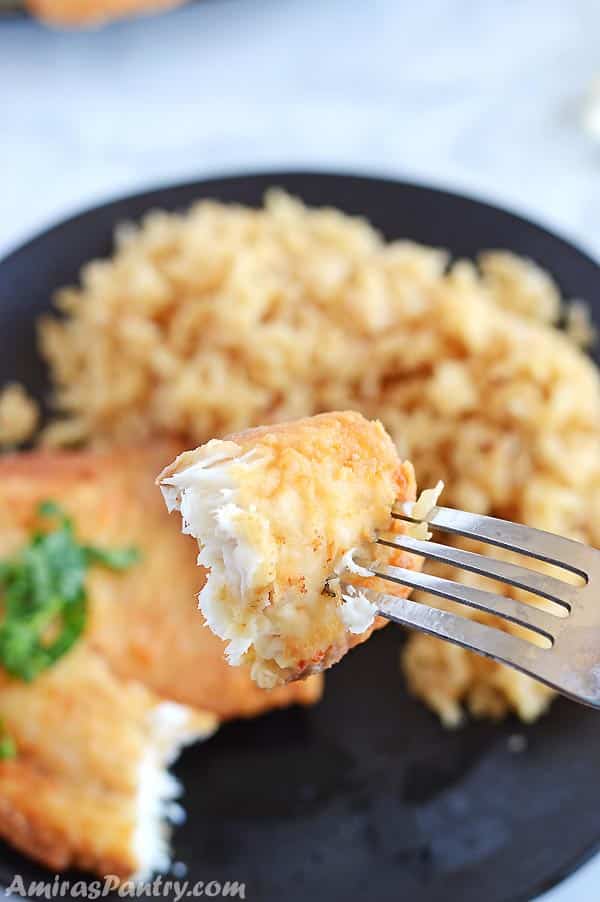 📣 More Recipes From the Blog
I hope you'll like this recipe and please if you make this recipe, snap a pic and hashtag it #amiraspantry — I love to see your creations on Instagram, Facebook, Twitter!
Don't want to miss a recipe? Sign up for the FREE Amira's Pantry newsletter delivered to your inbox with lots of tips and surprises! And stay in touch with me on Facebook, Twitter, Pinterest, and Instagram for all the latest updates.
If you like this recipe do not forget to give it a ⭐⭐⭐⭐⭐ star rating and attach a photo of your finished dish. It is always a pleasure of mine to see your photos and check your own take of the recipe. Thank you.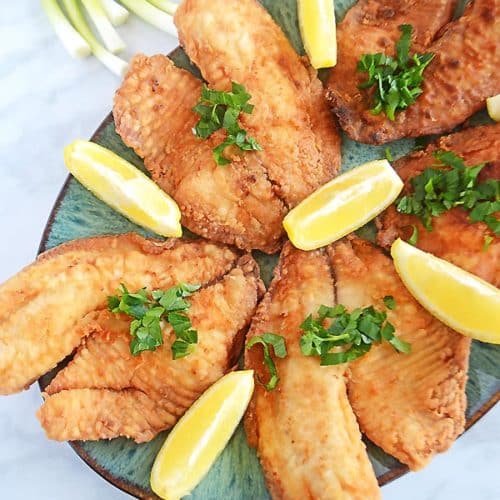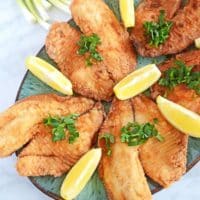 Pan Fried Tilapia
A very simple and delicious recipe for the best pan fried tilapia with the option to go low carb. This is a recipe that my whole family likes, an all time favorite crunchy tilapia recipe.
Print
Pin
Rate
Ingredients
1 1/2

pounds

tilapia fillets.

1

teaspoon

salt.

2

Tablespoon

canola oil.

1/2 - 1

teaspoon

ground cumin.

3

Large garlic cloves

1 teaspoons minced garlic.

2

Tablespoons

lemon juice

(juice of half Large lemon)

3/4 - 1

cup

all purpose flour

Oil for frying
Instructions
In a deep bowl add garlic, oil, lemon juice , cumin and salt. Mix well.

Add fish fillets and toss to cover with marinade.

Cover and let it set for 30 minutes.

In a large skillet over medium heat, fill the skillet with almost 1 inch frying oil.

Bread the fish both sides with flour mixture and shake excess flour off.

Fry fillets in oil 5-8 minutes per side until golden brown or to your liking. Note1

Take them out on paper towel.

Serve garnished with lemon wedges.
Notes
Note1: Here are some other ways to fry/cook the tilapia, the one stated above is our favorite though.

1- Dip tilapia in flour then a beaten egg then bread crumbs and fry, it is still tastes very delicious especially for little kiddos who do not like fish as this way it makes it more like breaded chicken.
2- You can shallow fry the fish if you do not like deep frying. Just heat 2 Tablespoons of oil in a skillet and fry fish for 3-4 minutes each side on medium-low. Watch out as fish can burn easily.
3- Skip the breeding altogether and brush each side with olive oil then broil for 15 minutes turning once in between.
4- Low carb recipe: Dip tilapia in a beaten egg then coat with almond flour generously. Heat two tablespoons of butter and fry on medium on both sides.

You can use garlic powder although fresh garlic gives more flavor.
Some people use onion powder as well.
This recipe works great with any flaky white fish.
Serve with: rice, lemon wedges, tartar sauce or hot sauce.
Nutrition
Calories:
186.1
kcal
|
Protein:
24.1
g
|
Fat:
6.7
g
|
Cholesterol:
25
mg
|
Sodium:
412.8
mg
|
Potassium:
17.4
mg
|
Vitamin C:
0.4
mg
|
Iron:
1.4
mg
Sign up and learn more about Mediterranean flavors