Golden crispy fried calamari recipe is probably one of the best appetizers recipes I enjoy. Grilled, stuffed or slow cooked in tomato sauce, I love calamari in all forms and shapes. But fried ones are my best favorite.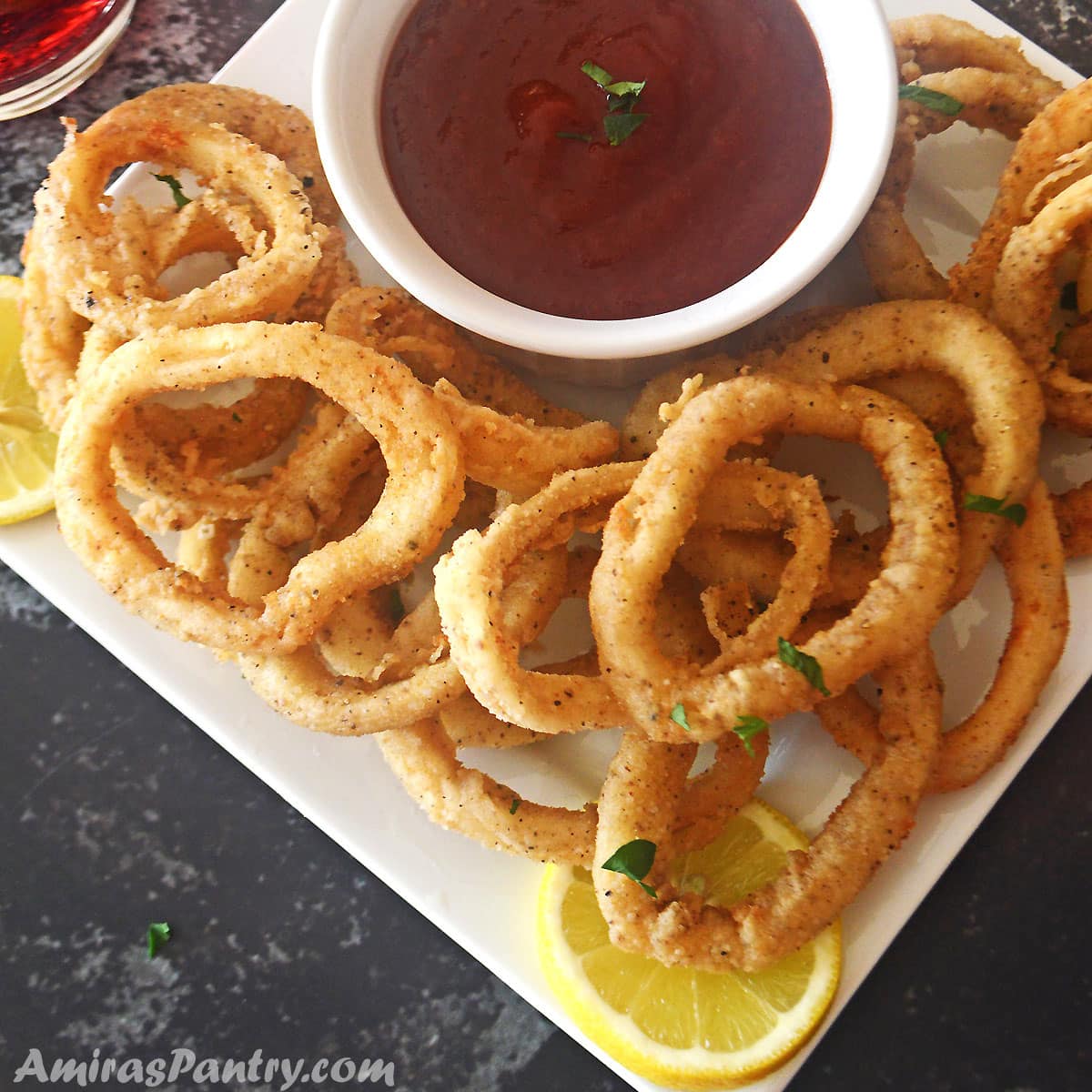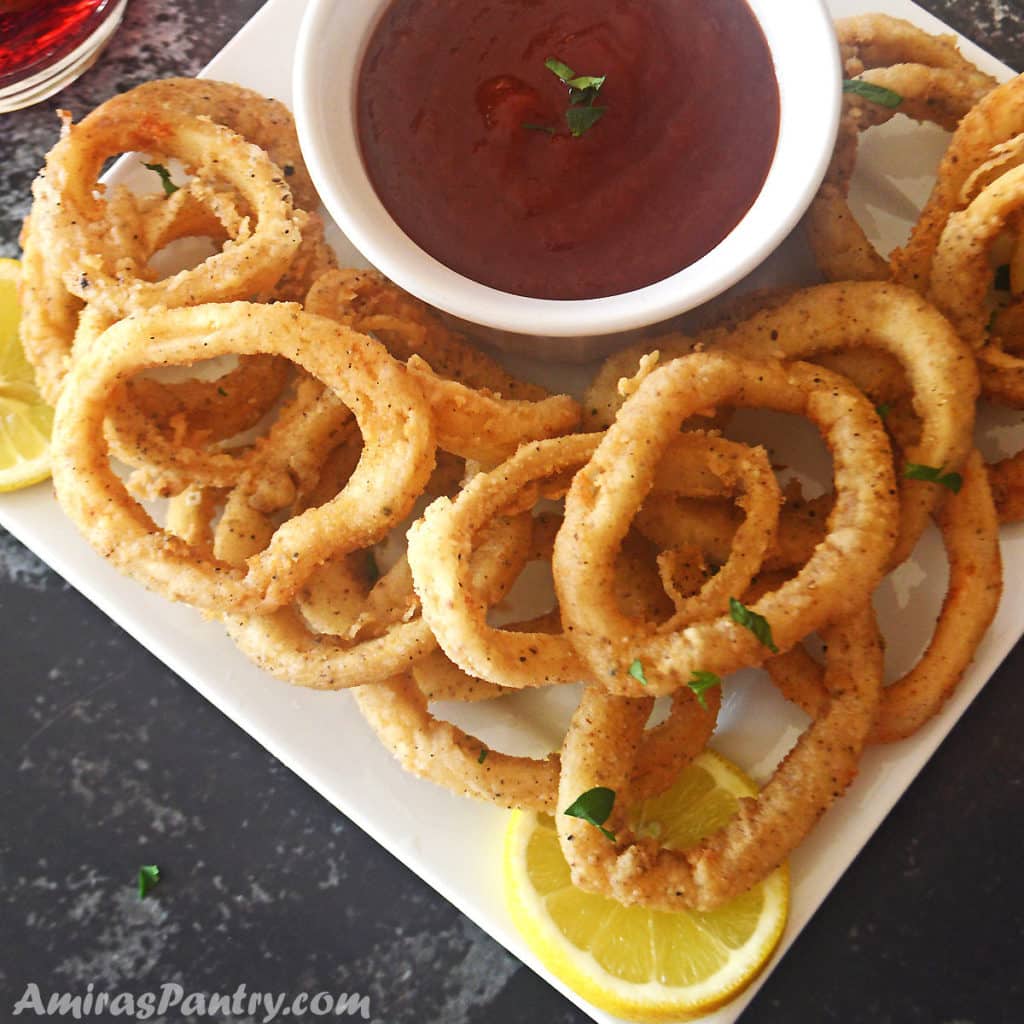 Calamari
Calamari is a highly controversial food. Some people say they are too rubbery others do not eat it for the fear of tentacles and in my opinion they are eaten pretty much less than they should. For us here, I always considered fried calamari an appetizer that I order in a restaurant and that's it. The fear of cooking rubbery calamari has been keeping me from making my own homemade fried calamari.
To be honest, I did not grow up eating calamari tentacles we only had the squid rings in Egypt. I have no idea what they are doing with the tentacles though. That might not be the case though, as I have been away for more than 15 years now. I have to admit when I fist saw the fried calamari tentacles it was weird then it got easier and easier.
How to tenderize calamari?
To help make your calamari less chewy you can wither soak in milk or some acid. It is recommended to soak in milk for several hours and preferably overnight. I like soaking my rings in some vinegar for 30 minutes to an hour at most. You can soak in lemon juice and some people swear by the kiwi juice as well.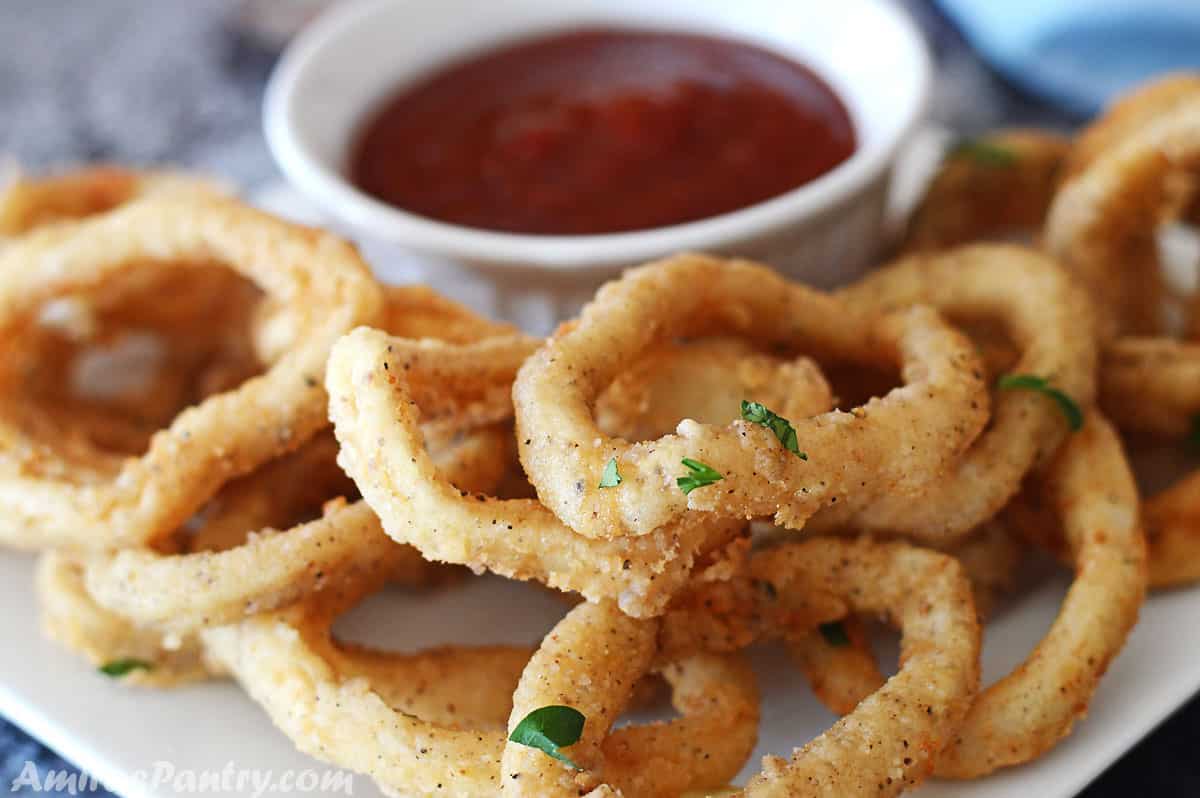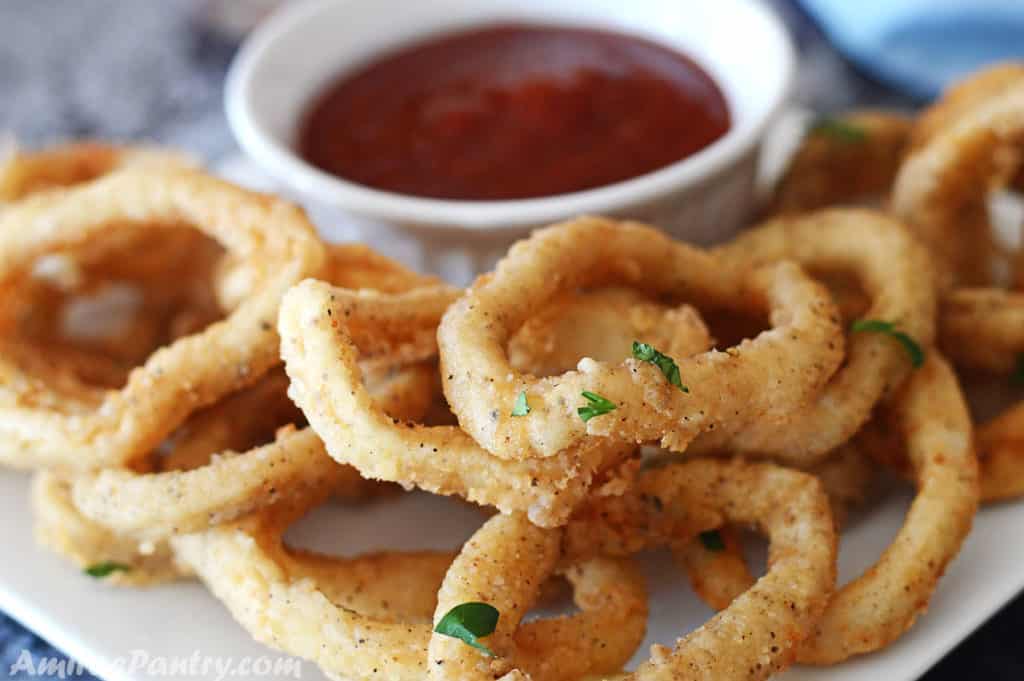 The marinade
After this I like to marinade the calamari in a special spice mix with olive oil. I use garlic, lemon juice, salt, black pepper and cumin. This combination pairs very well with calamari and it will still taste like calamari, nothing overpowering here.
For the batter
Actually making a thick batter, the one that is like pancakes, is not something I like with calamari. I like a simple dusting with lightly seasoned flour and that's it. You can add some semolina or cornflour for a more crispy coating. But it is really up to you if you like light coating go with my recipe otherwise make the pancake like batter or even go for a more complex one like this.
How to cook the perfect crispy fried calamari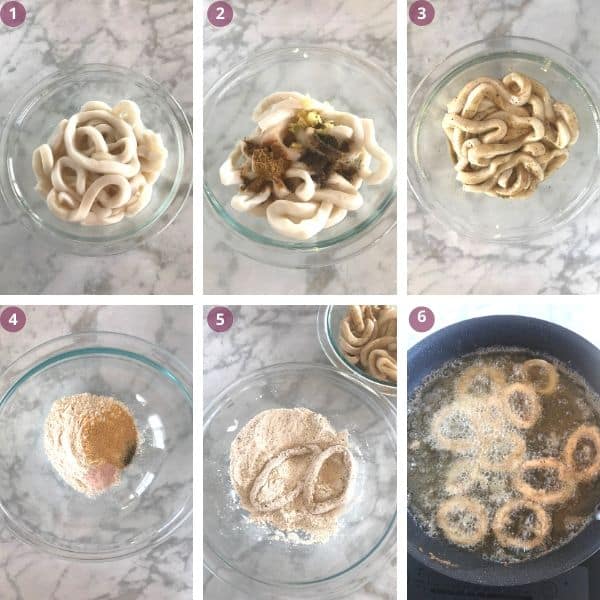 First of all we'll soak the squid rings in a couple of tablespoons of vinegar. Rinse with cold water and pat dry.
Add garlic, lemon juice, olive oil and all the spice to the calamari.
Toss to combine and coat the rings well. Let it marinate for 30 minutes.
In a separate bowl, combine coating mix. I just season my flour with garlic powder, salt and pepper.
Dip the calamari rings in the flour mixture to coat well.
Fry in a hot frying oil for just 2-3 minutes. Server immediately.
Best way to cook calamari
Cooking calamari is very tricky and requires a lot of attention. In fact this is the hardest part in this recipe as you can ruin the whole thing in a matter of minutes if you are not paying attention. I've came to know that the best ways to cook calamari is low and slow or quick on high temperature like our case here for fried calamari.
More Seafood recipes
Crispy fried calamari recipe
If you like this recipe do not forget to give it a ⭐⭐⭐⭐⭐ star rating and attach a photo of your finished dish. It is always a pleasure of mine to see your photos and check your own take of the recipe. Thank you.