A one skillet flavorful weeknight dinner that is ready in less than 30 minutes and so easy to make.
Shrimp fajitas recipe for an easy weeknight dinner. Seasoned shrimps loaded with peppers and onions in a perfect one skillet Mexican fajitas dinner.
Shrimp casserole dinner is always welcomed by my family. Shrimps are my kids' favorite protein to have for dinner at home or outside. Chicken and shrimp fajitas is what they usually pick at Mexican restaurants.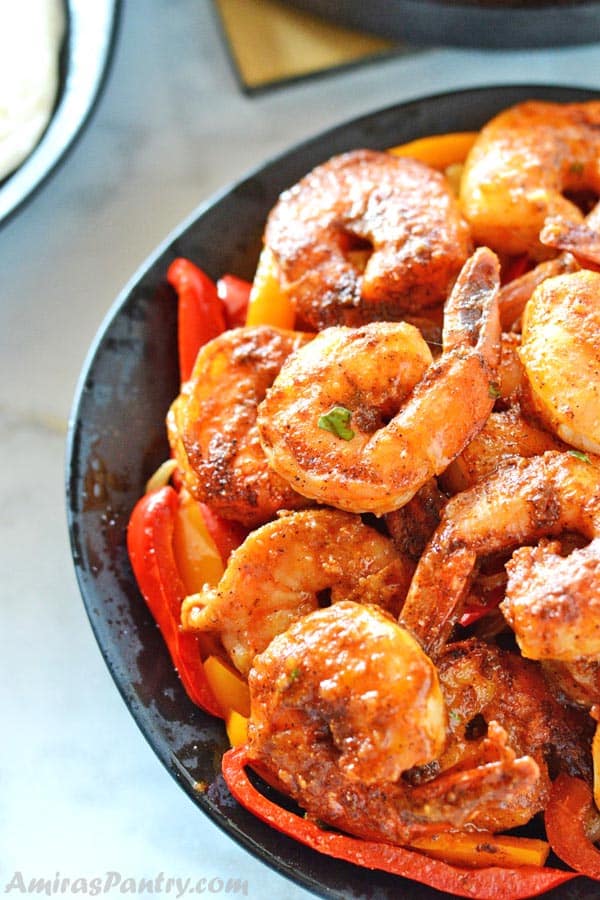 Mexican Fajitas
Before I come here to the United States, I have paid a couple of visits to the ONLY Mexican restaurant that was in Egypt. This was like 19 years ago. First time, I decided to go with what I know...BURGERS!! Second time, I convinced myself to step out of my comfort zone and try something new.. it was the fajitas served with black beans. I did not like anything on my plate and I specially hated the black beans. Fast forward 19 years, and I still order the same thing over and over again. To make you even more surprised I eat my kids' black beans because they do not like it :).
The only other cuisine that I was willing to experience was Asian cuisine and the Chinese one to be specific. I was hesitant to try anything new and I did not even like sweet and sour dishes!! This shows you that I've come a looong way and I have given myself the chance to taste and re-taste recipes from different countries. So I highly encourage you to try new things more than once, you might find something interesting and you might even end up liking what you've disliked in the past.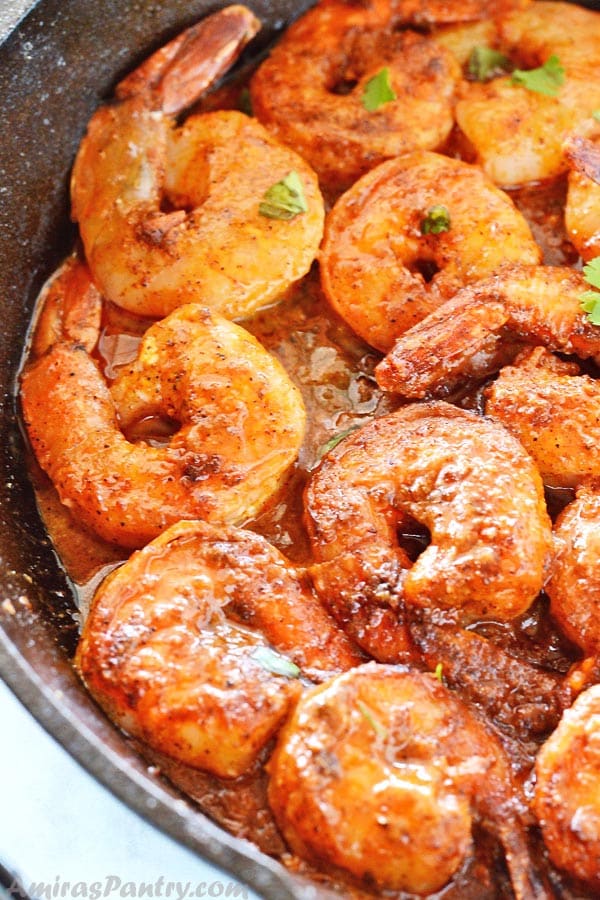 Tips for making shrimp fajitas
Use the big shrimps, the biggest you can afford, I have used jumbo shrimps. Some people say, if you can get a hold of tiger shrimps or jumbo gulf shrimps would be even better.
I've used ¼th teaspoon of cayenne pepper for a spicy kick. Feel free to skip or add more depending on your liking.
I've used tail on shrimps, as my kids love to hold shrimps from the tail and eat them. If this is not your thing then definitely take it off.
Use a variety of colorful bell peppers in your fajitas, more colors makes it even better and looks pretty.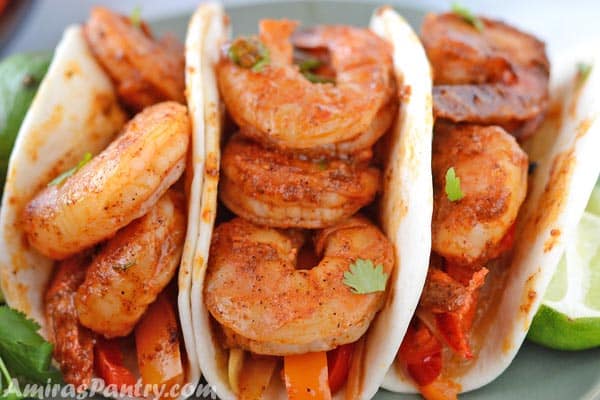 How to cook fajitas on the grill?
To cook shrimp fajitas on the grill, spray your grill with grilling oil and preheat it. Place shrimps on the grill and season with the recipe's seasoning mix. Grill until done, squeeze lemon/lime when done.
How to cook shrimp fajitas in the oven?
To cook shrimp fajitas in the oven, mix all the ingredients together including the oil and lime/lemon juice then spread it on a sheet pan. Bake until done. For the vegetables, you can mix them with oil and place them in a 425F oven until charred.
HOW DO YOU KNOW SHRIMP IS COOKED?
Shrimps curl when they are cooked. A "c" shaped shrimp means they are done, an "o" shape means they are overcooked. Shrimps should have no grey color in them and they should turn pink with some whites in them. Watch out as overcooked shrimps does not taste good.
How to make skillet shrimp fajitas?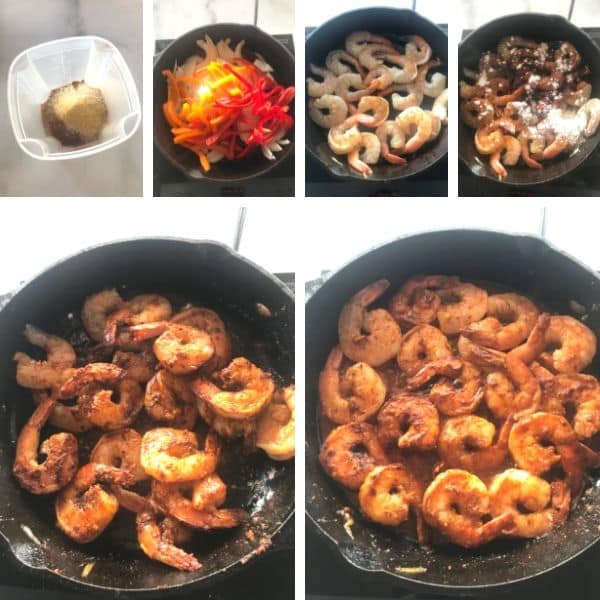 Make your seasoning mix in a jar or a small bowl.
In a skillet add oil and sautee vegetables until slightly charred, set aside.
Add remaining oil and shrimps, cook for just a minute or so.
Add all the seasonings and cornstarch then mix well.
Add lemon juice and water, stir and cook for another 5-7 minutes or until done.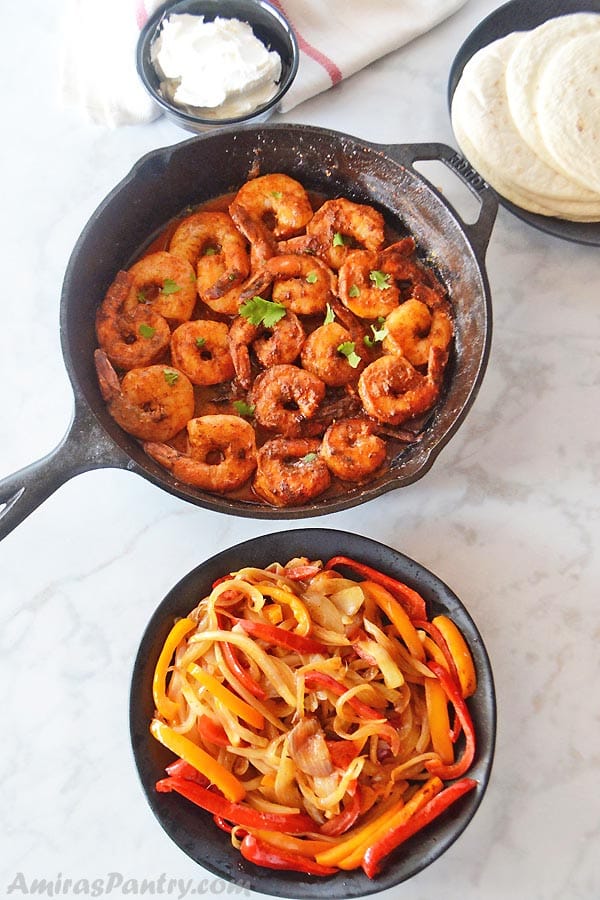 Ways to serve shrimp fajitas
Shrimp fajitas with rice is one of my kid's favorite way. My other two loves shrimp fajitas bowl with tortillas on the side and lots of sides such as : sour cream, guacamole, Pico De Gallo, lots of cheese and lettuce.
Shrimp recipes my kids love
You may need
The following are affiliate links. We are a participant in the Amazon Services LLC Associates Program, an affiliate advertising program designed to provide a means for us to earn fees by linking to Amazon.com and affiliated sites.

Lodge cast iron skillet is a skillet that lets you do so many things.You can use it on top of the stove or in the oven. It is very durable, cooks evenly and will last forever!
📣 Related Recipes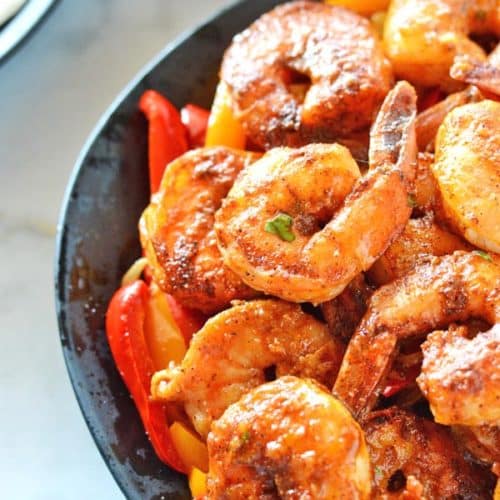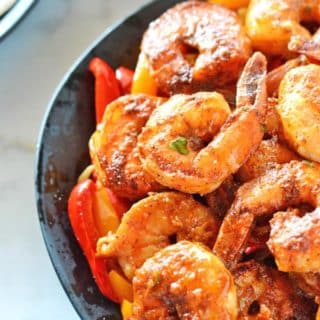 Shrimp fajitas
A one skillet flavorful weeknight dinner that is ready in less than 30 minutes and so easy to make.
Print
Pin
Rate
Ingredients
Seasoning mix:
2 

teaspoon 

chili powder.

1

teaspoon

salt

or to taste.

1 

teaspoon 

smoked paprika

½ 

teaspoon 

garlic powder

½ 

teaspoon 

onion powder

½ 

teaspoon 

ground cumin

¼

teaspoon

cayenne pepper

or to your liking.

2

Tablespoons

vegetable oil

divided.

1

Large (340g) onion

sliced.

2

Large (150g)

yellow, orange, red or green bell pepper, sliced.

1

pound

large shrimp.

1

Tablespoon

cornstarch.

¼

cup

water.

2

Tablespoons

lime juice.
Instructions
In a jar or a small bowl, mix all the seasoning ingredients well together, set aside.

In a large pan or cast iron skillet heat 1 Tablespoon of oil, then sauté onions and bell peppers until slightly charred, remove from pan and set aside.

In the same skillet add the remaining Tablespoon of oil, add shrimps then sprinkle the seasoning mix over.

Sprinkle the cornstarch and mix everything well together.

Pour the water and lemon, stir everything well and cook for about 5-7 minutes until the sauce is thickened and the shrimps are opaque.

Sprinkle with fresh cilantro and serve with tortillas or white rice.
Notes
Nutrition Facts
Shrimp fajitas
Amount Per Serving
Calories 237.7
Calories from Fat 86
% Daily Value*
Fat 9.5g15%
Cholesterol 172.3mg57%
Potassium 466.2mg13%
Carbohydrates 14g5%
Protein 24.7g49%
Vitamin A 20.3IU0%
Vitamin C 129.7mg157%
Calcium 8.6mg1%
Iron 19mg106%
* Percent Daily Values are based on a 2000 calorie diet.
Nutrition
Calories:
237.7
kcal
|
Carbohydrates:
14
g
|
Protein:
24.7
g
|
Fat:
9.5
g
|
Saturated Fat:
5.5
g
|
Polyunsaturated Fat:
1
g
|
Monounsaturated Fat:
0.4
g
|
Cholesterol:
172.3
mg
|
Potassium:
466.2
mg
|
Fiber:
2.6
g
|
Sugar:
3.8
g
|
Vitamin A:
20.3
IU
|
Vitamin C:
129.7
mg
|
Calcium:
8.6
mg
|
Iron:
19
mg
Sign up and learn more about Mediterranean flavors