Do you like your guacamole chunky or smooth? Have you ever tried homemade guacamole? It is healthy, fresh and above all adapted to your liking and it is also easier thank you think.
Enjoy guacamole as a bread spread or with Kofta, Kebabs, grilled chicken. Who said guacamole can only be enjoyed with Mexican dishes?!
This recipe originally published March 2018. Updated for some housekeeping things on March 2020.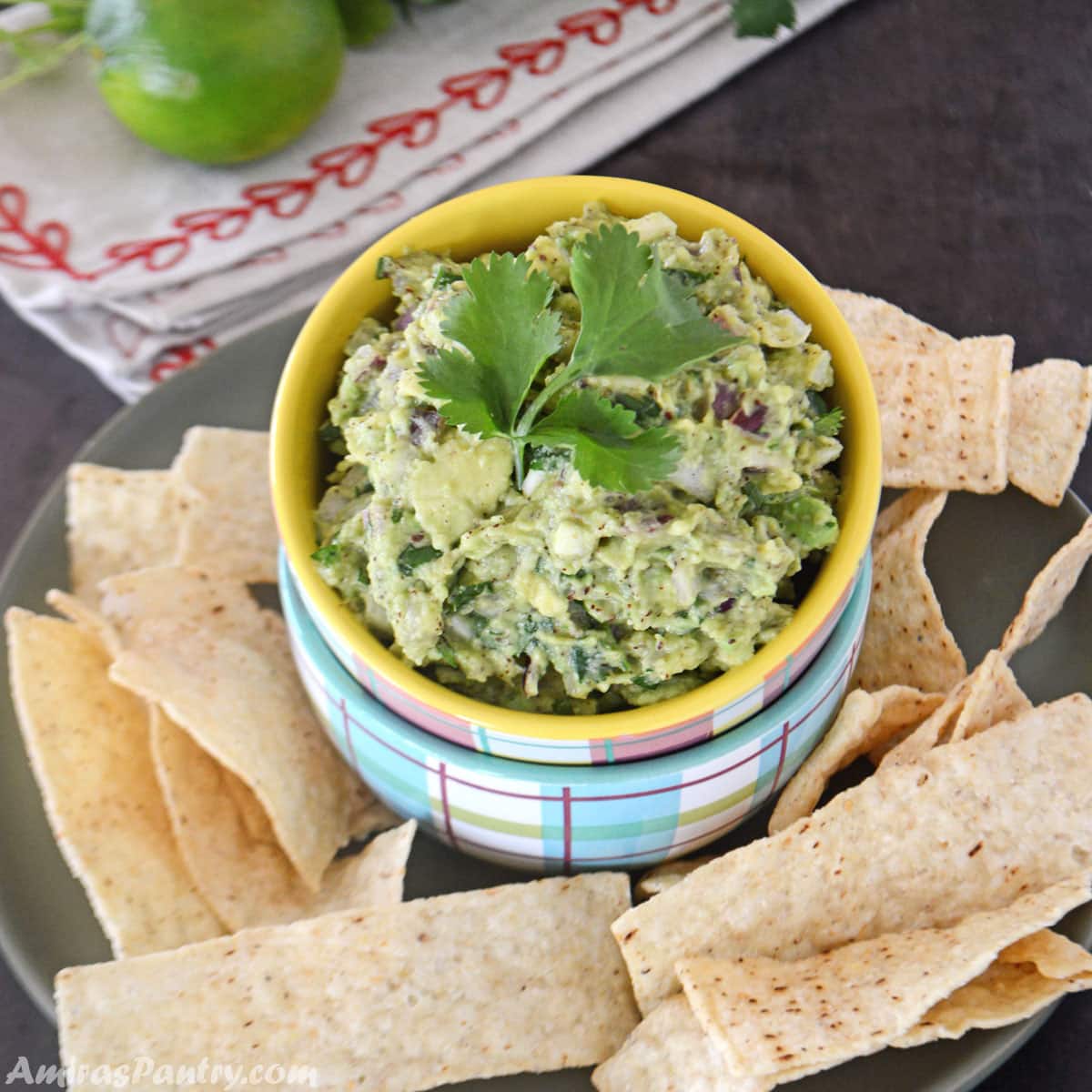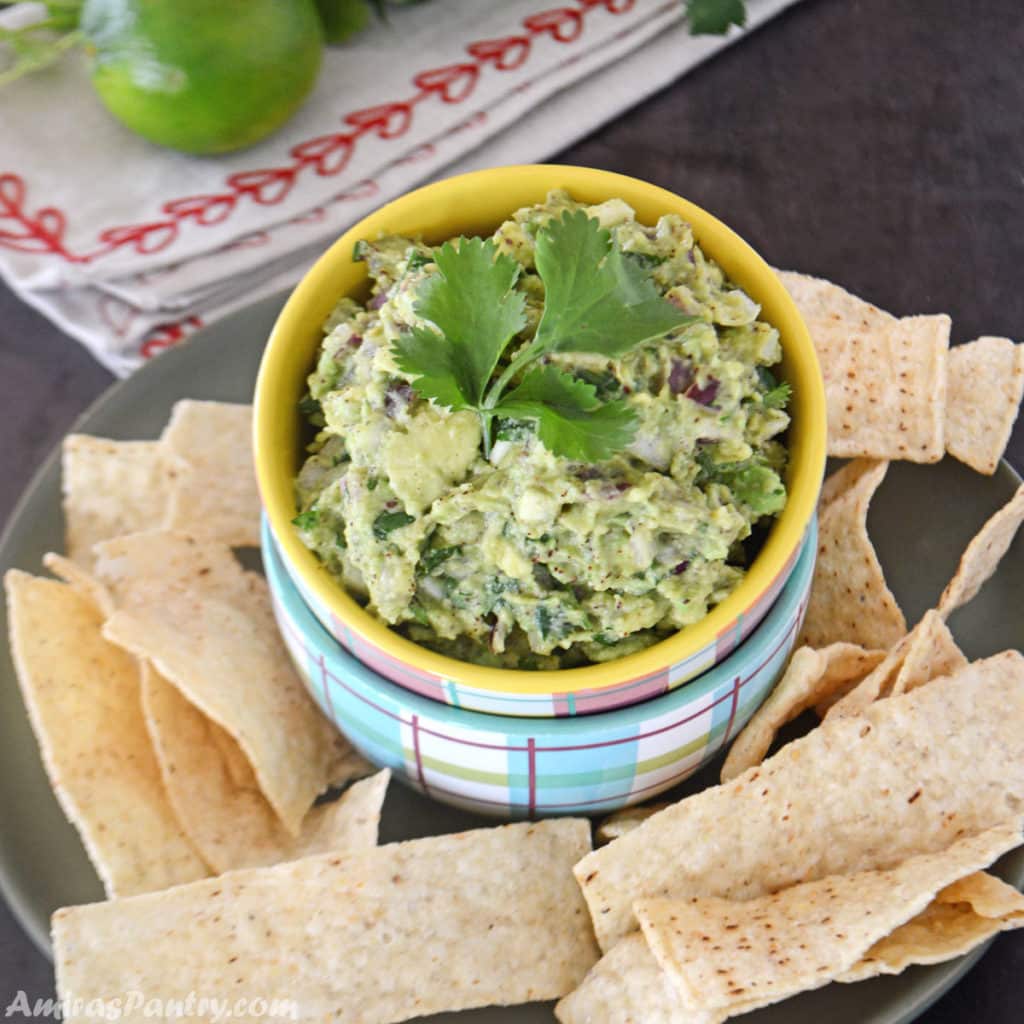 Guacamole recipe for all
So you see, you do not have to be Mexican to enjoy this delicious, out of this world guacamole recipe. I enjoy guacamole as much as I enjoy tahini or baba ganoush, these three dips are my favorite and almost always are there in my fridge.
This simple guacamole recipe is one of my favorite takes on guacamole. It is rich, chunky with an amplified flavors.
Back in 2010, hubby came back from visiting a relative in California with an amazing grilled cheese sandwich recipe up his sleeves. Grilled cheese with Avocado. This was my first personal experience with avocado. By then I've been in the US for almost 4 years, but never really tried it.
My first impression was.. meh!😕. I was not impressed and actually told my husband I prefer some cucumber slices than avocado!. He was like 😱, and I think he started questioning my taste buds after the third baby hehehe.
Then, one happy day, we went out to a Mexican restaurant and I've had a lick of something green-y, creamy, garlic-y, salty and I was very impressed to know that it was made with avocados🥑!!
And ever since I was hooked. It is really hard for an expat, at first, to embrace new flavors away from home or at least this was my case. Being away from places I grew up in, people I knew, faces I loved and flavors I am used to. Being away from my parents was hard and made me unable to enjoy my new life.
Store bought vs homemade guacamole
I've always relied on the store bought tubs to get my guacamole fix. I was not very happy with it. The smooth was too smooth and the chunky was not that chunky as I liked. Until I started making my own healthy guacamole. After making it so many times, I refined the recipe until I reached the perfect flavors to satisfy my Mediterranean taste buds.
Ingredients:
Avocados: guacamole is made with ripe avocados. Avocado is the main ingredient here so do not expect me to give you alternatives!
Red onion: I like red onions in salads more than white or yellow. But if you do not have it then use anything you have.
Lime juice: fresh lime juice is best and do not use the bottled ones.
Cilantro: I cannot tell you how much I love this one, but if this is not your thing then skip it.
Tomato: for some weird reason(s) I do not like tomato in my guacamole so I did not include it here. Feel free to use it if this is your cup of tea.
Spices: besides salt I like using cumin, coriander and sumac. Do not worry, I do not use a big amount that will overpower the avocados. Cumin and coriander gives a hint of the Mediterranean taste and sumac rounds the flavors up and increases the tartness giving a slight crunch to the mix.
Jalapeño or cayenne pepper: For some heat. If you are serving it to little hands as well or someone who does not like hot food then you might serve it on the side.
Garlic: an absolute must for me. Again not overpowering but just one clove.
How to make guacamole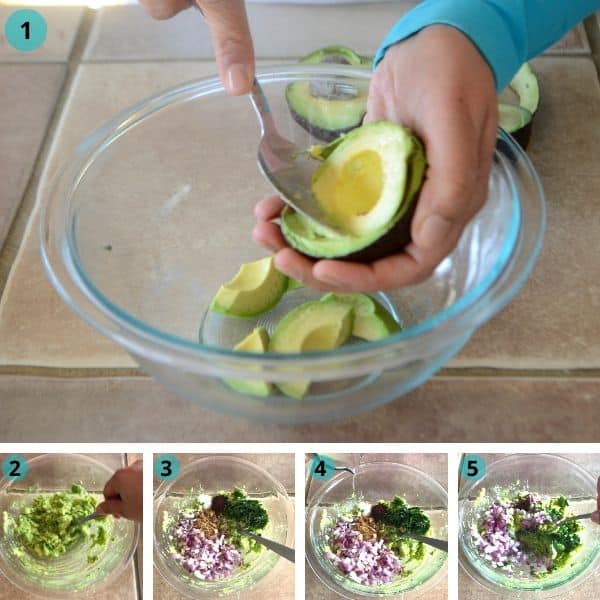 First, you'll need to choose rip avocados, this is essential for a great guacamole. Scoop the flesh with a spoon in a deep bowl.
Gently mash with a fork. I do not like my guacamole all mashed up and smooth, I am more for a chunky one. But I understand it is a personal matter.
I like adding just one garlic clove, some people do not like adding garlic to the guacamole some people do. I find it tastier with garlic and no tomato. I, personally find tomatoes annoying in guacamole and steals from the flavor.
Flavor things up using lime juice, cumin, coriander and sumac. Add some fresh cilantro for more flavors, then salt to your taste.
Mix everything up well, serve immediately with some chips.
Tips for a prefect guac
Guacamole takes may be 5-10 minutes to make so make it fresh when you are ready to consume.
Leftovers should be kept in a glass bowl and covered tightly with plastic wrap right on the top of the guacamole.
If the surface turns brown just scrape the top and the rest is going to be green.
Add more lime juice if you are going to refrigerate and serve later and still cover tightly with the wrap. You can also cut lemon wedges and arrange them to cover the top of the guacamole to prevent browning until you are ready to serve.
For more flavors, chop onions first and soak them in the lime juice for 10-15 minutes, it takes some of the harshness out of the onions and distributes the flavor of both very well.
If you love more lime flavor in guac try adding the zest from the lime to the mix, bumps up the flavor a notch.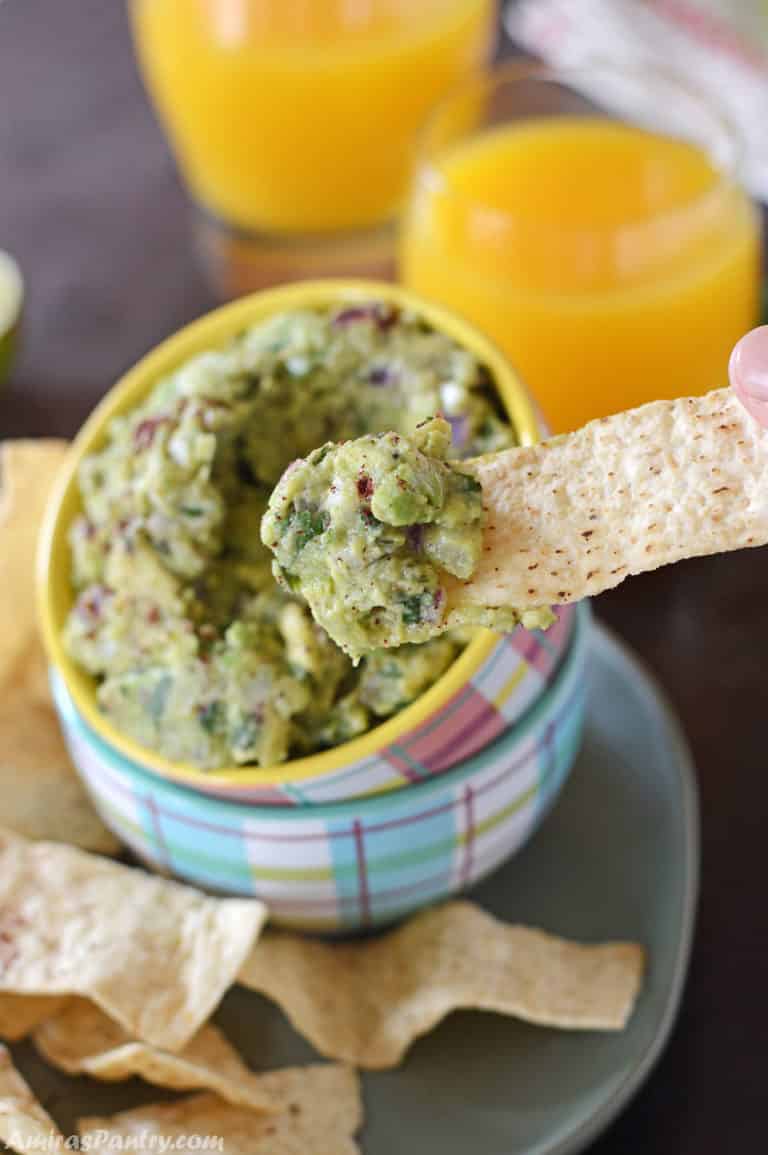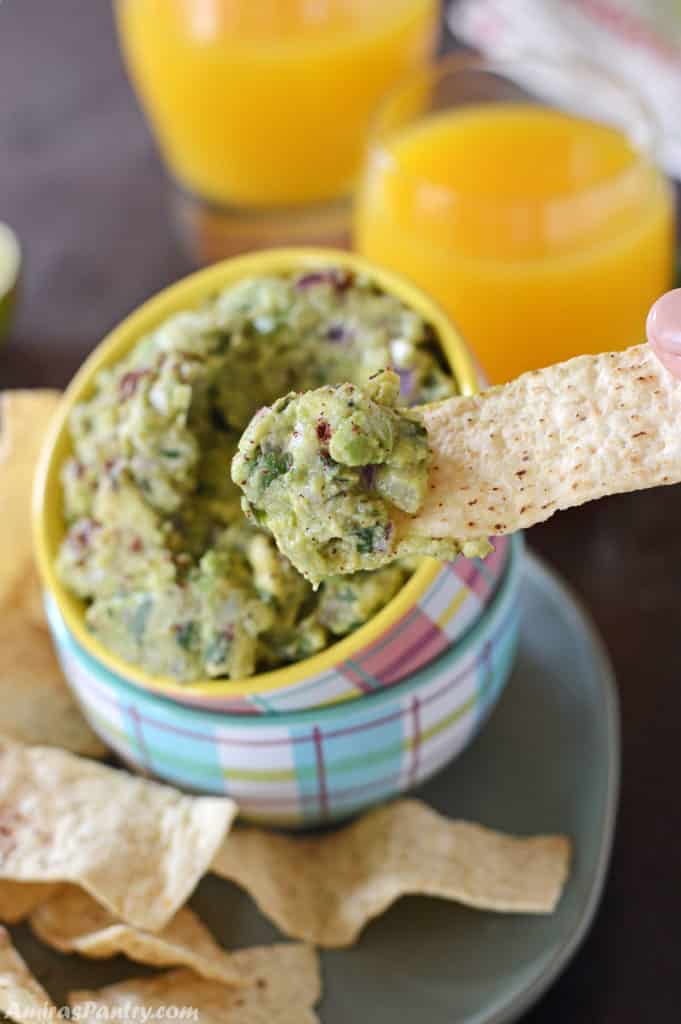 I gotta tell you, I can't bring myself to buy guacamole from the store anymore. It's no longer fun or better when made by someone else, especially that it takes less than 10 minutes to prepare!
I hope you'll like this recipe and please if you make this recipe, snap a pic and hashtag it #amiraspantry — I love to see your creations on Instagram, Facebook, Twitter!
Don't want to miss a recipe? Sign up for the FREE Amira's Pantry newsletter delivered to your inbox with lots of tips and surprises! And stay in touch with me on Facebook, Twitter, Pinterest, and Instagram for all the latest updates.
If you like this recipe do not forget to give it a ⭐⭐⭐⭐⭐ star rating and attach a photo of your finished dish. It is always a pleasure of mine to see your photos and check your own take of the recipe. Thank you.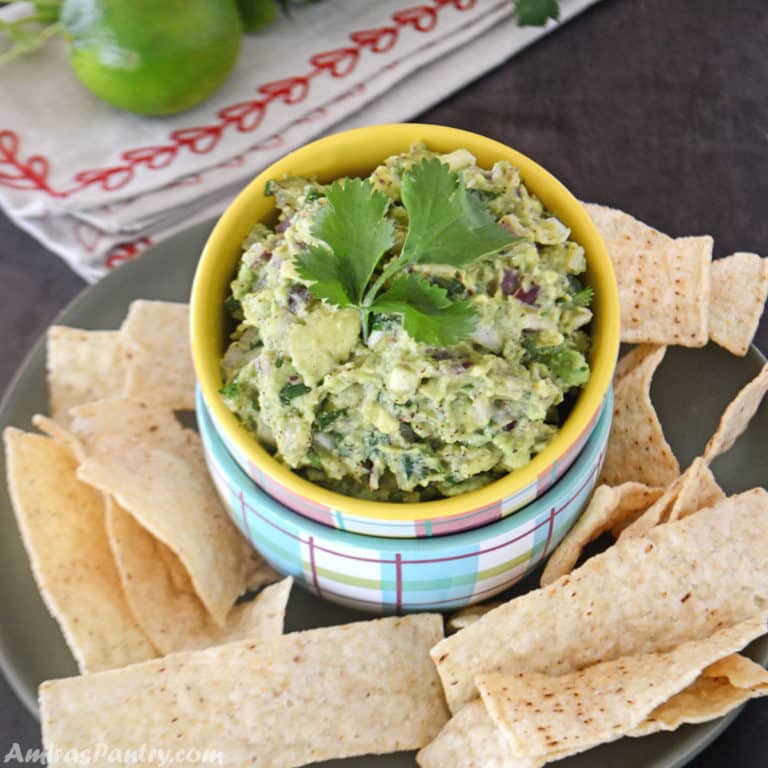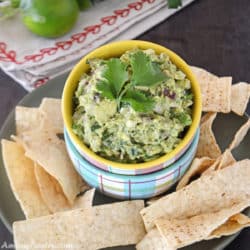 Guacamole recipe
A fresh and bright homemade guacamole recipe with a twist.
Print
Pin
Rate
Ingredients
2

Haas avocados

ripe, halved, seeded and peeled.

Tablespoon

lime juice

from half a lime.

1/4-1/2

teaspoon

sumac.

1/4

teaspoon

ground cumin.

1/4

teaspoon

ground coriander.

1/4

teaspoon

cayenne pepper or to taste.

1/4

cup

onion

diced.

1

garlic clove

minced.

1/4

cup

cilantro.

Salt to taste.*
Instructions
In a large bowl, scoop avocado flesh, discard any browned areas.

Using a fork mash up the avocados until you reach your desired texture.

Add onions, garlic, cilantro, lime juice and all the spices. Stir to combine well.

Let it sit at room temperature for an hour and then serve.
Nutrition
Serving:
4
servings
|
Calories:
151.4
kcal
|
Carbohydrates:
8.6
g
|
Protein:
2.1
g
|
Fat:
13.3
g
|
Saturated Fat:
1.8
g
|
Polyunsaturated Fat:
1.6
g
|
Monounsaturated Fat:
8.5
g
|
Sodium:
78.9
mg
|
Potassium:
451.5
mg
|
Fiber:
6.2
g
|
Sugar:
0.4
g
Sign up and learn more about Mediterranean flavors