There is something about summer that makes you wanna go grilling, right? Take your grilling skills -and recipes- to the next level with shish kabob. Keep burgers and hot dogs in the freezer now 🙂 as I invite you to go for a more gourmet food.
Shish kabob/kebab has been in the Middle East since ages, chunks of beef and veggie skewers that are usually cooked over a charcoal grill and served over a bed of rice or with pita bread, so delicious and eye catching, your guests will be asking you for the recipe … I am sure ;-).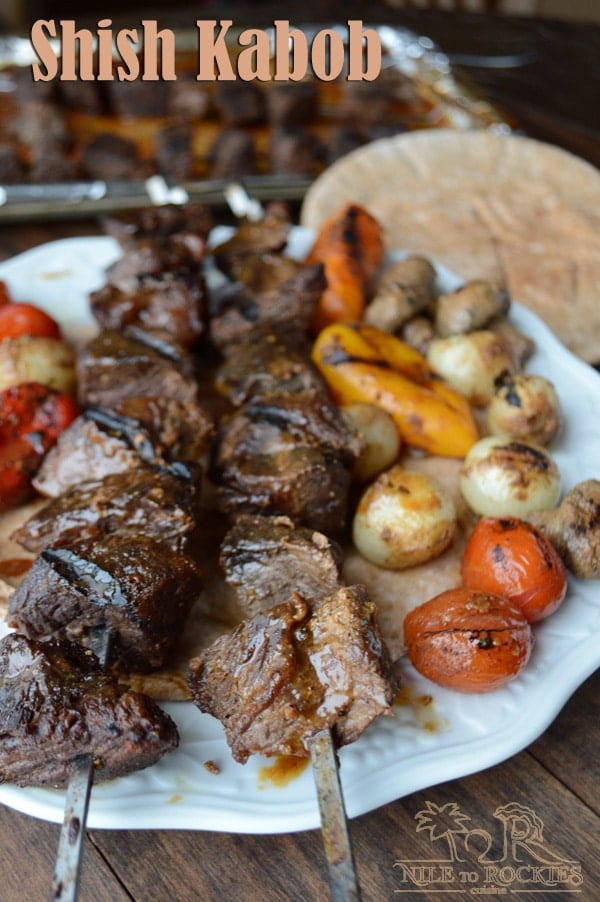 This Kabob recipe has become my specialty, whenever we are having guests or going out for a gathering, I make it and it never let me down. I always get rave reviews about how well balanced is the marinade for this shish kabob, besides how tender the meat is.
I've prepared this on the grill and sometimes in the oven when it is snowing or raining out there, and it is good either ways. Sometimes, when I have time, I also use the coal trick I showed you before while making the Libyan Merayesha and it gives it the sweet smell of grilling on a charcoal grill.
As I told you before in the Shish Taouq recipe, there is something about food in skewers that makes it so fancy and appealing to everyone.
My kids get thrilled with they see bamboo or metal skewers on the dinner table and they get so motivated to try whatever is in there.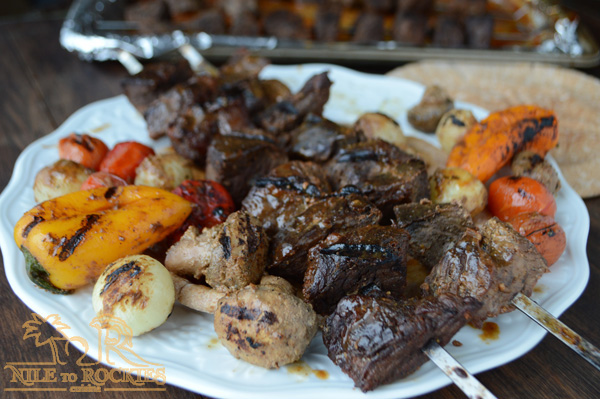 The secret in this recipe really is the marinade itself, you can use this with chicken as well. Here are some tips to consider:
Do use fresh garlic in this recipe: it really makes a huge difference and do not ever use powder garlic.
Do not be afraid of using yogurt: and let it marinade all this time, it is really very tenderizing.
Do use olive oil if possible: I've tried it before with vegetable oil and I could taste a big difference.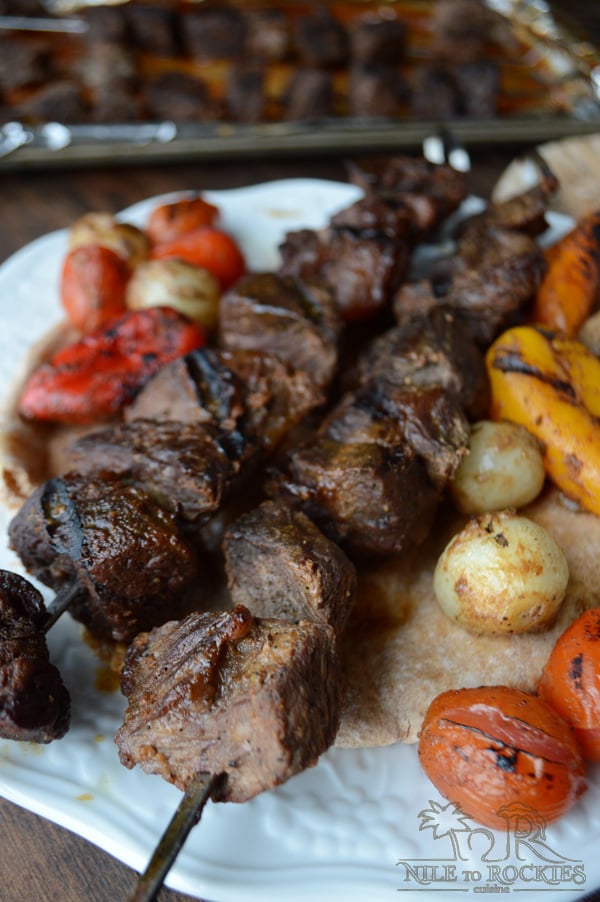 Do prepare ahead of time : I like to marinade my beef for even more than 24hours, the longer the better.
Do not add salt : This recipe calls for a big amount of soy sauce, so really no need for salt.
Do marinade veggies in a different bag : and put them on different skewers as cooking time is drastically different between veggies and meat, even between different kinds of veggies.
That's all I can think of right now, and I hope I've covered everything I want to say and did not forget something, as I tend to be Dory these day :).
Happy grilling and …. Enjoy!!!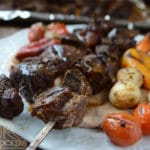 Beef Shish Kabob
Beef Shish Kabob, a Middle East recipe of the best marinated beef grilled to perfection.
Ingredients
2 1/2 - 3

lb

beef steak cut into 1 inch cubes.
For the marinade
3/4

cup

soy sauce.

1/2

cup

oil- preferably olive oil.

3/4

cup

yogurt.

4

teaspoon

worcestershire sauce.

1/4

cup

white vinegar.*

1/4

cup

lime juice.*

3

garlic cloves - minced.

1

Tablespoon

yellow mustard.

2

teaspoon

freshly ground black peppers - or to your liking.

2

teaspoon

ground cardamom.

1

teaspoon

ground cinnamon.
Veggies
Sweet bell peppers or bell peppers cut into chunks.

1

bag pearl onions.

10oz

16

small mushroom caps.

Cherry tomatoes.
Instructions
Mix all the marinade ingredients together in a zip lock bag, take 1/2 to 3/4 cup of the marinade and set aside.

Add the cubed meat to the bag and coat well. Squeeze out excess air, and seal the bag then marinate in the refrigerator at least 8 hours.

Add the veggies to the other bag with 1/2 to 3/4 of the marinade and keep marinated for at least 2 hours.

Thread meat pieces into metal or bamboo skewers, grill until fully cooked.

Do the same with the veggies as well.

.

Serve with rice or pita bread.

Enjoy!!
Recipe Notes
* Just wanted to mention that one of the readers complained that the marinade was very acidic for them, so I suggest cutting back the lime and vinegar by half and test the marinade yourself, if you feel it is not tangy enough then add the rest of the lime and vinegar. I've tested this recipe in several occasions and never got any problem with it.
This Post might contain affiliate link(s), Please refer to the disclosure policy for full information.
Can be served with…