Garbanzo bean hummus, one of the epic Middle Eastern recipes. Homemade hummus recipe from scratch, you'll never go back to the store bought tubs.
Tahini is a must in this recipe but we will explore other variations as well, here is how to make your own tahini paste.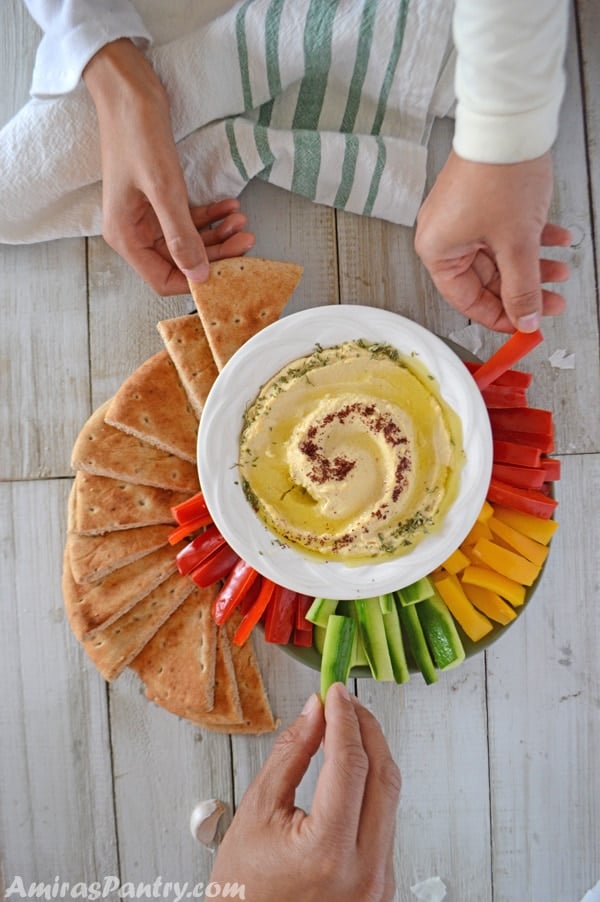 Hummus dip recipe is one of the well known Middle Eastern dips across the US if not the whole world. I was seriously shocked that I did not have one yet.
This is a traditional and authentic hummus recipe that has been in my family for like forever. We honestly think it is the best creamy hummus dip recipe.
Let's start from the beginning.
Warning: this is going to be a long post so grab a cup of coffee or whatever and find a quiet corner to read it.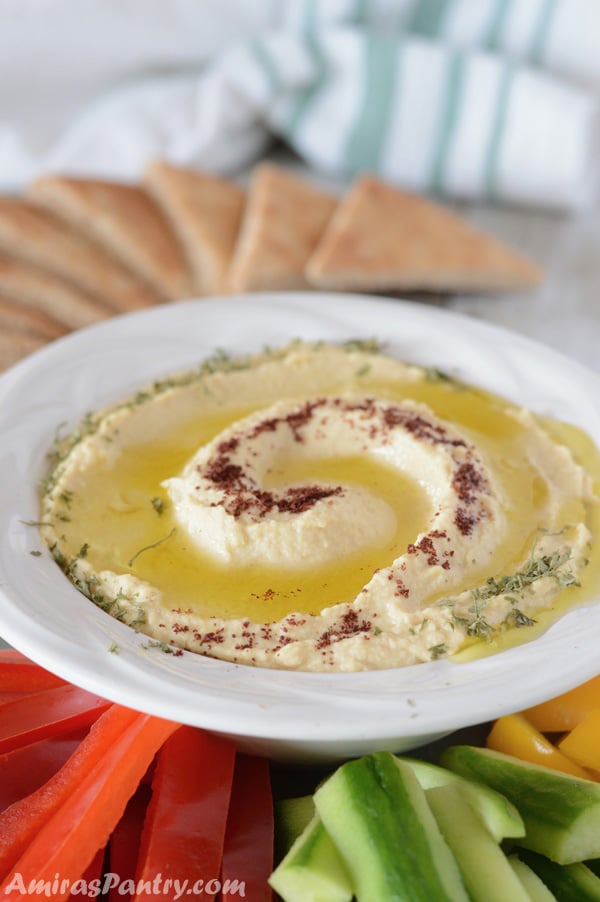 What is Hummus exactly?
The word "Hummus" means chickpeas in Arabic language. In the Middle East " Hummus salad" generally means the Hummus dip that you probably know.
Hummus salad/dip is a Levantine dip made of mashed cooked chickpeas. Basic Middle Eastern hummus is surprisingly simple and made with just few ingredients: chickpeas, tahini, olive oil, garlic and lemon juice.
Origin of Hummus?
Well, another surprise here, many regions claim to be the origin of this fantastic dip. Although the exact origin is still unknown , it is well known that chickpeas were cultivated in the Mediterranean and Middle east thousands of year ago.
According to wikipedia, a 13th century cookbook found in Cairo/Egypt had a similar dish without garlic nor tahini and using vinegar instead of lemon juice.
Is Hummus healthy?
Well, it depends. Hummus is for sure healthier than most other dips like blue cheese, buttermilk ranch and French onion dip. Generally speaking, Hummus is a healthy food when consumed in moderation.
Chickpeas are quite healthy. They are loaded with dietary fiber, B vitamins, protein and other nutrients. Most fat content come from tahini and olive oil. Check out the nutritional values below for more about that.
So, in short moderation is the key here, you certainly can enjoy the benefits of hummus without overdoing it on calories.
Canned vs dry chickpeas, which one to use?
If you are trying to stay away from canned and processed anything then go for the dry packages. Seeking convenience and simplicity then use the cans.
Personally, I always try to go for the dry as this is what I am used to. Home cooked chickpeas are tastier and more textured than canned ones, plus you do not get all these strange additives that you can find in a can. My mom never used the cans and will NEVER use them. If you ask her, she will give you that look and say yuck :).
Bottom line, if you have time, go for the dry one and cook the chickpeas yourself, it is really an easy process.
How to perfectly cook chickpeas?
Chickpeas are a staple in the Middle Eastern kitchen. I often cook chickpeas in large patches and freeze. It is so easy to cook hummus, it just needs some time to soak. But I know life happens and we sometimes forget to soak overnight so I will show you an alternative way.
To cook chickpeas you'll need to:
Soak chickpeas overnight in cold water to cover by 2-3 inches, stir in 1/4 teaspoon baking soda for each cup of dry chickpeas. This is a tip from my mom, we do this to help with digestion.
If you do not have time soak chickpeas for an hour in hot water.
Drain soaking water and rinse chickpeas thoroughly with cold water.
Place chickpeas in a pot, cover with cold water and bring to a boil.
Reduce heat and simmer to cook for 60-90 minutes stirring and checking in between for doneness. In case of hummus, cook it for 90 minutes until very tender.
Drain chickpeas and use in your recipe.
To freeze chickpeas:
It is recommended that you cook the chickpeas a little firmer if you are going to freeze them as they will be used and cooked again in another recipe.
Drain chickpeas, let it cool completely and pat dry with a kitchen towel.
Line a baking sheet with parchment paper and place chickpeas in a single layer. Flash freeze them in the freezer for 1 hour.
Take them out and place in a ziploc bag, store in freezer for up to a month.
If you need some ideas or inspiration to use your frozen chickpeas why don't you try:

Should you discard the chickpeas cooking water?
Aquafaba or chickpeas cooking/canning water is said to have gaseous qualities, some people even say it is dangerous to consume during pregnancy and for the gut health. So discarding the water is a common practice, but that does not mean you have to.
What aquafaba is used for:
This water amazingly whip up just like egg whites with peaks and all!! So many vegans use it as an egg re-placer in many recipes such as desserts. It works extremely well as a nondairy milk for making lattes and such. Many people use it for frosting, meringue and even royal icing!!.
How to whiten the color of hummus?
Restaurants in the Middle East serve hummus with lighter color than what we have here in the US. It is not as dark beige it is much whiter. Here are some suggestion to whiten up the color a bit:
Use 1 Tablespoon of yogurt in the mix.
Use a little bit of whipping cream or sour cream with an ice cube.
Use 2 Tablespoons of buttermilk.
Use Lemon salt.
Personally, I've tried the first two and I did not like the outcome. I do not know about you, but you might want to try and see if you are going to like it or not.
What are common variations of hummus?
The recipe I am showing you here, is the traditional one. This is how my mom and my grandmom made hummus i.e. the very basic hummus recipe. I've noticed that Hummus, in the United States, went from a chickpea dip to any crazy bean pureed dip with huge range or spice mixes. I just have to tell you that all these other varieties are not commonly available in the Middle East or should I say in Egypt, yet.. but who knows what might happen. Anyways there are a lot of variations out there for the hummus to name a few:
Can I substitute tahini in Hummus ?
As a person from the Middle East, my answer would be "no". The real name for hummus dip in the Middle East is "Hummus bil tahini", which means chickpeas with tahini. Now, you can use some alternatives, but we have to then debate the label hummus.
Life happens, and many people might not have tahini in their home, or you might have allergy to sesame from the first place in this case here are some alternatives.
Use all natural peanut butter, not the crap with sugar an industrial additives. Go for one with the least possible ingredients, ideally peanuts. The taste will be different than using tahini obviously.
Use toasted sesame oil. These can be found in Asian stores, recommended is 1 Tablespoon per 1 cup cooked chickpeas. Some people are allergic to sesame paste but not the oil.
Almond butter, pine nut butter, sunflower seed butter and cashew butter were used. Several people reported that cashew butter is the best but it needs to be only cashews, no salt or sugar there.
Flax seeds mixed with olive oil was suggested in a forum I read earlier.
What if you or someone in your party is allergic to all nuts? leave it out all together, although this would end up more like a chickpea spread and not hummus, but your health matters the most and you'll enjoy it.
How to skin Chickpeas for Hummus?
Seriously guys, none and I mean NONE of my ancestors skinned the chickpeas. BUT, some people say it makes your hummus crazy ultra smooth. For my own convenience and my taste, I do not skin chickpeas. Here are a couple of ways to skin chickpeas though:
The hard way: Simply squeeze each one between your fingers and the skin will come off.
The easier way : To add baking soda to your chickpeas, heat up then rinse with water and the skin will come off by itself. Here is a video from America's taste kitchen to show you how.
Ok, giving that I am a slow person, the easier way would take me probably between 10-15 minutes… I am sorry but I opt out. Do you know how many things I can do in 15 minutes?. So if you are fine with it, go for skinning the chickpeas.
How to increase the protein in Hummus?
Some people would love to sneak in some more protein in their diet, hummus already has protein but here is how to add more:
Use Hemp: Replace most of the tahini in your recipe with finely ground hemp seeds then proceed with the recipe as usual.
Protein powder: Add two scoops of natural protein powder in your recipe.
Edamame Hummus: Many people swear by edamame hummu. Edamame or soybeans have 31.3g protein per cup!
How to store homemade hummus?
WOW.. You do not eat it all in one setting!! If this is your case, I would suggest refrigerating it in a airtight glass container with a thin layer of olive oil on top. This can keep your hummus safe and fresh for 7-10 days. You can also freeze hummus, preferably in an airtight glass container, for up to 4 months.
What do you eat with hummus?
I can scoop up hummus and eat it with almost anything. Hummus is usually served as an appetizer or dip with pita or any sort of flat bread. It is also used as a spread in falafel and fool sandwiches. Grilled meat or fish is never complete without a plate of hummus on the side. It is great for breakfast, lunch or dinner.
Homemade Hummus dip recipe
Now let me show you my simple, easy way of making hummus dip
After soaking and cooking the chickpeas, add them to your food processor and pulse until creamy. You will need to stop and scrape the sides to make sure that everything is evenly processed.
Add the rest of the ingredients and process well until everything is incorporated.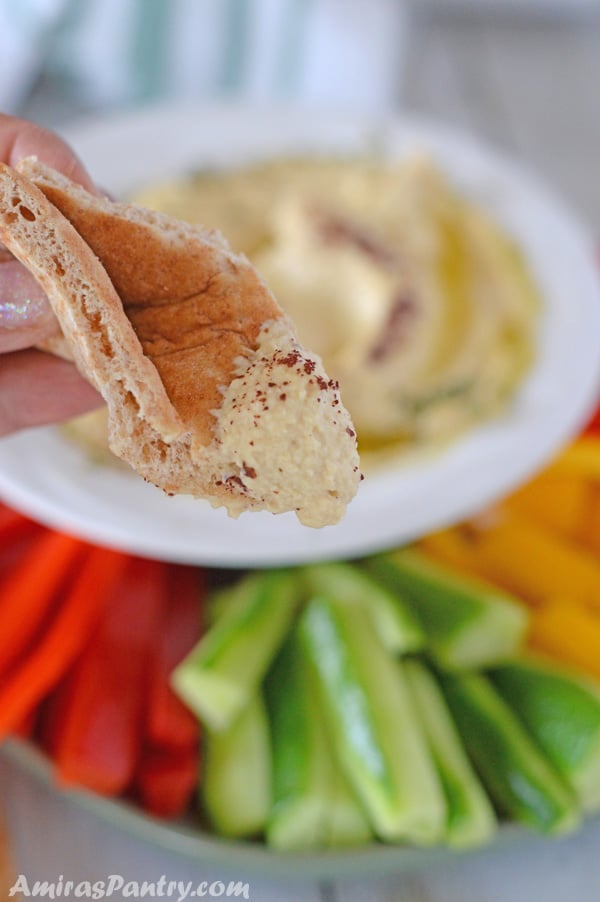 Delicious and beyond any store bought variety. Personally, I think traditional hummus with pita is hard to beat.
On a side weird note, I do not add olive oil to my hummus while making it. I serve it with a drizzle of olive oil on top and mix in as I eat. There is no scientific reason behind this…. it is just me. So you are welcome to add olive oil while making your own hummus.
I hope I've covered all your questions about hummus and gave you a good recipe to start making your own. Hummus is not hard at all and I encourage all of you to start with this basic recipe and go your own way and adapt it to your liking from here.
If you have any more questions please leave them in the comment area, I'll be glad to help.
I hope you'll like this recipe and please if you make this recipe, snap a pic and hashtag it #amiraspantry — I love to see your creations on Instagram, Facebook, Twitter!
Don't want to miss a recipe? Sign up for the FREE Amira's Pantry newsletter delivered to your inbox with lots of tips and surprises! And stay in touch with me on Facebook, Twitter, Pinterest, and Instagram for all the latest updates.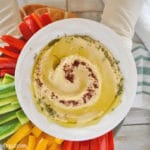 Homemade Hummus with tahini
cooking chickpeas:
20
minutes
Garbanzo bean hummus, one of the epic Middle Eastern recipes. Homemade hummus recipe from scratch, you'll never go back to the store bought tubs.
Print Recipe
Ingredients
2/3

cup

dried chickpeas

cooked will yield 1.5 cups.*

1/4

cup

water

divided.

3

Tablespoons

lemon juice.

1

Tablespoon

white vinegar.

3

Tablespoons

tahini paste.

2

small garlic cloves

minced.

1

teaspoon

cumin.

2

Tablespoons

extra version olive oil.

Salt to taste.
Instructions
Cook Chickpeas:
Soak chickpeas overnight in cold water.

Drain chickpeas and put in a saucepan, cover with water, boil then continue cooking for 15-20 minutes until done.

In your food processor add Chickpeas and two tablespoons of water and process scarping the sides and bottom of the bowl.

Add tahini, lemon juice, vinegar, 2 tablespoons of water and mix until well incorporated and creamy.

Add garlic, cumin, salt, and mix.

If the mixture is too thick for your taste mix in the remaining 2 tablespoons of water.

Taste to adjust salt.

Serve drizzled with 2 Tablespoons olive oil.**
Notes
* You can also use a 15oz can of chickpeas, drained and rinsed well.
** I do not like adding olive oil while processing the hummus, rather I drizzle mine on top and mix while eating. This is just my personal thing, otherwise you can add the oil to the hummus while making.
** Nutrition Facts did not include salt as it is to your taste.
Nutrition Facts
Homemade Hummus with tahini
Amount Per Serving
Calories 163
Calories from Fat 99
% Daily Value*
Fat 11g17%
Sodium 156mg7%
Potassium 133.9mg4%
Carbohydrates 13.8g5%
Protein 4g8%
Vitamin A 20IU0%
Vitamin C 6.1mg7%
Calcium 57mg6%
* Percent Daily Values are based on a 2000 calorie diet.
Nutrition
Calories:
163
kcal
|
Carbohydrates:
13.8
g
|
Protein:
4
g
|
Fat:
11
g
|
Polyunsaturated Fat:
3.2
g
|
Monounsaturated Fat:
6
g
|
Sodium:
156
mg
|
Potassium:
133.9
mg
|
Fiber:
3
g
|
Sugar:
0.2
g
|
Vitamin A:
20
IU
|
Vitamin C:
6.1
mg
|
Calcium:
57
mg
You might also like