Homemade pita bread is the best, soft, pillowy and easy to make. Use this bread for your falafel, ful medammes, kofta or maybe to scoop up a delicious okra stew. It is so soft, so hollow with a large pocket that is open for anything you wish to stuff it with.
Check out our version of whole wheat pita bread here.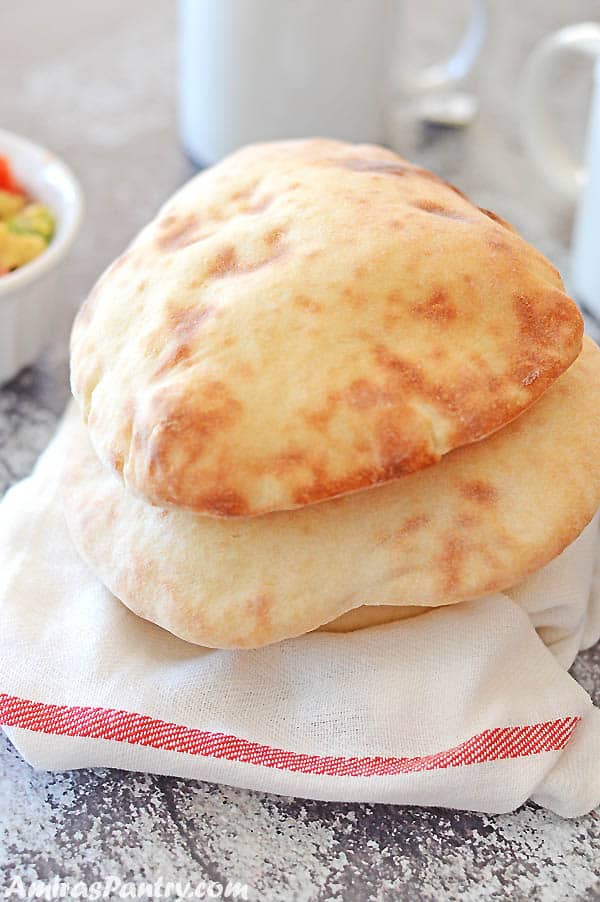 Pita Bread recipe
I grew up with pita bread everywhere and in every possible form and name you can ever imagine. Bread is a kitchen staple in the Middle East, in fact the word " bread" is always used to express living. During the Arab Spring, protestors were shouting " bread, freedom and social justice" and bread here meant finding a decent way of living and earning money.

Talking about revolutions and freedom, I was studying American history with my saucier, the years and incidents that led to the declaration of independence. There was this question that said " who do you think is a good citizen, one who follows the law or one who stands in the face of injustice? My kid blurted out that it is the one who obeys the rules and follow law!!. We had a really long conversation and I told him if it was that then you do not approve of what the founding fathers have done. They have disobeyed the British rules and protested against unfair taxes so they can get freedom for the people. And a long long talk about how we should stand against any unfair laws bla bla bla then at the end he just looked at me saying " mama, still the good citizen is the one who follows the laws"!!
I love homemade breads, to tell you the truth I was not a fan of baking anything but when I came here I discovered my love for baking. There is something satisfactory about baking specially bread. Kneading, seeing it rise, shaping and waiting anxiously by the oven are soul healing processes for me and I believe many others.
Fresh pitas are among things that are 1000% better homemade than store bought. Making pita bread is not hard at all, the only common problem is how to get them to puff. I have made many recipes before and this is the least fussy and easiest to throw together. Don't give up, bread making is all about making mistakes and getting to know your ingredients better. If baking is your thing, I highly encourage you to try this recipe. It is a wonderful intro recipe for those looking to incorporate more homemade bread into their meals.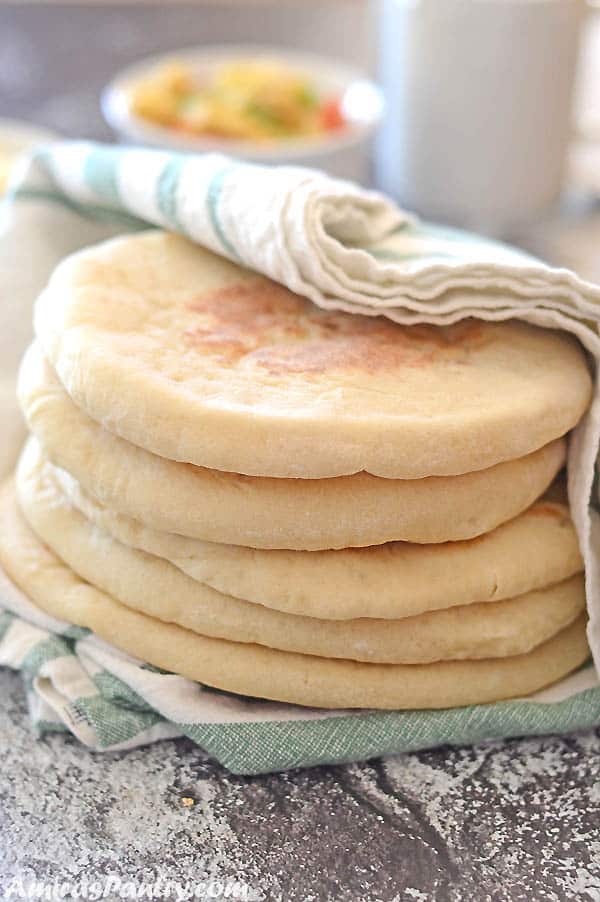 What is Pita Bread?
Pita bread, also known as Arabic bread, is a family of leavened round bread. Its main characteristic is having a pocket to stuff things into. There is also a pocketless versions such as Greek bread.
Pita bread vs Naan
Naan has a softer texture than pita bread as it usually contains dairy products. Naan bread has yogurt, milk ,butter/ghee or eggs. This pita bread version on the other side is dairy free.
Pita bread vs Flatbread
Flatbread is considered the big umbrella under which pita bread can be classified. Flatbread usually does not contain Leavening agents such as in this unleavened bread recipe.
How pita bread is made?
This pita bread recipe is so easy to make and requires only 5 ingredients, 3 of them are kitchen staple. Make these as thin or as thick as you like, bake them in the oven or stove top whatever is more convenient for you. First let's see what are pita bread ingredients.
Pita bread ingredients: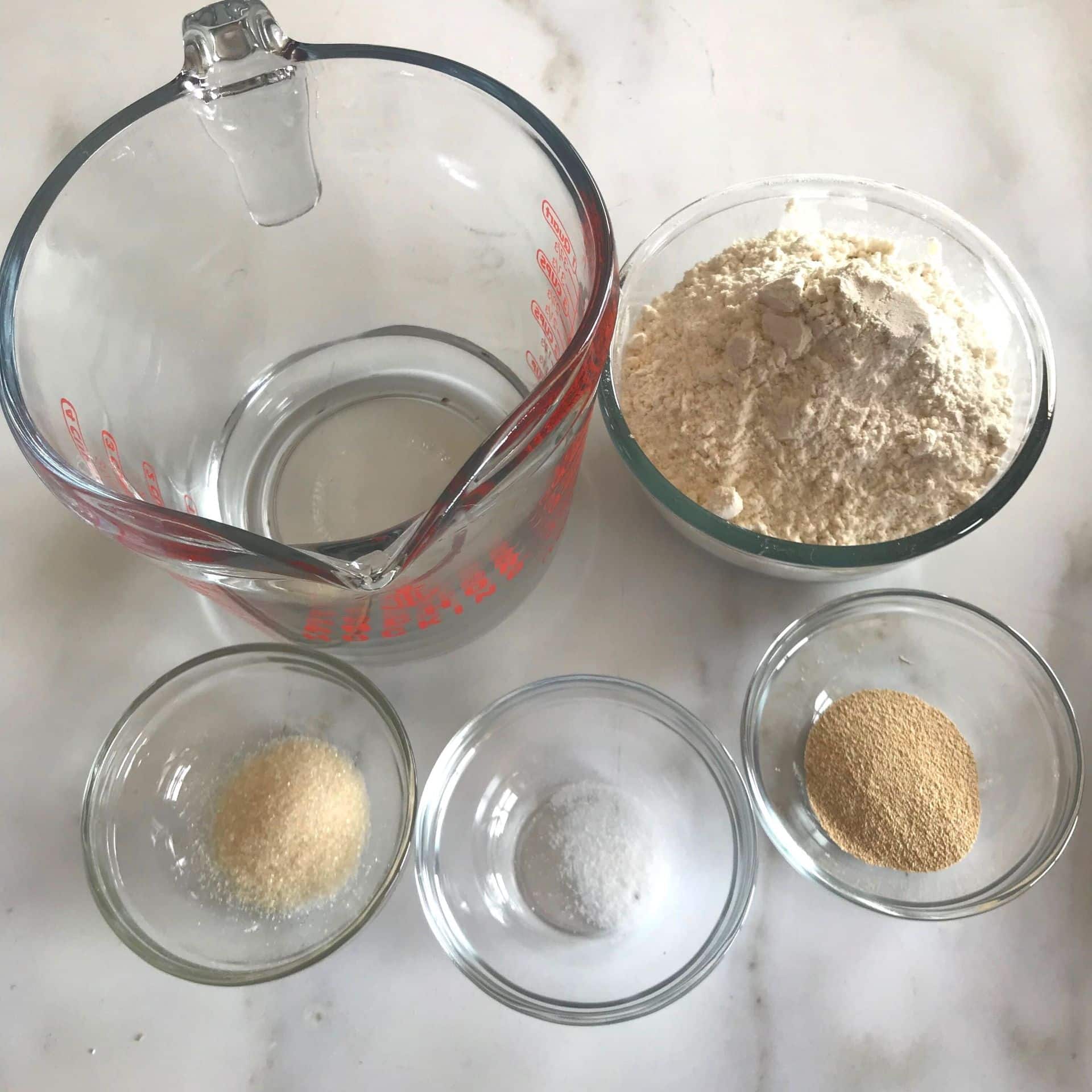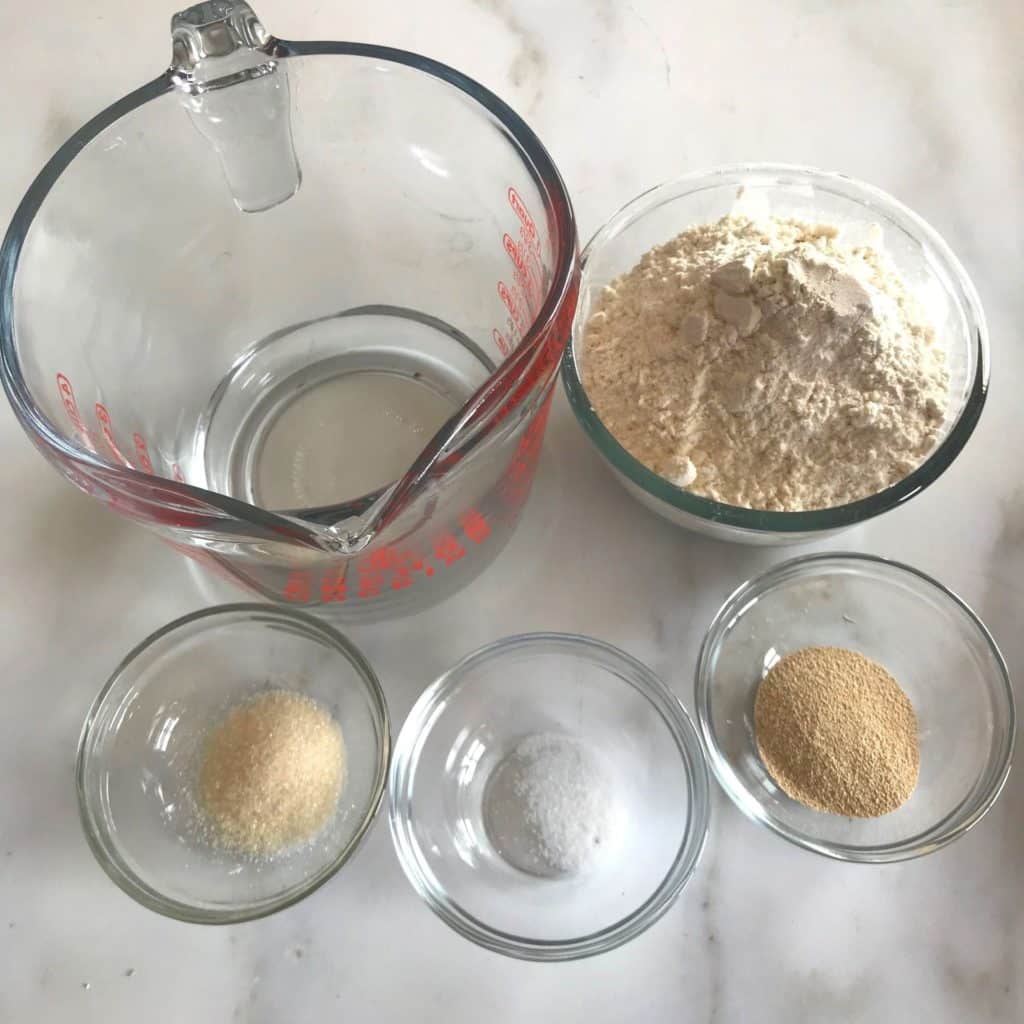 Flour: well, you know this bread is made with flour and it is not gluten free one. I've used both all purpose and bread flours but found bread flour to be better. In the recipe below I left a note on how to make your own bread flour.
Yeast: lots of yeast as it is used to help the bread make the pocket.
Sugar: to activate the yeast.
Salt: for a better taste, it is up to you to add more, less or leave it out.
Oil: not much actually, I am just using oil to cover the dough so it will not get dry while rising.
Homemade pita bread recipe step by step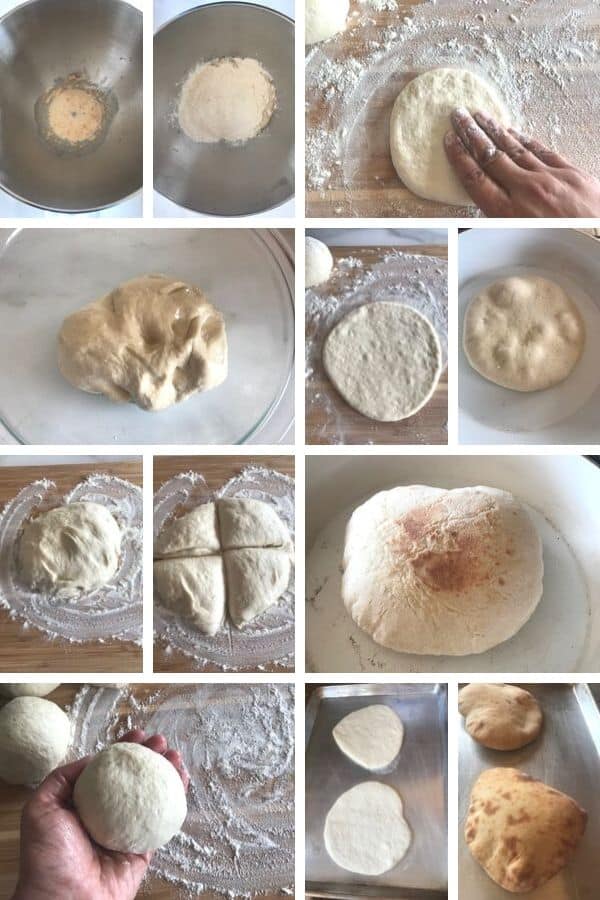 Dissolve sugar in about 1/4 cup of warm water then add yeast and leave it for about 5 minutes.
Add the rest of the ingredients to a stand mixer fitted with a dough hook. You can mix ingredients by a wooden spoon then knead by hand until you get a smooth elastic dough.
Place dough ball in a bowl with a teaspoon of oil, turn dough in all directions to cover with oil. Cover in plastic wrap and leave it to rise for 30 minutes.
Take the dough out on a lightly floured surface.
Divide the dough into 4 equal parts but this depends on the size you want for your pitas.
Form parts into dough dusting lightly as you roll them and set them aside covered.
Take one ball and flatten it a bit with your hand.
Roll the dough into rounds between 1/4" and 1/8" thickness.
Heat a non-stick skillet on stove top and carefully place the dough round on the hot skillet.Wait for like 30-45 seconds and you will notice it bubbling, at this time turn it to the other side and wait for another 30 seconds pressing lightly with a wooden spoon or spatula.
Keep turning the dough every 20 seconds or so and be patient it will puff. Keep pressing with a wooden spoon to help it puff completely as shown in the video.
If you would prefer to bake your pitas in the oven, preheat oven to 500F placing a sturdy baking sheet, cast iron skillet or a pizza stone in the oven to heat up. Place your pita on the baking surface right after rolling and put it back in the oven.
The dough should puff up about one and a half minute after placing the baking sheet in the oven. Turn it to the other side and let it complete baking for anywhere from one minute to another one and a half minute. If you let the pita stay longer and brown, it will be crunchy, which is good if you want to. If you want soft pitas, then it should be pale in color with some brown dots on the top.
Cover the dough balls and the baked pitas with kitchen towels as you work to keep them soft.
Notes for the perfect pita bread every time:
In the oven method, give the pan about a minute in the oven by itself to re-heat between pitas.
In the stove top method though, take the pan off the heat after you bake one pita, roll the other pita then return the pan to the stove top for just 20-30 seconds to reheat before baking the next one.
Spraying with water method, this technique ensures even and consistent puffing of the bread in the oven. Just fill a spray bottle with water and when you toss bread into the oven, spray it once or twice. Some people even go to the extent of putting a pan in the oven filled with water or even ice.
Make sure not to poke the pita dough after rolling with your fingers or leave marks accidentally with your nails as this will make the dough unable to puff.
If you are worried that you'll poke your pitas hence making it unable to rise and puff here is a tip to help you. Roll the bread ball on a parchment paper and lift it with the parchment and place it on the baking sheet or the skillet. Bake with the parchment paper on then take it off after it puffs.
For soft pockets roll them between 1/8" here and the 1/4" and do not overbake in the oven. They should be puffed and looking a little "dry" but not really browned.
I've noticed that my kids liked the stove top bread more than the oven so I made most of the batches on the stove top. I've made some in the oven and I left them to brown a bit. This reminded me of a certain crispy pitas in Egypt and I usually enjoy it with feta cheese and watermelon.
Finally if yours did not puff, which I highly doubt, do not stress over it. Try cutting it in half and carefully separate the bread with a pairing knife. You'll still have a most delicious homemade bread and with a little extra effort, the most delicious baba ganoush, tahini or hummus to dip it into.
Best pita bread recipe
Ultra pillowy, soft pita bread recipe that will fill your home with fresh homemade bread smell. This is a great, basic and fairly easy pita bread recipe for beginners.
If you like this recipe do not forget to give it a ⭐⭐⭐⭐⭐ star rating and attach a photo of your finished dish. It is always a pleasure of mine to see your photos and check your own take of the recipe. Thank you.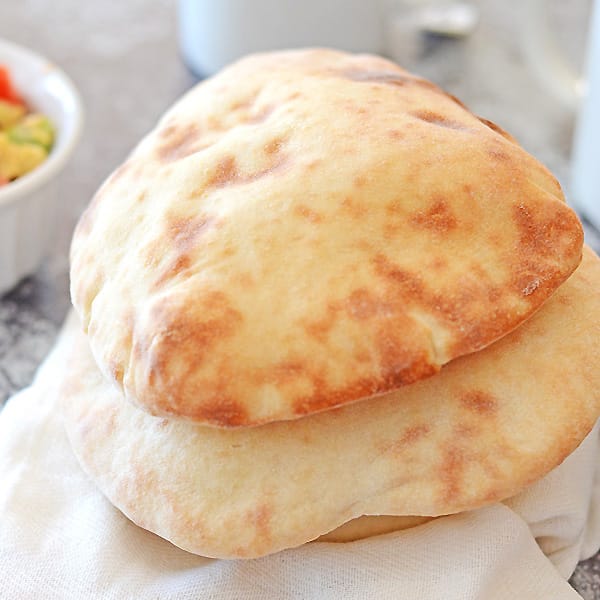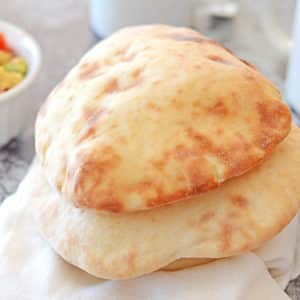 Pita bread recipe
The dough for this recipe requires only flour and yeast, the rest of the ingredients are there in your pantry. Only 30 minutes of rising time and there is no going back to store-bought pita even again.
Print
Pin
Rate
Ingredients
2

cups

(255g)bread flour.

Note1

1

cup

(240ml) warm water.

1/2

Tablespoon

active dry yeast.

1/2

Tablespoon

sugar.

1/2

teaspoon

salt.

1

teaspoon

oil.
Instructions
Stir yeast and sugar in about 1/4 cup of the water and put aside until it becomes bubbly about 5 minutes.

In a deep bowl, or your mixer bowl, add flour, salt and mix well. Add the yeast mixture start mixing and add the warm water gradually until your dough comes together.

Knead until it forms a smooth, elastic dough. Dough should be a bit moist.

Add the oil to a bowl, transfer dough to the oiled bowl and turn it around to cover lightly with oil. Cover and let it rest for 30 minutes.

Meanwhile, heat oven to 500F degrees and put your baking sheet in there to heat up. Note2

Turn dough onto a clean, lightly flour dusted working surface.

Divide dough into 4 equal parts and form each part into a ball. Return balls to bowl and cover. We will work on them one at a time.

Take one ball and place on the work area, flatten lightly with hands then roll using your rolling pin to flatten to desired size. Note3

Lift the dough circles carefully, making sure not to poke it with your fingers and place on your baking sheet. If your baking surface is large enough put two or more together.

The dough should puff nicely about one and a half minute through baking. Turn it to the other side to complete baking for another minute.

If you want soft pita, do not let it brown in the oven just pale with few brown spots. If you like a hard and crunchy top, leave it in the oven until it browns nicely all over to your perfections. Note4

Heat up a non-stick skillet on medium-high then place each circle right after rolling carefully on the skillet.

After 30-45 seconds it should start getting bubbles, turn it to the other side for another 30 seconds.

Keep turning the pita on each side pressing with a wooden spoon to help the bubble grow making the pita puff all over.

Take the bread out and cover with towel.

Take the skillet out of the heat and roll the next ball, return skillet to heat up again for about 20 seconds and repeat the process. Note5

Make sure to cover the bread after baking in t he oven or the skillet until you are done with the others to keep it soft.
Notes
Note1:You can make your own bread flour by adding 1 teaspoon of vital wheat gluten to every cup of AP flour. You can also use AP flour but the resultant bread won't be as chewy.
Note2: You can use heavy duty baking sheet , large cast iron or a pizza stone in the oven to heat up. You can also bake the bread on stovetop, my preferred way.
Note3: We like our bread ultra thick and chewy so I roll mine to almost 6 inch circle.
Note4: I like baking some crunchy ones to eat with cheese or molokhia, but my kids prefer them soft, thick and chewy.
Note5: Many recipes call for letting the dough circles to rest after rolling for 15 minutes or so, this method did not succeed with me this time and although the bread was still delicious it usually did not completely puff.
Please check the nutrition disclaimer policy.
Nutrition
Calories:
250
kcal
|
Carbohydrates:
47.7
g
|
Protein:
8.4
g
|
Fat:
2.2
g
|
Saturated Fat:
0.2
g
|
Polyunsaturated Fat:
0.8
g
|
Monounsaturated Fat:
0.8
g
|
Sodium:
292.7
mg
|
Potassium:
63.8
mg
|
Fiber:
1.5
g
|
Sugar:
1.7
g
|
Calcium:
1
mg
|
Iron:
17.1
mg
Sign up and learn more about Mediterranean flavors
Time to show you off!