Learn how to make airy and fluffy falafel with beans, this is the authentic green falafel recipe with its tips and tricks.
Pounding sound from the large stone mortar and pestle making falafel in the early morning hours. Sizzling hot oil and the smell of freshly fried falafel were all part of my morning walk to school. Falafel has been a street food in Egypt since the early days of history I believe. Let me show you how to make easy green falafel with a step by step guide.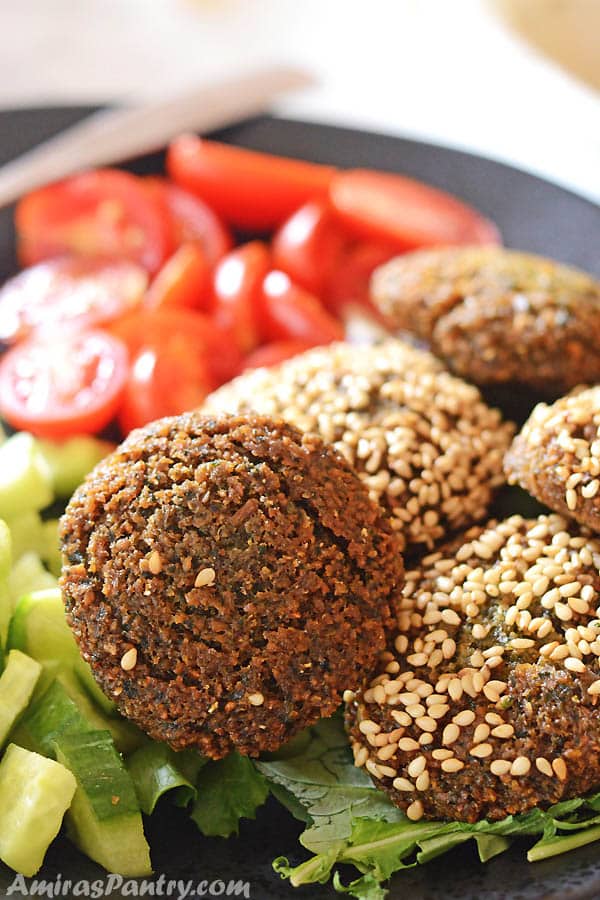 Falafel
Falafel was one of the few breakfast sandwiches that I would really eat when I was a little kid. My beautiful mama would wake up early to fry some falafel patties and make morning and lunch sandwiches to motivate me to eat. Until recently my kids did not like falafel but after going to Egypt last summer the big boys fell in love while the youngest is not there yet.
Falafel in Egypt is much greener than the usual falafel here in the United states and it is made with peeled and split beans not chickpeas.
Although chickpeas falafel are now very common in Egypt, everone of my friends still long to the traditional falafel of Egypt. Nowadays falafel in Egypt are less green and the dough has a consistency that I dare to say like whipping cream. I was wondering how they do that? it is so fluffy and airy.
After doing some research I learned that the reason for such fluffy falafel dough is that it is whisked so hard to fill it with air. It is then fried and stuffed in pita pockets with tahini, greens, tomato and pickles. Crispy outside while airy and fluffy and green and delicious inside.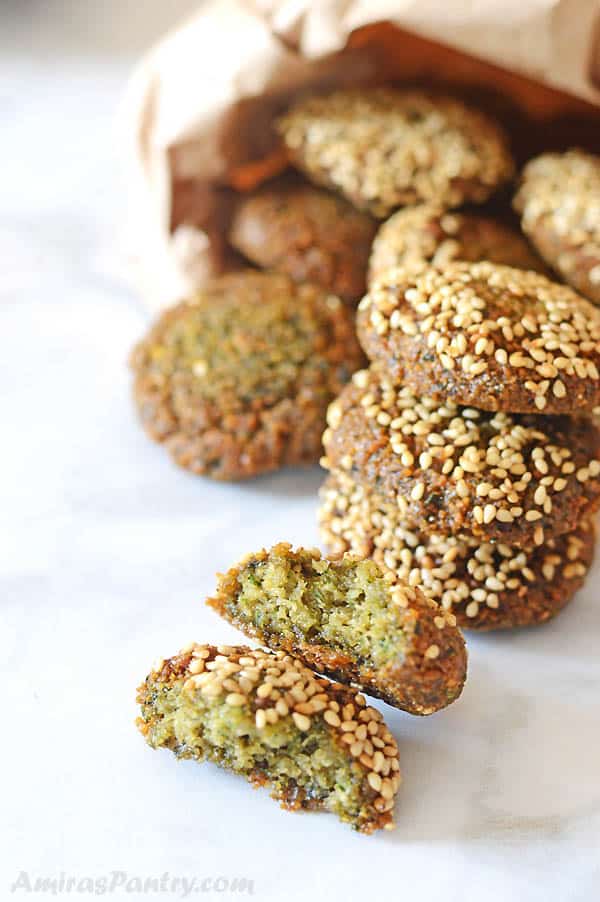 Falafel Ingredients
Dry fave beans: this is a key ingredient for Egyptian falafel. Peeled and split beans are used, chickpeas are also commonly used and highly spread.
Fresh herbs: parsley and cilantro are main herbs for falafel and you do not want to skip either. I used to put almost double the amount I am using here.
Leek: is one of the main ingredients in this falafel, I used green onion instead as it is easier to find. You can also use regular onion but leek gives a more authentic flavor.
Spices: salt and pepper, cumin and coriander. Dry ground coriander also gives an authentic flavor to falafel and sometimes falafel patties are dipped in ground cumin instead of sesame seeds before frying.
Baking soda: I use this because my mom and her mom did. It is used to fluff the falafel even more and preserve the green color.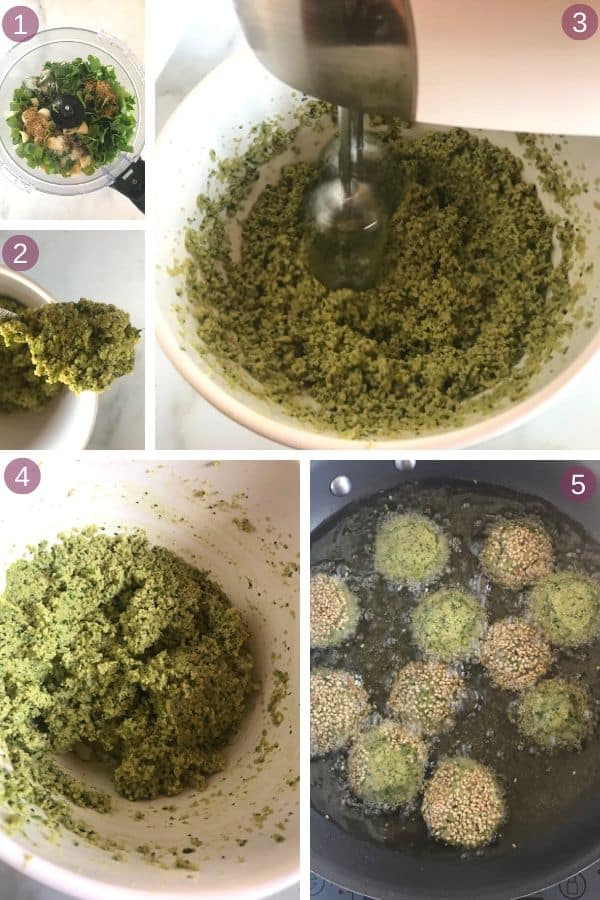 Place all the above ingredients in a food processor and process several times until you achieve your desired texture. If you are planning to freeze the falafel then do not add the spices just add the baking soda to the herbs and beans.
I like my falafel a bit grainy like the texture above, some people like it very fine so it is really up to your taste.
Now for the fun part, using a whisk or your electric beaters, beat for like 5 minutes. Yes 5 minutes until it gets really airy and fluffy.
Form falafel into balls or discs dip in sesame seeds (optional) and fry in hot oil until golden brown.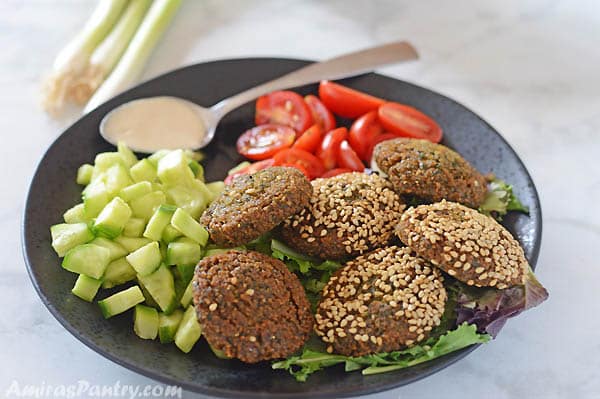 Falafel tips and tricks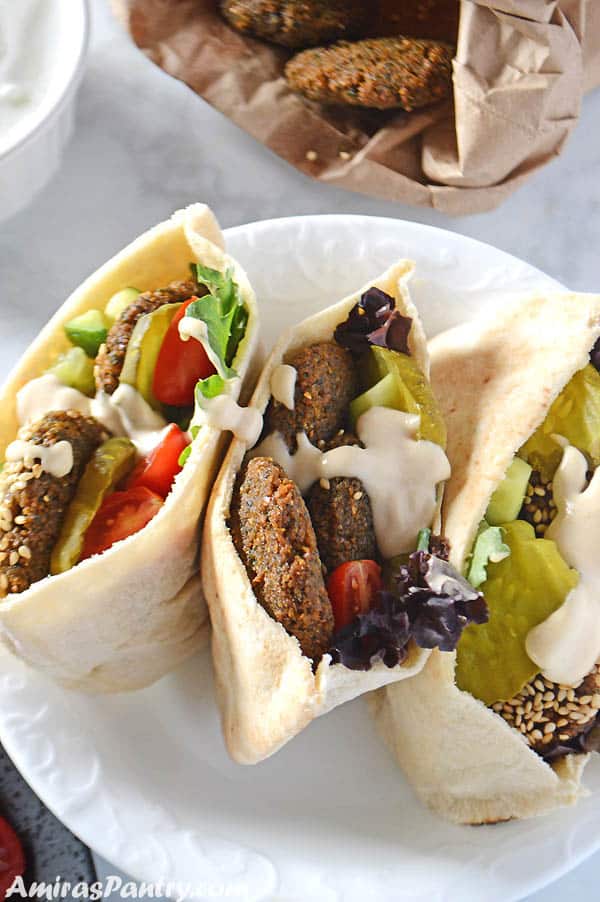 That's it for now guys, if I remember anything I will make sure to come back and add it. Just follow the recipe and let me know what do you think. Serve this with tahini, greens, tomato, red onions and pickles.
More Falafel Recipes
Have you tried stuffed falafel? I like mine stuffed with feta but many like them stuffed with sumac onions.
If you want to cut back on fried food, try these baked falafel made with canned chickpeas!!.
Popular Middle Eastern street food, falafel pita sandwich, is a must have when you visit Egypt. But you can certainly make them at home with a variety of toppings and condiments.
If you like this recipe do not forget to give it a ⭐⭐⭐⭐⭐ star rating and attach a photo of your finished dish. It is always a pleasure of mine to see your photos and check your own take of the recipe. Thank you.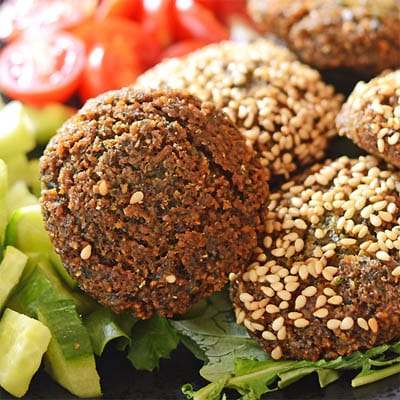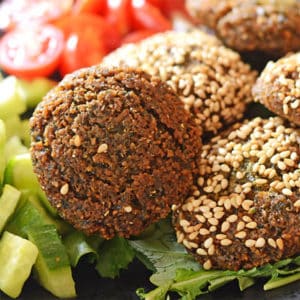 Falafel
Learn how to make airy and fluffy falafel with beans, this is the authentic green falafel recipe with its tips and tricks.
Print
Pin
Rate
Ingredients
1

cup

(180g) split dry fava beans.

1

(30g) green onion, chopped both green and white part.

½

cup

(15g) parsley, roughly chopped.

½

cup

(15g) cilantro, roughly chopped.

2

(10g) big garlic cloves.

½

teaspoon

baking soda.

Spices:

1

teaspoon

ground coriander.

½

teaspoon

ground cumin.

1

teaspoon

salt or to your taste.

¼

teaspoon

ground black pepper.

1-2

Tablespoon

water.

Optional:

Sesame seeds for dipping.
Instructions
Wash beans under running water then place in a deep bowl.

Cover with water and let it soak for 2-3 hours changing the water once in the middle.

Drain beans and place in the food processor.

Place all other ingredients except for water. Note1

Process until very fine. If you feel the dough texture is rough add 1 tablespoon of water at a time and mix until you get a fine dough.

Place the dough in a deep bowl and whisk it hard with an electric mixer or a hand held whisk for about 4 to 5 minutes until it gets foamy and super airy. Note2

Heat oil in a heavy bottom skillet or a cast iron skillet.

Scoop about 2 tablespoons of the falafel and form into a ball or a disk.

Dip the disks from one side into a flat plate of sesame seeds and fry for 2-3 minutes per side until it gets nicely browned all over.

Transfer to a paper lined plate.

Serve with tahini dip, tomato, pickles, cucumber, onions and green salad.
Notes
Note1: If you are going to freeze it then do not add the spices.
Note2: The falafel dough is Egypt that is sold by street vendors are super fluffy I would dare to say the texture is like whipping cream!! So this step is done to try to approach that texture as much as possible.
Please check the nutrition disclaimer policy.
Nutrition
Calories:
35.6
kcal
|
Carbohydrates:
6.1
g
|
Protein:
2.7
g
|
Fat:
0.2
g
|
Sodium:
199
mg
|
Potassium:
113.8
mg
|
Fiber:
2.6
g
|
Sugar:
0.6
g
|
Vitamin A:
2.5
IU
|
Vitamin C:
3.3
mg
|
Calcium:
1.3
mg
Sign up and learn more about Mediterranean flavors