Syrian/Shamy or hummus falafel, that's what we call these falafel which is made with chickpeas. Warning: this is very tasty so if you are a carnivore, this recipe might convert you.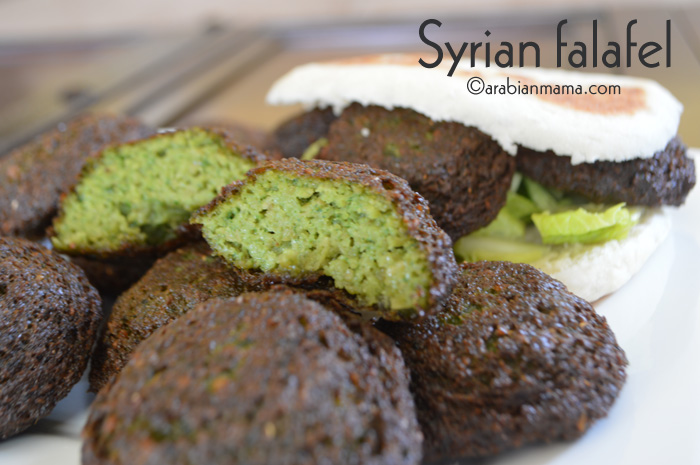 We had a couple of days when it was so cold. Snow fell heavily and mercilessly decreasing the temperatures below zero Celsius.

Kids got back from school shivering asking for a hot path and begging me to warm up their clothes in the dryer before they put it on.
My husband increased the heater to warm us up and I prepared hot chocolate for the kids while sipping through a hot cup of tea.
After having a hot and filling dinner, I've asked the kids to finish their homework and here comes my nagging kid who never does as he is told. I began thinking " Oh God not again why me.. why do I have to suffer with this kid like that?". After that all the negative thoughts haunted me, Why my family keeps moving a lot? My kids cannot have long term friendships at school because we keep moving. My kids do not behave the way I want them to.. Why did we ever move to the US? I sorely miss my family and friends back in Egypt.. I miss my late father so much.. Why did he left so soon I wanted him to stay longer.
In the midst of all of these negative thoughts, I saw these pictures about the sufferings that the Syrian refugees living each and every day.
Only then I started looking at my life from a different perspective,I've started counting the blessings in my life and focus on what I have ( which is a lot) instead of what I do not have. Only then I felt embarrassed of thinking and feeling that way. Only then I realized how much me and also you have.
Most of us do not know how it is like to live in constant fear.
Most of us have a roof on top of our heads.
Most of us do not know how does it feel to be hungry for days.
Most of us have food in our fridge, heaters in our homes, more than one coat, blankets, running hot/cold water .....etc
We have a lot but it seems that we all forget how lucky we are. We wish to have a bigger house, we whine about not getting the car of our dreams, we fuss over the fact that we cannot afford more organic food or that we cannot afford more activities for the kids.
I am not saying this to make you feel guilty or to make you feel ashamed about your dreams. Everyone is entitled to have a dream and to try to reach his/her goals. I just want you to take it easy on yourself and to look at your life and see all the good things there not only the bad. to see the blessings and not just what you are missing.
If you are having a stubborn kid, thank God that you have a kid while others don't.
If you are having a job that you hate, thank God that you have a job at the first place.
If you cannot afford to cook many dishes, thank God that you have a stove to cook on.
Again, I am not trying to preach you here, I'm just trying to let you see how lucky you are.
If you can't give right now, would you consider tweeting about this project or share this post to your facebook friends and fans?. Let's all get together to spread the love this year and try to ease things up for someone on the other side of the world.
♥Thank you for hearing ME here and reading this long post♥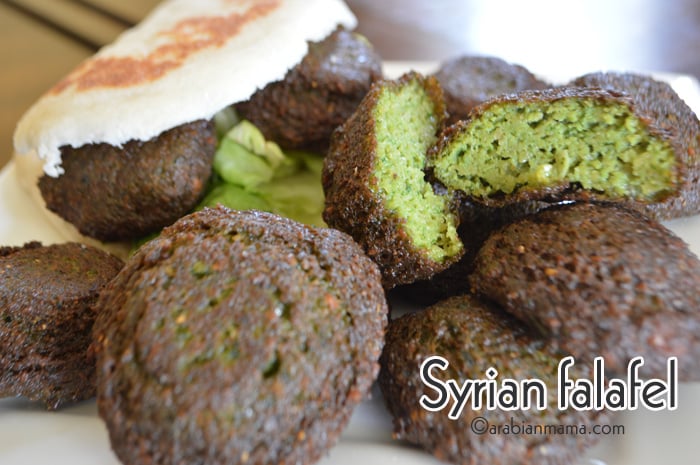 Now back to my recipe which is the Syrian falafel. This is a type of falafel that is made with chickpeas instead of the Egyptian one which is made using fava bean.
Here is a short video on how to make this Syrian or Shamy falafel.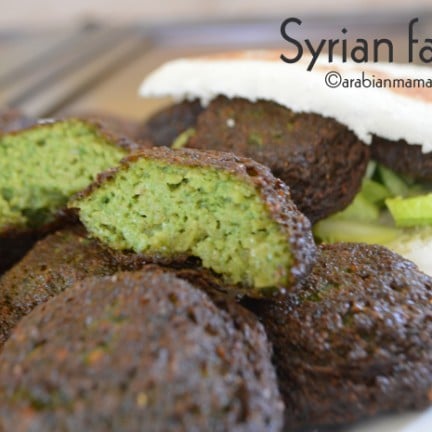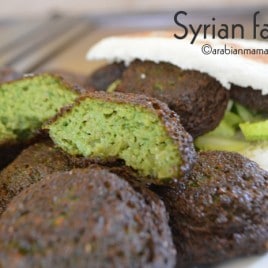 Ingredients
2

cups

dry chickpeas.

1

large yellow onion- diced.

8

large garlic cloves.

1

small bunch of parsley.

1

small bunch of fresh coriander- cilantro

2

teaspoon

of baking soda.
For frying 1/4 of this batch:
1

egg

1/2

teaspoon

salt.

1

teaspoon

dry coriander.

Oil for deep frying.
Instructions
Soak the chickpeas overnight then wash and drain.

In the food processor add the onion,garlic, cilantro, parsley and drained chickpeas.

Process several times until you get nice consistent and soft mixture.

Add the baking soda and mix well

Divide according to your family size and freeze. You can safely freeze them in a freezer safe bags for up to 5-6 months.

When you are ready to eat falafel, thaw on countertop

Crack an egg, add dry coriander and salt, mix well.

Add the thawed falafel and combine well.

Heat oil on medium ,and fry falafel until brown.

You may want to try baking them for a healthier falafel.

Make sandwiches with lots of greens, tomato and tahini sauce.. Enjoy!!
Sign up and learn more about Mediterranean flavors