This is a heart melting, lip smacking, finger licking and above all good looking baklava dessert.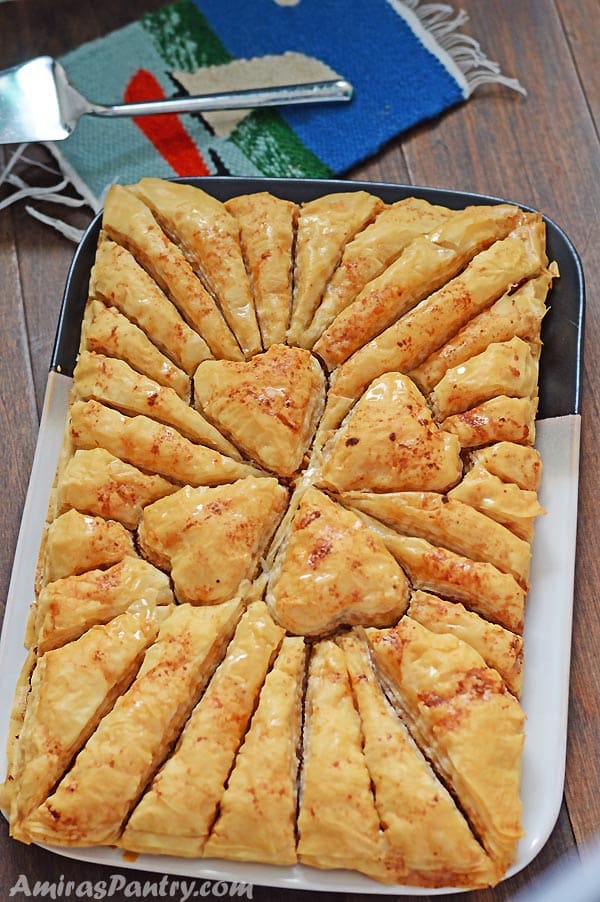 This is it, if you are going to celebrate, celebrate with style. Valentine's day sweets are the most wanted and I am making it easy for you here. Surprise your loved ones with this baklava which will put a smile on their faces. This baklava got me the wow look I look for with any recipe. If you need something unique step away from traditional with Valentine's baklava.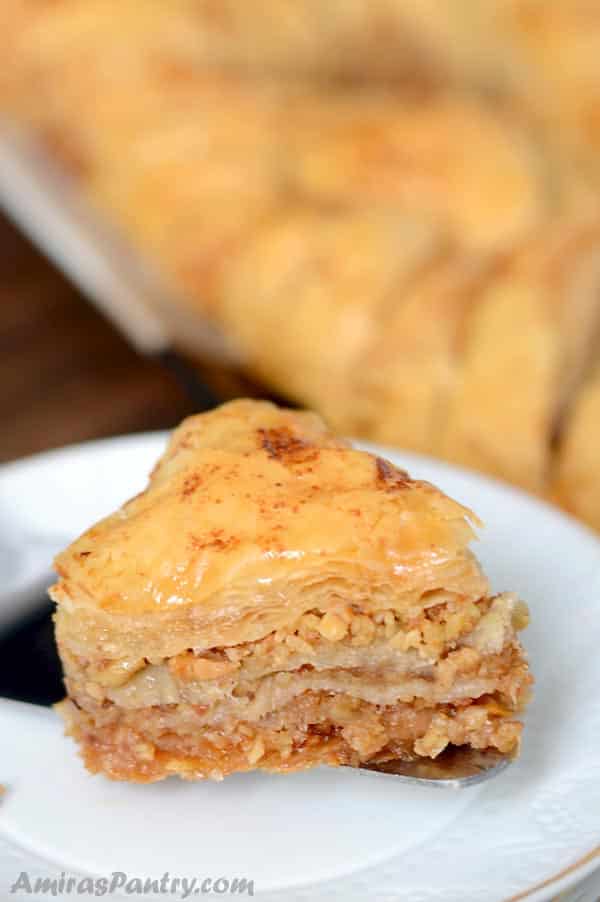 By easy, I mean it does not require any special skills or baking strategies. No complicated steps, just layering, brushing and more layering of phyllo sheets. It does require some work but seriously guys the outcome worth it. So without further ado, let's jump in.
We'll need a lot of nuts here, about 1 pound. Usually I do not like processing my nuts in the food processor as I like feeling and tasting the nuts rolling my tongue on them. One of my friends though suggested that I do so trying to make them a little coarse as it makes it easier for spreading and cutting afterwards and she was right.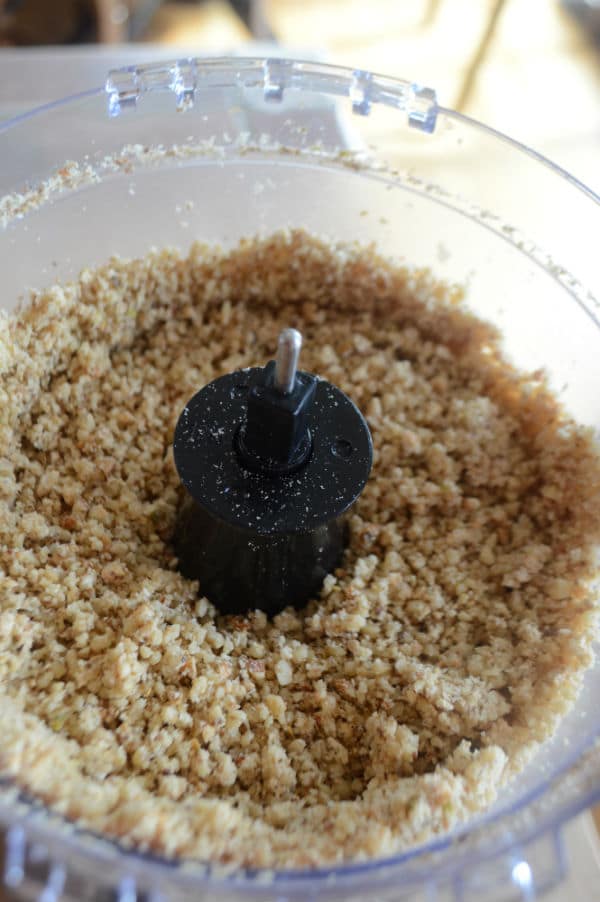 This step came from my sister, add some cinnamon and a couple of tablespoons of honey, simple syrup or corn syrup. This step is optional but it makes the filling less likely to fall out of your layers.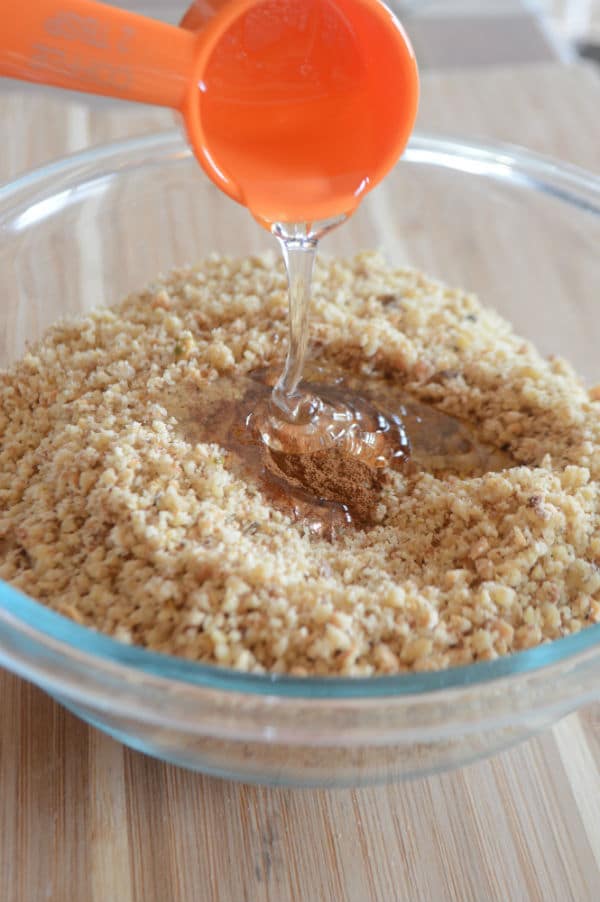 Then simply we will start the process of brushing each phyllo sheet with butter and spreading the mixture. I've divided my phyllo sheets into 5 groups and spread nut mixture in between. This caused my baklava to be tall and more flaky.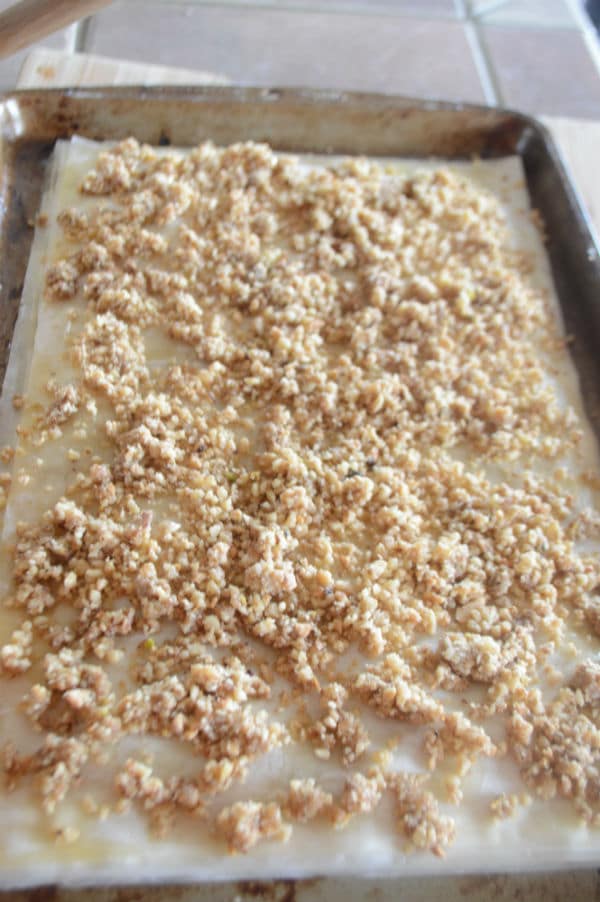 Here comes the magic, the real uniqueness. Using a hearts shaped cookie cutter, cut 4 hearts in the middle of the sheets.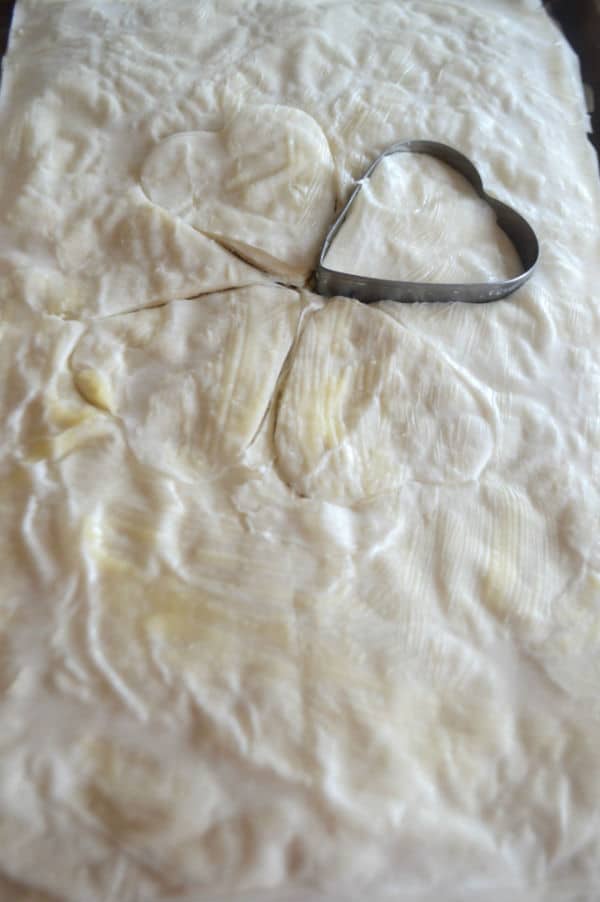 Then with a sharp knife, make something like sun rays starting from the hearts and ending on the edges of the phyllo sheets.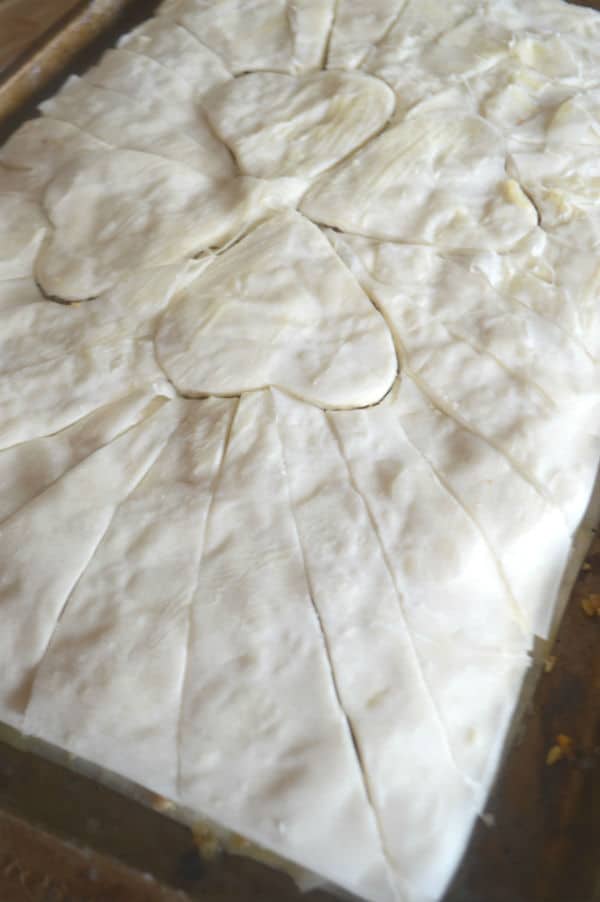 Bake until golden brown. Pour simple syrup on while it is hot, just make sure that you've prepared the syrup early enough for it to cool and come to room temperature. I've lost track of time and made mine later on the process, so I simply placed it in the patio as it was freezing out there 💡.
I could not find a nice looking cookie sheet or pan that would fit my baklava, I only had those Pyrex 9×11 ones. That meant cutting my sheets to fit in there, and I hate seeing my dear phyllo sheets go to a waste. I know you'll say I can use it another recipe, but really every time I do so, I end up throwing them in the trash. So I've used a bigger, ugly looking cookie sheet that I've had for ages. When cutting my baklava before baking, I did not go all the way through. SO after baking I was able to transfer the whole thing to a nice serving plate.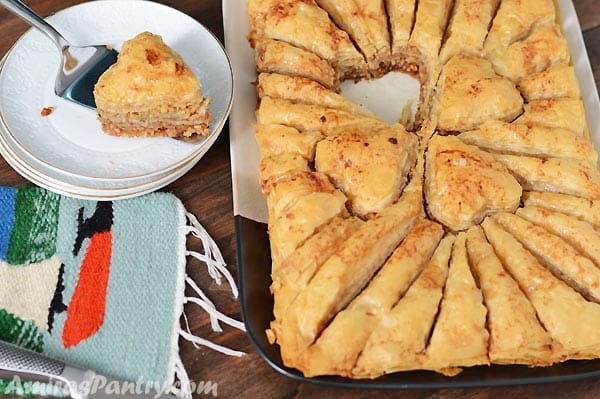 I've been receiving lots of hugs recently at Walmart, in the streets, at Michaels… etc. I've heard "You are welcomed here" and " never fear a thing" .. lots of encouraging words and random acts of kindness that really touched me deeply and filled my eyes with tears. Thank you Colorado ❤️️ ❤️️.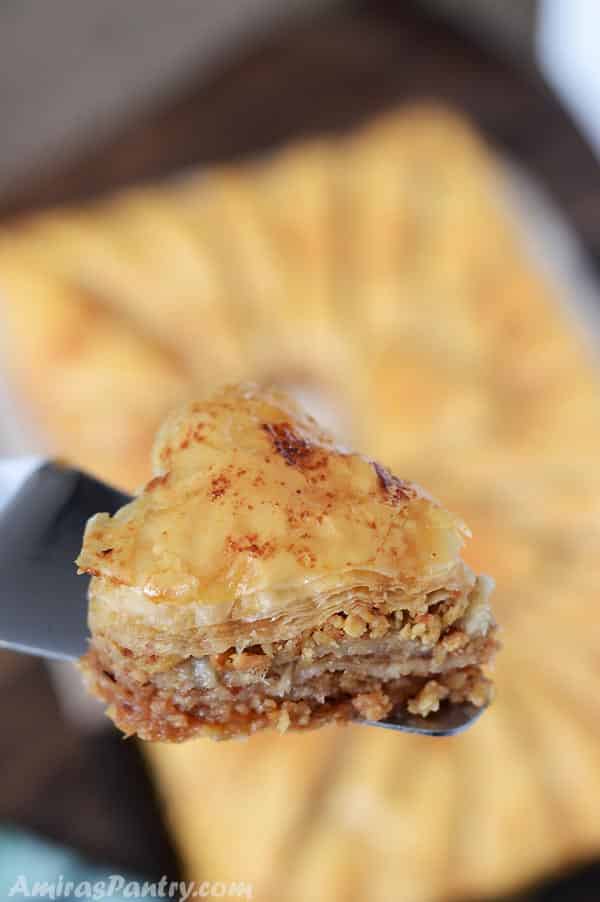 Chase away the ugliness, hatred, anger, revenge and all the feelings that will bring us all down. Make this baklava, smile😊, let others smile😊 😊, eat and …. Enjoy!!
I hope you'll like this recipe and please if you make this recipe, snap a pic and hashtag it #amiraspantry — I love to see your creations on Instagram, Facebook, Twitter! Don't want to miss a recipe?
Sign up for the FREE Amira's Pantry newsletter delivered to your inbox with lots of tips and surprises! And stay in touch with me on Facebook, Twitter, Pinterest, and Instagram for all the latest updates.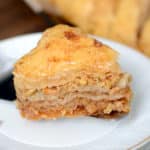 Traditional Baklava
Print Recipe
Ingredients
1

package phyllo dough.

16 oz

2

sticks butter

melted.
For the filling
1

lb

mixed nuts

roughly chopped *

1

tsp

ground cinnamon.

1/4

cup

honey/simple syrup or corn syrup.
For the simple syrup
1

cup

granulated sugar

1

Tbsp

lemon juice.

1

cup

water

A dash of vanilla.
Instructions
Thaw the phyllo package according to package direction.

Make the syrup by combining all the ingredients in a sauce pan over medium heat, still well to dissolve sugar then when it boils, reduce heat to medium-low and let it simmer for about 10 minutes. Turn off the heat and let it cool completely.

Pulse for chop the nuts and mix with cinnamon, add the honey or corn syrup and mix well.

Melt butter in the microwave or in a sauce pan, be sure not to burn it.

Brush a suitable oven dish or pan with butter.**

Start layering the phyllo sheet brushing each couple of layers with butter.

Do so until you are done with 1/4 of the phyllo dough that you have.

Spread about 1/4 of the nuts mixture then layer about 1/8 of the phyllo sheets brushing with butter.

Continue this pattern to finish up with another 1/4 of the phyllo sheets that you have.***

Preheat the oven to 325F.

Determine the center point of your pan, then with a heart shaped cookie cutter cut a heart and carefully take the cutter out.

Cut another three hearts to form a circle in the middle of the pan.

With a sharp knife cut the rest of the pan as if sun rays coming out of these hearts.

Bake for 55 minutes to an hour or until it is puffy and golden brown.

Pour the cooled syrup over the baklava, you'll hear it sizzle and smell the goodness.

Let it cool completely then serve.

Enjoy.
Notes
* You can use mixed nuts of your choice or use a certain type of nuts that you like. I've used a mixture of walnuts,pecan,pistachios and cashews.
** It was hard for me to find a suitable sized oven dish as I've used a different phyllo dough brand this time than the one I am used to. If you cannot find one that will take up all the phyllo dough, then just cut the phyllo dough to fit in the pan you have. *** Some math is needed for these steps guys so I will give you an example here: for instance I had 35 phyllo sheets in my package so here how I've done it:
Bottom layer 10 sheets then 1/4 of the filling
then 5 sheets topped with 1/4 of the filling
then another 5 topped with 1/4 of the filling
then another 5 topped with 1/4 of the filling
Finish this off with a final layer of 10 phyllo sheets.