Traditional Baklava Recipe is rich and not overly sweet dessert that is a crowd pleaser. Buttery phyllo layers stuffed with nut mixture makes the best baklava ever.
Sweet, buttery and flaky baklava is a crowd pleaser and an all time favorite dessert. Learn how to make the best baklava recipe that is rich and nut loaded with just few ingredients. And I am going to tell you why this recipe is the best in a few.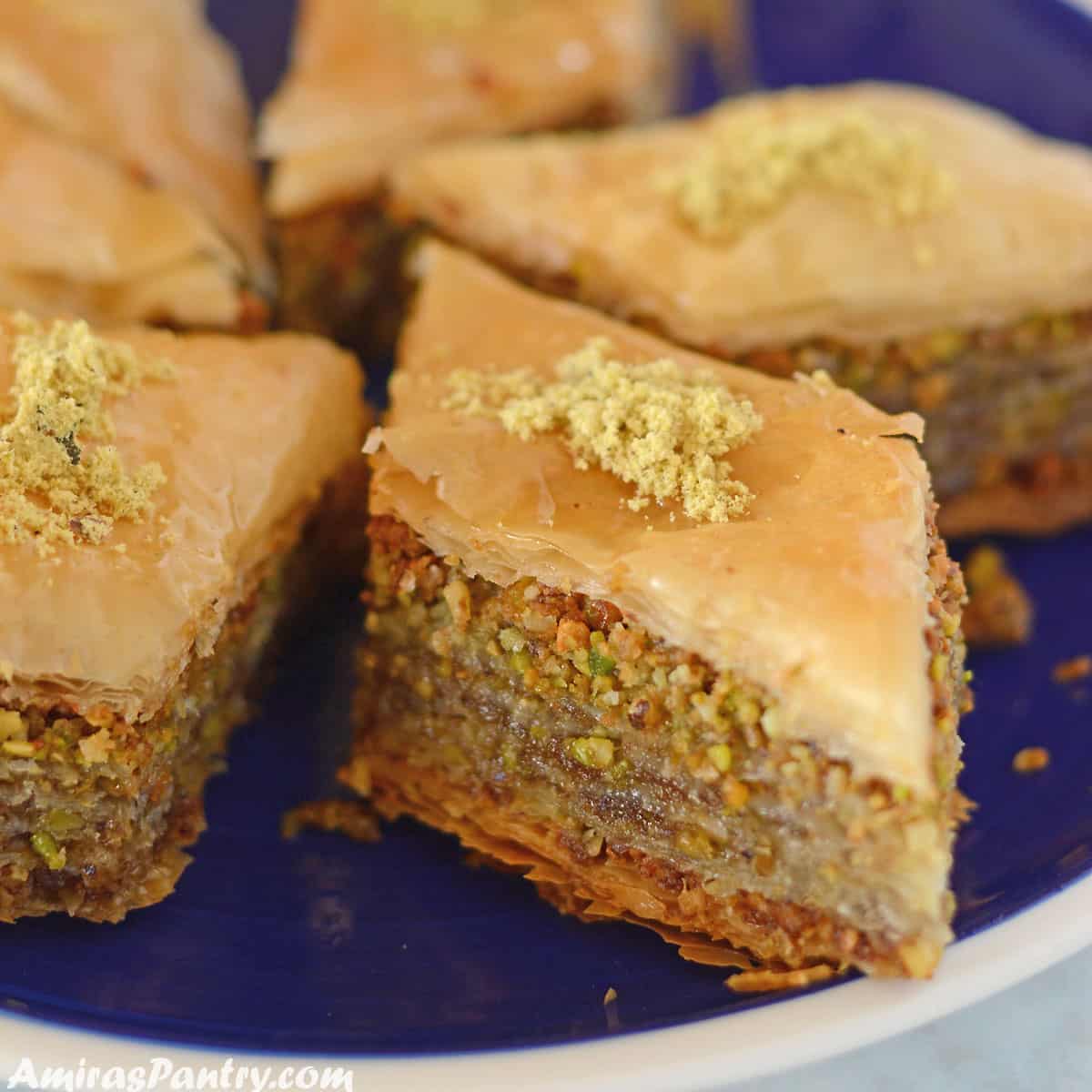 If you are depending on store-bought baklava to satisfy your baklava cravings then don't. Making homemade baklava is easier than you think, do not be afraid about dealing with phyllo dough. With some tips and tricks this recipe is going to be your go to party dessert.
Jump to:
❤️ Why its a must-try
Homemade Baklava is easy to make a looks elegant on any holiday table.
A crowd pleaser and to be honest I still haven't met a person who do not like it.
This is one of the most iconic Mediterranean desserts you'll ever put in your mouth! It's traditionally served on holidays, especially Ramadan.
I've grown up eating baklava on a regular basis specially in gatherings during feasts and in Ramadan. Everyone I knew used to divide phyllo sheets in half like what we did in this phyllo meat pie here, and then stuff the nut mixture just in the middle.
This time we are going to make it bakery style, tall rich butter and filled to the brim with goodness. Everyone will think you just got it from a high end Greek restaurant.
📝 Ingredients
Note: This is an overview of the ingredients. You'll find the full measurements and instructions in the recipe card (printable) at the bottom of the page.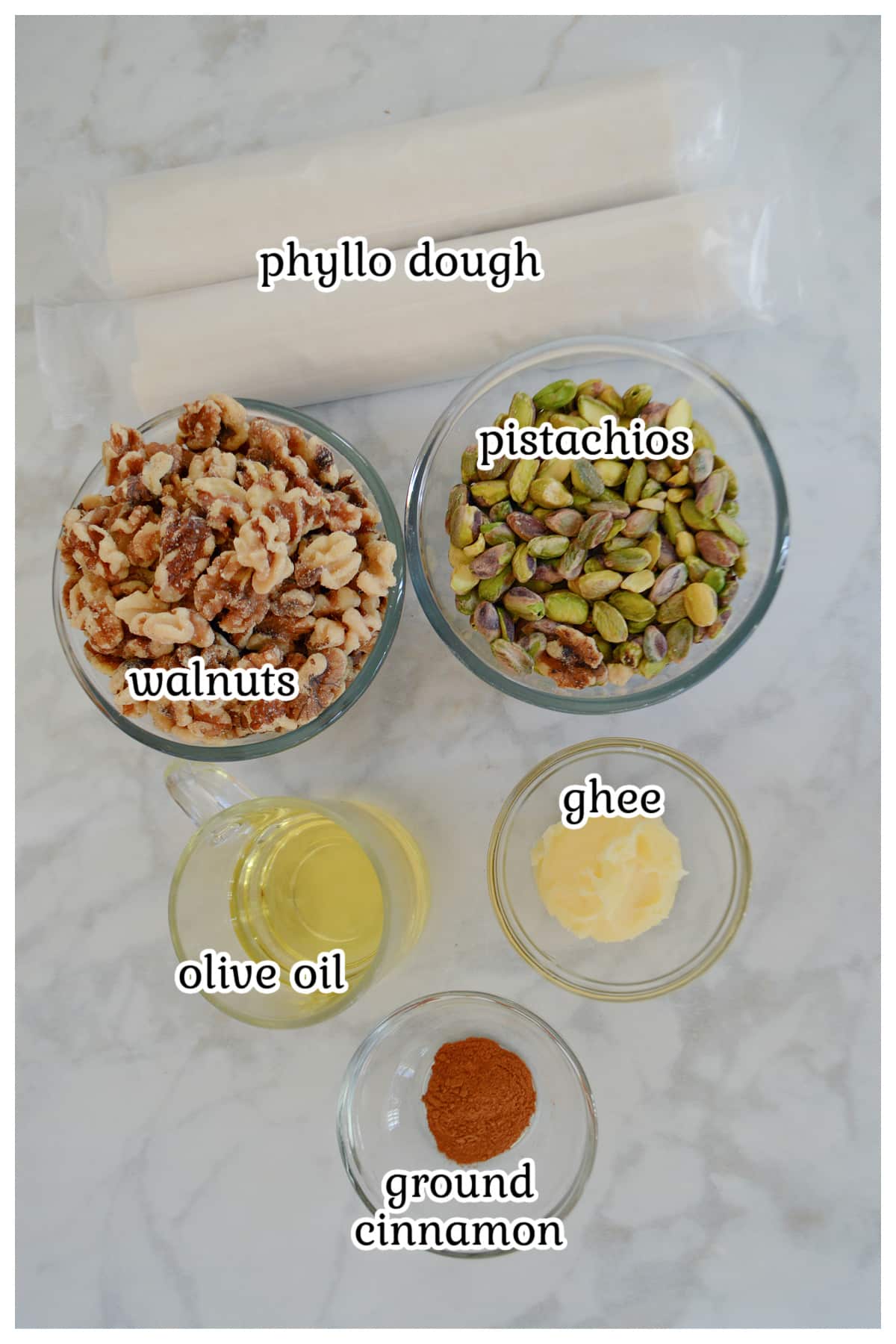 📋 Ingredient Notes
Light olive oil and ghee: I started using this combo recently to lighten up my phyllo recipe a notch. You can use all butter, ghee or oil.
Walnuts and pistachios: love using a mixture of equal amounts of these but it is really up to you. You can limit your nut to just one or use your favorite mixture. In Egypt though, it is common to add raisins to this mixture in homemade baklava, but I came to like it without the raisins more.
Cinnamon: for a little flavor to the nut mixture.
Phyllo dough: the main ingredient for making any sort of baklava, or make your own sheets if you would like to.
Simple syrup: not pictured above, made as usual with sugar, water, lemon juice and honey and flavored with your favorite baklava flavoring.
🥄 Instructions
Note: This is an overview of the instructions. The detailed instructions are in the recipe card below.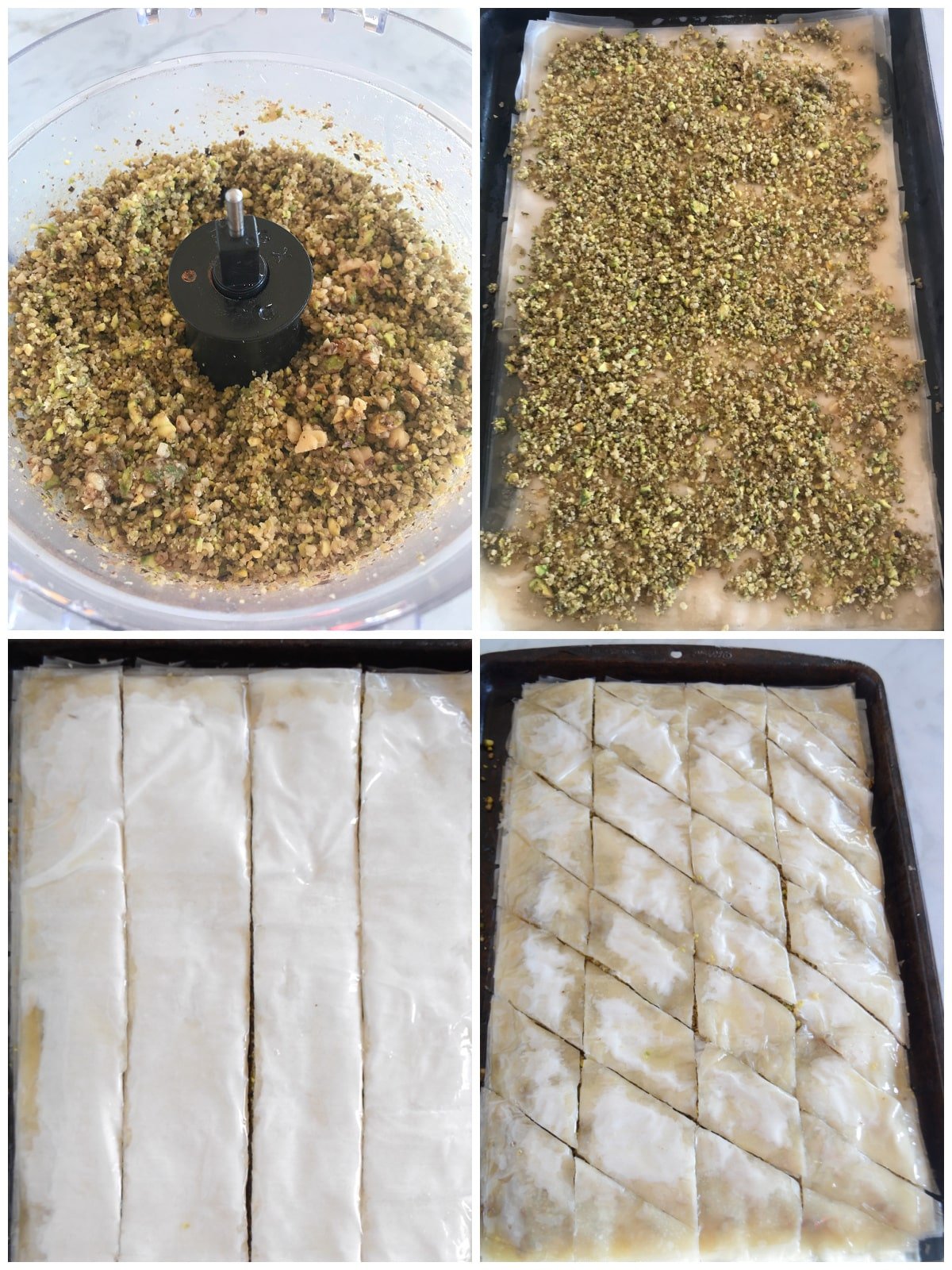 In the food processor add a pound of nuts with some cinnamon and honey or simple syrup. This is my sister's tip and it is optional but it makes the filling less likely to fall out of your baklava.
Melt ghee and pour oil over, then layer 2 sheets of phyllo dough and brush with the fat mixture paying more attention to the edges. Continue layering couple of sheets and brushing until you are done with 10 sheets. Spread about 1 cup of the mixture on top of the first 10 sheets.
Layer 5 sheets on top brushing in between the sheets. Then spread some nut mixture. Continue to do so until you are left with the last 10 sheets for the top part. Spread the remaining amount of nut mixture then layer those 10 sheets as the final section brushing in between as well.
With a sharp knife cut the phyllo into diamond shape or squares and bake. Pour cooled syrup over.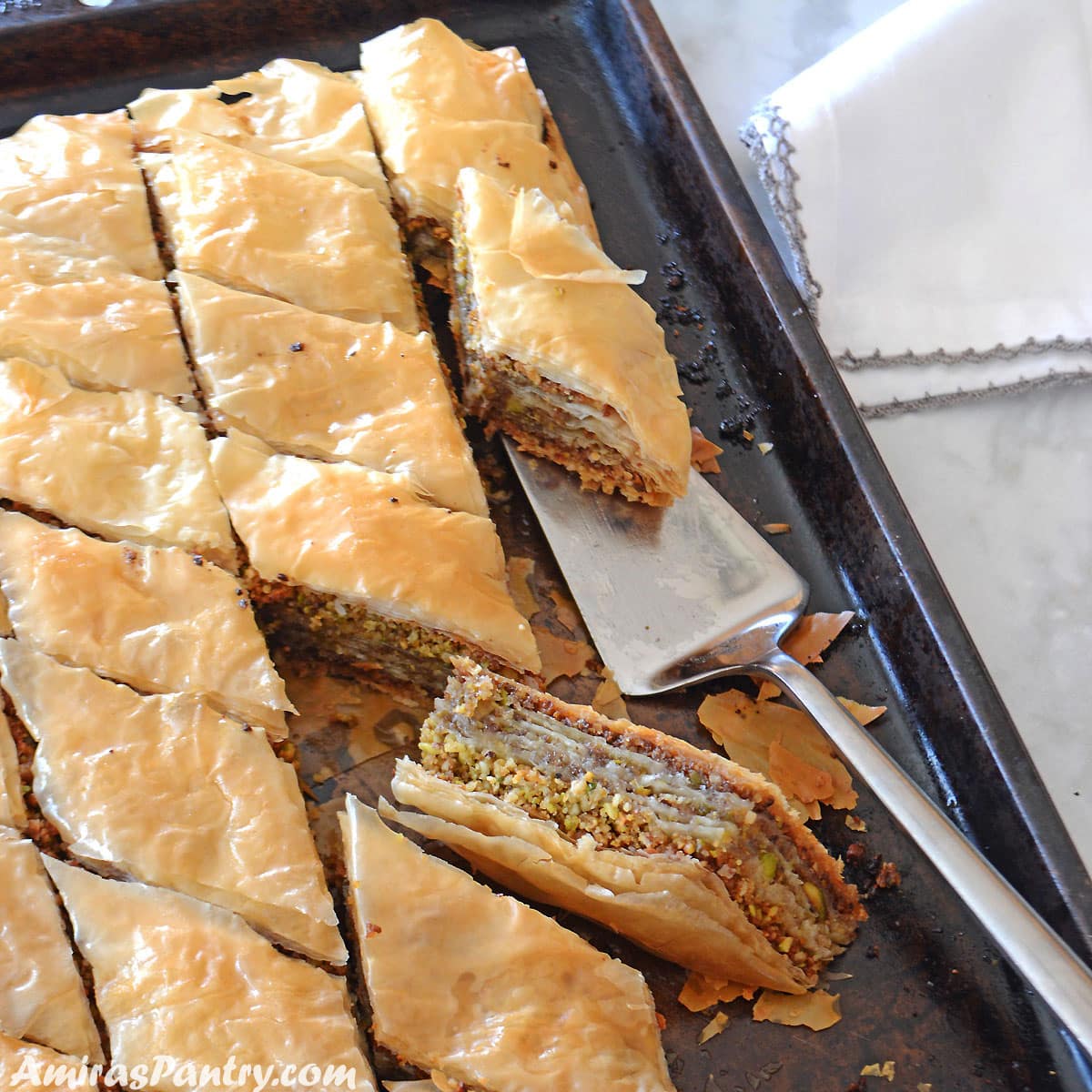 👍 Amira's Tips
As I told you in the ground beef phyllo pie, do not freak out when using phyllo dough. Just cover it and pay more attention to the edges when you are brushing with the fat.
If your phyllo got torn, it is ok and no one will ever notice. I like to keep the top layer, the one I put on top torn-free and that's it.. any other layer does not really matter.
Use a baking sheet large enough to include your phyllo sheet without the need to cut the edges so it fits. This make making baklava even easier.
You can make the syrup a couple of days before the baklava so you are sure that you have a cooled syrup ready to go.
If you want to transfer the baklava to a nice looking serving platter after baking then do not cut the baklava all the way through. This way and after baking you can use tow spatulas to transfer the whole thing to the serving platter.
I love adding honey to simple syrup as I noticed it prevents it from forming crystals and gives a unique desirable taste to my syrup as well.
🧺 Storage
Refrigerate or Countertop: Place leftover baklava in an airtight container in layers separated by parchment paper and refrigerate, or keep on your counter, for up to 2 weeks.
Freeze: Baked baklava freezes very well for up to 4 months. Place baklava pieces in an airtight container separated by parchment paper and freeze. Thaw overnight in your fridge or for a couple of hours at room temperature on your counter.
Unbaked baklava freezes well too. After assembly, place baklava in freezer for 3-4 hours until frozen hard. Wrap with plastic wrap then a freezer bag or container large enough to hold it. Freeze for up to 4 months.
Reheat: Unwrap frozen baklava and place in a prepared baking sheet. Let it thaw then bake as directed.
⌛ Make Ahead
As mentioned above in the storage section baklava is freezer friendly baked or unbaked. Can keep in freezer for up to 4 months.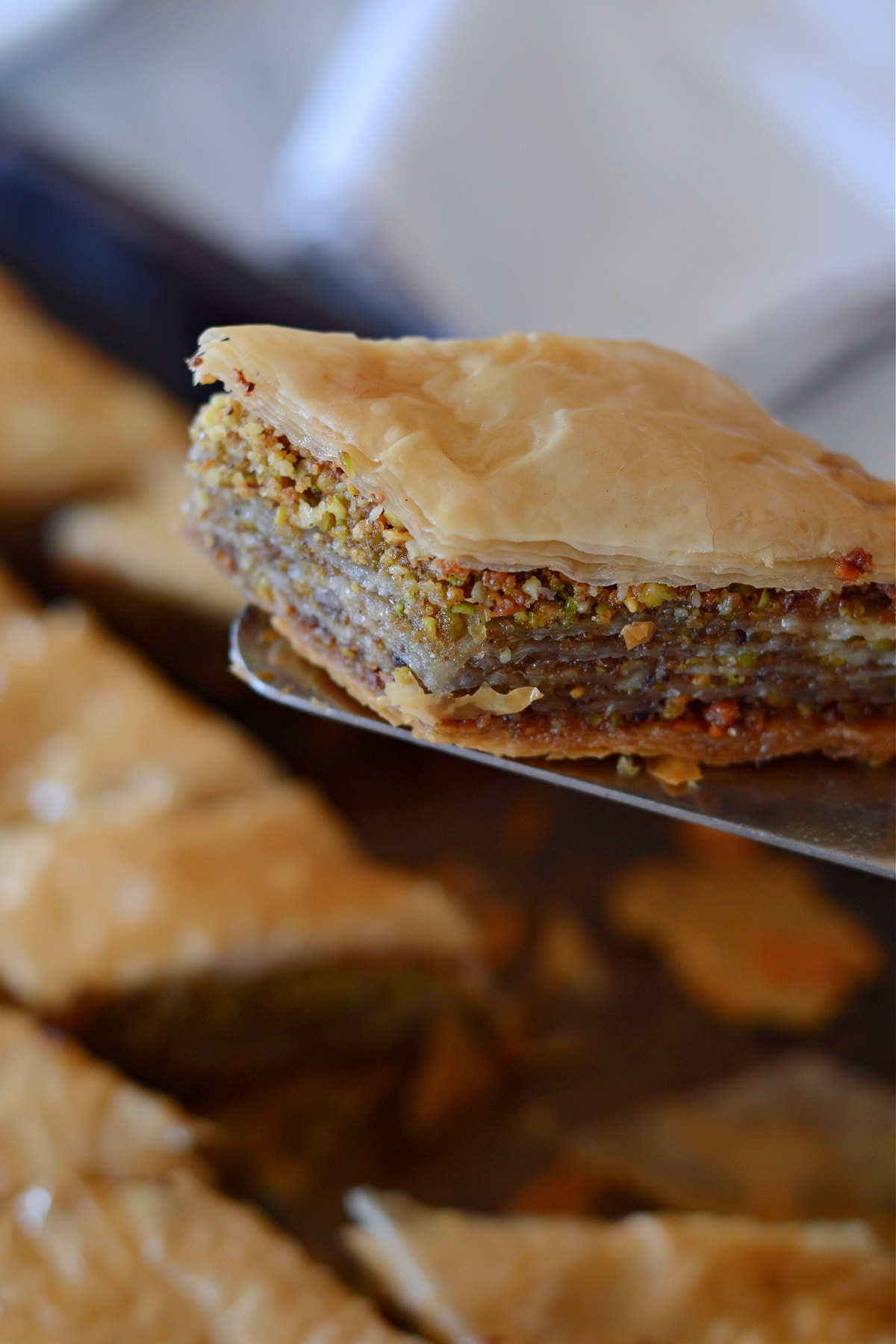 📣 Related Recipes
Basbousa is a traditional Egyptian dessert made from semolina flour, coconut, yogurt and soaked in simple syrup. It's delicious and easy to make!
Baklava Cheesecake is a delicious fusion dessert that combines the flavors of classic baklava with creamy cheesecake.
Baklava Rolls are the perfect portioned treat for any occasion. The delicious blend of sweet, nutty and crunchy makes these rolls irresistible!
If you like this recipe do not forget to give it a ⭐⭐⭐⭐⭐ star rating and attach a photo of your finished dish. It is always a pleasure of mine to see your photos and check your own take of the recipe. Thank you.
What's new? Check out Amira's Pantry Store on Amazon where you'll find all kinds of nostalgic goodness! Thanks so much for being a part of Amira's Pantry!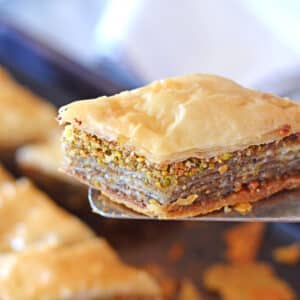 Traditional Baklava Recipe
Traditional Baklava Recipe is rich and not overly sweet dessert that is a crowd pleaser. Buttery phyllo layers stuffed with nut mixture makes the best baklava ever.
Print
Pin
Rate
Ingredients
1

(16oz) package phyllo dough.

¾

cup

light tasting olive oil

¼

cup

ghee.

Note1.
For the filling
1

lb (450g)

mixed nuts.

Note2.

1

teaspoon

ground cinnamon.

¼

cup

honey/simple syrup or corn syrup.
For the simple syrup
1

cup

(225g) granulated sugar

1

Tablespoon

lemon juice.

(juice of half a lime).

¾

cup

(170ml) water.

1

teaspoon

vanilla extract.

Note3.

¼

cup

honey.
Instructions
Thaw the phyllo package according to package direction.
Make the syrup:
Combine all the ingredients in a sauce pan over medium high heat, lightly stirring. When it boils, reduce heat to low and let it simmer for about 10 minutes. Turn off the heat and let it cool completely.

Pulse or chop the nuts and mix with cinnamon, add the honey or syrup and mix well.
Layer the Baklava:
Melt ghee in a sauce pan, be sure not to burn it. Take it out of the heat and add the olive oil.

Brush a suitable oven dish or baking sheet lightly with the fat. Note4

Start layering the phyllo sheet brushing each couple of layers.

Do so until you are done with 10 the phyllo sheets.

Spread about ¼ of the nuts mixture then layer another 5 sheets brushing in between.

Continue this pattern until you are left with the last 10 sheets of the phyllo for the final layer. Note5

Preheat the oven to 350F.

Cut the phyllo sheets in diamonds, squares or any shape you like.

Bake for 50 minutes to an hour or until it is puffy and golden brown.

Pour the cooled syrup over the baklava, you'll hear it sizzle and smell the goodness.

Let it cool completely then serve.
Notes
Note1: I've started using olive oil along with ghee to lighten up my phyllo a bit. But you can use all butter/ghee or olive oil.
Note2: You can use mixed nuts of your choice or use a certain type of nuts that you like. I've used an equal amounts of walnuts and pistachios.
Note3: Feel free to flavor the syrup however you like to. Examples are: a stick of cinnamon, orange peel, rose water, cardamom, saffron, orange blossom water...etc.
Note4:  It was hard for me to find a suitable sized oven dish to hold my phyllo sheets without trimming them so I've used a large enough baking sheet. If you cannot find one that is large enough for your phyllo, then just cut the phyllo dough to fit in the pan you have.
Note5:  Some math is needed for these steps guys so I will give you an example here: for instance I had 35 phyllo sheets in my package so here how I've done it:
Bottom layer 10 sheets then ¼ of the filling
then 5 sheets topped with ¼ of the filling
then another 5 topped with ¼ of the filling
then another 5 topped with ¼ of the filling
Finish this off with a final layer of 10 phyllo sheets.
Another time I had 40 sheets so I started with 10 and ended with 10 then divided the other 20 sheets into 4 (5 sheets) layers.
Please check the nutrition disclaimer policy.
Nutrition
Calories:
227.6
kcal
|
Carbohydrates:
20.9
g
|
Protein:
3.5
g
|
Fat:
15.6
g
|
Saturated Fat:
2.9
g
|
Polyunsaturated Fat:
5.2
g
|
Monounsaturated Fat:
6.5
g
|
Cholesterol:
3.8
mg
|
Sodium:
68.9
mg
|
Potassium:
118
mg
|
Fiber:
1.5
g
|
Sugar:
11.4
g
|
Vitamin A:
1.3
IU
|
Vitamin C:
1.1
mg
|
Calcium:
1.7
mg
|
Iron:
5.4
mg
Sign up and learn more about Mediterranean flavors
👩‍🏫 My Personal Experience
This is the best baklava recipe I've ever made, and since I've done it I did not go back to the old way. By dividing the sheets into 4 or 5 sections, stuffing and layering nuts in between these sections you get a much better, taller and crisper baklava. A bakery style baklava indeed that everyone will think you just got it from a high end Greek restaurant.
Homemade Baklava is way better than the store bought ones. Why you ask? well first of all it is fresh and you can feel it in the crunch of the phyllo layer. Second: it is filled to the brim with your favorite nut mixture, my favorite is walnuts and pistachios. Third: the syrup, which makes all the difference. To be honest there are several baklava out there that is too sweet, and this comes from a sweet tooth Mediterranean girl, so imagine how sweet they can get. Plus you can flavor the syrup of your baklava however you want. Vanilla, cinnamon, rose water, orange blossom water...etc. Add to all the above that making your own baklava is cheaper and so easy.
By easy, I mean it does not require any baking skills. No complicated steps, just layering, brushing and more layering of phyllo sheets. It does require some work but oh it is so worth it.