Basbousa is a term in the Middle east that refers to a very sweet semolina – sort of- cake. Verbally in Arabic we can call our loved ones "basbousa", I sometimes call my little kid " basbousty" which means my basbousa or like saying my sweet. There are lots of recipes online for basbousa some call for milk some for buttermilk some even adds some all purpose flour to it, but this recipe is – in my humble opinion- the best and closer to what is served in Egypt.
This Basbousa recipe calls for:
1.5 cup of coarse semolina.

1 cup of granulates white sugar – you can decrease the amount if you are not much of a sweet-tooth.

3/4 cup of finely shredded coconut.

1 cup of plain yoghourt.

1/2 cup of butter.

1/2 Tsp of baking powder.

1/2 Tsp of baking soda.

A dash of of vanilla powder.
For the syrup:
1 cup of granulated sugar.

1 cup of water.

1 tsp of lemon juice.
Note : I prefer using the coarse semolina rather than the fine one as it tastes more like the basbousa I know. Here is a picture of the one I use. You are of course more than welcomed to try both and see which one do you prefer more.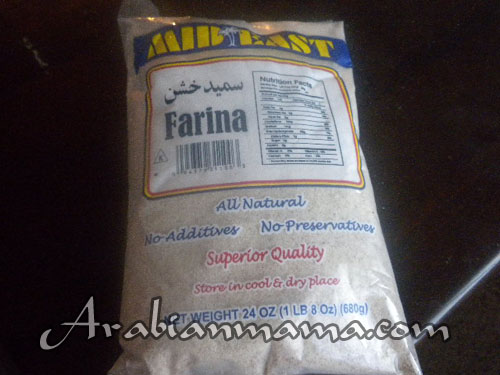 Preheat oven to 350F degrees then melt the butter, let it cool to room temperature. Mix the yoghourt and the sugar well then add the rest of the ingredients and mix them all very well.
Prepare your pan by spraying it with cooking oil – I've used a 13X9 inch Pyrex – pour in the mixture you may top with some nuts of your choice or leave it like this and bake for about 30 minutes or until golden brown.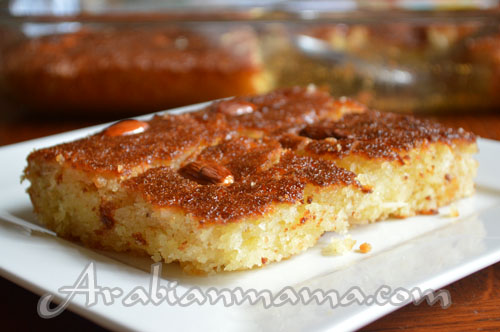 While your pan is in the oven prepare your syrup by adding the water to the sugar in a sauce pan over medium heat and when it dissolves stir in the lemon juice and let it boil for 5 minutes then reduce heat and allow to simmer for another 20-25 minutes. The syrup should thicken a little when it cools down.

While both the Basbousa and the syrup are hot, pour the syrup over the Basbousa and let it set for 15 minutes.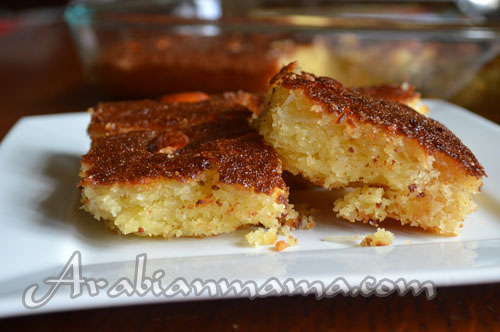 Usually served as is with a cup of hot tea or coffee, sometimes topped with cream. Enjoy