If you ask any Middle Eastern person what food comes to his/her mind when he/she hear the word Ramadan, the answer is one of two Qatayef or Basbousa.

Qatayef is sold everywhere in Egypt during Ramadan, it is like mini pancakes filled with all sorts of goodies. I usually serve it savory with soups on the Ramadan breakfast table and then sweet when it comes to dessert time. I am showing you a super easy Qatayef recipe with a handful of ingredients right from your pantry. An elegant recipe that is a feast by just looking at it… Qatayef Asafiri.
First Published: May 2016 Last Updated: May 2019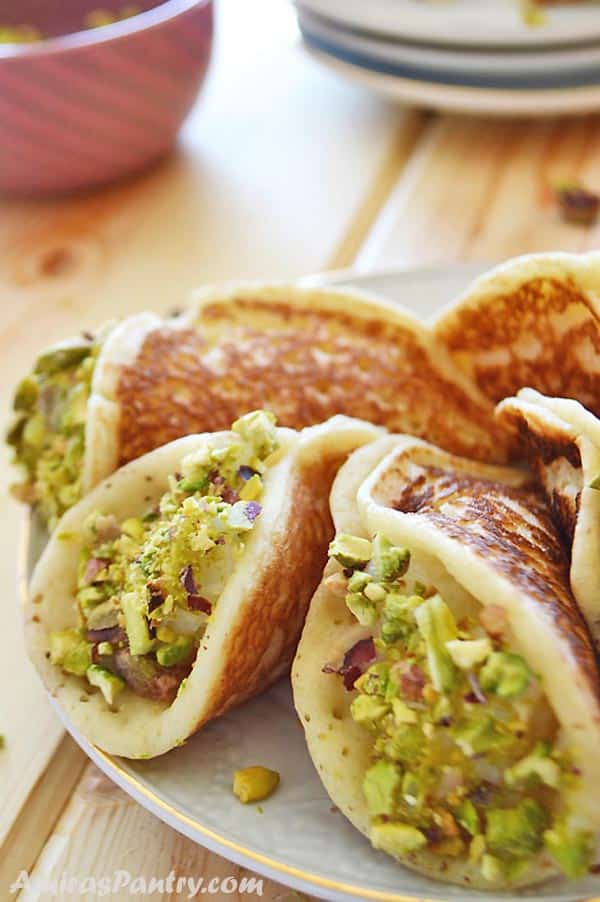 Qatayef is usually deep fried, but Qatayef Asafiri type is not fried after being filled with Ashta or cream and that's how it should be done. My mom though, used to make it, fry it then fill it as my late father did not like to eat Qatayef without being fried. Frying the Qatayef makes it crunchy and even more delicious.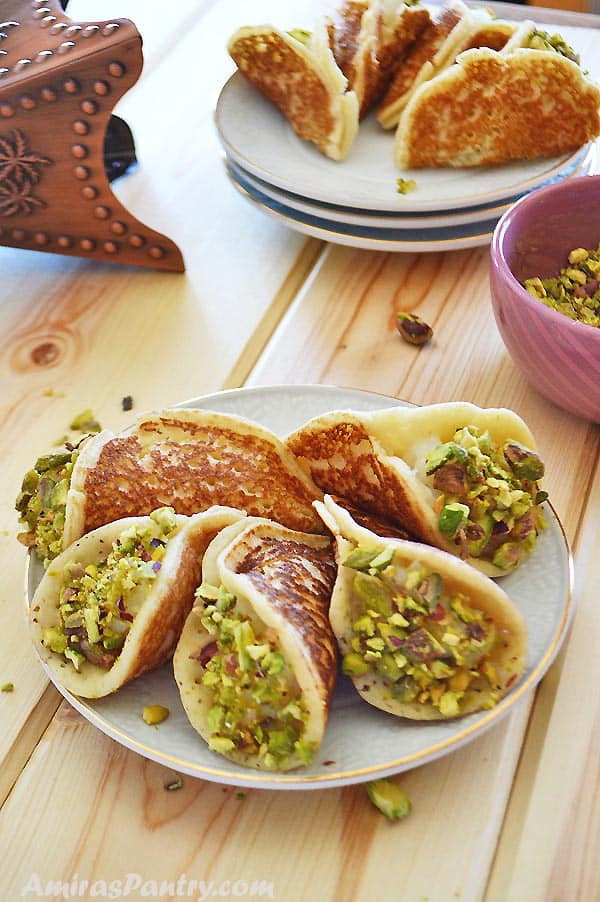 Qatayef is also usually dunked in thick simple syrup, but this time I felt it does not need the excess sugar and we just ate it as is, I've made my Ashta with sugar so I will not need to use syrup or honey but this is of course up to you.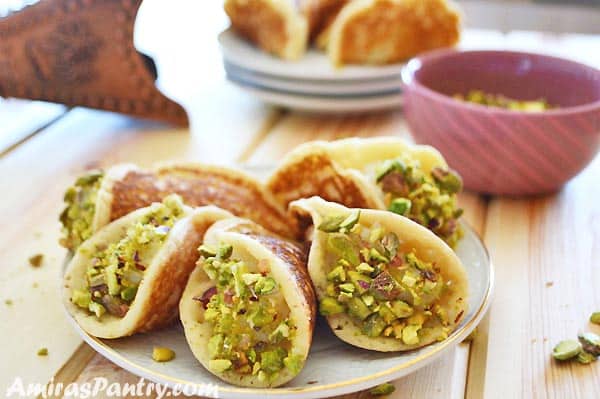 When you make Qatayef you need to work somehow fast so it will not get dry and at this point it will be very hard to seal and it might tear as well. So a side note keep your Qatayef covered until you finish the whole batter and also when you are stuffing them. These Qatayef should be consumed the same day as the Ashta will not hold fresh until the next day.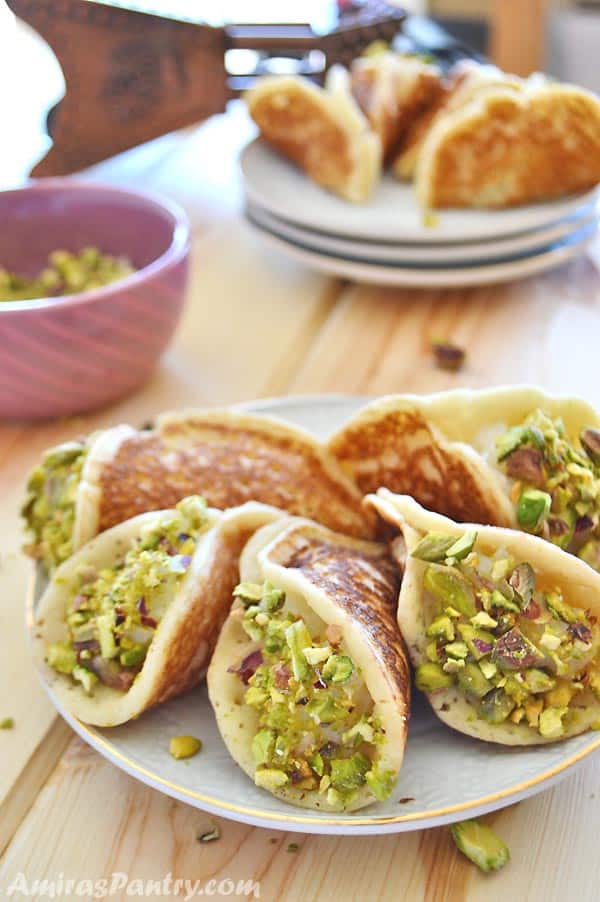 My kids love this recipe but I have one of them who does not like pistachios- poor thing 🙂 missing a lot – so he just have it with honey and Ashta, and I always get "you are the best mom" feedback from them.
I hope you'll like this recipe and please if you make this recipe, snap a pic and hashtag it #amiraspantry — I love to see your creations on Instagram, Facebook, Twitter! Don't want to miss a recipe?
Sign up for the FREE Amira's Pantry newsletter delivered to your inbox with lots of tips and surprises! And stay in touch with me on Facebook, Twitter, Pinterest, and Instagram for all the latest updates.
Qatayef Asafiri
A delicious Ramadan treat, like mini pancakes stuffed with Ashta and drizzled with syrup.
Ingredients
1

cup

flour.

1

cup

fine semolina

2

Tablespoon

granulated sugar.

1

teaspoon

baking powder.

½

teaspoon

instant yeast.

¼

teaspoon

salt.

2½

cups

warm water.

1/4

cup

ground pistachios.

Optional : simple syrup or honey for drizzling.
Instructions
In a bowl, combine the dry ingredients well.

Add water and mix until everything is well incorporated, cover and let it rest for 30 minutes.

In a skillet set over medium heat, pour 2 tablespoons batter.

Cook until the batter has no visible wet spots you will notice bubbles forming on the surface.Do not flip.

Complete the batter and cover the cooked Qatayef so it will not get dry.

Prepare the Ashta as directed in the above link.

Scoop about a teaspoon of the Ashta filling in the middle of the Qatayef.

Pinch the edges together sealing them two-thirds of the way. Dip the open side into ground pistachios.

Arrange nicely in a serving dish and cover until time to serve.

*You can also drizzle some thick simple syrup or honey over the Qatayef.

Enjoy!!!
Notes
* I did not need that step as I made my Ashta with sugar.
Sign up and learn more about Mediterranean flavors
Time to show off!!