Crunchy, buttery shredded fillo layers enclosing a creamy soft milk pudding drizzled with fragrant syrup and adorned with crushed pistachios for a classy look.
Knafeh is a Middle Eastern desert, a classic that is as old as time. This is a classic recipe for knafeh, if you would like a more contemporary one, check out these delicious knafeh parfaits.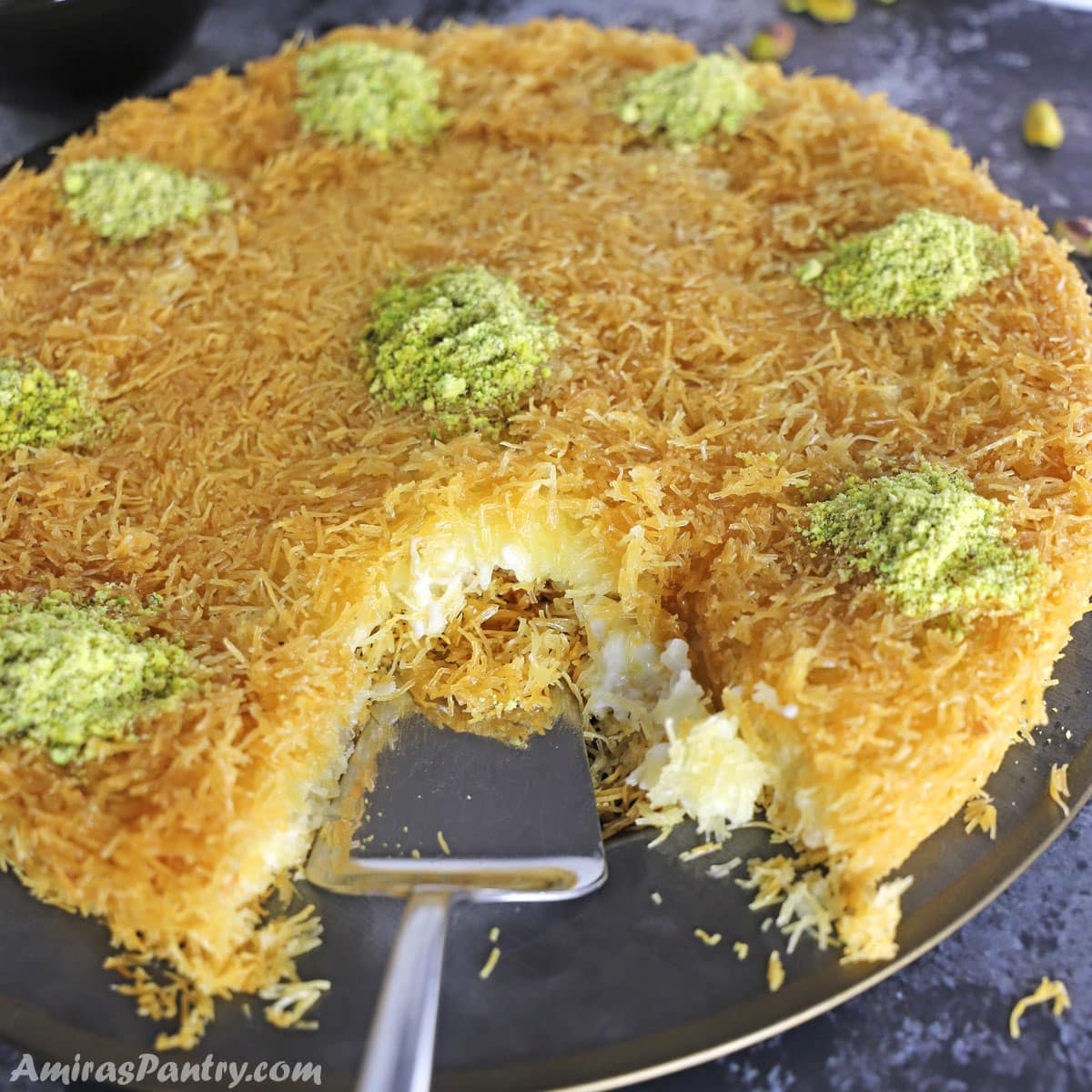 Knafeh with cream
Knafeh is a traditional Arabic dessert with many variations in neighboring countries. Lately in my visits to Egypt I have seen a lot of new knafeh ideas but until now my mom's knafeh is the best.
I wasn't really brought up to the stretchy kind of knafeh or the one made with cheese. If you are following on instragram you already know that I've been experimenting with knafeh to reach out the best flavor and authentic taste.
Knafeh with cheese
I first started with an all cheese approach and let me tell you it was not easy. Which cheese to choose for knafeh was the first question I was asking myself. My father in law used to make knafeh with ricotta cheese and my husband swears by it. Getting the ricotta is not hard at all, after making it hubby said it does not taste anything like what his dad was making. The ricotta cheese is completely different than the one sold in Egypt. So this option was discarded.
After going to the Middle Eastern store and skimming through their cheese supply, this sweet cheese id the only one I've found that could fit with kunafa. Some people say mozzarella cheese but let me tell you I've found it to be a bit salty and I did not like it.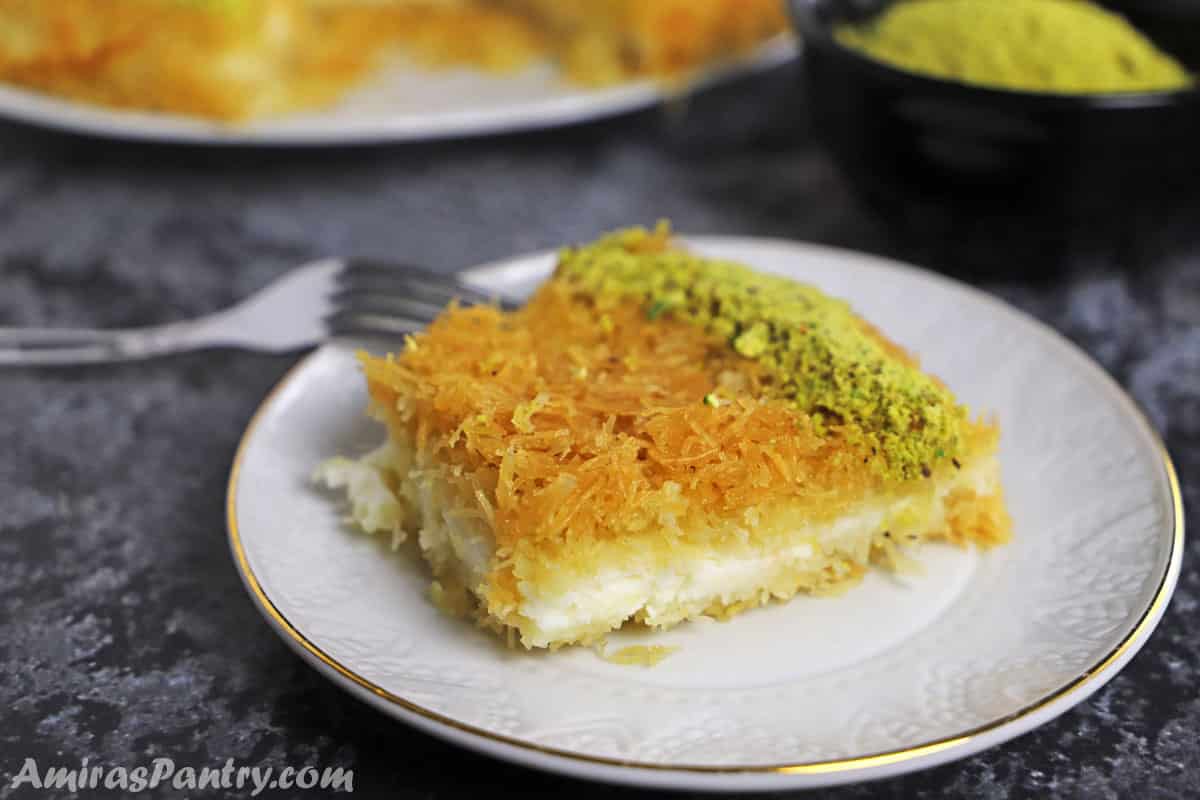 A couple of trials later I was not impressed by any of the cheese even this sweet cheese turned very rubbery the next day and I did not like the texture.
Knafeh or kunafah has been my mom's specialty since I knew what knafeh was. Everybody asked for her knafeh especially during Ramadan, I've always thought that knafeh was so hard to make and you can easily mess it up. After so many failures I decided to go with my mom's recipe, so I called her to get all the nitty-gritty. I tried it and everyone was smiling telling me this reminded them of, 'nanna', my mama.
Cream and cheese mixture
One last note about using cheese in knafeh. I've also tried combining cheese and cream to get a little bit of stretch, two family members liked it. But still this was not my favorite. I decided to show you both and you do whatever you think you'll like more.
What goes into the recipe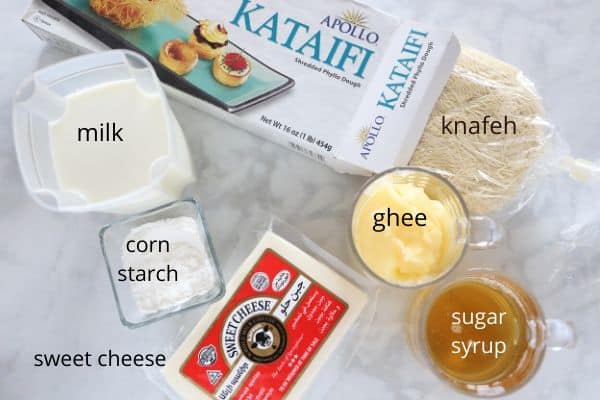 The hardest thing about knafeh is finding the ingredients. You will need to pay your Middle Eastern store a visit. Unfortunately, knafeh is not sold in major stores here in the U.S. While you are there do not forget to pick up any sweet cheese like the one pictured above.
Step by step guide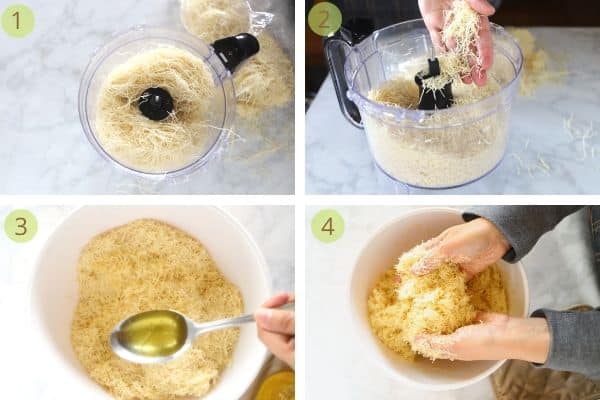 Divide the knafeh in halves and place the first half in your food processor while wrapping the other in the plastic bag of the package.
Give it from 6-10 pulses stopping in between to release the knafeh threads from around the blade. We aim here to cut knafeh into small pieces but not turning it into powder so check it every couple of pulses. Transfer the cut knafeh into a bowl and proceed with the other half.
Melt ghee on stove top or microwave, then add 3/4 of the ghee to the knafeh.
With your hands rub the ghee into knafeh until you are sure almost every thread is cobvered with ghee.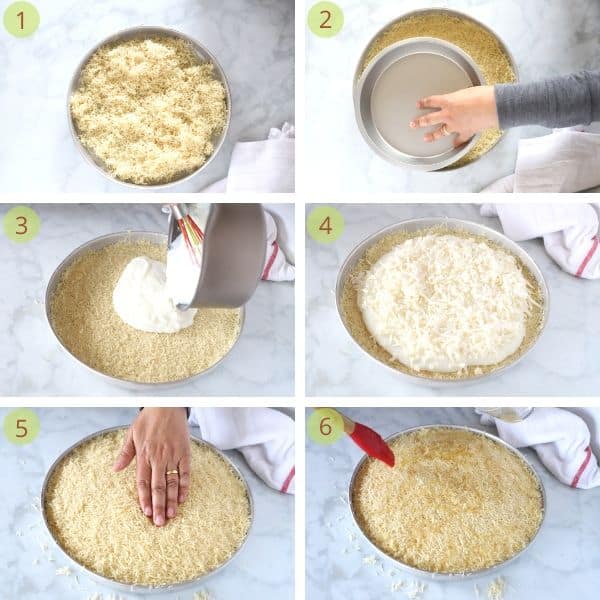 Brush the bottom of your baking pan with some of the remaininf melted ghee. Take half of the knafeh and spread it evenly.
Press the knafeh using the bottom of another pan or a cup or a smaller plate. Press down and along the sides of the pan.
Pour the cream (milk pudding) mixture. Spread evenly leaving about half inch all around.
If you are using the sweet cheese, then grate it and spread it evenly on top of the pudding.
Add the remaining knafeh , spread it evenly and press lightly with your finger tips.
Spread the remaining melted ghee on top and bake until nicely browned.
Pour cooled syrup over, let it soak and rest for 10-15 minutes. Invert on to a serving platter.
Tips:
Start by making the syrup and the milk pudding then let them cool down. This is a great make ahead tip and make sure to cover the pudding directly with plastic wrap so it will not develop a skin. Refrigerate until you are ready to use it.
Unbaked knafeh freezes very well, another make ahead tip. So make it, freeze it then when you want to make it, let it thaw and then proceed with the recipe.
My mom always shredded her knafeh while it is frozen, this works great for many people. I have found that letting the knafeh thaw and using the food processor is easier.
It is a common practice in the Levant area to color the knafeh. Knafeh coloring can be found in Middle Eastern stores. I did not grow up to a colored knafeh threads so this is up to you.
You can make this recipe in a 13x9 pan or a 9.5" pie pan. Double the recipe for bug crowd and bake in a half sheet pan like Nordic.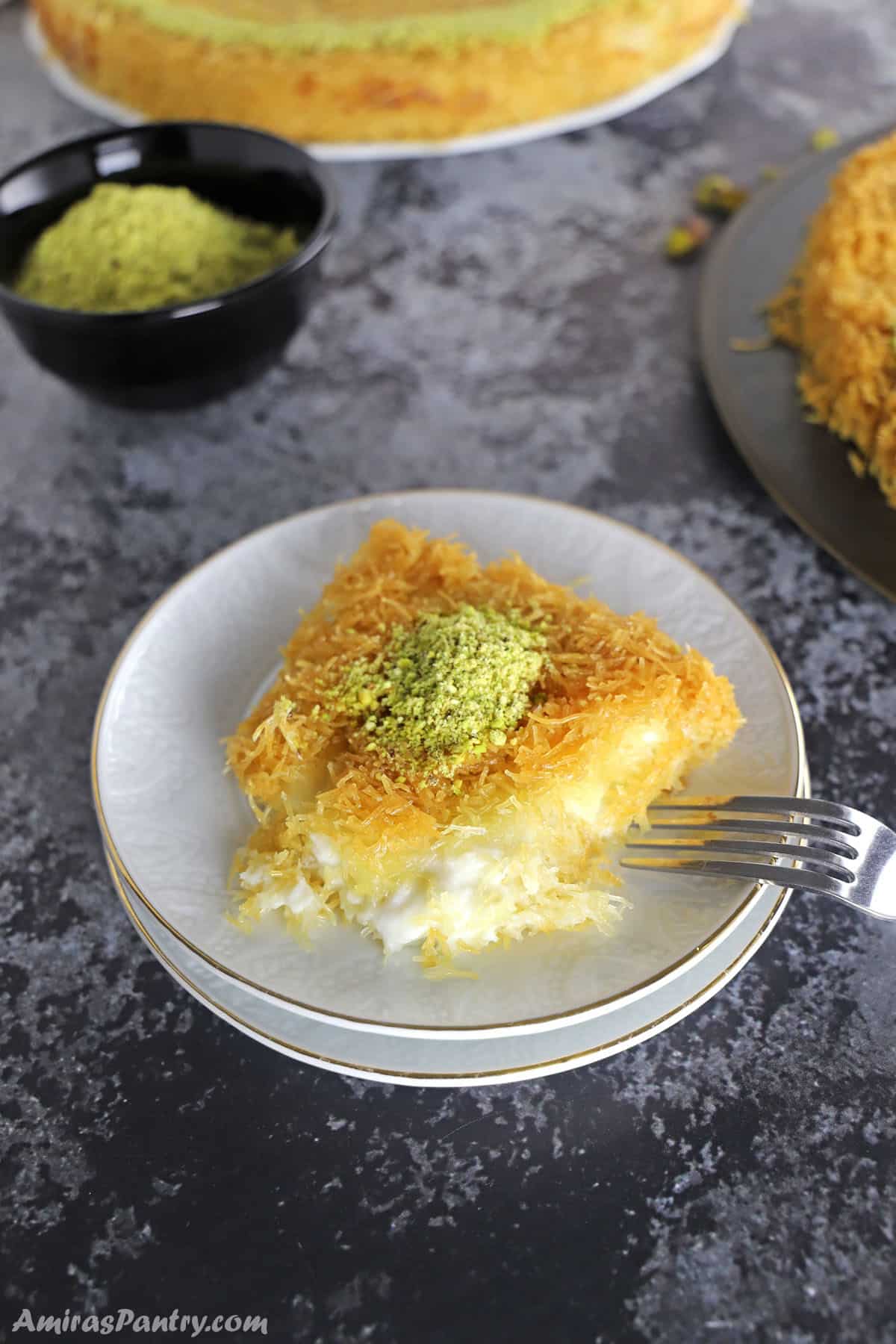 As always you can flavor the syrup anyway you want a splash of rose water, orange blossom water or vanilla would be great. Isn't this beautiful, so delicious and creamy.
I hope you'll like this recipe and please if you make this recipe, snap a pic and hashtag it #amiraspantry — I love to see your creations on Instagram, Facebook, Twitter! Don't want to miss a recipe?
Sign up for the FREE Amira's Pantry newsletter delivered to your inbox with lots of tips and surprises! And stay in touch with me on Facebook, Twitter, Pinterest, and Instagram for all the latest updates.
If you like this recipe do not forget to give it a ⭐⭐⭐⭐⭐ star rating and attach a photo of your finished dish. It is always a pleasure of mine to see your photos and check your own take of the recipe. Thank you.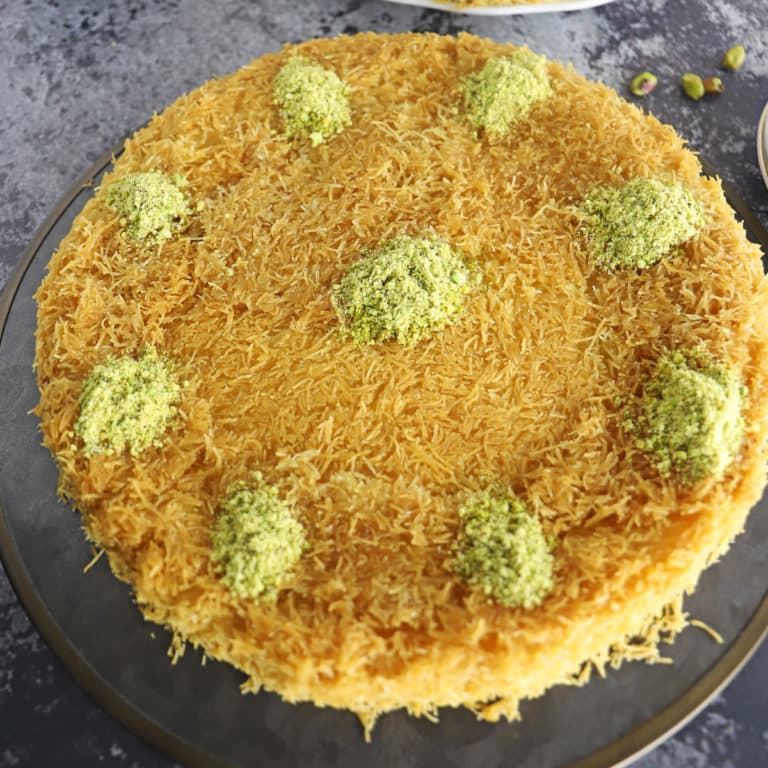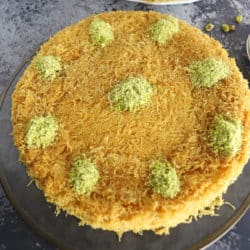 Kanfeh
Knafeh is the ultimate Middle Eastern dessert. A luscious, crunchy, and buttery shredded fillo (phyllo) enclosing the most creamy silky milk pudding and drizzled with fragrant simple syrup.
Print
Pin
Rate
Ingredients
For the syrup
2

cup

granulated sugar.

1 1/4

cup

water.

1/4

cup

honey.

1

teaspoon

lime juice.
For flavoring the syrup:
1

Tablespoon

orange blossom water

OR

1

Tablespoon

rose water.

OR

1

teaspoon

of vanilla extract.Note1
For the cream filling (Ashta) :
2

cups

whole fat milk.

3-4

Tablespoons

corn starch. Note2

8

oz

sweet cheese

optional. Note2
For the knafeh:
1

lb

pound knafeh

Note3

1

cup

ghee
Instructions
Make the Syrup:
In a saucepan over medium-high heat add sugar, water, honey and your flavors, stir to combine.

Bring to a boil then add the lemon juice. Turn heat down to low and let it simmer for 10 minutes.

Turn heat off and let it cool completely and come to room temperature. Note4
Make the filling:
In a saucepan whisk together cold milk and cornstarch until dissolved.

Place on your stovetop on medium, keep stirring the mixture until it bubbles and thickens.

Take off heat, let it cool completely, or pour the mixture in a bowl and cover directly with plastic wrap. Note4
Make the knafeh:
In a microwave-safe bowl or in a small saucepan melt ghee and let it cool so you can handle.

Take one half of the thawed knafeh and pulse in your food processor. Make sure not to turn it into powder.

Place shredded knafeh in a bowl and proceed with the other half.

Pour 3/4 of the melted ghee over the knafeh and massage with your hands to spread the ghee evenly.

Preheat your oven to 350F.

Brush a 10" round pan with some of the melted ghee. Note5

Place half the knafeh on the pan pressing hard with another plate or a measuring cup to spread evenly along the bottom and the sides.

Pour the pudding mixture topping it with the grated cheese if using.

Spread the filling evenly leaving about half an inch from the sides.

Top with the remaining half of the knafeh, spread evenly pressing lightly with your fingertips.

Pour the remaining ghee evenly on top.

Bake in the middle rack for 30 minutes until sides turn brown then move it up to brown the top for 10 to 15 minutes.

Pour cooled syrup over while hot and let it rest for 10 minutes.

If you want invert on a serving platter and garnish with crushed pistachios.Note6
Notes
Note1: Flavoring the syrup is optional also the amount is optional, these are just my suggestions. More or less depending on your taste.
Note2: I've found that if you are using only milk pudding as a filling then it is better to make it thicker so use 4 tablespoons otherwise use 3 tablespoons.
Note3: Place the frozen Knafeh in the refrigerator the night before and let it defrost.
Note4: It might help if you make the syrup and the pudding the day before so you are not in a hurry to cool both down.
Note5: You may also use a 9.5" pie pan or a 13x9 pan. If you want to double the recipe for a crowd use a half sheet pan like Nordic. I highly recommend it.
Note6: When inverting the knafeh sometimes some of the knafeh is stuck to the pan, do not worry. Scrape them and place then back over your knafeh plate, no-one will ever notice anything.
Please check the nutrition disclaimer policy.
Nutrition
Calories:
348.4
kcal
|
Carbohydrates:
45.1
g
|
Protein:
2.7
g
|
Saturated Fat:
10.2
g
|
Cholesterol:
35.3
mg
|
Sodium:
144.2
mg
|
Fiber:
0.6
g
|
Sugar:
32.9
g
Sign up and learn more about Mediterranean flavors