Baklava or Baklawa as we pronounce it in Arabic, is one of the easiest Middle eastern desserts. It comes in a variety of shapes and fillings. Rolls is one of the most common form and usually filled with nuts and drizzled with syrup or honey.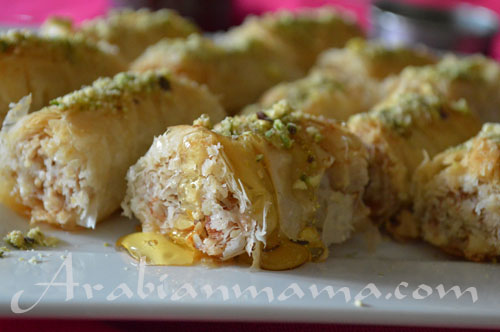 You will need:
A package of phyllo dough.

1 pound of chopped nuts- any variety you like.

1 cup of butter.

2 Tbsp of ground cinnamon. – optional.
For the syrup we will need: this time we want our syrup to be thicker than the one of basbousa
2 cups of white granulated sugar.

1 cup of water.

1/2 tsp of vanilla powder.

1 tsp of lemon juice.
So let's start:
Get your package of phyllo out of the freezer to thaw.
Preheat oven to 350 degrees F(175 degrees C). Butter the bottoms and sides of a baking sheet.

Mix nuts with the ground cinnamon and set aside for filling.

Unroll phyllo dough, place one sheet of dough on a clean surface, brush with melted butter and sprinkle filling to your liking.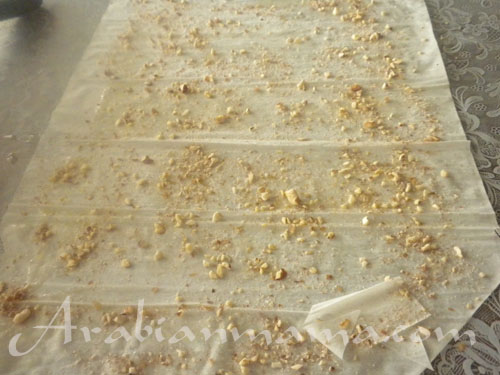 Roll the sheet using a wooden stick- I used a wooden spoon that I had- then brush a second sheet with butter. Put the rolled sheet over and roll again. Gently take the stick out.
Place the rolled sheets in your baking sheet. Repeat until you finish the package.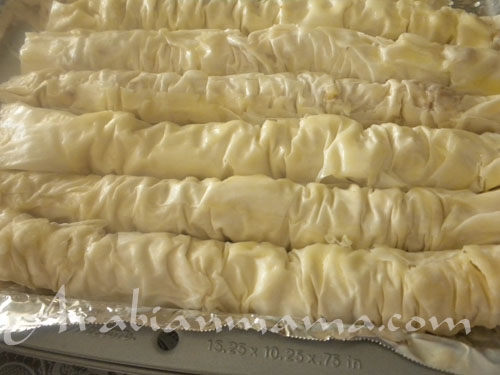 Brush the top with the remaining butter, bake for about 50 minutes until baklava is golden and crisp.
Make your syrup as usual, by boiling sugar and water until sugar is melted. Add vanilla and lemon juice, simmer for 15 minutes until syrup is thickened. Let it cool completely.

While the baklava is hot drizzle with the cool syrup. Cut in fingers and serve.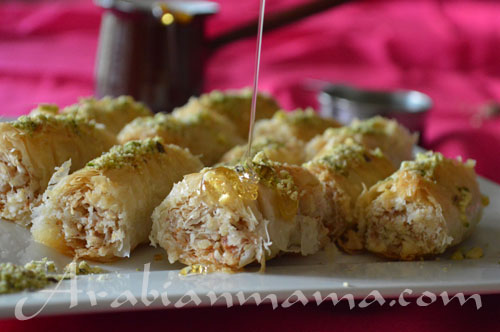 Garnish with chopped nuts.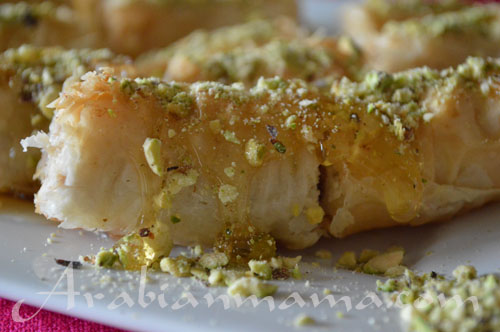 Crispy and sweet yum yum.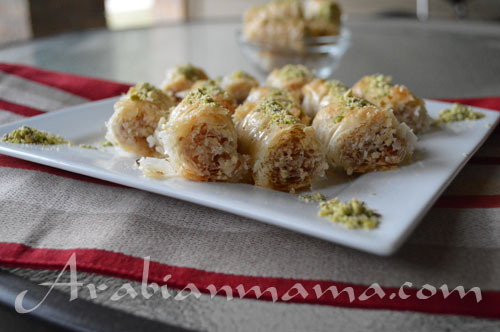 Perfect with the afternoon tea or coffee :).