Amazing and highly addicting homemade baklava granola bites. As nutty and as sweet as the traditional baklava, these granola baklava bites are an easier way to get your baklava fix.
Heavenly sweets and delicious packed with nuts and honey, this will rock your world, specially in the morning! Sweet and sticky little bites, make them chewy or crunchy, it is up to you.This baklava granola bountiful basket would make a great gift in any occasion.
Disclaimer: this recipe was created for a Nuts.com contest. I would like to state that we did not use any of their products though and was not compensated in any way. Links in the ingredients section below was not used in our recipe and was only their condition to be able to subscribe in this contest.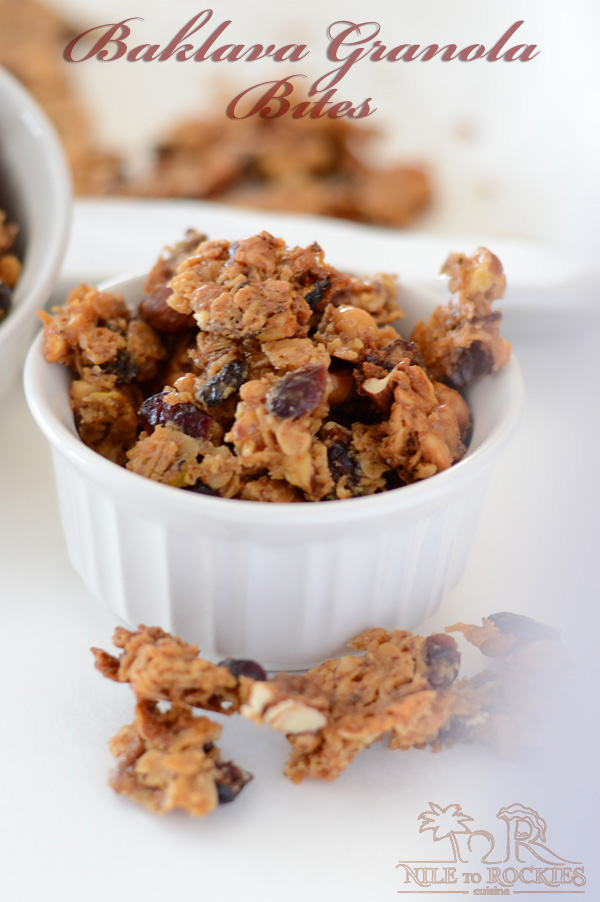 I can't tell you enough to encourage you to make these little gems.
My kids and hubby are snacking on them for a couple of days now, they are really addicting. Today my husband texted me to hide those away from him, because simple he cannot stop 😋 😋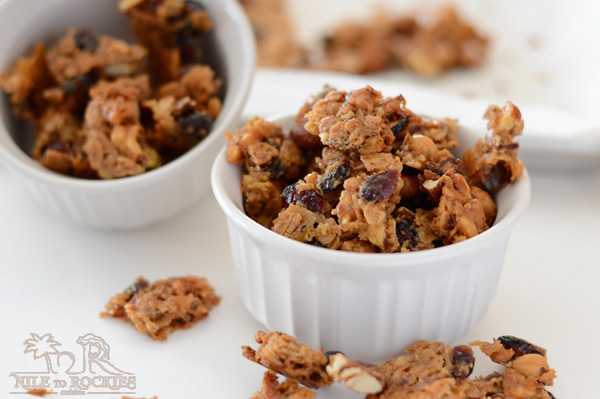 Kids wanted to help me in this post so they did almost everything. I wrote down the ingredients, they measured, started adding them together and did the video shooting, what a great team I am having 👍 .
I was really proud of them, although I was a little skeptical as they might mess everything up, but I trusted them and they did everything , under my supervision of course, they were thrilled waiting for the result and so was I.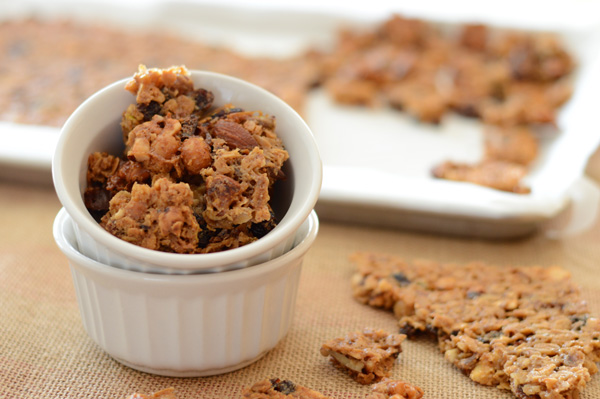 When everything was done they waited impatiently for the granola to cool down, it smelled heavenly good in the oven.
They all gave it a thumbs up, it is sweet, nutty, chewy and so addicting. It is not your healthiest choice but at least it is homemade, so that is an advantage in itself.
I made these chewy, if you want them crunchy, you probably should put it back in the oven – after breaking them- for 15 minutes or so until they reach the crispiness you like.
Eat them with yogurt, add cold milk, pack in lunchboxes, snack on them or eat them as a dessert after dinner. In all cases, you'll find them super delicious and great anytime of the day.
Enjoy!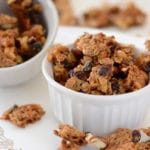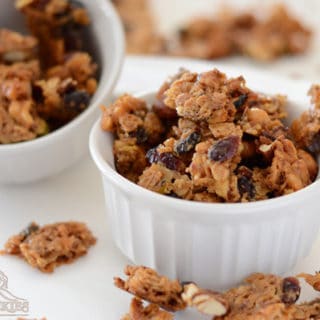 Baklava granola bites
Ingredients
1/2

cup

honey.

1/2

cup

butter.

3

Tablespoon

water.

A dash of vanilla powder.

*1/2 cup hazelnuts

https://nuts.com/nuts/hazelnuts/, coarsely chopped. -

*1/4 cup pistachios

https://nuts.com/nuts/pistachios/, coarsely chopped. -

*1/4 cup Macadamia nuts

https://nuts.com/nuts/macadamianuts/, coarsely chopped.

*1/2 cup almonds

coarsely chopped.

1

cup

raisins and or cranberries.

1 1/2

cup

oats.

1

cup

almond flour. -

https://nuts.com/nuts/almonds/flour.html

1/2

teaspoon

ground cinnamon

pinch of salt.
Instructions
In a saucepan, over medium heat, add butter, brown sugar, honey, water and the vanilla. Stir until well combined. Wait until it is bubbly then turn off the heat.

While the mixture is heating up, in a big bowl, combine nuts, oats, almond flour, raisins, cinnamon and salt, mix well.

Pour the bubbly mixture over and stir until everything is well combined.

In a large baking sheet lined up with parchment paper, dump the mixture in , spread evenly and press tightly.

Pop in a 350F preheated oven until it is golden brown, from 20-25 minutes probably.

wait until it cools down completely and break into chunks.

If you want the bites to be more crunchy, put it back in the oven for 15 minutes more.

Enjoy!!
Recipe Notes
* Use approximately 1.5 cup of any chopped nuts you have, but be sure to include the hazelnuts.

Need more breakfast ideas? try those: