Easier dessert and a delicious twist to the original knafeh recipe, load it with mango or your favorite fruit.
Crunchy and light way to enjoy the traditional Ramadan dessert, knafeh. Perfect for summer days.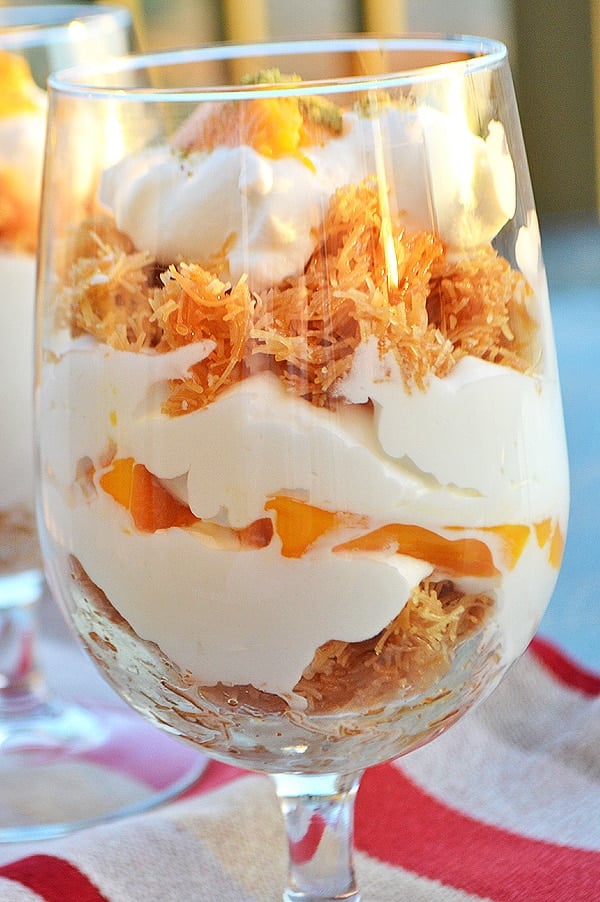 I know this is not summer in many parts of the world ...but hay we have friends in the other side of the world who are ENJOYING the hot days of summer right now while it is Brrrr here.

I love love knafeh with all its variations and always trying something new in this fabulous dessert that makes me always crave Ramadan days.
This time I've decided to make a new knafeh, that is light tasty and includes my fav. fruit which is MANGO.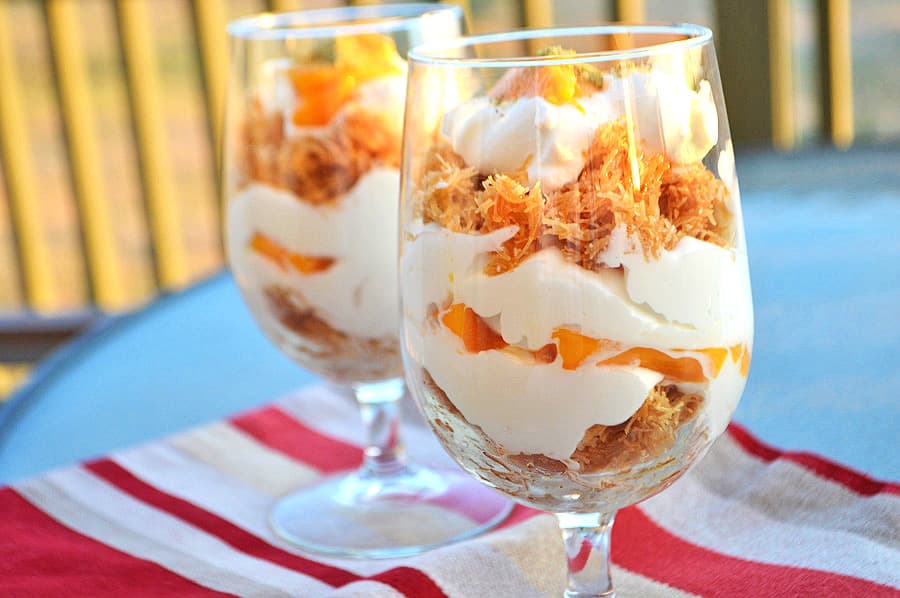 In Egypt we have many many kinds of tasty mangoes, but here in Colorado I can only see two kinds, use whatever you have as long as it is ripe and juicy.
This dessert id perfect for summer days although I do not mind having it in winter too. I have introduced two ways to make this dessert as a Knafeh cake or in bowls... both look and taste great if you like knafeh and mangoes.
If you do not like mangoes, you can use peaches... but really!! you do not like mangoes?!!
Here is a short video on how to prepare this delish dish... Have a great weekend.
Related Recipes
Kunafa is a traditional Middle Eastern dessert that is made with a layer of golden shredded phyllo dough, a creamy filling, and a sweet syrup. A popular dessert in many countries that is often served during special occasions and holidays.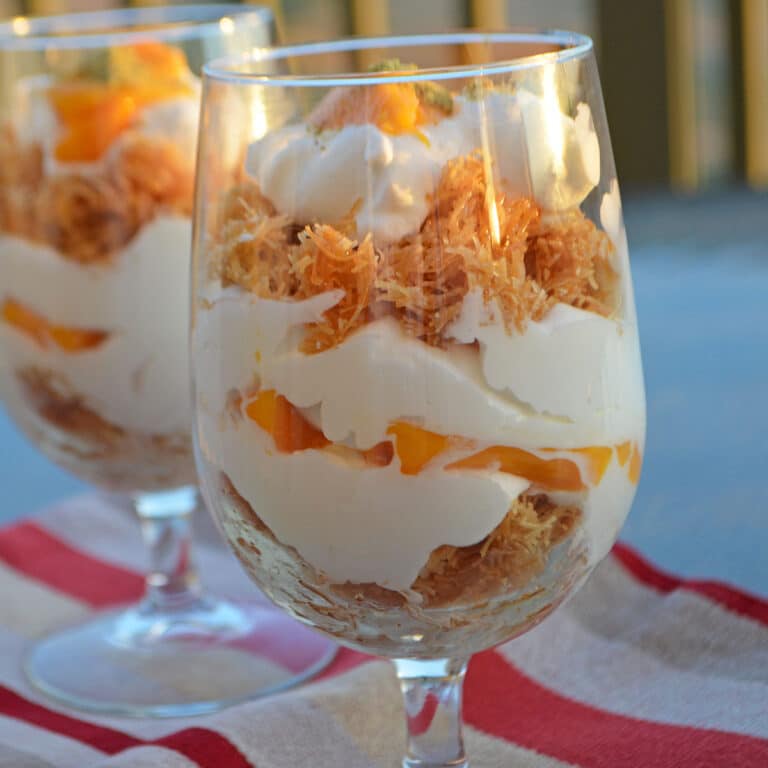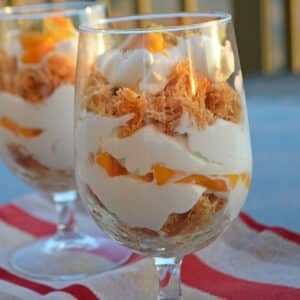 Knafeh with mango and cream
Easier dessert and a delicious twist to the original knafeh recipe, load it with mango or your favorite fruit.
Print
Pin
Rate
Ingredients
1

lb

of frozen Kataifi - knafeh.

½

cup

of butter.

2

envelopes Dream Whip.

1

cup

of mango juice.

3

ripe mangos - diced.

For the syrup: 2c sugar + 1 c of water + 1 teaspoon of lime juice.
Instructions
Rub the frozen knafeh with your fingers to cut it into small pieces.

Meanwhile combine the ingredients of the syrup, bring to a boil then reduce heat, simmer for 10 minutes until thickened, let it cool down to room temperature.

Melt butter and add to the knafeh, mix knafeh and butter with hand.

Brush two identical oven safe pans with a tablespoon each of melted butter - I've used two 12inch

pizza pans- spread half of the knafeh in each pan and press tightly with a bowl.

Bake in a 350F oven until golden brown.

Prepare the Dream Whip according to package direction using the mango juice.

When the knafeh is done drizzle both parts with some syrup.

Turn one part upside down, spread about ⅔ of the cream filling.

Add mango pieces, then the other half of the knafeh.

Decorate with the rest of the whipping cream.
Another easier way - Knafeh parfait
First melt the butter then add the knafeh

Until golden brown, add the syrup and stir.

This time I've made the whipping cream with milk.

Layer knafeh, cream and mango slices.

Decorate with more mango on top.... Enjoy
Sign up and learn more about Mediterranean flavors