Crisp outside, soft and chewy inside, these toasted macaroons cookies are one of my bestest and guess what? this easy coconut macaroon recipe does not have condensed milk.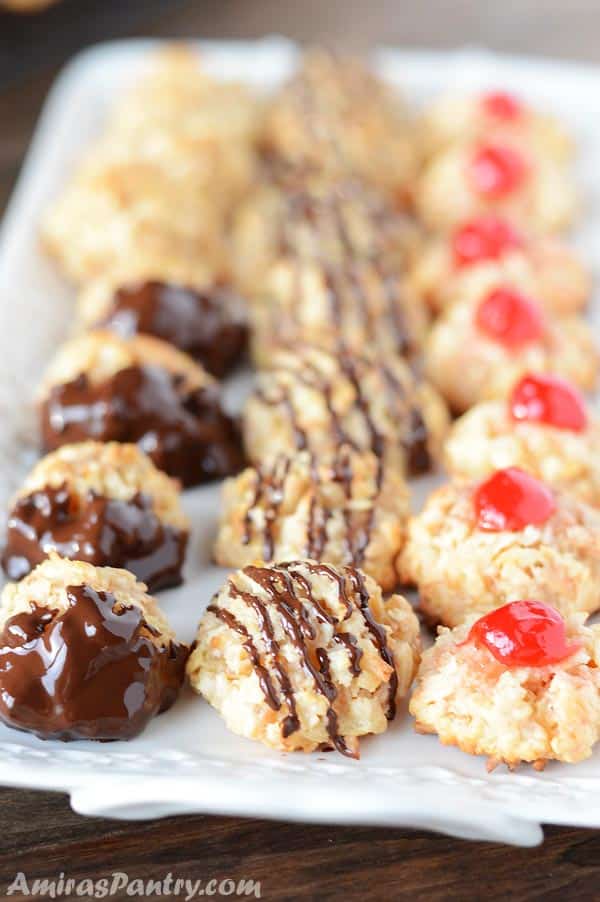 The ease of making these decadent cookies belies how wonderful they are. Coconut macaroons are called Shakallama or Shokallama in Egypt and they were one of my dad's favorite as well, he liked coconut a lot. Oh this man, I miss him so much.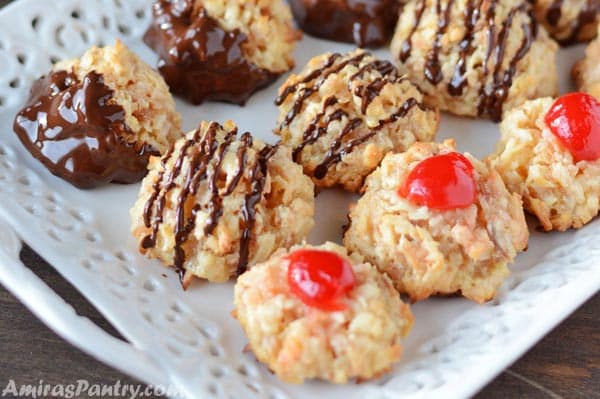 After many trials and errors for the perfect macaroon, this is it! I have had more compliments on these cookies than any other macaroon recipe. I was not thrilled over the condensed milk recipes nor the white egg recipes but this one has easy to find ingredients in your pantry. 
This is a great base recipe and you go from there, you can add almonds, chocolate chips, dried fruits.. you name it. I even decorated mine in 3 different ways either dipped in chocolate or with chocolate ribbons or with a red candied cherry on top.
I've also left some naked and I got many complements on all of them. These cookies can be more festive by topping with green and red candied cherries.
I've started with an optional but highly recommended step which was toasting the coconut flakes. It is always a welcome step in many of my coconut recipes, but if you like your macarons to be white then do not toast them.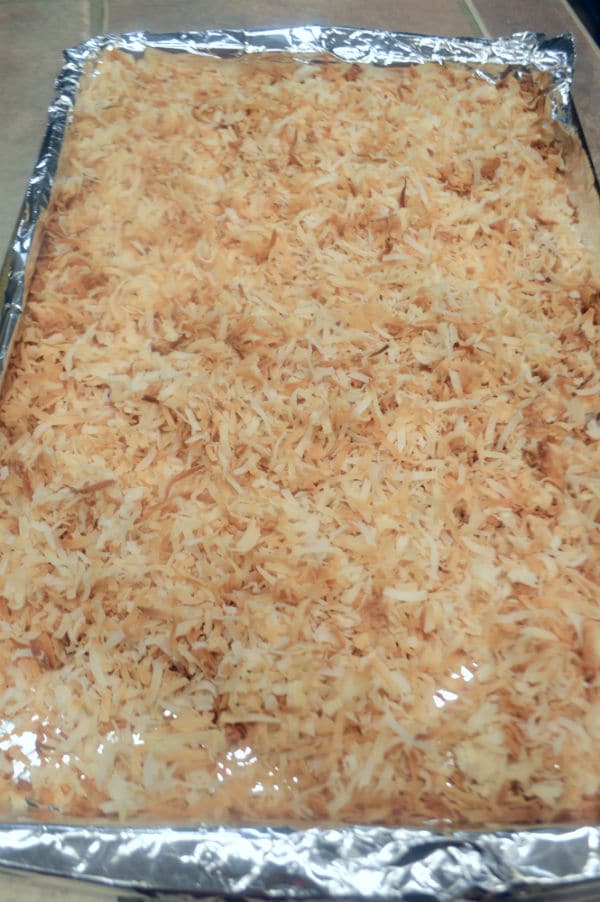 We'll then mix the coconut well with powdered sugar then add the egg vanilla mixture.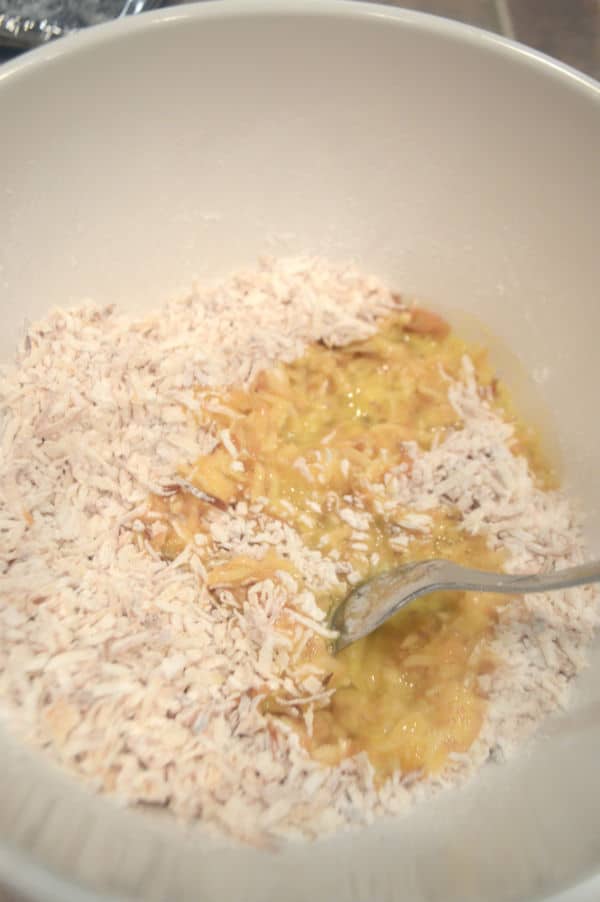 After that we will add dry milk until the mixture forms a sticky dough, cover and refrigerate for a couple of hours.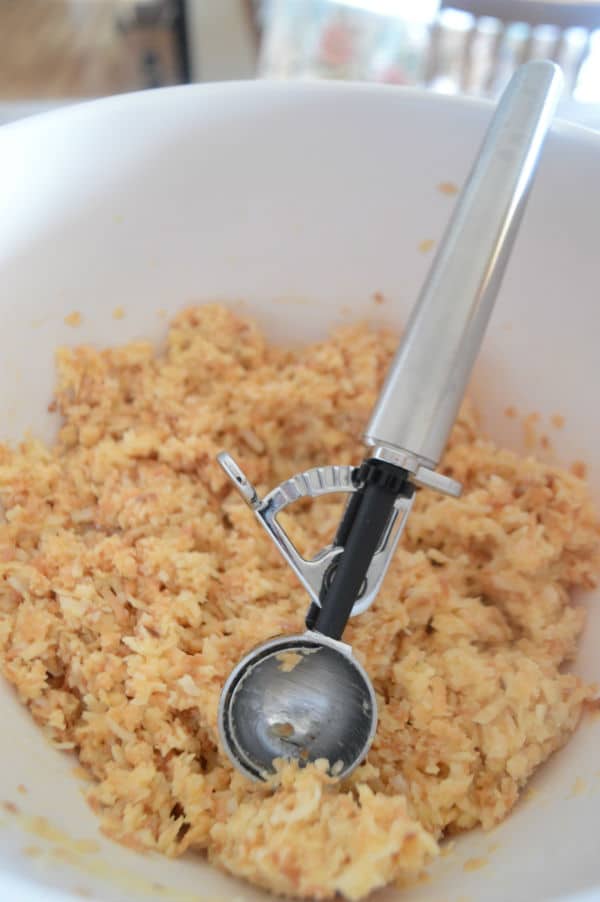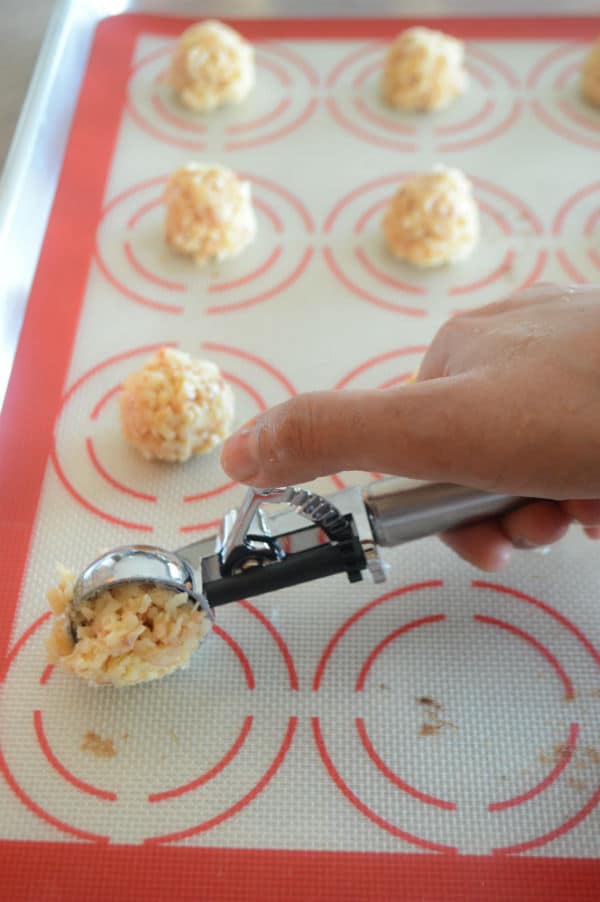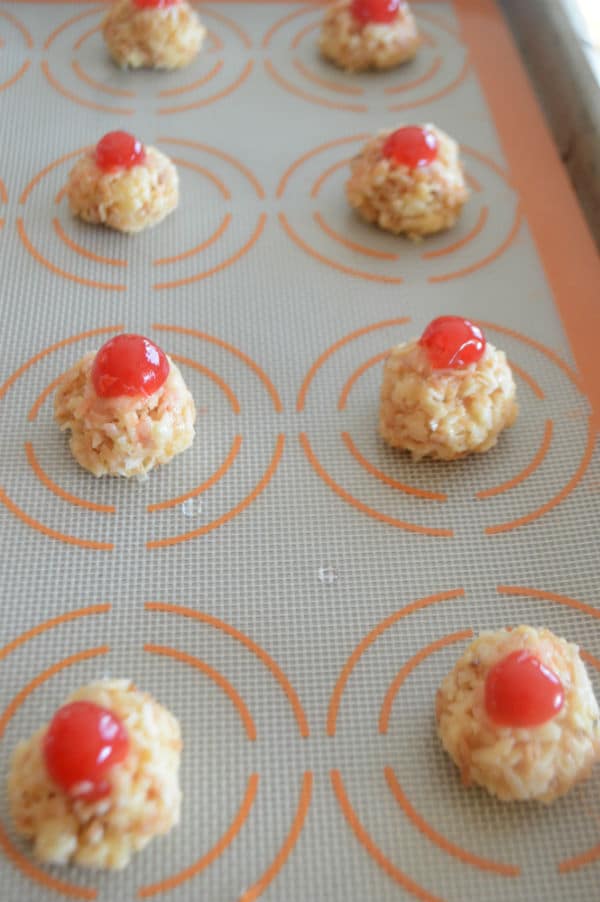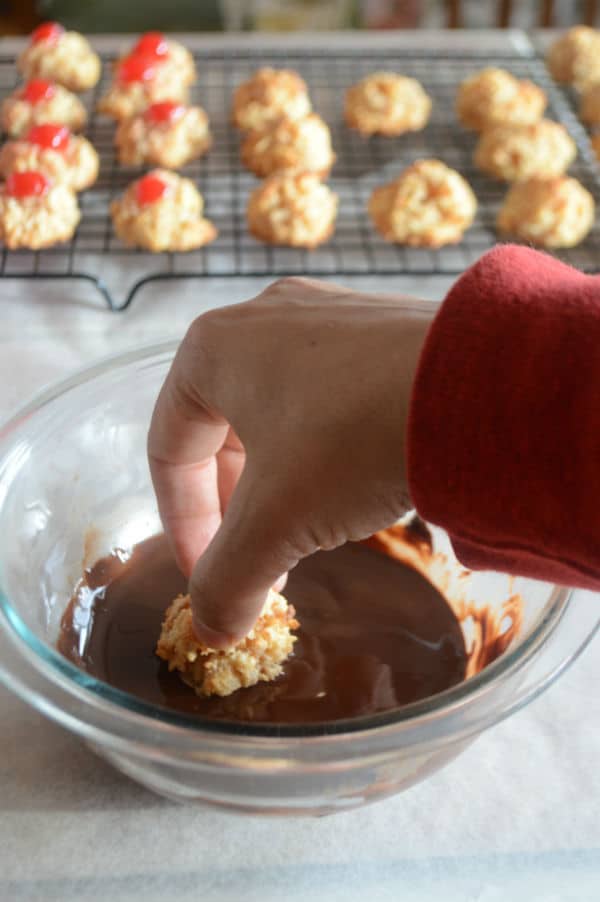 Form into small balls about 2 teaspoons of dough or drop using the small ice cream scoop.
Decorate with cherries ( optional) and bake for 14 to 17 minutes until golden brown.
After your cookies are cooled, decorate with melted chocolate ribbons or cover half - or all- of the cookie with chocolate.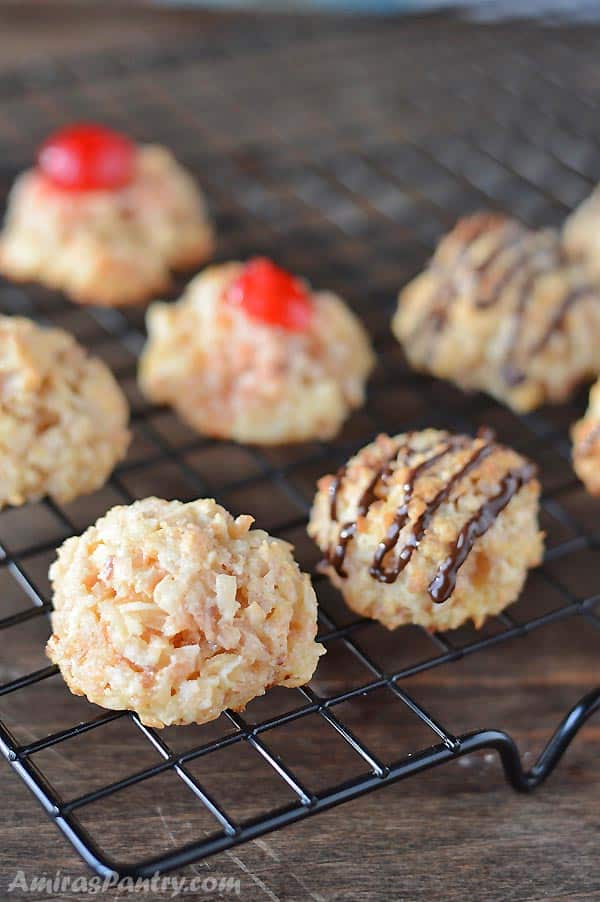 These cookies look very pretty and festive and can be wrapped nicely and gifted to your loved ones.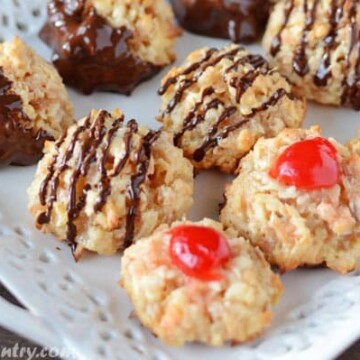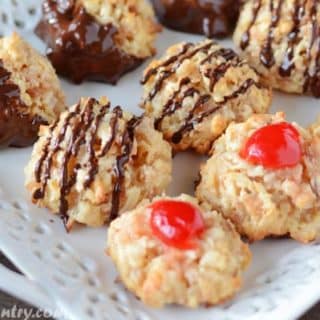 Ingredients
5 1/3

cup

sweetened coconut flakes.

1

cup

powdered sugar

3

large eggs.

8

Tablespoons

dry milk.

a dash of vanilla or 1 teaspoon vanilla or almond extract.
For garnishing, optional
4

oz

semi sweet chocolate bar.

Maraschino cherries.
Instructions
Preheat oven to 350F.

*Spread the coconut on a baking sheet and toast for 15-20 minutes in the oven until lightly browned. Let it cool down.

In a mixing bowl, combine toasted coconut and sugar , mix well.

In a separate bowl beat eggs with vanilla then add to the coconut mixture and mix.

Gradually add the dry milk until mixture forms something like a sticky dough.

Place in the fridge for a couple of hours or overnight, covered.

Using a small ice cream scoop, form balls and either drop it into a silpat or a parchment paper lined cookie sheet.

You can scoop the mixture into wet hands to form uniform balls.

If you are using cherries, add half a cherry on top of each macaroon.

Bake for 14-17 minutes until it is more browned.

Let it cool down, while you melt the chocolate.

Drizzle chocolate on top to form ribbons or cover half or all the macaroon with the melted chocolate.

Let it set on the countertop for 5 minutes then you may pop it in the fridge until completely set.

Serve and Enjoy!!!
Notes
* This step is optional but I find it highly desirable as it deepens the coconut flavor and provide extra crispness. If you like your macaroons totally white do not toast.
Sign up and learn more about Mediterranean flavors