Sweet and crunchy dumplings, soaked or drizzled in syrup, these loayqmat are a stable in the Arabic kitchen during the Holy month of Ramadan.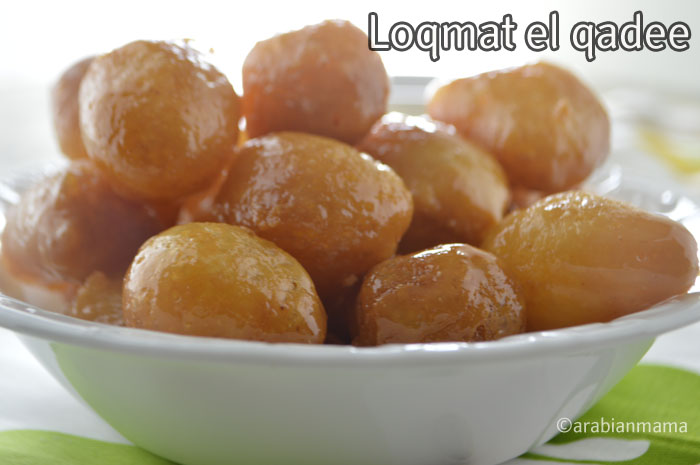 My eyes are filled with tears every time I make this delicious treat. This one was my dad's favorite and each time I make this I remember……
I remember …. Egyptian summer nights when it is hot and humid and we all head to that private club seeking some fresh air, kids playing around us and here he is happy as he can be with his girls and his grand children playing and screaming and he calls for them giving them money to buy some loqaymat for all of us, as it is super delicious in this club.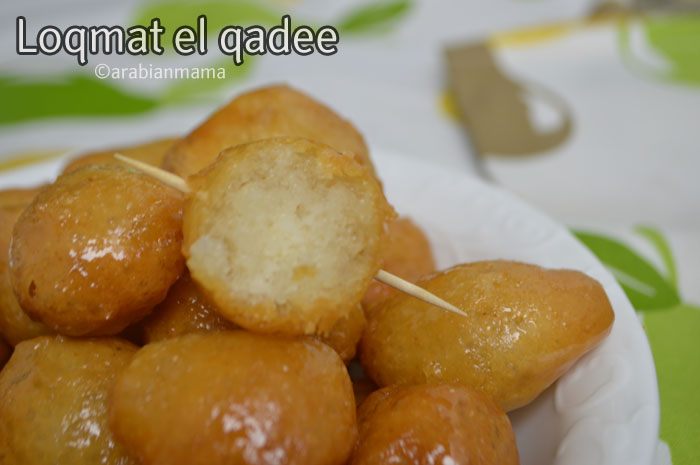 I remember my first attempt making those at home and he took and bite smiling then said oooh they are so tasty only if … and his ifs"" goes on and on :), he was just trying not to embarrass me.
I remember on one of those attempts he said the batter is very good they taste super but… why does each one look different!! they should have the same size and they should be rounded dear, I never mastered the are of making them perfectly round.. until now.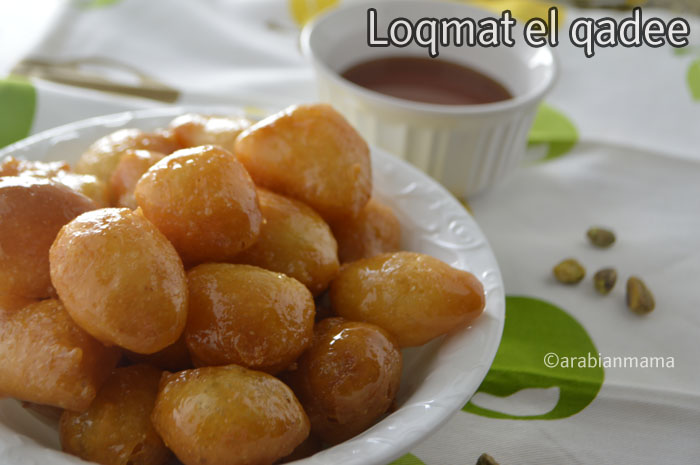 Those memories and much much more keep hunting me while making these delicious dessert. Then I just sigh and ask forgiveness for him.
Anyways Dad, I am pleased to announce that I finally found a trick to make them family and make them look alike and I am going to announce that to the whole world so that if there is a girl like me who loved her loqaymat loving dad, she will be able to please him and he will be proud of her.
This dessert is so common during the holy month of Ramadan. They are usually dunked in syrup but you can simple sprinkle some powdered sugar on top… irresistible both ways.
Here is a short video to show you how to make loqmat al qadee or loqaymat…
Loqmat al qadee or loqaymat
A delicious Ramadan treat.
Ingredients
1

c

AP flour.

1

Tbs

cornstarch.

2

Tbs

semolina.

1

Tbs

sour cream.

1

Tbs

oil - any kind.

1 1/2

tsp

dry yeast.

1

tsp

sugar.

1

tsp

white vinegar.

1/2

c

warm water.

Simple syrup or powdered sugar.

Crushed nuts for garnishing .

optional

Oil for frying.
Instructions
Mix the dry ingredients well.

Mix in the oil, vinegar, sour cream then gradually add the water until you get a pan cake like batter.

Cover and let it set in warm place for 15 minutes.

After 15 minutes, stir then cover for another 15 minutes.

Do so 3 times for a total of 45 minutes.

*If you feel the batter is too thick add a Tbs of water at a time and mix, if you feel it is thin then add tbs of flour and semolina and mix.

Heat the oil on medium heat and when you are ready to fry, drop the temperature to low until you fill the pan then raise the temperature again.
To form equally shaped rounded balls
In a sandwich bag, add 1tsp of oil and spread evenly, then fill the bag with some of the batter .

Cut a small opening in the bag to form a pastry bag.

Use a measuring spoon, dip it in oil, then fill the spoon with batter from the bag and drop the batter into the frying pan.

Turn the balls to be of uniform golden brown color.

When the loqaymat are golden brown, remove from oil, and place them on kitchen paper.

**Dunk in simple syrup, drizzle with honey, sprinkle with powdered sugar or drizzle with your favorite syrup. Sprinkle with some nuts.

Enjoy in the same day.
Notes
* You can run a test if you are not sure, drop a ball and if it did not form a round ball and started to flatten in the oil then it is too thin, if it came out dense from the inside and not as fluffy anf airy then it is too thick.
** Syrup should be at room temperature.
Sign up and learn more about Mediterranean flavors