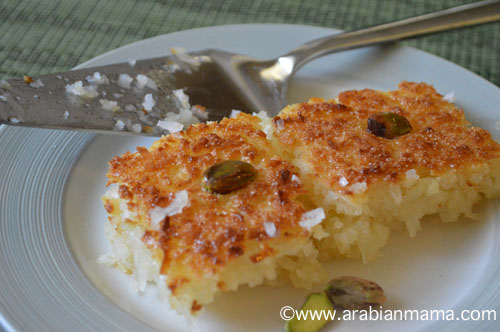 Hello from Egypt 🙂
I've missed you all my friends, we have been on a quick trip to Lego Land, Ca. and then we have finally landed safely in Egypt. So expect more and more of the flavorful Egyptian yummies to come.
Bassema is an Egyptian cake usually made with all purpose flour and lots of coconut flakes soaked in simple syrup and garnished with nuts.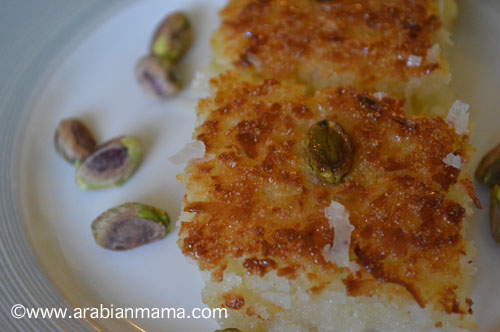 Today we will tackle a new version of Bassema in which we will substitute the all purpose flour with semolina. I've taken the challenge and believed in it 🙂 and guess what, it turned out great this way.
So let's start from the beginning, you will need :
2 cups of coconut flakes.

3/4 cup of semolina.

1 1/4 cup of water/milk/ or a mixture.

2 Tbs of

ghee

/unsalted butter.

1 teaspoon Baking Powder.

Nuts and raisins for garnishing - optional.
We will need a non-heavy, watery simple syrup in which we will need:
1 cup of sugar

1 cup of water

a dash of vanilla.

1tsp of lemon juice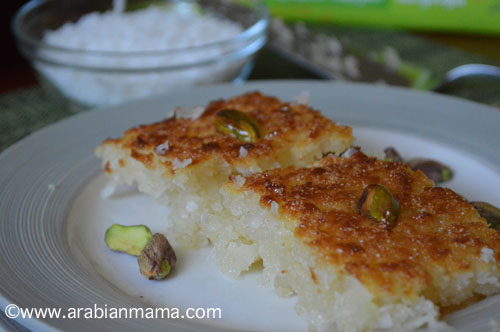 Simply mix all the ingredients well together spread in a greased baking sheet sprinkle top with nuts and cut in squares.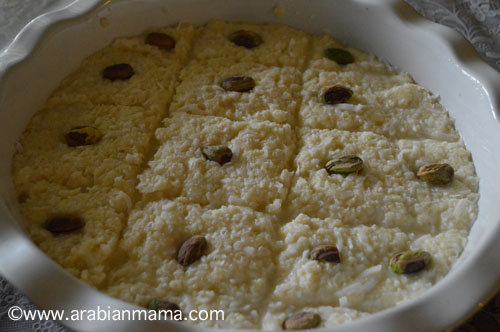 Bake in a 350F preheated oven for almost 45 minutes or until golden brown. Meanwhile prepare the simple syrup as usual by boiling water and sugar together for 5 minutes then add the vanilla and lemon juice then simmer for another 15 minutes.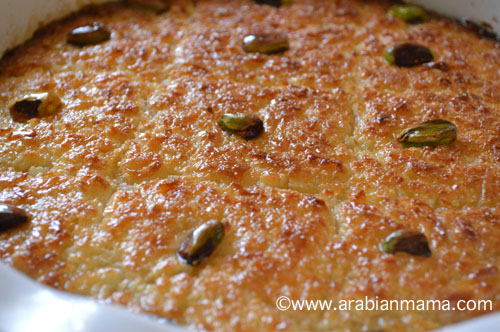 Pour the syrup while it is hot over the hot baseema- both got to be hot. Let it cool a bit and serve.