Koshari, one of the most- if not the number one- famous Egyptian one dish meal. Spicy, delicious, saucy and frugal, the only downside in my opinion, it just needs lots of pans.
Hey everybody, my first recipe in this blog when it was named arabianmama was koshari recipe. Koshary is my family's most asked for recipe and this good old post is very dear to my heart. I've posted an updated quinoa version of the koshari – with better photos – later in this blog' life. But this one is the original Egyptian Koshari with the original 2012 post.. Wow, my photography has really improved :). I hope you'll have fun reading this post and above all you'll like the recipe… and as usual …. Enjoy!!!
——————————————Original (10/9/2012) Post——————————————————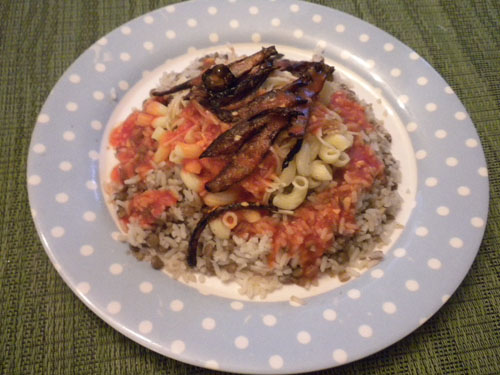 This is by far the most famous Egyptian dish eaten by the poor and rich. Kids love it, Adults can't stop eating it. Vegan or not I think you will like it.
In Egypt it is called Koshari and in Palestinian and other parts of the Arab world it is called Mujadarra. It is basically a combination of rice, pasta, lentil topped with crispy fried onions and hot sauce. Very delicious …. Enjoy.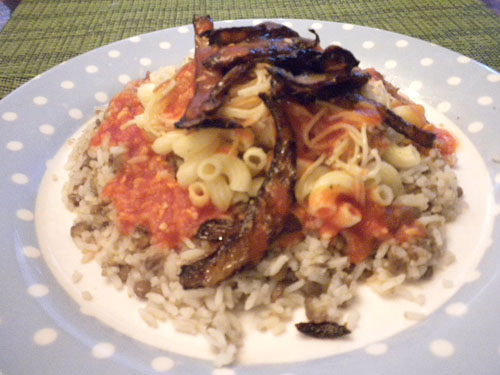 Egyptian Koshari:
2 cups of uncooked white short grain rice like Calrose – I used long grain just what I had
1 cup of uncooked black lentil
16oz package of elbow pasta uncooked – any kind will do it is just preferred to be small like elbows
2 large onions sliced
1Tbsp oil.
For the sauce:
3 to 4 cups of tomato sauce – depends on how you like your sauce we like it thick so I use 4
1/2 cup of water – tap water
1 1/2 tsp of minced garlic
2Tbs of oil – preferred olive but any kind is ok
1/4 cup of white vinegar
salt and pepper to taste
Optional:
2 cups of uncooked vermicelli
1 can of Garbanzo beans – or make your own by boiling a cup of chickpeas in salty water until done.
For the Kamouneya ( Cumin Sauce ):
1tbsp of heaped cumin powder
1tbsp minced garlic
1Tbsp oil
2Tbsp of white vinegar
1/4 cup of water
–First cook the pasta and rice as directed by the package.
-Rinse the lentils well and boil it in 2 cups of water with a dash of salt and cumin until almost done- watch for the water as it decrease so keep adding water until the lentils are almost done we do not want it overdone.
– Drain the lentils and add them to the rice mixing them well together as shown below.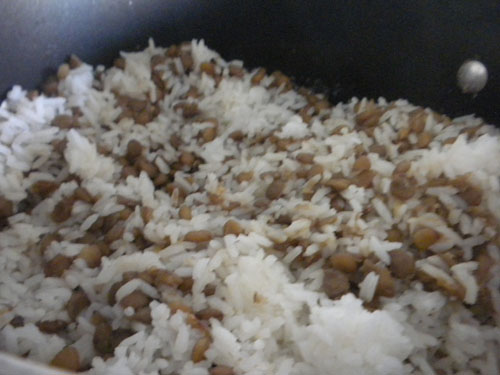 – In a large pan heat the 1Tbsp of oil a little then add the pasta, salt and pepper and mix well for 5 min then turn the heat off and cover. This step is necessary to make the pasta fluffy and not sticking to each other.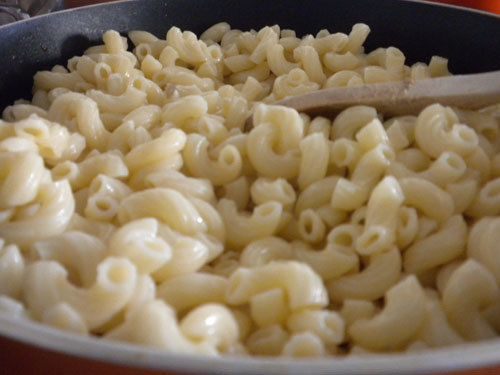 To make the tomato sauce:
–Saute the garlic in oil for 1 min then add the tomato sauce, vinegar, water and then adjust taste with salt and pepper.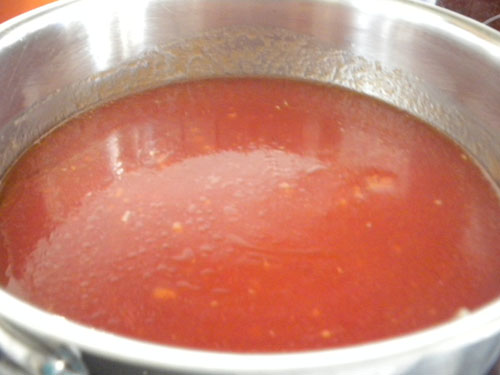 Now for the optional add-ons:
– Brown the vermicelli a little in a Tbsp of oil.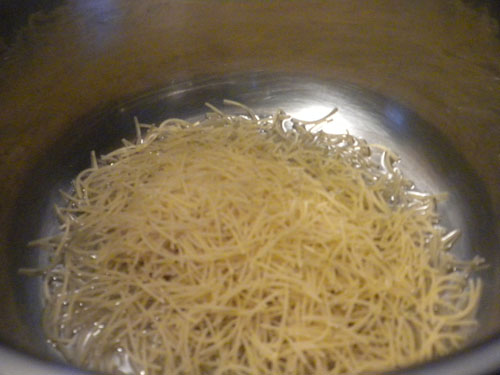 – Just like that below then add about 1/2 cup of water and a dash of salt.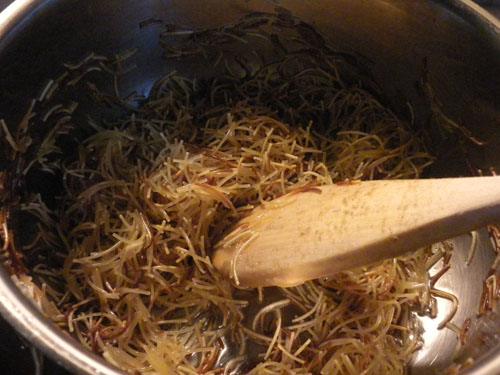 – let it cook for 10 min on medium-low.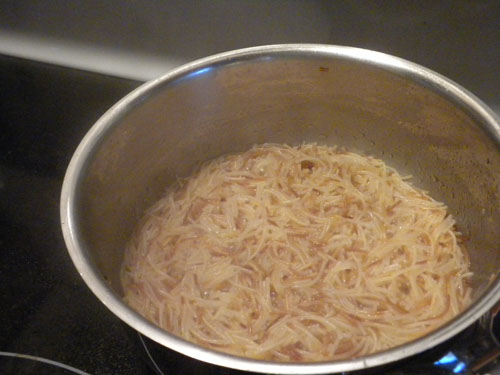 For the Kamoneya or Cumin Sauce
– Saute the garlic in a Tbsp of oil then add the cumin, water and vinegar. do not forget the salt 🙂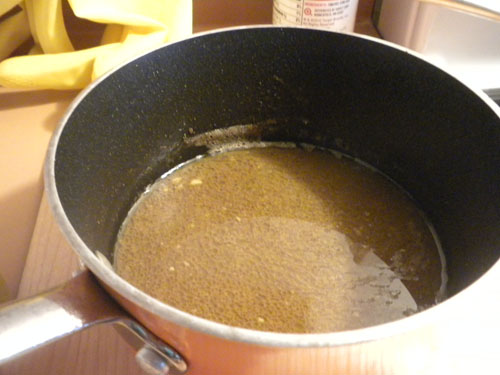 – Fry the onions and let it crisp on a plate.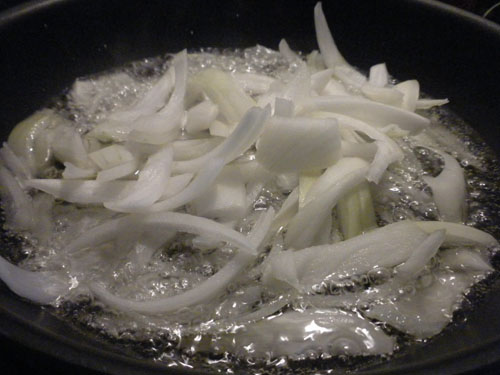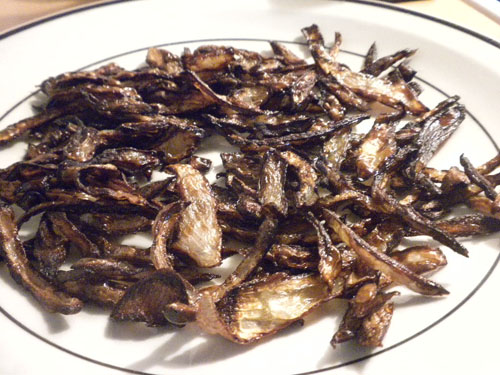 – A non-healthy – but delicious – tip : after frying the onions take 2 Tbsp of the frying oil and add them to the rice-lentil mixture and mix well. It makes the rice fluffy and add the onion flavor to the mixture.
To Assemble the Koshari:
– In plates put a layers of the rice mixture, pasta, vermicelli, chickpeas – I did not have it, topped with onions and drizzle with sauce and cumin sauce.
Note: I like to add crushed red pepper to make it hot but better not to add it to the sauce itself for the sake of young ones :).