Tasty date filled cookies, this Egyptian Ara'eesh recipe can be made plain crunchy or soft. A perfect snack anytime of the day.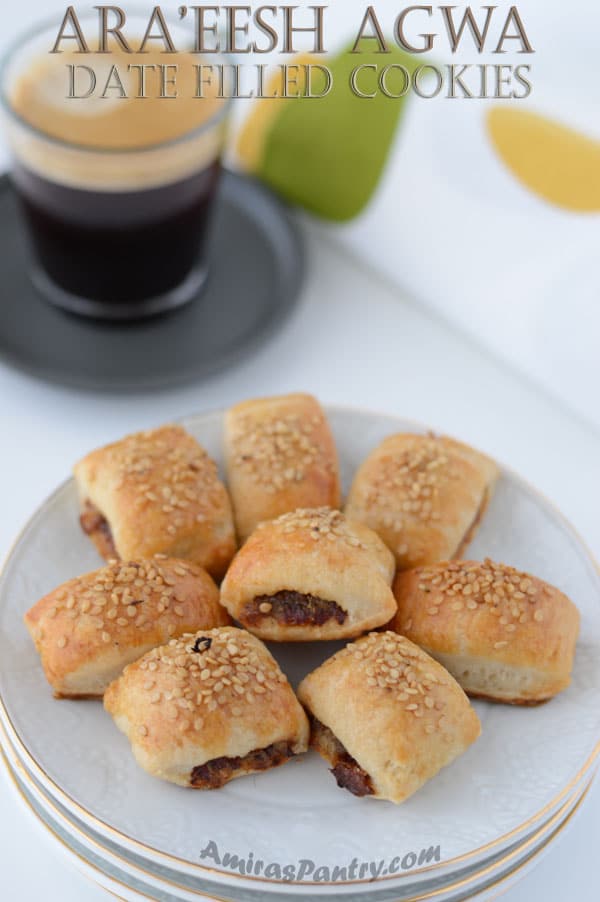 This is a childhood love, Ara'eesh is found in all pastry shops in Egypt and it was one of my dreams - since we landed here- to recreate it in my own kitchen.
My oldest used to take those to school in Egypt when he was just 4 years old and he used to call them circles :). Back then his school bus passed by him at 6:15 am, the poor guy was not even awake not to mention breakfast. So my late dad figured out that he would buy him "those circles" so he can nibble on them in the school bus. And YES, in case you are wondering, school busses in Egypt pass by kids at their homes not waiting for them at stops.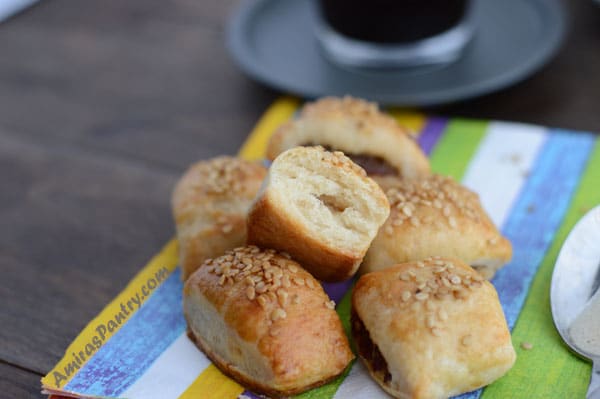 Aara'eesh is usually filled with Agwa, Turkish delight or is left plain. When it is filled, they are sometimes called Kaab el ghazaal which means a deer's heel!! I know ... weird and I still cannot figure out the connection .Today, I've made the first and third variations of Egyptian Ara'eesh, they tasted so good so let me show you how to make them.
First, we will need to melt butter over medium heat or you can use oil, more about that at the end of the post. Mix dry ingredients with hot butter then when it has cooled enough mix with hands.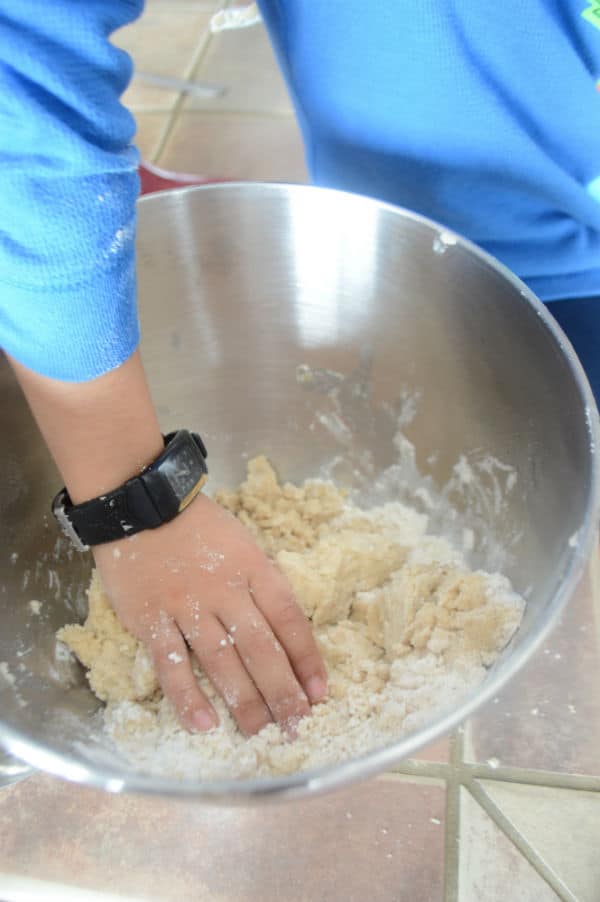 I've found that my kids, especially the youngest, love working with dough a lot so I let him work with me in such recipes, so much fun and gives us more time to chat in the kitchen instead of staying the whole day playing Xbox. So back to the recipe, add warm milk and knead the dough until it is firm.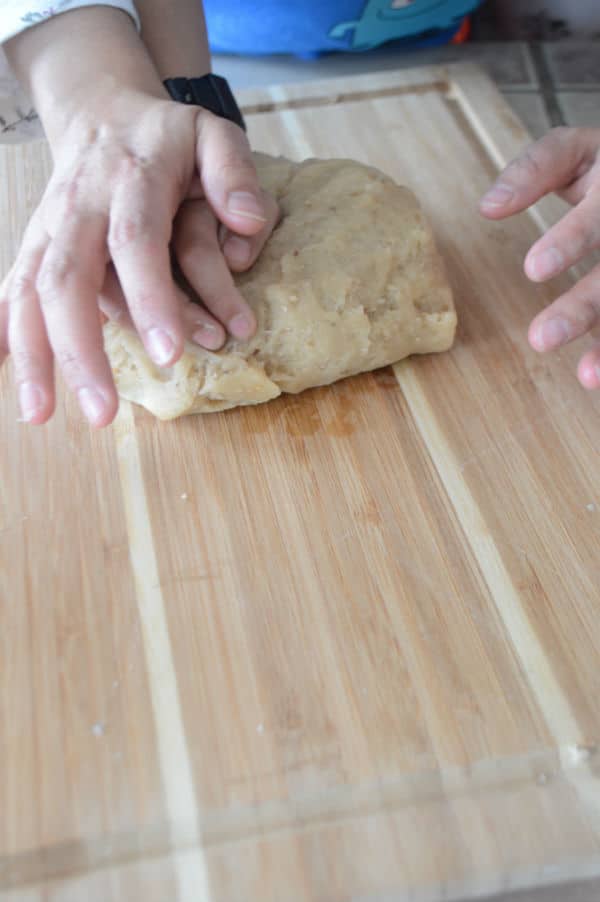 Let the dough rest in a warm place for two hours. Then cut into 6 equal parts. For the plain ara'eesh, roll each part to form an 11 inch log , trim the ends then cut each log into 8 pieces.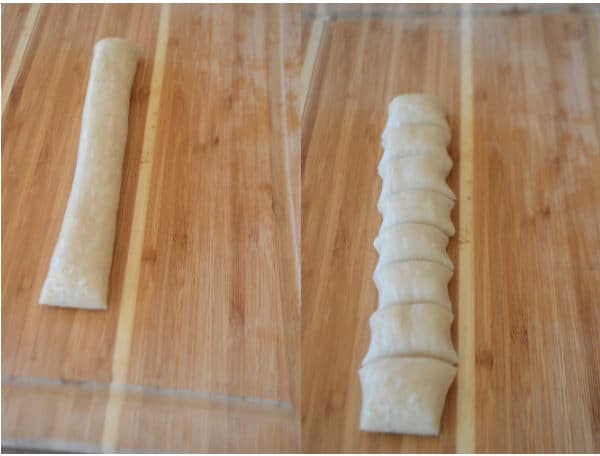 If you are going to stuff it, then we will make a rectangle instead of a log.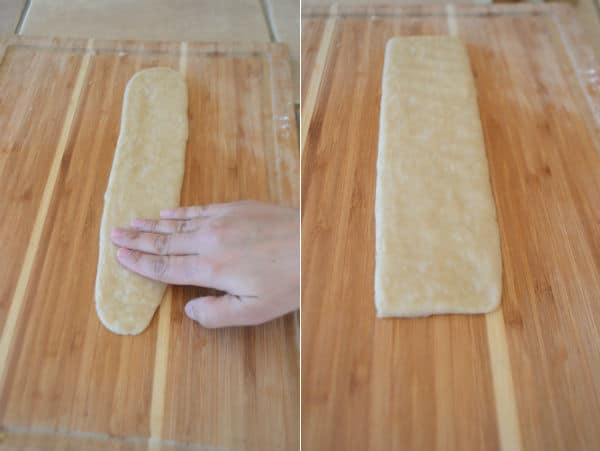 Then you need to shape agwa into a rope that will take almost third of the rectangle, roll it over to form a stuffed cylinder.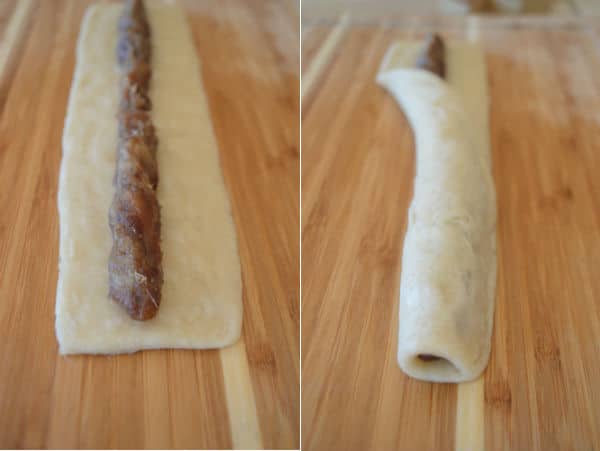 Then cut into 8 equal pieces.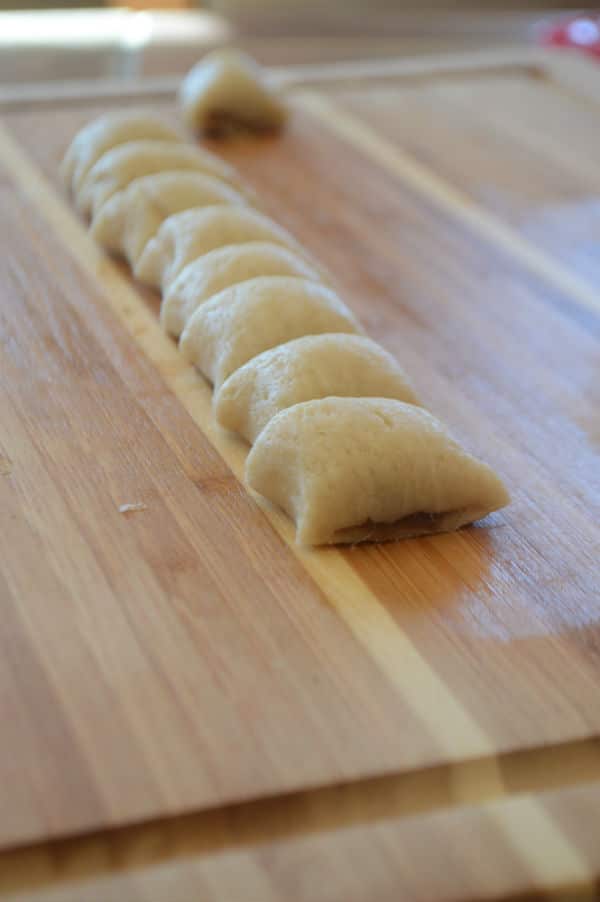 For simplicity, some people skip rolling and just form it into a rectangle then cut the dough into pieces like shown below. But the rolled one is the traditional shape of ara'eesh.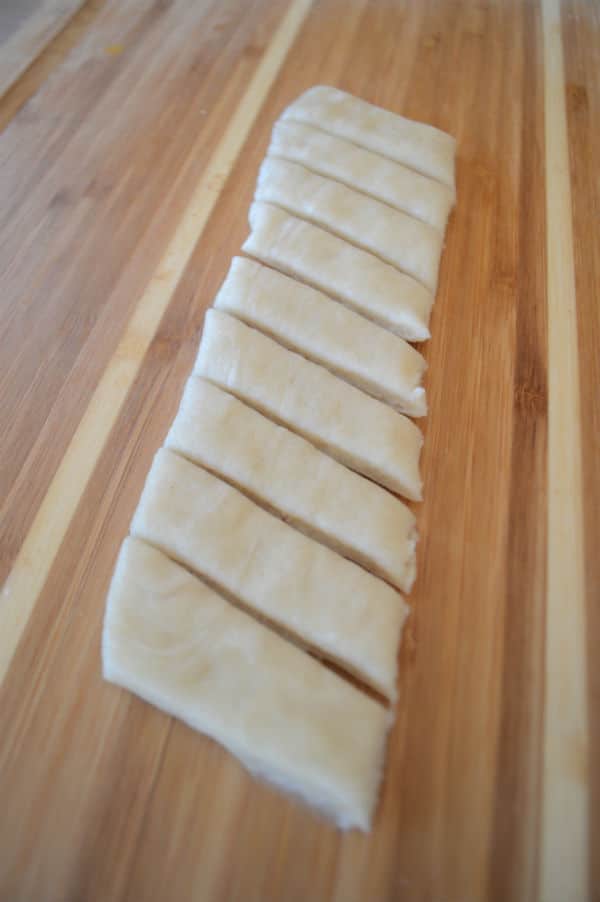 Brushing the top with some egg wash and sprinkle sesame seeds.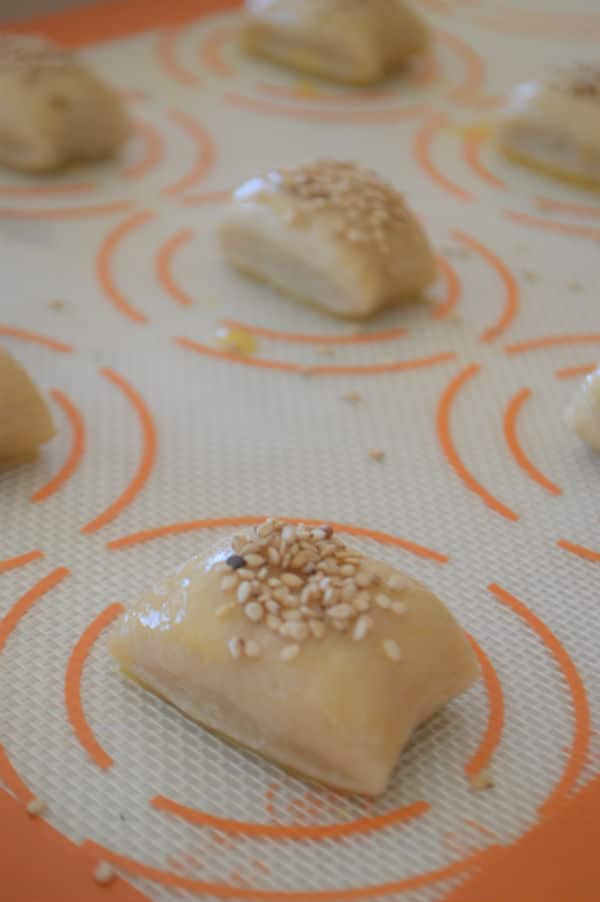 Bake and enjoy the wonderful world of ara'eesh with a cup of tea or coffee.
For the butter/oil and water/milk dilemma here is my two cents:
Using butter makes it super tasty but soft, using oil makes it crunchy but not as tasty.
Using water makes it lighter and using milk makes it richer.
I've experimented with different combinations and sent out test samples as well. Older people like it soft and buttery, kiddos like it buttery too. For me, I like it the way I used to buy it in Egypt. So what I did was use half the fat butter and the other half oil, for the liquids I used milk.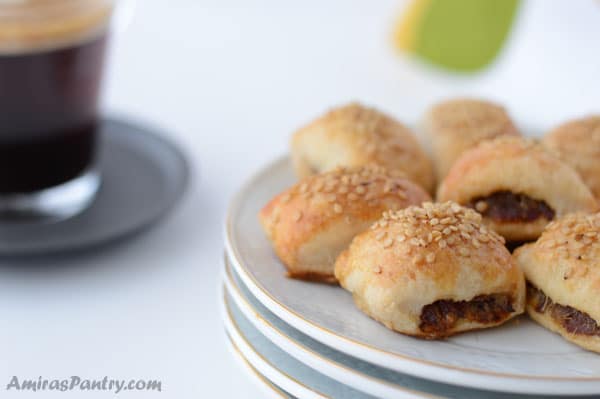 So, you might wanna start experimenting too as a way for having fun with the kids in the kitchen, or make it my way and call it a day.
Well, that's it for today's recipe. I hope you'll try ara'eesh and tell me what do you think... see you on soon.
Related Recipes
Maamoul is a traditional Middle Eastern cookie made usually filled with date. It has a soft texture and a delicate flavor.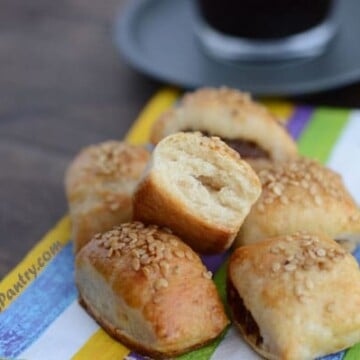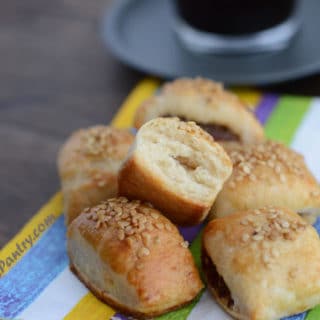 Ingredients
4

cups

AP flour.

¼

teaspoon

salt.

½

cup

butter

unsalted.

½

cup

vegetable oil or melted butter.*

Note1

½

cup

milk or water.*

I've used milk.

1

Tablespoon

dry yeast.

1

teaspoon

sugar.

2

Tablespoon

sesame seeds.

optional: one or more of the following.

1

teaspoon

anise seeds.

1

teaspoon

fennel seeds.

1

teaspoon

cumin seeds.

For garnishing: more sesame seeds.

For stuffing: If you are going to fill all the araeesh

you'll need a batch of agwa recipe.
Instructions
In the mixer bowl combine flour, salt, yeast, sesame seeds , your optional add ons and sugar and mix well,

Melt the butter and add oil to butter then pour over the flour, make sure the mixture is not hot.

Mix together until flour is completely incorporated.

Warm up the milk and pour gradually over the flour until the dough comes together.

Turn the dough into a lightly floured surface and knead by hand for 5 minutes,

Cover the dough and let it rise for two hours.

Preheat oven to 325F.

Divide dough into 6 equal parts.

If you are going to make a plain araeesh then roll the section into an 11 inch long log then cut into 8 equal parts.

If you are going to stuff it with agra then roll each into an 11 inch long , with almost 4mm thickness, rectangle. Roll agra into smaller cylinders placing into the center of the dough then roll the dough over to contain all agwa. Divide into 8 equal parts.

Place on a Silpat lined baking sheet, brush with egg and sprinkle sesame seeds on top.

Bake for 18-20 minutes until bottom gets nicely browned, then broil for one or two minutes till it has browned nicely.

Let it completely cool on a rack.

Store in an airtight container for 2 weeks.

Enjoy!!
Notes
Note1: The recipe calls for ½ cup butter and ½ oil. For a amore buttery flavor I've used ¾ cup butter and ¼ oil.
As I've explained in the post above using butter or oil affects the taste and texture of the ara'eesh and so the case of using milk or water. So you might want to go my route or experiment a little for your own preference.
Please check the nutrition disclaimer policy.
Sign up and learn more about Mediterranean flavors