Mahshi is one of the main platters in Egyptian banquets specially in Ramadan when friends and family gather to have iftar at sundown. It is by far the most common dish in Egypt and the Middle East along with the Koshari . It is an inexpensive meal – if you did not serve meat with it- so it is eaten by the poor and the rich in Egypt.
Mahshi is basically veggies stuffed with rice mixture. It has been always a rocket science for me, specially the stuffed grape leaves and cabbage rolls , as they require some skills in rolling them. But once you get the hang of it, you will stuff almost any veggies you like just give it a try and you will see for your self … It is an addicting process 🙂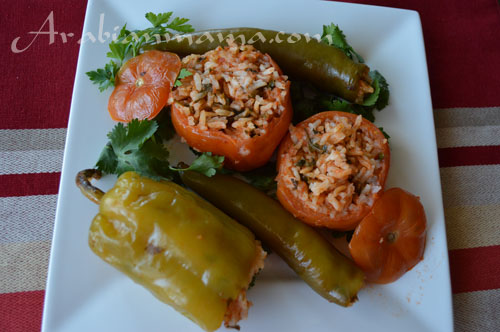 What really signifies the mahshi rice mixture is the aroma of two or more of the cilantro,dill and parsley. It depends of what you have handy, this time I only added cilantro- my fav.- and parsley. You can add these fresh – highly preferable- or dried.
So for the rice mixture we will need:
1 large chopped yellow onion.

2 cups of uncooked rice – traditionally, short grain but you can use long as well.

1/4 cup of oil – preferably olive.

1 cup of each freshly chopped cilantro and parsley.

1/2 cup of freshly chopped dill.

1 can 16oz. of tomato sauce.

2Tbs of tomato paste- optional.

1 Tbs of dried mint – optional.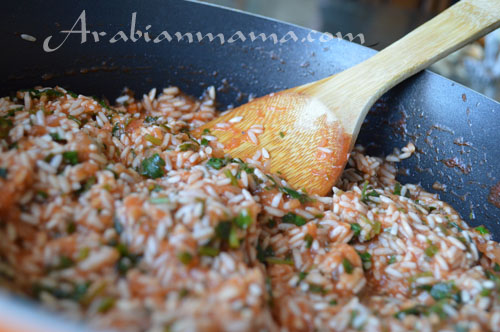 In a sauce pan saute the onions in olive oil then add the tomato sauce and paste, stir until the paste is completely dissolved add salt, pepper and dried mint. Wait until the sauce is boiling then add the rice ,lower the heat and let the mixture for 5 minutes then turn the heat off and add the dill,cilantro and parsley – or any combination as I mentioned before- stir the mixture all together and let it cool for 15 min.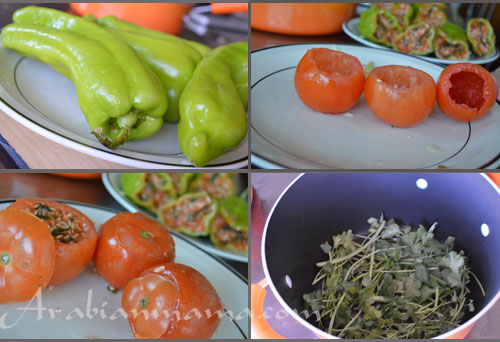 Basically, you can use any vegetables that can be stuffed and cooked. We can use any kind of pepper, tomato, zucchini, Italian squash, long – usually called Mexican, Chinese or Japanese – eggplant, white eggplant – very very rare here-, grape leaves, cabbage leaves…. and the list goes on. Be creative, I even stuffed these hot babies… didn't I tell you it is addicting.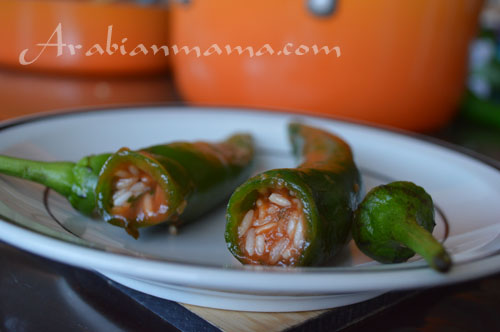 In the Middle Ease we are used to stuffing bell pepper but here in the US bell peppers are huge and probably will take a whole cup of rice in it so instead I buy mild anaheim cut them in half and stuff each half as they have thinner skin than bell pepper.

After stuffing your vegetables, you will need to make a bed for them in your pot as we do not want them to burn while your rice is cooking. I use some cilantro or parsley leaves you can use tomato rings, onion rings, potato rings whatever suits you.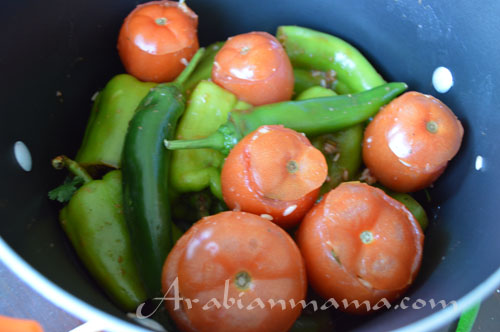 Add two cups of stock,broth or even water and put it on medium-high heat until the water is boiling, reduce heat to medium-low and keep it that way for about 40 minutes or until you are sure it is done. You may want to check on it every now and then to make sure that the water is still there to prevent burning.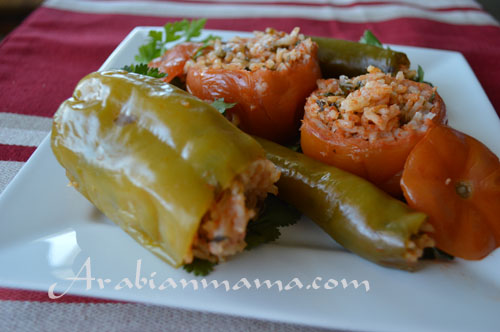 Some people like adding some already browned minced meat to the rice mixture and stuff then stuff the vegetables but we like it that way.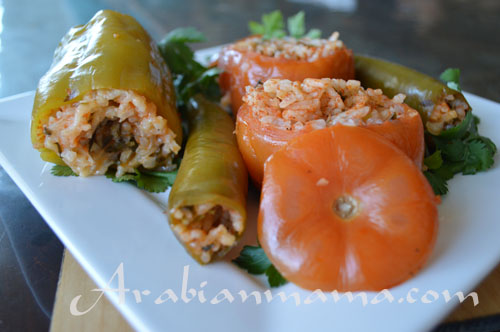 Let it cool down for 10 minutes before serving

.