If you've never heard of stuffed onion in slow cooker, or if you have never been a fan of onions, beware that these chubby little gems will make you a convert. CrockPot Stuffed Onions are simple stuffed onion shells, slow cooked to perfection in tomato sauce and served as a one dish meal. Perfect fall/winter comfort food, although I don't mind having this anytime of the year.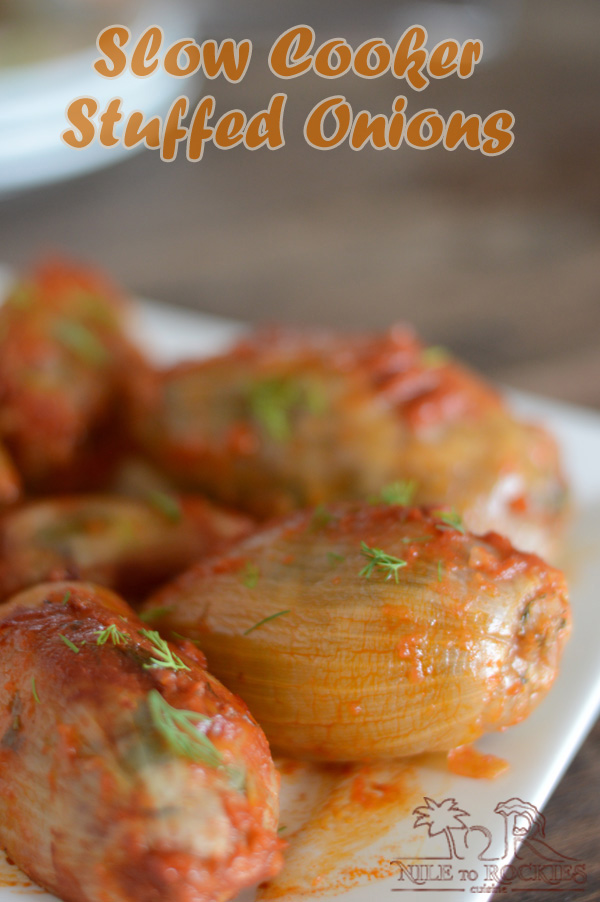 I haven't had stuffed onions – or mahshi as we always name any rice stuffed veggies- before, I am used to other kinds of mahshi like peppers, tomatoes, grape leaves, cabbage and zucchini. So I was amazed to see that Middle Eastern has gone as far as stuffing onions too, clever idea.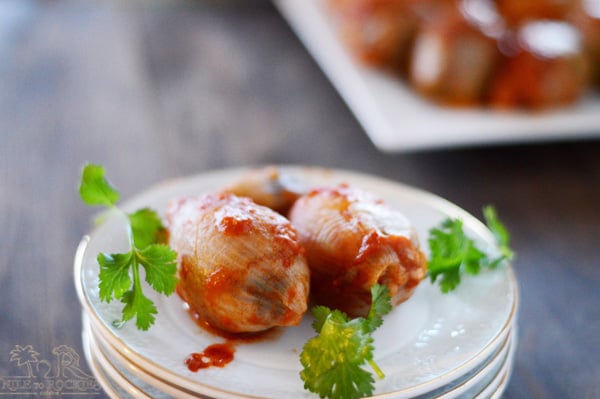 We were on an iftar gathering this Ramadan when I was first introduced to stuffed onions, and I ate about 4 of those at once. It was really delicious and the whole platter was gone first from the iftar table.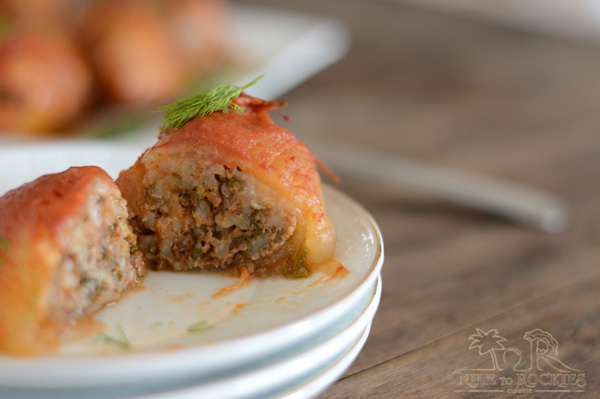 I've had it stuffed with rice like what we ,Egyptians, like to make our mahshi, some people add a little bit of ground meat along with the rice. For this recipe, I made the stuffing with more meat than rice so as to make it a whole balanced meal and lean more towards more protein than starch, but if you like more rice or even make it meatless, be my guest.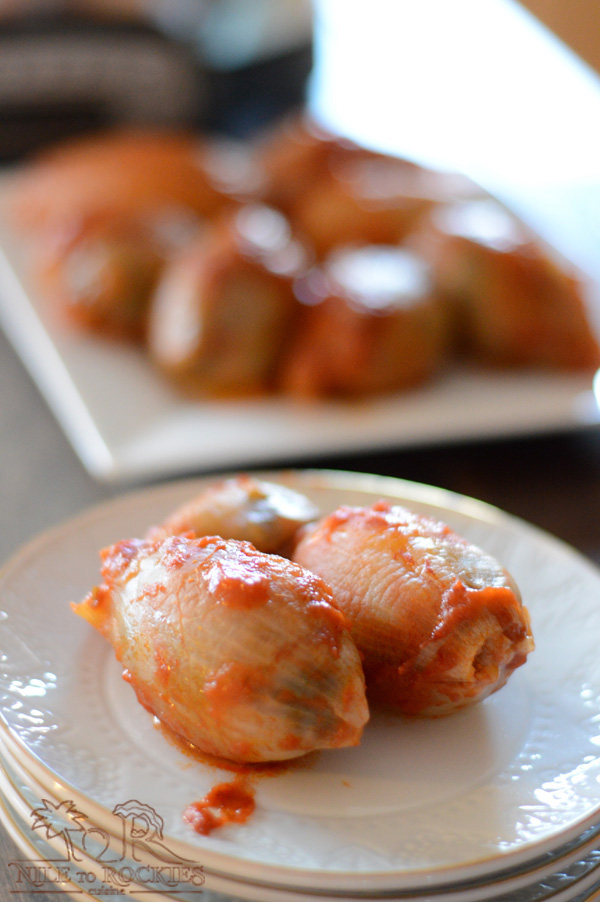 You can make it with brown rice, quinoa … whatever you want, do not be afraid to experiment and see what will you like more. One thing I do ask, please please please use fresh herbs, do not use ground or dried ones, it will not give you the same result. Fresh is a key to a good mahshi, it elevates the smell and intensifies the flavors… deal?👍
I hope you enjoy making my slow cooker version of mahshi, Thank you so much for reading and until next recipe… have a wonderful time… Enjoy!!
Crock pot stuffed onions
Ingredients
3

Extra large yellow onions.

2

Cardamom pods.

2- 3

Bay leaves.
For the stuffing
2

Tablespoon

olive oil.

1

large onion

diced, about 1 - 1.5 cup.

2

Tablespoon

tomato paste.

1

teaspoon

salt.

1/2

teaspoon

freshly ground black pepper.

1/2

teaspoon

cumin powder.

2

Tablespoon

dry mint.*

2

teaspoon

ground cinnamon.

1/2

teaspoon

bharat or 7 spices.**

1/3

cup

FRESH dill

chopped.***

1 1/2

cup

FRESH parsley

chopped.***

1

cup

FRESH cilantro

chopped.***

1

lb

ground beef.

1

cup

rice

preferably short grain, washed.
Liquids for cooking
16

oz

tomato sauce can.

16

oz

broth - any kind.

Salt to season.
Instructions
Place a pot filled water - enough to immerse the onions- over high heat and add the cardamom pods and the bay leaves. Bring to a boil.

Meanwhile peel the onions, wash and cut a wedge in each of them, this helps soften the layers.

Add the onions to the pot, reducing heat to medium-high and let it cook for 15 minutes or until the layers are easily separated.

Heat a large skillet over medium heat. Add oil; swirl.

Add chopped onions, stir for a minute until translucent.

Wash the rice then add to the onion, stir to combine for 2 more minutes.

Add tomato paste and the spices then stir everything well.

Add the herbs, stir for 30 seconds, then turn off the heat. Let it cool down for 10-15 minutes.

Transfer to a bowl, add the ground meat and mix well.

Take the onions out of water and let it cool down until you can handle it with your hands.

Separate the layers carefully.

Place 2-3 tablespoons- may be more according to the size of the onion layer- and roll.

Place some of the herbs on the bottom of your crockpot.

Combine the cooking liquids together and season.

Arrange the stuffed onions in the crockpot and pour the liquids over.

Cook on low for 6 hours.

Enjoy!!
Notes
* I did not have fresh mint, use it if you can find some.
** This is an optional ingredient but gives a desirable flavor, but do not kill yourself looking for it.
*** These herbs have to be fresh.
Sign up and learn more about Mediterranean flavors
Want more rice recipes? check our rice collection.
Meanwhile here are some of our favorite authentic Middle Eastern rice recipes.