Ready or not, Ramadan is approaching really quickly. Although Ramadan is not meant to be a heavily cooking season, it always ends up that way especially for home cooks!. To help ease your days and simplify cooking , here are some tools and kitchen gadgets that helps tremendously in the kitchen.

The following are affiliate links. We are a participant in the Amazon Services LLC Associates Program, an affiliate advertising program designed to provide a means for us to earn fees by linking to Amazon.com and affiliated sites.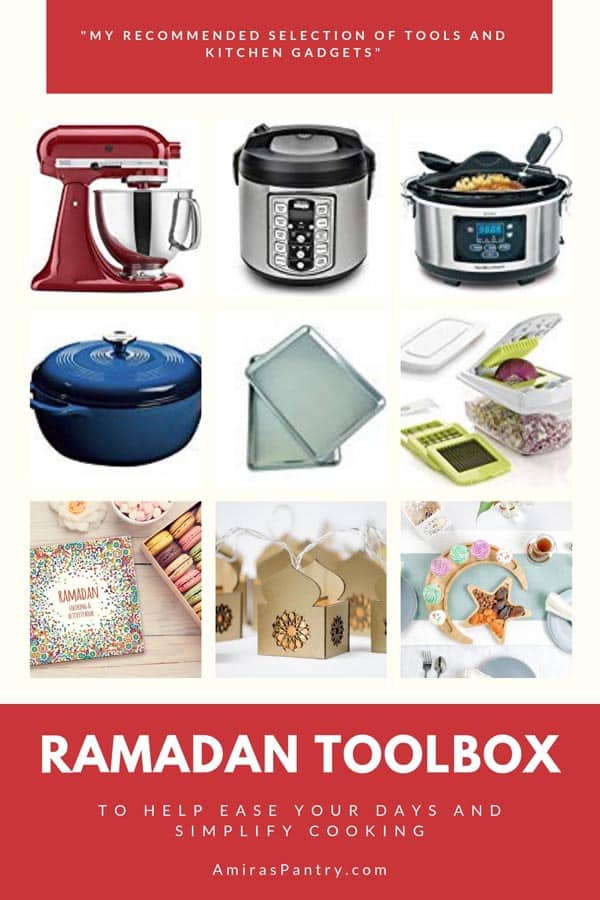 1- Aroma Rice Cooker :
where do I even begin, my best kitchen buddy especially when cooking for a crowd. I highly recommend it as it saves time, effort and space. Try this
Mediterranean rice recipe
in the rice cooker.

2- Slow Cooker:
Hamilton Beach is my go to when I want to go low and slow. Slow cooking tenderizes inexpensive cuts of meat. It is of great value when you are outside all day so you just throw everything in there and go on with your life. Take this
one pot meal meatballs
. Definitely a space saver and puts your mind at ease.
3- Instant Pot :
my recent obsession in the kitchen. I seriously thought it is going to be a waste of money but boy was I wrong. If you have some wiggle room in your budget go for the instant pot. It has a rice cooker and a slow cooker options as well. I've adapted many of my recipes in this quickie like
the one pot rice and chicken recipe
.
4- Vegetable Chopper:
Healthy eaters? Veg heads? People who like to get their vegetable on? this is another winner around my kitchen. If you have kids helping in the kitchen, prepping a big bowl of salad becomes an easy and a fun task for them. Think about
Tabouli
for instance.
5- Kitchen Aid:
for the baker in you, helps with any baking you have in mind. Especially with
Fatayer
or with
this magical dough
that fits almost any type of pastry project you have.
6- Round Baking Sheet:
these are meant to be for pizza but it is very good and useful when making
Basbousa
.
7- Nordic Baking Sheet:
sturdy and durable baking sheets that will not warp under high heat.I like making
Baklava
and
this ground beef phyllo pie
using these baking sheets.
8- Lodge cast iron:
I love stove top to oven products, like
this lodge pan
or perhaps
this dutch oven
. No need to transfer your casserole to another oven safe dish.Like when I made this
Shakshouka potato casserole
perfect for your Suhur.
Ramadan Decor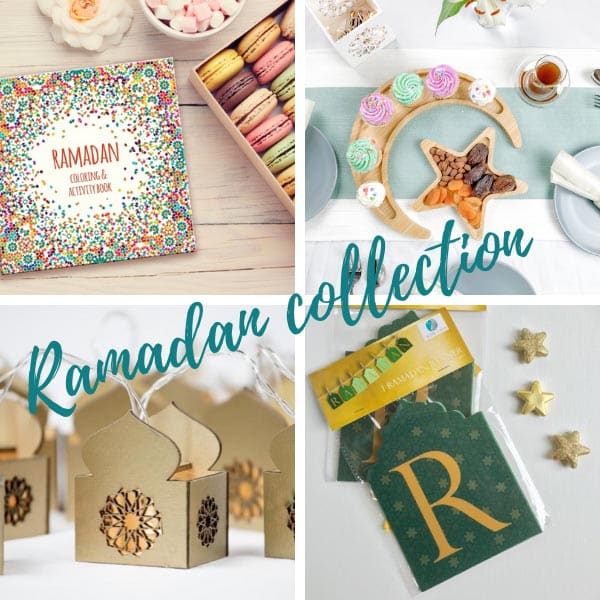 Check out Lail's products at WithaSpin. She has some cool stuff for Ramadan like, decorations, planners, banners, kids activity books, string lights and much more.

I hope this list will help decrease the load and kitchen stress a bit during this lovely season. Love you all.