Uniquely smoking aroma and a nutty, roasted taste,this is what you'll get with every spoon of this healthy freekeh soup.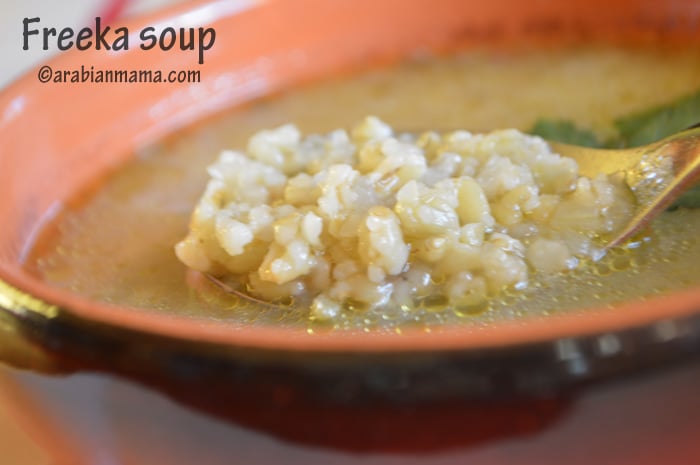 You promise yourself every January that this will be the year you'll get in shape, exercise and eat healthy. But by February jumping on a treadmill and making healthy dinners at home seems like a chore!!!! Does this sound familiar?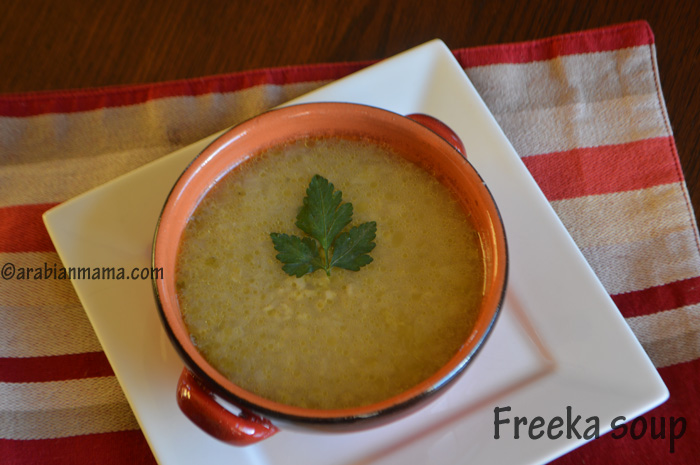 To help you- and myself- get a head start on your resolution, I am introducing this ancient Middle Eastern whole grain, that is packed with nutrients, and it seems to be the new darling for many nutritionists.
Freeka is made by harvesting young, green wheat then roasting them, which gives a very nice flavor to every grain. It is common in Egypt, Lebanon, Syria, Palestine and Jordan. This delicious soup, I have got from a Palestinian friend who likes to add some veggies to it too but I've just made it plain this time.
In Egypt, it is very common to make a Freeka pilaf and stuff chicken with it, comes out so delicious and gives chicken a new meaning :). I hope I will get the chance to introduce it for you soon.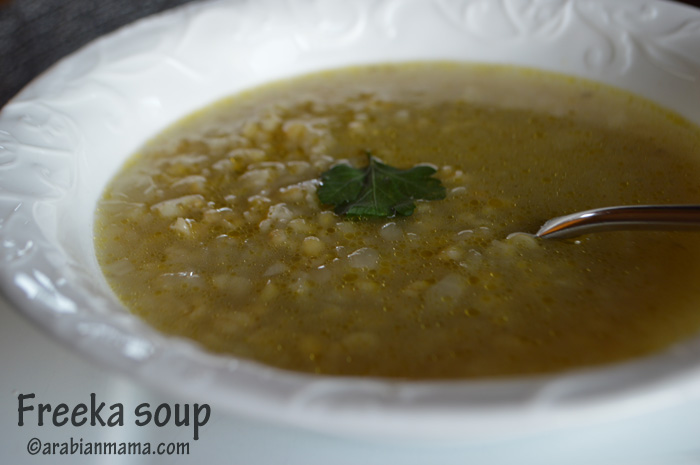 In this soup I've used whole Freeka but you can pulse them a little in your food processor, as my friend does. Somehow I wanted to taste the whole thing and enjoy its full flavor so I went with the whole Freeka.
You can use any kind of stock you like, here I have used chicken stock.
I've got the Freekeh from the Middle Eastern market in Denver, but I have heard that Whole Foods market, other health store , Ross department store and Costco sell them in bulk. You can find it in amazon too.
I do hope that you'll try it and tell me what do you think?
For all my readers and fellow bloggers, I hope this year will have only good news and happiness and that all your dreams come true. Enjoy the rest of the week.
Freeka Soup
2015-01-06 12:33:29
Freeka is an ancient grain from the Middle East. This soup is tasty warming and healthy.
Ingredients
3 cups of freeka grain(whole or crushed) - I've used it whole.
1 yellow onion - minced
9 cups of chicken stock.
Olive oil, salt and pepper
Instructions
Start by washing the freekeh grains very well. You can pulse them in the food processor a couple of times if you want, but I've used them whole.
soak in water for 30 minutes before cooking.
Saute onion in olive oil, drain freekeh and add to the onions.
Add the stock, salt and pepper.
When the mixture boils, reduce heat and cover.
Simmer until it is done, check out the liquid level every now and then to make sure there is enough liquids to cook freekeh.
Serve hot..... enjoy
Amira's Pantry https://amiraspantry.com/