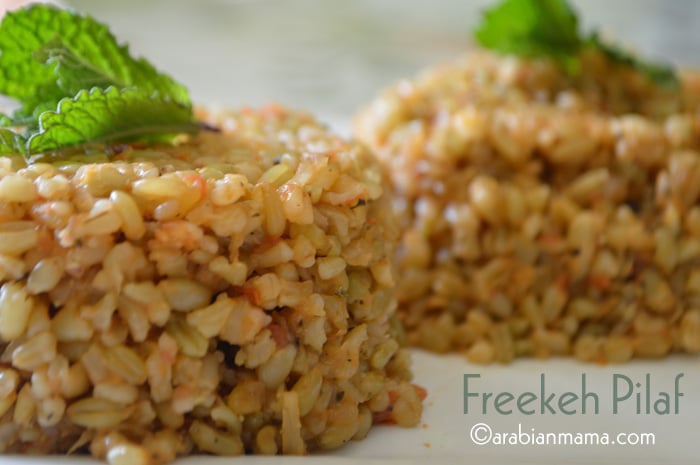 Another nutty flavorful recipe using this heavenly healthy grain, Freekeh.
My life is a mess these days!!! remember when I told you that I will be moving.. well something - health issues- came up and we decided to stay longer here... until when you ask? I have no idea :/. Now get ready for the big news... WE HAVE SOLD OUR HOME!!! and we knew about the health thing right the day after we signed!! can you believe that??. The market in Colorado here is going crazy, our home stayed in the market for less than 3 days and it was under contract. Do not think that we are lucky though, we cannot find a place to go now :(. Everything is 2K and up.. didn't I tell you crazy market. Any decent 3 bdr apartment is even more than 2K and if you add a garage or two prices go up to 2.5 and you will be lucky to find one.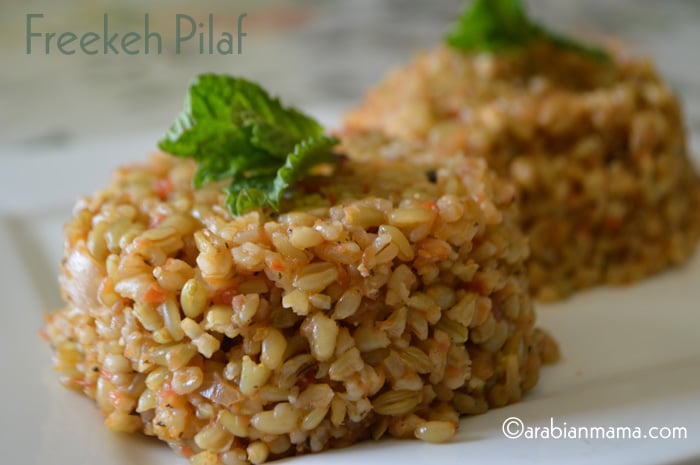 Moral of the story dear reader, if you are in Colorado, do not sell your home or try to search for another rental because simply you will not find one.

I'm amazed that instead of moving around like crazy trying to find some place for my little family, I have the guts to set and right a post!!. I really need to vent, so please do not hate me for this and give me some room here, will you?
Under such stressful conditions I need something comforting to eat may be a huge chocolate bar or a cake covered with frosting.. the last thing I need is something healthy :). But to my surprise I liked today's dish and will be on my comfort food list.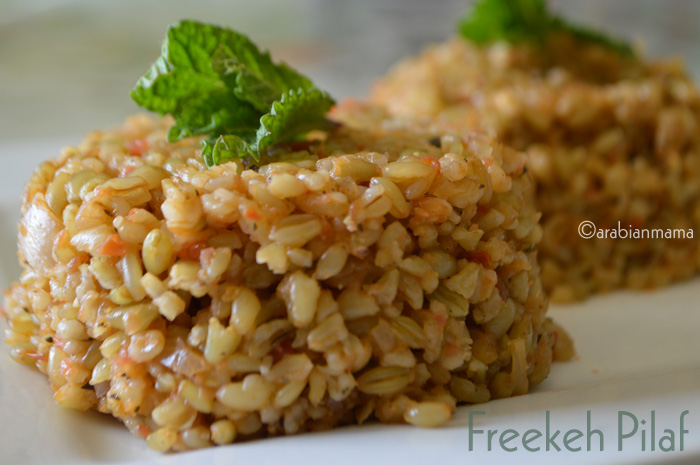 I bet my hubby was like" Urgh ... she is photographing while we will not have a roof over our heads in a week :): hahaha poor man.

Weather is perfect these days so this dish is very suitable when we are changing weather. I've introduced you before to the freekeh soup that is very warming during winter time.
Egyptians use the freeka pilaf to stuff small birds with, mostly pigeons and little chickens, and I highly recommend serving it as a side dish, something healthy to replace rice and pasta.
Here is a short video to show you how to prepare it with Middle Eastern touch :).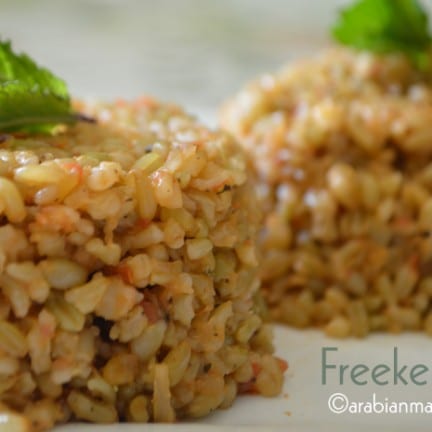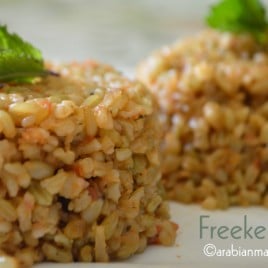 Ingredients
1

cup

of uncooked freeka whole grains.

2

Tbs

olive oil.

1

medium onion.

1

large tomato.

1/4

tsp

freshly ground black pepper.

1

tsp

dried mint leaves- crushed.

1/4

tsp

cardamom powder.

1/2

tsp

cumin powder.

1

tsp

salt

more or less depending on your liking

Hot water

we will process the tomato and measure them then add hot water or broth until we reach 10oz (1 1/4 cup of liquid)
Instructions
carefully pick freeka looking for inedible things

wash under cold water

let it drip

Cover with water let it soak for 20 -30 minutes

Cut the onion and process

do the same for the tomato - I got 6oz of juice DO NOT STRAIN THE JUICE

Over medium heat, sauté onions

drain the freeka and add to the pan Stir for 2-3 minutes

add salt and spices

add the tomato juice

Add water or broth to complete the 10 oz liquid

when it boils, reduce heat and cover

let it cook until tender and nice almost 20 minutes
Sign up and learn more about Mediterranean flavors

So do you have a tip for me to help me out? Do you think it is wise to pay 2K or more for a rental 3 bedrooms or it will be better to try to downsize? and above all DO YOU HAVE AN IDEA WHAT IS HAPPENING IN COLORADO?
Enjoy the rest of the week and please wish us good luck.