An authentic Middle Eastern chicken recipe. Nutty, slightly smoked freekeh inside a perfectly spiced chicken.
Total time
2
hours
30
minutes
Go wild with this super grain! Chicken stuffed Freekeh, one of the middle eastern chicken dishes that is flavorful, unique, filling, nutty with great texture(s).
Next time, try this simple freekeh pilaf.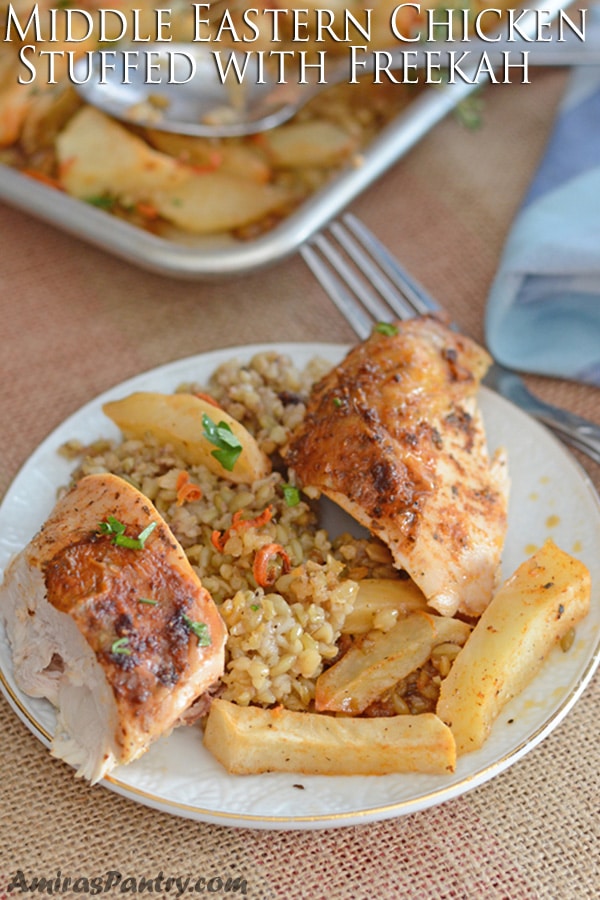 First, here are some questions, you might have, before we dive in:
What is Freekeh? Freekeh is a green durum wheat that has been roasted and cracked, it contains tons of nutritional benefits loaded with protein and fiber.
Where to find Freekeh? Well, for sure you'll find it in your Middle East market, but I've seen it as well at Whole Foods and occasionally in Sprouts. Some people have bought it recently from Trader Joe's, but seriously if this all did not work... turn to the beloved Amazon, it is definitely there.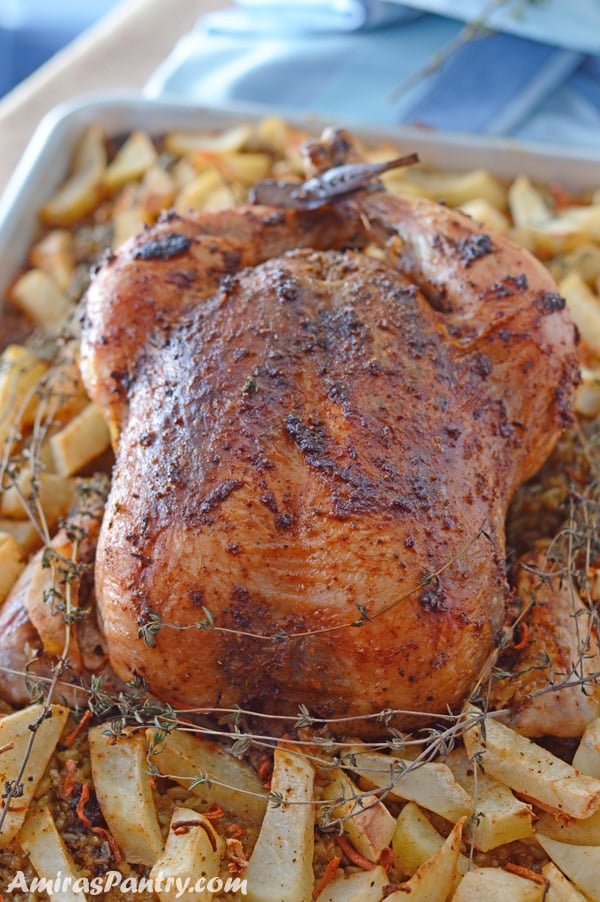 How to cook Freekeh: the most foolproof way to get a chewy and firm texture is simply boiling them like pasta! Just boil one cup of well washed and drained freekeh in 4 quarts of water with a tablespoon of salt for 30-45 minutes.
Buuuut....
If you want to up your freekeh cooking skills, follow along with my mom's recipe, soooo delicious I cannot even convince you enough, you need to try it for yourself.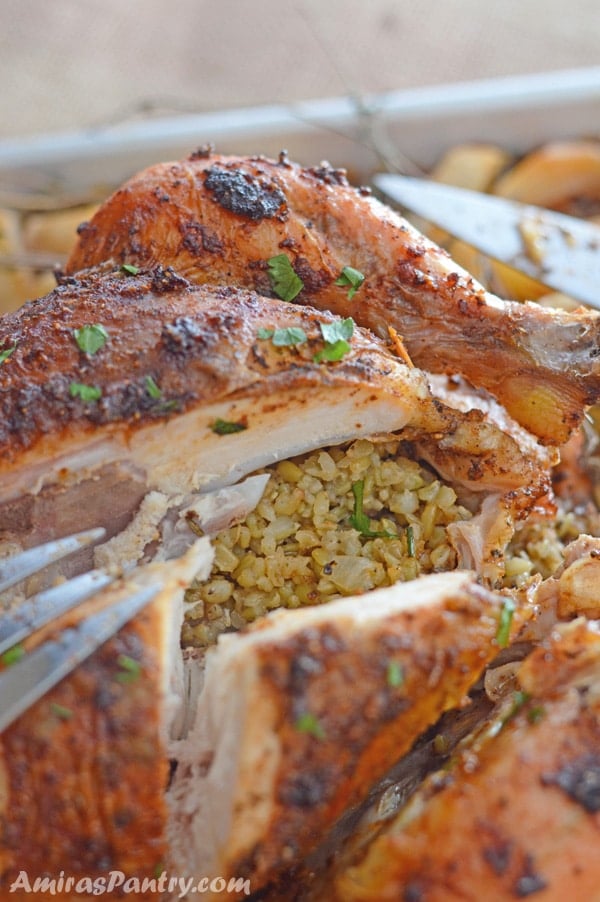 Chicken Freekeh Love. ♡
A chicken with crispy golden brown skin, very tender inside, accompanied by chewy, heavenly flavored freekeh, potato and some green salad. To be honest, not much else is needed for a fabulous, hearty dinner.
This is my mom's recipe, but she usually stuff hers with rice. I used to like rice more when I was little, but really using freekeh gives the chicken a new aroma that you do not want to miss. Also one of my dear friends here does the same with turkey on Thanksgiving!, she seriously got the nerve to stuff a whole big turkey cavity with rice or freekeh and serve , let me tell you it is very tasty :)... I do not know how many pounds of rice she uses. That gal is really something!
Ok enough babbling and let's get to work.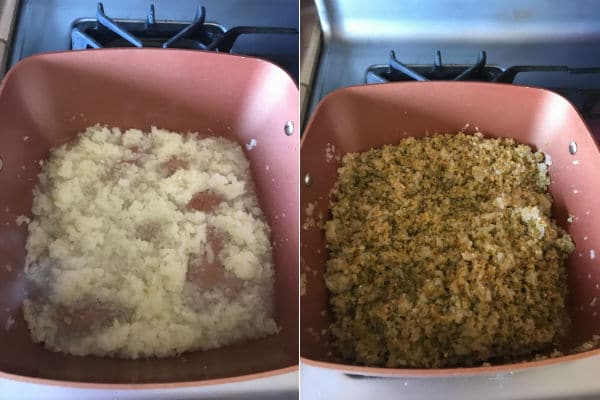 You'll need to wash freekeh , rinse, wash then rinse and then repeat again for several times until it is thoroughly washed and clean. Sometimes freekeh comes with nasty bits of dirt as I heard it is very hard to be 100% dirt free and clean, so we need to make this at home. In a pan over medium heat, add oil and saute onion. Then add washed freekeh, season with salt and LOADS of black pepper, add half the amount of water needed to cook the freekeh. We do not want to fully cook it now.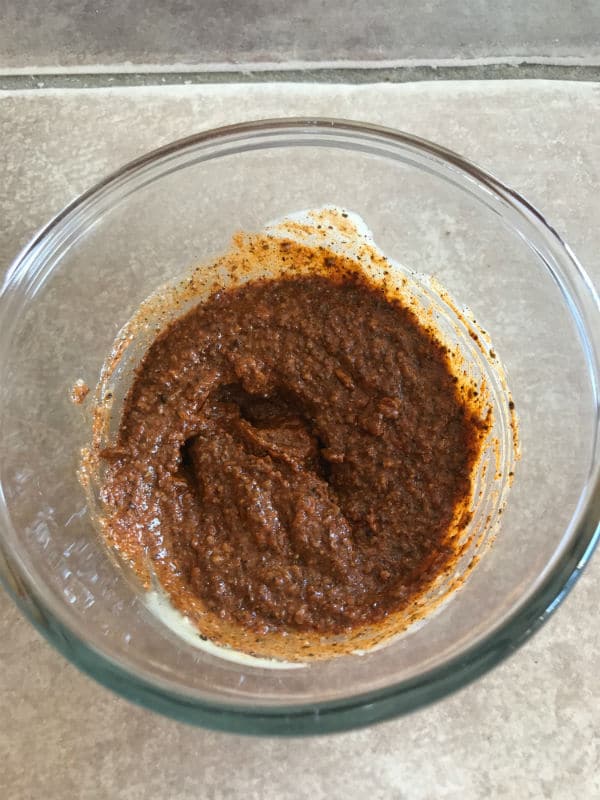 Meanwhile, prepare the rub by combining all the spices and butter well in a small bowl. Here is a tip: try ALWAYS to use freshly ground spices, I know it is hard and it is more convenient to buy ground spices rather than grounding it yourself, here is what I do, I usually grind my spices on a weekend that will last me for 10 days or a couple of weeks. I always buy most of my spices in bulk and keep them in freezer.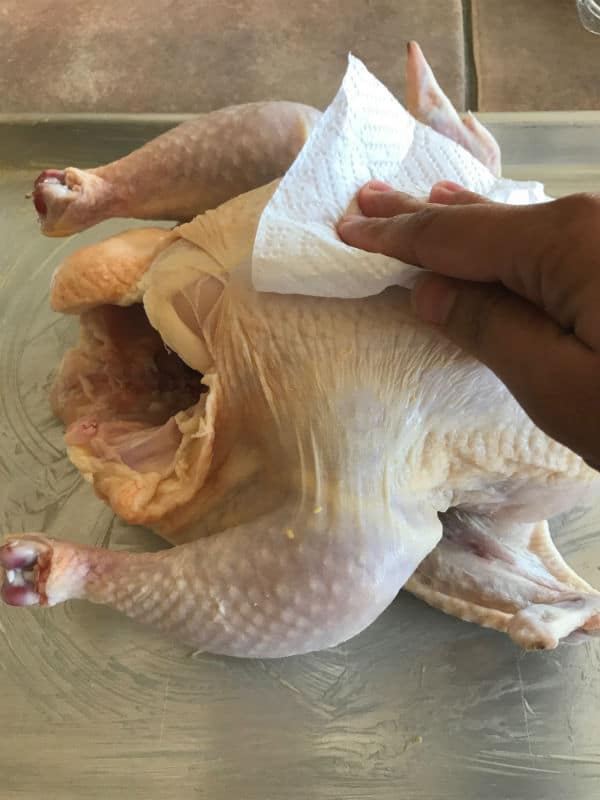 Now wash your chicken and pat it dry. Here is what I do to thoroughly wash any type of chicken, that I've learned from my mom, and she got it from her mom and her mom got it from hers.... up until the first mom in Egypt :).
First, we take the giblets and all these stuff out, we do not discard them, in the Middle eastern cuisine, there are plenty of delicious recipes using giblets. Then rinse thoroughly with cold water, put the chicken in a deep bowl and add about ⅓- ½ cup of white vinegar. Rub the chicken inside out with vinegar, let it set for about 15 minutes then rinse again with water to get rid of the vinegar.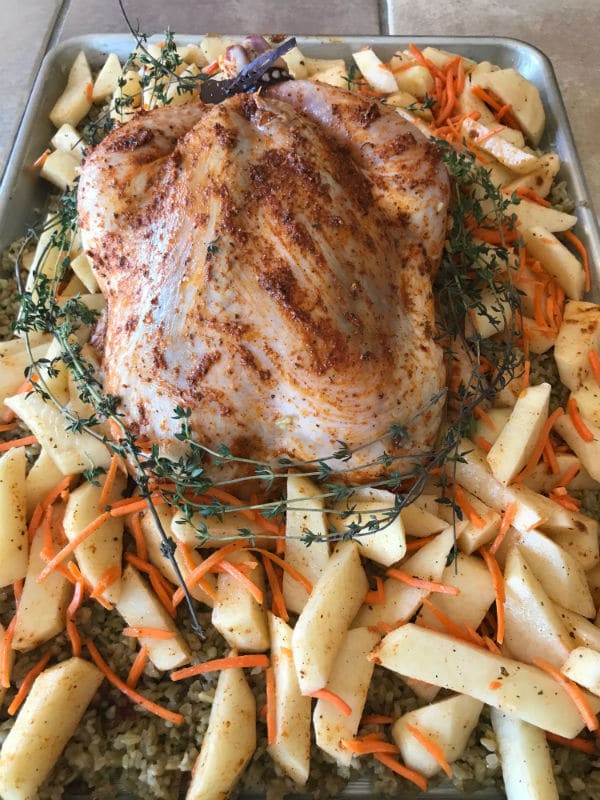 Some people stop there but others, me included, rub the chicken inside out with almost ¼ cup of plain flour. let it set again for 15 minutes then rinse with water to get rid of any flour stuck here or there. Now your bird is ready to be happily stuffed.
Stuff the chicken ¾ full with freekeh mixture, tie the legs and tuck the wings under. Place in a baking sheet and spread the remaining freekeh around the chicken. Toss some vegetables if your choice with any remaining rub or else use just some salt and pepper. Top the freekeh with the vegetables, pour ½ cup of water in the pan and cook in a hot oven, uncovered for ½ an hour.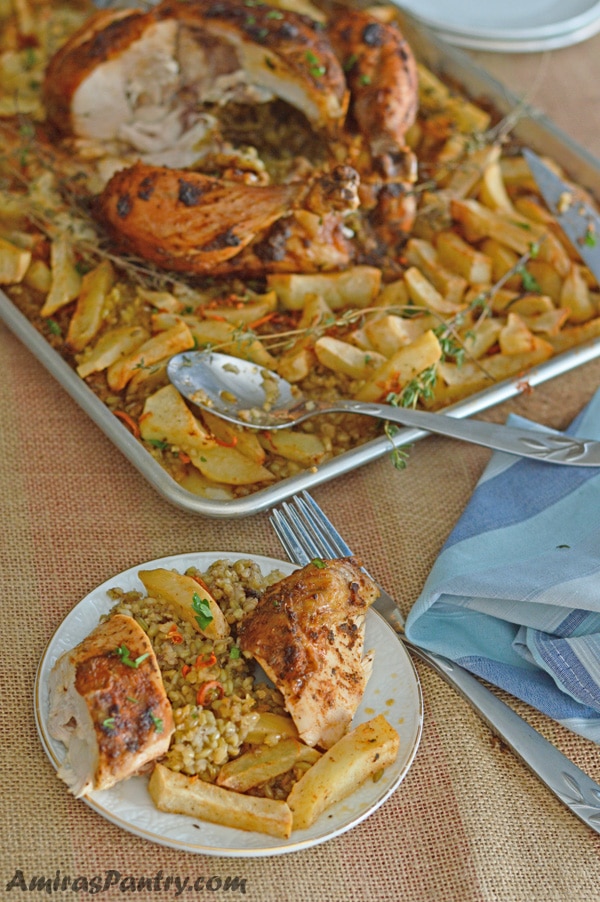 Cover the whole sheet with foil and return to oven for about 90 minutes until done. To get an even more crispy skin, remove foil in the last 10-15 minutes. Let it cool down a bit, slice the chicken and serve with your favorite green salad.
This is a very common way to stuff birds like chicken, pigeons, quails, turkey... etc.. Also try various grains like barley, wild rice, white rice this will give you a different bird each time, but start simple with freekeh. Another bold action is to make it in the slow cooker, prepare the freekeh, rub the bird, stuff then throw in the slow cooker and if you want a crispy skin, you might consider popping in the oven for 15 minutes when it is done.
Related Recipes
Chicken shawarma rice is one of our favorite easy weeknight meals. Tender chicken with flavorful yellow rice topped with an amazing white sahwarma sauce all take just about 30 minutes!
I hope you'll like this recipe and please if you make this recipe, snap a pic and hashtag it #amiraspantry — I love to see your creations on Instagram, Facebook, Twitter!
Don't want to miss a recipe? Sign up for the FREE Amira's Pantry newsletter delivered to your inbox with lots of tips and surprises! And stay in touch with me on Facebook, Twitter, Pinterest, and Instagram for all the latest updates.
Watch this recipe video!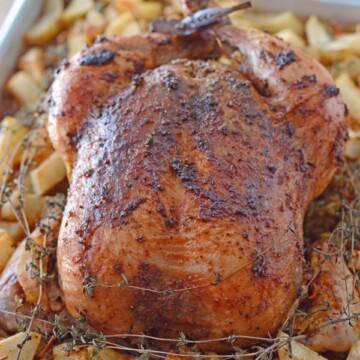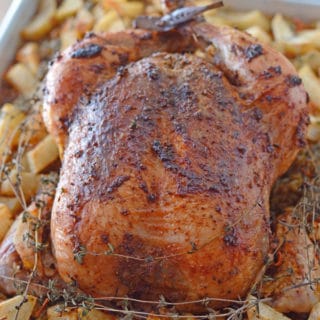 Perfect Roasted Freekeh Stuffed Chicken.
An authentic Middle Eastern chicken recipe. Nutty, slightly smoked freekeh inside a perfectly spiced chicken.
Print
Pin
Rate
Ingredients
For the Freekeh:
¼

cup

oil.

1

large onion

chopped about 1 cup.

2

cups

Freekeh

thoroughly washed and rinsed.

1 ½

teaspoon

freshly ground black pepper.

Salt to taste.

Half the amount of liquid required to cook the freekeh*.
For the chicken rub:
1

Tablespoon

kosher salt.

½

Tablespoon

paprika.

¼

teaspoon

ground cardamom.

½

teaspoon

dried basil.

½

teaspoon

sage.

1 ½

teaspoon

ground black pepper.

1

Tablespoon

onion powder.

3

Tablespoon

unsalted butter or oil.
Vegetables to roast along the chicken:
2

pounds

potato

cut into wedges or thick fingers.

1

cup

shredded carrot.

1

large bunch fresh thyme.

1

whole chicken

mine was 5.5 pounds.
Instructions
In a deep skillet over medium heat, heat oil then saute onions for 2 minutes.

Add the Freakeh, salt and pepper then stir well to combine.

Add the water/soup, bring to a boil then reduce heat until the liquids is absorbed.

Preheat the oven to 400F.

Rinse the chicken inside and out. Remove any excess fat and feathers.

In a small bowl combine the rubbing ingredients well.

Brush your baking dish with some oil or butter. Place chicken in the center of the pan and rub the chicken inside out.

Stuff the chicken cavity with freakeh ¾ full. Tie the legs together with kitchen twine and tuck the wing tips under the body of the chicken.

Place the remaining freaked around the chicken evenly.

Toss vegetables with any remaining rub or just salt and pepper and place in the pan.

Roast the chicken for ½ hour then reduce heat and cover with aluminum foil for another 1 ½ hour or until the juices run clear between a leg and thigh.

Remove the foil in the last 15 minutes or so to get it crispier.

Slice the chicken and serve.

Enjoy.
Sign up and learn more about Mediterranean flavors