A super easy and quick couscous dessert.
Once you try this super easy dessert, you'll be a convert to couscous. This traditional couscous recipe with its nutty flavor and slightly chewy texture makes a homey simple dessert.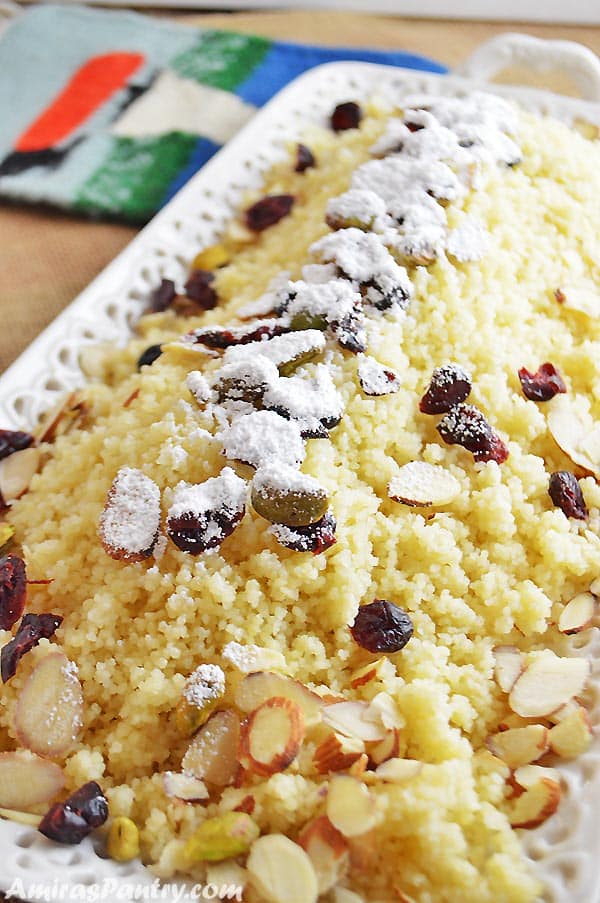 Last week I read Nazneen's post about this couple who deliberately annoyed her because of her hijab. In fact, one of the reasons I like Colorado is because of the people. People here in Colorado are very well educated, very cheerful and stress free. They are willing to accept others and are very much peaceful kind of people, the kind that you like living with and raising your kids among. They are smiling and greeting you everywhere you go, but after Nazneen's post, I kept wondering are they changing?. Honestly, I do not think so, may be it is just temporarily or may be just a few will.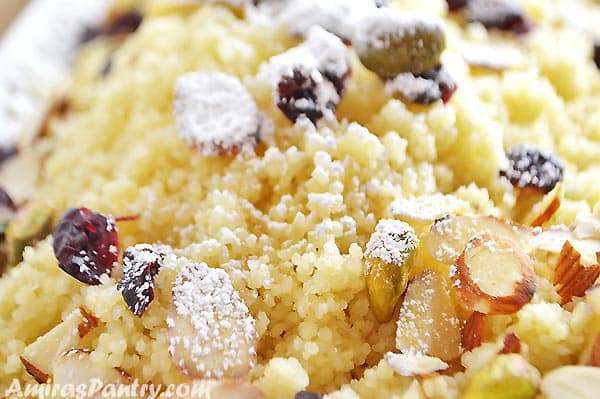 This awful incident made me ask myself why do some people find it totally ok to vent on the innocent ones. I've heard lately about bad incidents of Islamophobia happening around the world, leaving innocent people and their children with a deep grudge against those they live with and I bet those who were hurt will never be back to normal again.
Then suddenly, I remembered something from my childhood or let me say teen-hood, this particular incident that left a lump in my throat and a stabbing agony in my heart.
I was in junior high, and we had this teacher who I dispised for the rest of my life, not only because of this incident but for his general attitude. This teacher came up with a very wrong explanation of a verse in Quran, pointing his sharp gaze to a specific Christian girl in my class.
To make a long story short, the poor girl's face turned red and I really felt my heart sank to the bottom of my feet. I keep blaming myself for not standing up for my friend until now, for more than 20 years I still cannot believe I did not help her out, then again I was only 14 or may be 15 and he was a mean teacher, I was really afraid of him and I could not tell my parents either.
I still remember my friend's face expression and his wicked smile up until now as if it just happened yesterday. She must have been deeply hurt, she must have hated all Muslims, she must have hated me for keeping silent.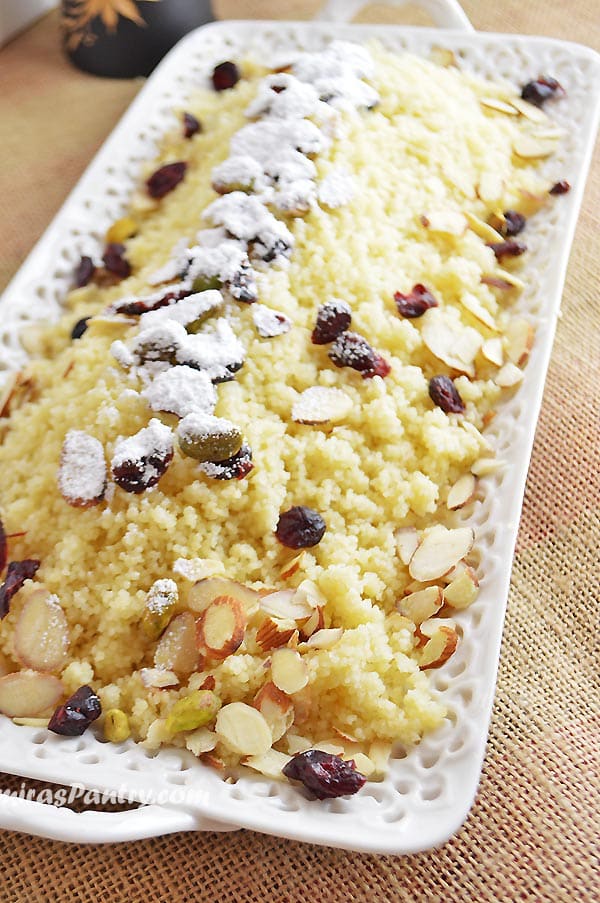 Christmas was on the 25th and Prophet Mohamed's (peace and blessings upon him) birth date was close by, on the 23rd. I believe, both were great men, both promoted peace, both were merciful to both their followers and their enemies. If you believe in either or even believe in peace and justice, let's follow their steps, let's stop hurting each other, we are not created to hate and destroy, we were created to love and live.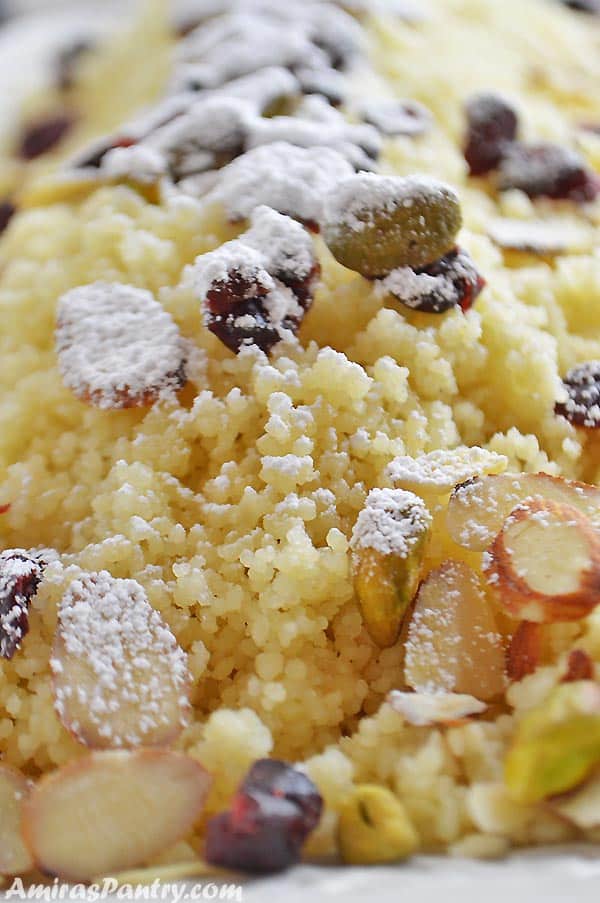 One of my family's tradition, and I think many Egyptian families did so too, when there is a new year either lunar or Georgian, is to make two dishes one white and one green. The white one is a symbol for wishing a peaceful year and the green one is to wish for a prosperous one. For the green one I usually make the Mulukhia, and for the white one this year I've made this amazingly addicting traditional and super easy to make sweet couscous dish.
Here, from me and my family ,wishing you a happy, peaceful and prosperous year, may all your wishes come true >3<.
Related Recipes
Sevian is an easy and quick sweet vermicelli dessert that is a childhood favorite. Enjoy it cereal style with milk or without.
Basbousa is a traditional Egyptian dessert made from semolina flour, coconut, yogurt and soaked in simple syrup. It's delicious and easy to make!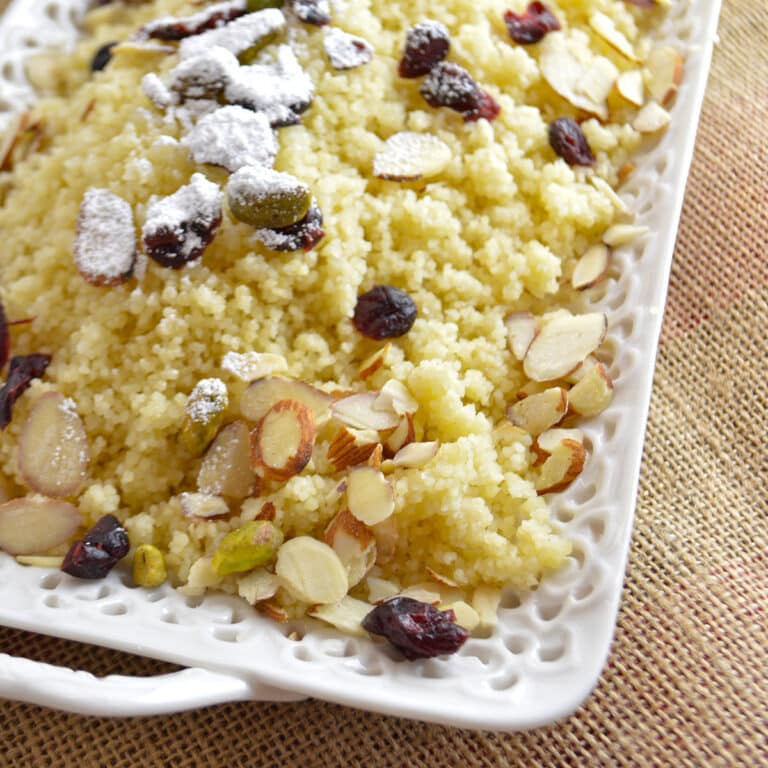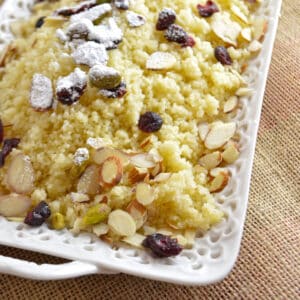 Ingredients
1

c

couscous.

1 ¼

c

of water.

2

Tbs

unsalted butter- divided.

¼

c

powdered sugar.
For garnishing
Coconut flakes

your favorite nuts, more powdered sugar.
Instructions
In a medium pot, add water and 1 Tbs of butter and bring to a boil.

Add couscous and continue boiling for 1 minutes.

Cover and remove from heat, let it rest for 10 minutes.

Fluff couscous lightly with a fork, add ¼ c of powdered sugar and the remaining butter and continue fluffing until all are incorporated.

*Top with nuts, raisins, dried cranberry, coconut flakes and more powdered sugar.
Notes
* Feel free to garnish your dish with whatever you have in your pantry.
Some people like serving this for breakfast with some warm milk, it is like a couscous cereal bowl.
Sign up and learn more about Mediterranean flavors