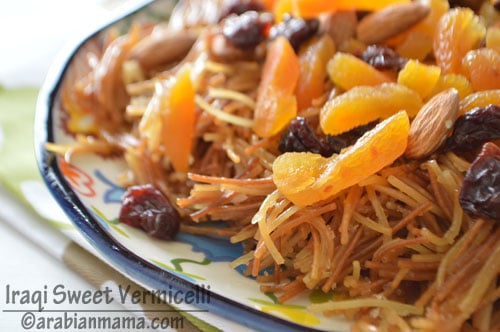 I was born in Saudi Arabia, stayed there for a couple of years and returned to Egypt when I was just 2 years old. Many years later when I was almost 9 my dad went there again to work but this time alone. We stayed in Egypt and just went there to spend the summer vacations there. I have so many sweet memories of being there, lots of friends from different countries - a thing I have never experienced in Egypt. I had friends from India, Pakistan, Palestine, Jordan and so on. I had friends who do not know how to speak Arabic or English yet we communicated very well!!! I've had friends from many cultures and religions yet we got along all of us very very well ... I think kids should teach adults how to live together in harmony aaaaah I miss being a kid :).
Many of these sweet memories are related to food. During the month of Ramadan and Eid many dishes were exchanged between the families there so we've got an amazing opportunity to have other cuisines in our home. A very simple yet delicious dessert that is widely spread in Iraq and Saudi Arabia is the sweet vermicelli. I've heard that this dish is also common in Pakistan but they use milk instead of water, I need to investigate more on this.
Now let's do it the Iraqi way:
3 c of water.
2 c of vermicelli.
3/4 c of white sugar - I used only 1/2 to reduce sugar intake.
1/2 c of oil or butter - I've used mixture.
a dash of vanilla or rose water- if you like.
For garnish: dried fruits, cinnamon, nuts...... etc

In a pan brown the vermicelli until it is golden brown watch out so it will not burn.

Add water and reduce the heat, wait for the water to be almost all gone and test the tenderness of the vermicelli to make sure it is done. Add the sugar and stir well, add the vanilla or the rose water if you intend to stirring everything up together, cook for more 5 minutes then turn off the heat. Let it cool a bit.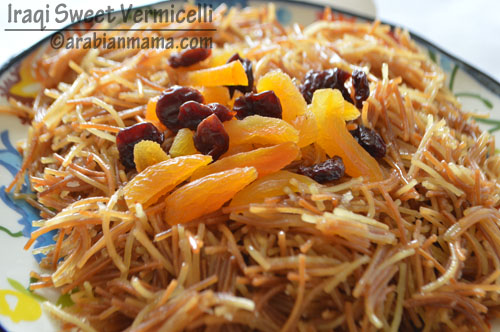 Serve with dried fruits, nuts, coconut flakes, powdered sugar or......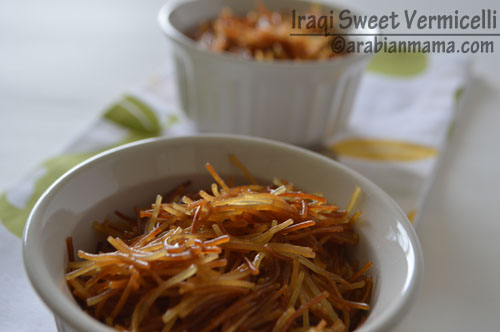 Enjoy it plain as is.