A delicate Lebanese dessert made easier with puff pastry and filled with cream with a drizzle of syrup.
Lebanese Shaabiyat is a super easy Middle Eastern dessert that will wow your guests. Delicate, flaky, creamy and sweet that can never go wrong.
Aside from basbousa, this is one of the quickest Middle Eastern desserts I have ever made.
First Publish: November,2016 Last Updated: November,2019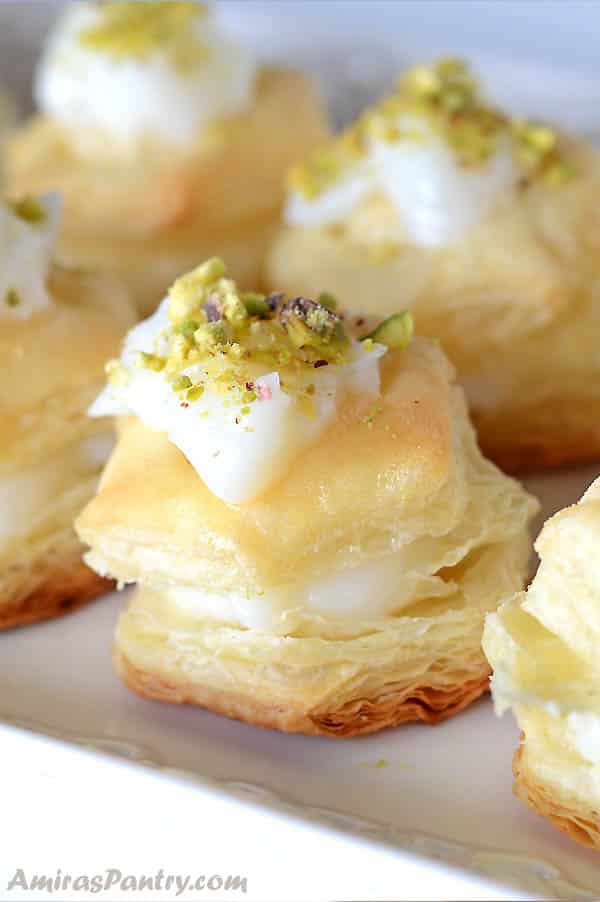 Middle Eastern Desserts
Recipes for Middle Eastern desserts are daunting to some and look complicated or maybe requires ingredients that are not there in your kitchen. But, good news here, this recipes is seriously ridiculously easy and the ingredients are there in your neighborhood stores. I promise.

Making recipes with phyllo dough is a great pleasure for me. Traditionally, Shaabiyat is usually made using phyllo dough but this time I wanted to play a little with the recipe using puff pastry.
Working with Puff pastry is a pleasure as well, I understand that it is easier for many to use puff pastry and that's why I decided to switch to puff pastry for this recipe. Aaand to make it even easier I've used already cut puff pastry shapes that you can find in any store, so I saved you the time to cut and shape the dough.. how easy is that?!!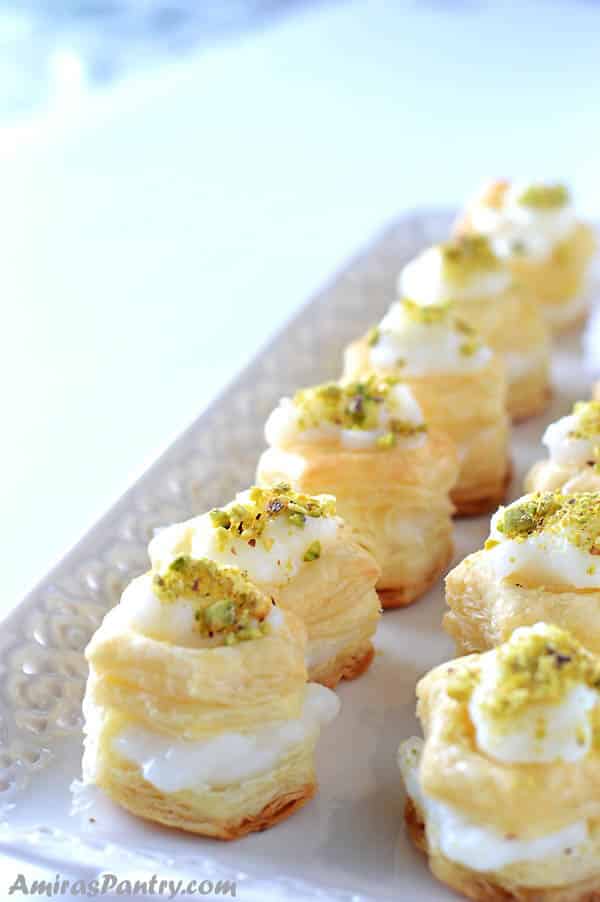 I understand that some people like to make their own puff dough, and there are so many excellent recipes on the web for homemade puff pastry. I might be tempted and make this one by Christina. But because I know you are busy especially this time of the year I am giving you the easier option. Just go to your store and get the shells/cups. You simply bake according to package direction or until puff pastry is golden brown at the bottom and then drizzle with simple syrup and fill with this ashta cream recipe.
Advice
If you do not have these shells in the area you are living in you just get the ordinary puff sheets. Cut them with a cookie cutter or simply cut them into squares, stuff with cream then fold to form a triangle. Then bake and afterwards drizzle with the syrup.
How to make the easiest Middle Eastern dessert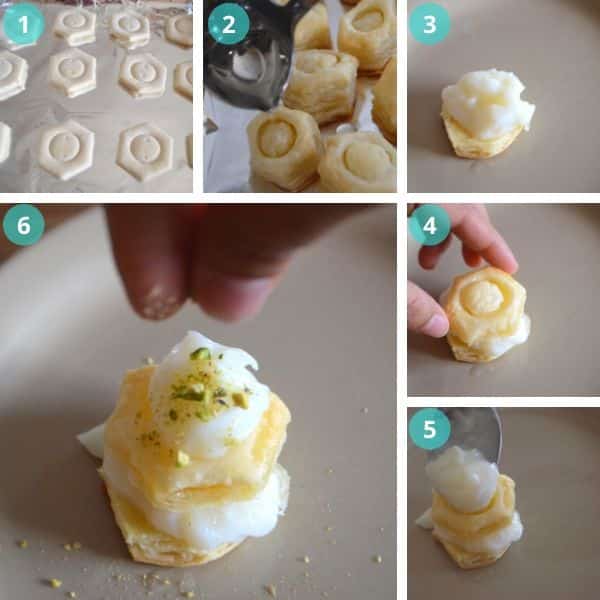 First you'll need to bake the puff pastry shells as directed on the package until it turns golden brown at the bottom.
Now drizzle with some cooled simple syrup, if you want to go lighten you can skip this step and drizzle at the end with ribbons of honey for a healthier variation.
Cut the pastry in half and stuff with some of the pudding/ ashta filling.
Add the top part back and press lightly.
Add another half or full teaspoon of the ashta filling on top.
garnish with crushed pistachios.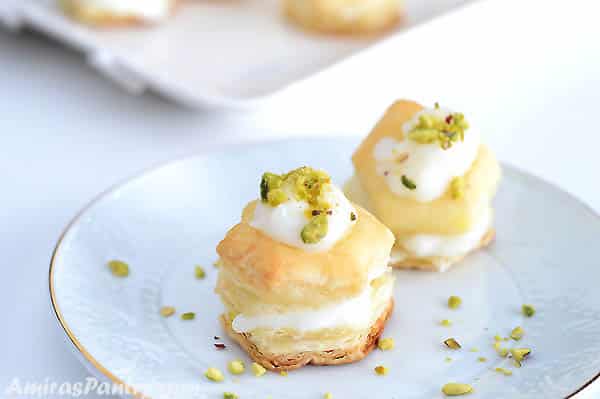 Serving suggestions
Away from traditions, you can skip the simple syrup and drizzle yours with honey. Or garnish with fruits on top, think a slice of strawberry then decorated with ribbons of your favorite chocolate syrup. Try this chocolate syrup here for decorations, it is soo good.
This simple dessert is so appealing and can be made in less than 30 minutes most of which spent waiting for the puff in the oven to be baked. Nothing is better than easy desserts specially for the holiday season.
Middle Eastern desserts to enjoy
Classic Arabic fried pancakes (Qatayef).
Middle Eastern Dessert, Shaabiyat
If you like this recipe do not forget to give it a ⭐⭐⭐⭐⭐ star rating and attach a photo of your finished dish. It is always a pleasure of mine to see your photos and check your own take of the recipe. Thank you.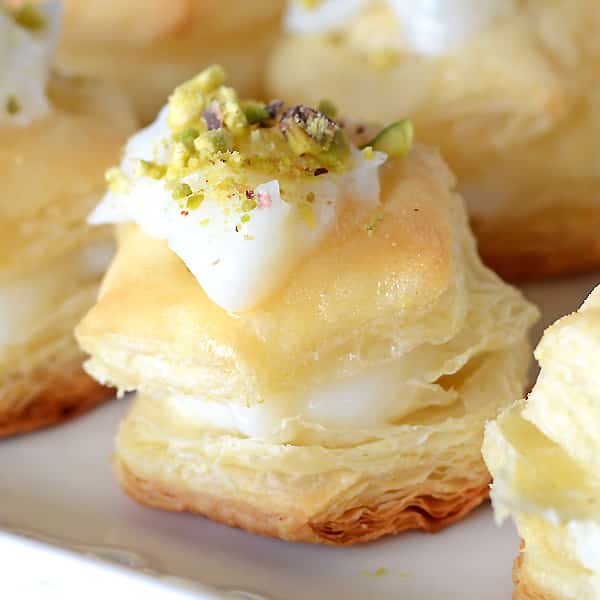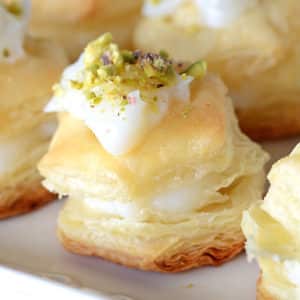 Middle Eastern Dessert; Shaabiyat
A delicate Lebanese dessert made easier with puff pastry and filled with cream with a drizzle of syrup.
Print
Pin
Rate
Ingredients
For the simple syrup
2

cup

sugar.

1

cup

water.

1

teaspoon

lime juice.
For flavoring the syrup:
Vanilla extract, cinnamon stick, orange blossom water, rose water or any extract of your choice.
Instructions
Start by making the simple syrup by adding all the ingredients stirring well over medium heat until it thickens, let it cool to room temperature.

Prepare the ashta cream filling.

Bake your puff pastry according to package directions.

Drizzle with simple syrup while hot.

Now with a sharp knife cut each cup in half and fill in between with approximately a tablespoon of the Ashta cream, then replace the top part again.

Top the whole thing with another tablespoon of the Ashta and garnish with some crushed pistachios.

Serve and ... Enjoy!!
Notes
Note1: I've used two packets of puff pastry shells each containing 6 shells.
Note2: For the Ashta recipe, you might want to add a tablespoon of sugar to sweeten it as the recipe mentioned does not have sugar. This is mainly due the fact that Ashta is always used in dessert recipes heavily dunked in simple syrup.
Please check the nutrition disclaimer policy.
Nutrition
Calories:
320.4
kcal
|
Carbohydrates:
39.6
g
|
Protein:
6.2
g
|
Fat:
16.2
g
|
Cholesterol:
23.9
mg
|
Sodium:
320.8
mg
|
Potassium:
61.3
mg
|
Sugar:
19.7
g
|
Vitamin A:
3.1
IU
|
Vitamin C:
0.1
mg
|
Calcium:
4.4
mg
|
Iron:
9.8
mg
Sign up and learn more about Mediterranean flavors