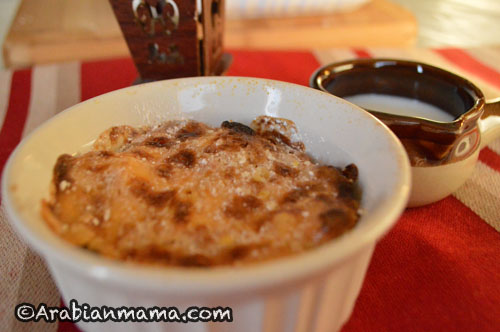 Again!! another recipe with a strange name …. I can hear you say that :). Actually I agree with you it really has a strange name and a bloody legendary story.
In short, it is said that this dessert was made to celebrate the death of Shagaret Al-dorr- tree of pearls- who was the first and last woman – sultana – to rule Egypt. She was a victim of a plot made by Omm Ali – her husband's first wife- along with her maids as she was beaten to death and the rest of the story is even more barbaric. So the bloody Omm Ali made this dish to celebrate Shagaret Al-dorr death. There are several of other less violent stories around this dish but this is the most common in Egypt.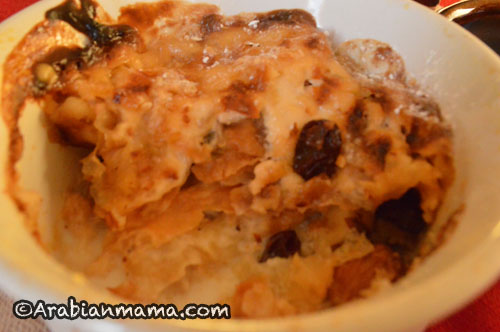 Omm Ali is a sort of bread pudding. It can be made using fillo dough, puff pastry or croissants. In most Egyptian pastry shops you can buy special Om Ali's dough to start with. I've made it today with puff pastry and find it quite successful. Om Ali is more of a winter dessert as it gives lots of energy to warm up with 🙂
You will need :
1 (17.5 ounce) package frozen puff pastry sheets, thawed
Chopped nuts – any variety any amount it is all up to you.
1 can of Nestle cream- or any other brand you find, or use double cream if it is easier to find.
1 cup of raisins.
2-3 cups of milk. I do not like it to be very soggy.
1/2 cup of granulated sugar.- Adjust to your taste.
2 tbs of butter.
A dash of vanilla.
In an oven safe dish, prepare the puff pastry as directed on the package- normally leave it for 10 minutes in a 370F oven until puffed and golden brown – let it cool completely.
Break the prepared puff into small pieces and put half in you backing dish.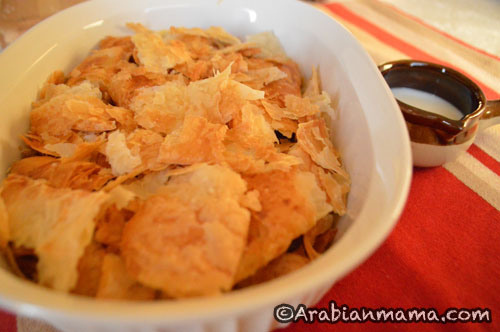 Top with raisins, chopped nuts – you can add a dash of cinnamon or some coconut flakes if you like- and then add the rest of the puff pieces.
Bring milk,sugar and vanilla to a gentle boil then slowly pour over the puff pastry. Let it set for 10 minutes – some of the milk will be absorbed by the puff pastry – and then add the cream on top. Gently level the cream on top.
Place  under  broiler until top is golden brown, about 10 minutes. Serve hot.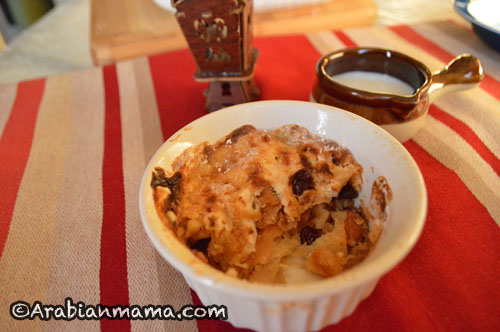 Tip:
to evenly brown the top you might try sprinkling some powdered sugar on top of the cream before broiling.
Serve with some sweetened, hot, vanilla flavored milk on the side for those who would like more.