An Egyptian dessert that is said to be dating back to the 13th century. Om Ali is a traditional winter dessert that can be enjoyed all year round.
Om Ali or Umm Ali is the Egyptian equivalent to the western bread pudding. A traditional Egyptian dessert of soaked bread, milk and loads of nuts.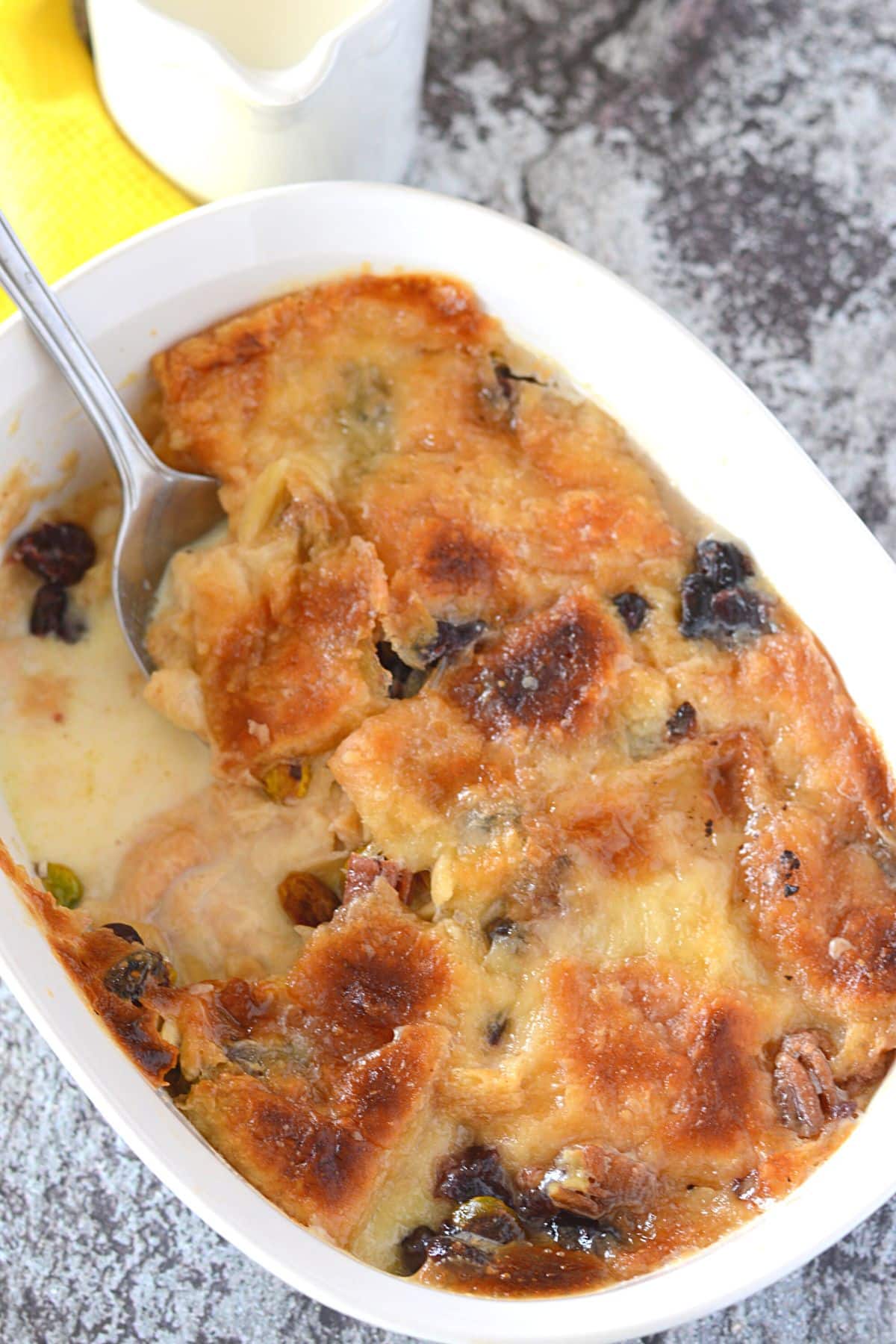 Omm Ali is sort of bread pudding. It can be made using phyllo dough, puff pastry or croissants. In most Egyptian pastry shops you can buy special Om Ali's dough to start with. I've made it today with puff pastry and find it quite successful. Om Ali is more of a winter dessert as it gives lots of energy to warm up with.
❤️ Why You'll Love Making It
A fun spin on the old favorite bread pudding.
An authentic Egyptian dessert made with simple easy to find ingredients.
Very adaptable to your dietary needs with lots of variations.
📝 Ingredients
Note: This is an overview of the ingredients. You'll find the full measurements and instructions in the recipe card (printable) at the bottom of the page.
Puff pastry, I'm using puff pastry in this recipe as it is easier, but you can use croissants as well as phyllo dough.
Sugar, or any sugar substitute.
Milk
Cool Whip, you can also use whipped cream AKA Chantilly cream.
Mixed nuts
🥄 Instructions
Note: This is an overview of the instructions. The detailed instructions are in the recipe card below.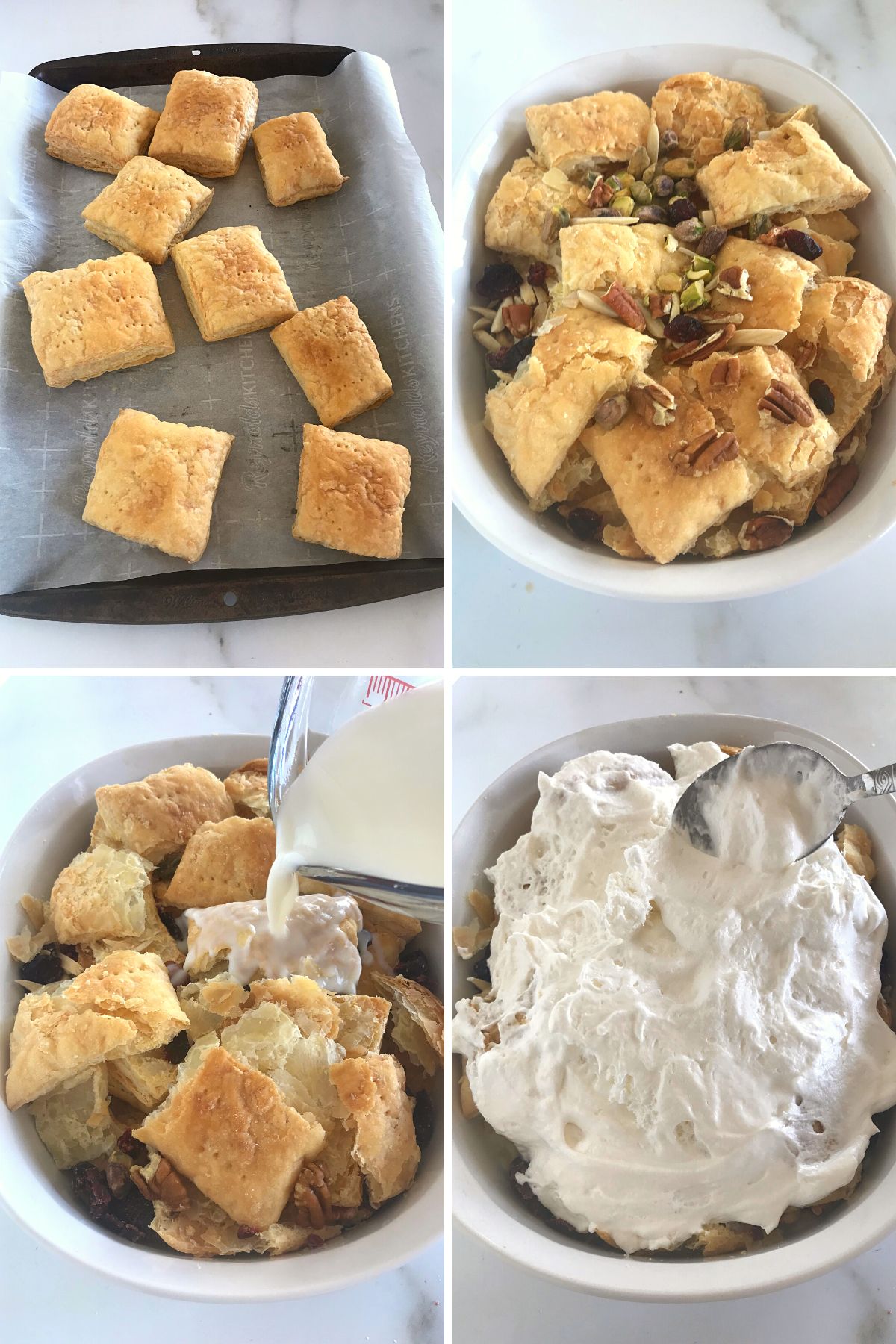 Cut the puff sheet into squares, place on a baking sheet lined with parchment paper. Poke several holes with a fork and bake until golden brown.
Lightly break the puff squares into a deep oven dish. Mix in your favorite nut mixture.
Microwave milk and sweeten to your taste then pour milk over. Let it soak for 5-10 minutes.
Spread whipped cream or cool whip on top to cover and broil or bake until top is golden brown. Serve with additional sweetened milk on the side.
👍 Amira's Tips
As mentioned before you can use croissants or phyllo dough but in my opinion puff pastry is closer to what we use in Egypt.
If using croissants make sure to toast in the oven a little to crisp it up.
Back in the old days day old bread was used much like the traditional bread pudding but this approach is not used anymore.
Make sure to make several holes in the puff pastry using a fork before baking as it will puff and the middle won't be as crispy.
For the milk, I use whole milk in this recipe. If you have 2% or fat free it is better to add 3 tablespoons of heavy cream or table cream ( like Nestle brand) to the milk mixture to add richness.
Sweeten the milk to your liking, I use 1 tablespoon of sugar per cup of milk but again this is up to you.
You can also use any natural or artificial sweetener of choice.
I'm used to vanilla extract in Om Ali, other options are: orange blossom water, rose water, cinnamon or any extract you like.
Amount and type(s) of nuts used depends greatly on your liking.
⌛ Make Ahead
Make Umm Ali and pour the milk mixture over, cover with plastic wrap and refrigerate overnight or up to 24 hours. When ready to bake add in another cup of sweetened hot milk tilt the pan to distribute then continue with the recipe as is.
🍽️ Serve With
I do not like to soak my dish in a lot of milk, this is very controversial in this house. I'm used to a drier Om Ali while my husband is not. So to sole this issue I soak it in half the milk and serve more milk on t he side. Bingo, problem solved.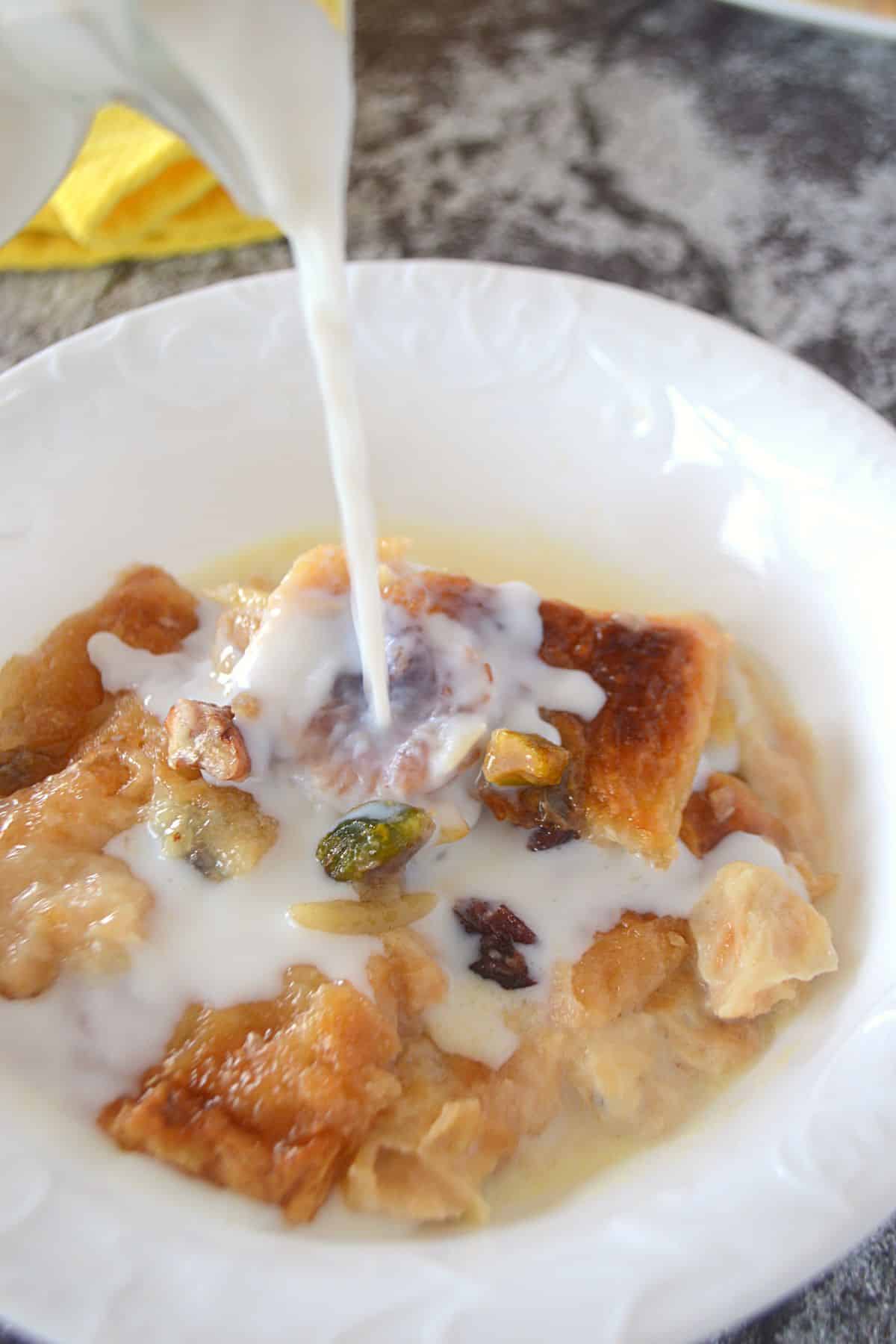 👩‍🍳 Variations
For gluten free version use gluten free puff pastry or make your own.
For a vegan Om Ali, use vegan puff pastry there are a couple of brands out there and use your favorite plant based milk. It would be helpful to add a couple of tablespoons of vegan butter to the milk mixture too. Whip up some aquafaba (chickpea water) or use coconut cream instead of the cool whip.
Omit the nuts and use a mixture of shredded coconut and sultans instead. Omit the coconut if you are allergic.
For a low carb or keto use puff pastry made with almond or coconut flour, there any many keto friendly puff pastry options. Use a mixture of plant based milk and heavy whipping cream in place of the milk. Sweeten with Stevia or your favorite sweetener.
🧺 Storage
Store leftover in an airtight container and refrigerate for up to 4 days.
💬 FAQs
Do you need to refrigerate bread pudding?
Bread pudding leftovers need to be refrigerated as it contains milk. The ratio of milk to bread is higher than cakes so this cannot be left out.
What can I add to bread pudding?
Bread pudding can be a vehicle to much more than nuts and raisins. Although this is the tradition for the Egyptian bread pudding but be creative. Think chopped apples, pears, dried fruits, chocolate chip, toffee bits and so on.
Do you serve bread pudding hot or cold?
Traditionally this dish is served hot and bubbling. But you do you, so if you like your bread pudding warm or even cold then be it.
📣 Related Recipes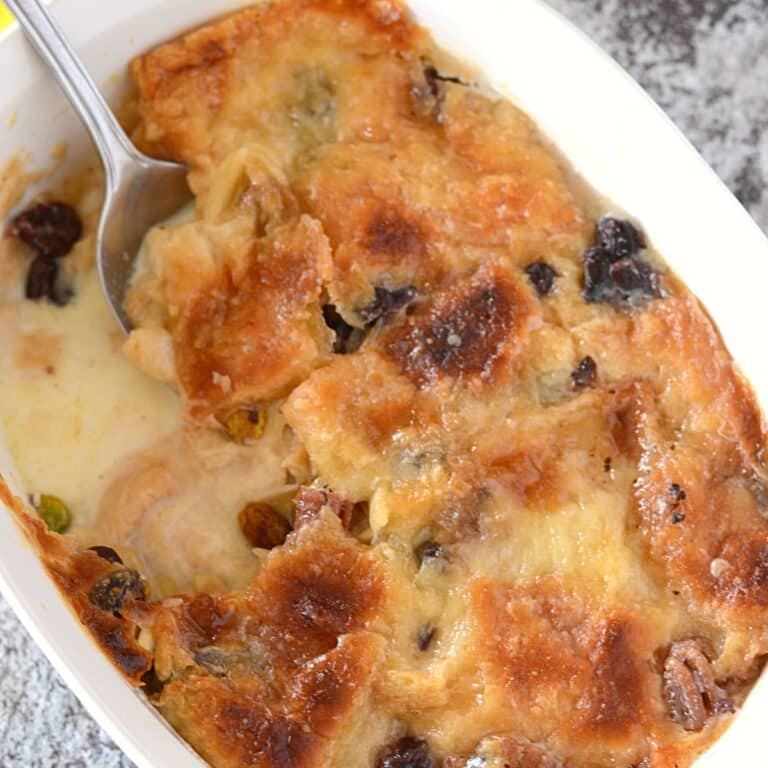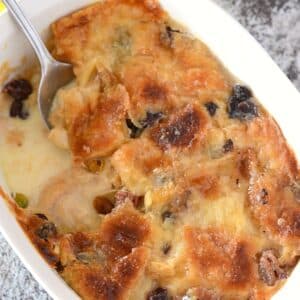 Om Ali
An Egyptian dessert that is said to be dating back to the 13th century. Om Ali is a traditional winter dessert that can be enjoyed all year round.
Print
Pin
Rate
Ingredients
1

Puff pastry sheet

½ pound

4

cup

milk

divided

½

cup

mixed nuts

2

Tablespoon

sugar

or to your liking

½

teaspoon

vanilla extract

1

cup

Cool Whip

, about 115g
Instructions
Preheat oven to 400 F.

Cut the puff sheet into squares and place in a baking sheet lined with parchment paper.

Poke holes in each square using a fork and bake and bake for 15 minutes or until golden brown.

In an oven safe dish (2 quarts size), break the baked squares into chunks.

Mix in nuts of your choice.

Pour 2 cups of milk in a microwave safe bow or measuring cup.

Heat milk in the microwave for 1 minute. Dissolve sugar in warm milk and add vanilla extract.

Pour milk over the puff pastry and let it soak for 5-10 minutes.

Spread the Cool Whip over the top evenly. Broil in the oven for 5-10 minutes until top is golden.

Heat the remaining milk and sweeten to your liking.

Serve Om Ali hot with the sweetened milk on the side.
Nutrition
Calories:
324
kcal
|
Carbohydrates:
27
g
|
Protein:
8
g
|
Fat:
21
g
|
Saturated Fat:
6
g
|
Polyunsaturated Fat:
3
g
|
Monounsaturated Fat:
10
g
|
Cholesterol:
16
mg
|
Sodium:
131
mg
|
Potassium:
270
mg
|
Fiber:
1
g
|
Sugar:
11
g
|
Vitamin A:
219
IU
|
Vitamin C:
0.04
mg
|
Calcium:
172
mg
|
Iron:
1
mg
Sign up and learn more about Mediterranean flavors
First published January 15, 2014 . Last updated March 1, 2023 with important tips, clear step by step instructions and readability.
👩‍🏫 My Personal Experience
Om Ali or Ali's mom is another recipe with a strange name .... I can hear you say that :). Actually I agree with you it really has a strange name and a bloody legendary story. Although not verified this story is still told to this day in Egypt.
In short, it is said that this dessert was made to celebrate the death of Shagaret Al-durr- who was the first and last woman - sultana - to rule Egypt. She was a victim of a plot made by Omm Ali - her husband's first wife- along with her maids as she was beaten to death and the rest of the story is even more barbaric. So the bloody Omm Ali made this dish to celebrate Shagaret Al-durr death. There are several of other less violent stories around this dish but this is the most common in Egypt. When I make this dish I try not to overthink this story🤐.