Turkish lokma is a popular sweet pastry made from sweet dough balls fried to golden brown and then soaked in syrup. A common street food throughout many Middle eastern countries.
Total time
2
hours
10
minutes
Lokma is a traditional Turkish street food dessert and very popular in many countries in the Mediterranean and the Middle East region. Sweet dough balls balls deep-fried to a golden crispy perfection and dunked into simple sugar syrup.
Favorite fried sweet dumplings, one round ball that is, usually, dunked in simple syrup. Crunchy on the outside, soft and fluffy inside. A widely popular golden nuggets street dessert.
Learn how to make Lokma with step by step photos and a quick video tutorial so you'll master it in no time!
Jump to:
❤️ Why You'll Love It
Simple ingredients make these delicious balls.
Enjoyed by kids and adults as well.
Can be served in a variety of ways, more on that below.
📝 Ingredients
Note: This is an overview of the ingredients. You'll find the full measurements and instructions in the recipe card (printable) at the bottom of the page.
All-purpose flour.
Starch this helps crisp the balls from the outside.
Yeast and sugar to activate the yeast.
Full fat yogurt: adds flavor and moistness.
Warm water to knead the dough.
Sugar, honey, lemon juice, water, and flavors to make the simple syrup.
Chocolate, corn syrup, heavy cream, and sugar for the chocolate syrup.
Cinnamon and sugar to make cinnamon sugar.
🥄 Instructions
Note: This is an overview of the instructions. The detailed instructions are in the recipe card below.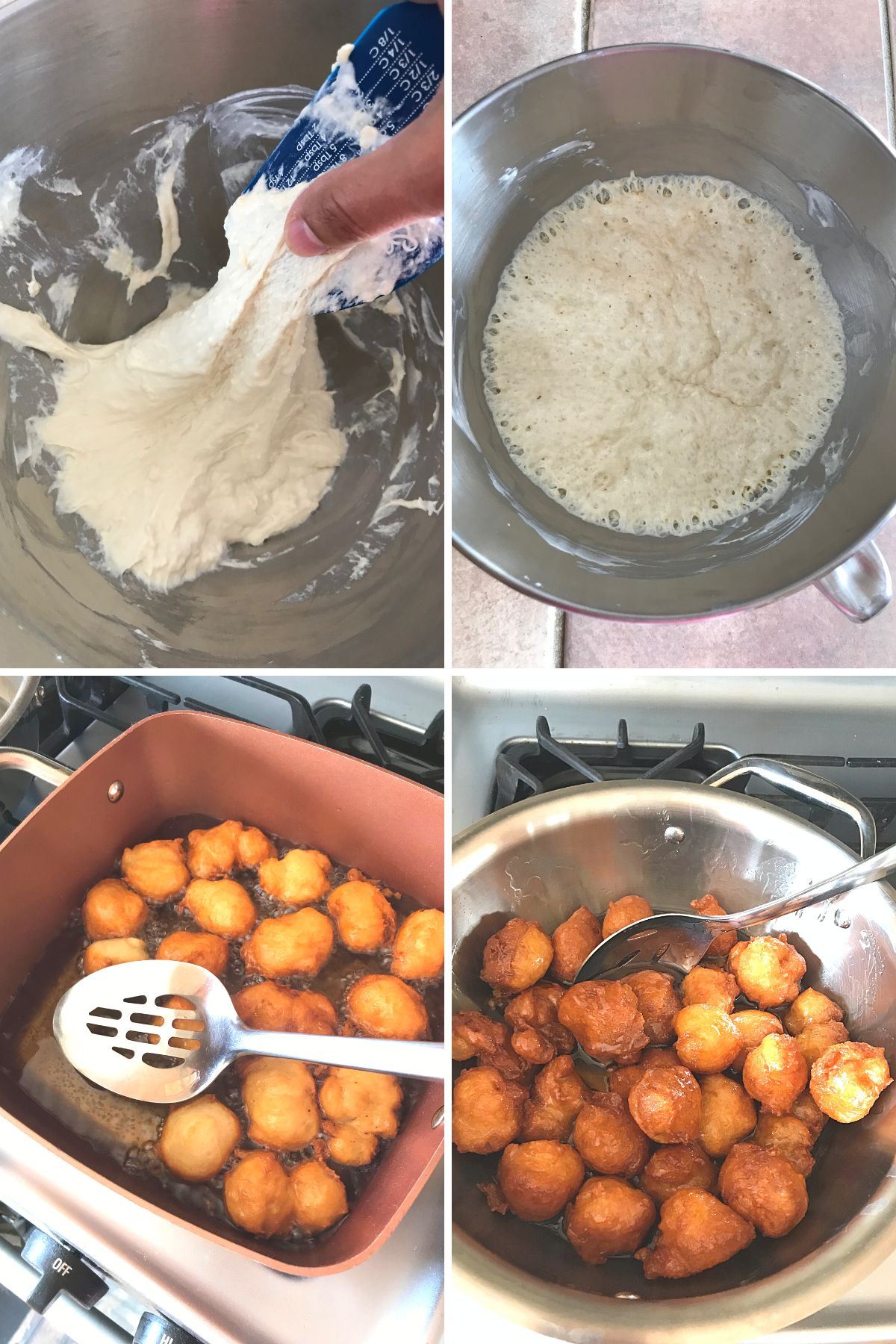 In the bowl of you mixer add all the dry ingredients and mix well. Pour in warm water and mix. Rest for 30 minutes then add yogurt and keep mixing for at least 3 minutes until the yogurt is completely incorporated. Your dough now will be very stretchy as seen above.
Cover and let it rise for an hour or now you can cover and refrigerate until next day.
Form dough balls using a small ice cream scoop. and fry in hot oil until golden brown,
Place the fried dough balls into a deep bowl of cooled syrup, other options are given below.
You can also dust with some powdered sugar or better make a chocolate syrup and drizzle above. Images 3 and 4.
👍 Amira's Tips
Dip the scoop into a small plate of oil when forming the balls so the batter will not stick and glide easily into the hot oil.
If you do not have an ice cream scoop you can use ½ tablespoon measuring spoon.
The tricky part of this recipe is frying, you'll notice that the balls will float and that's why this recipe is also called Awamat which means floaties in Arabic. To make the balls fry evenly it is better to keep stirring them and pushing them in the oil with a slotted spoon.
If you can't get rounded lokma balls you can add about 3 Tablespoons of oil to the batter, this should take care of this problem.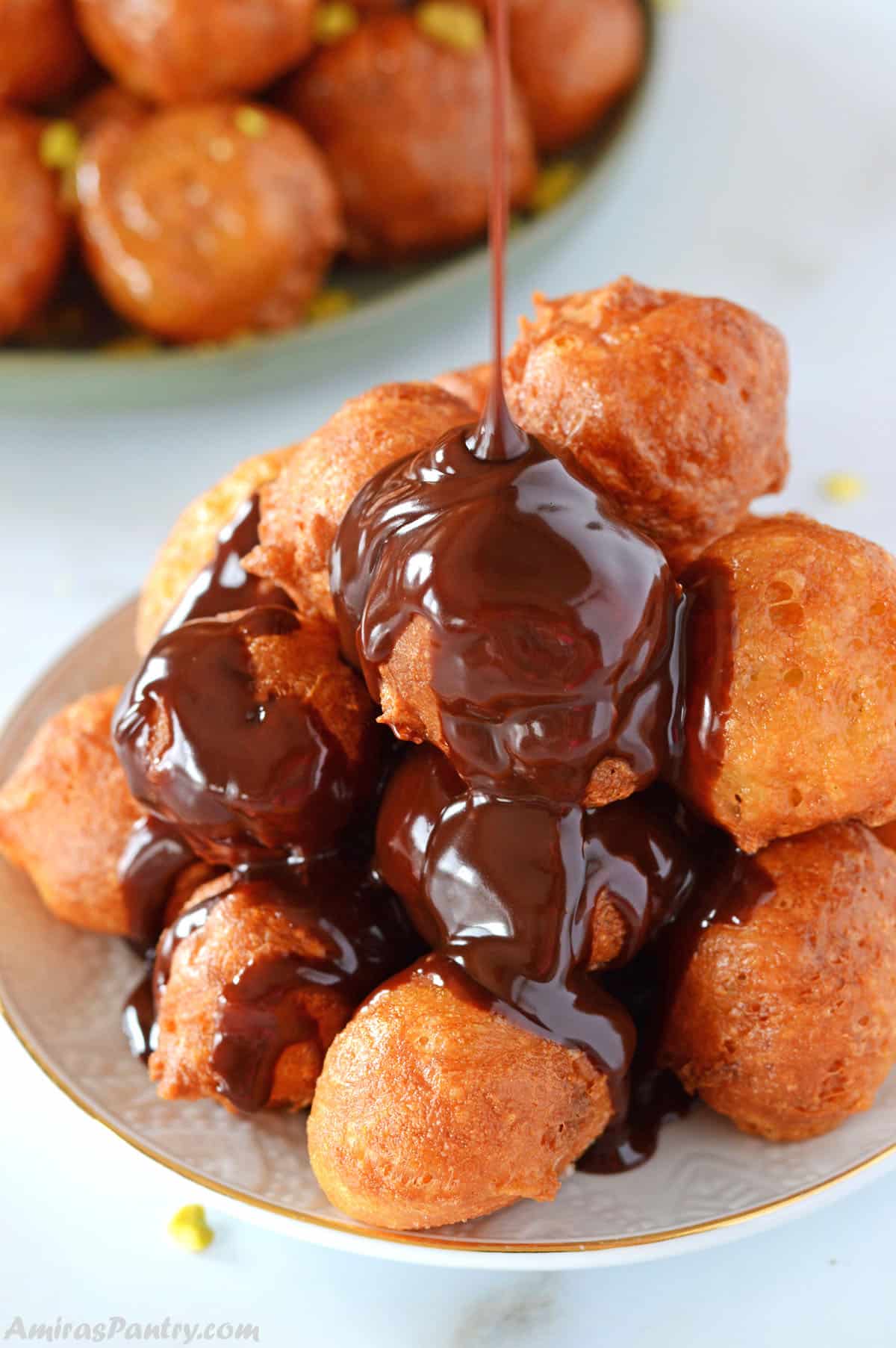 ⌛ Make Ahead
You can actually make the batter ahead and refrigerate for up to 24 hours. When you are ready to fry, take the bowl out and let it come to room temperature. This might take from 30 minutes to 1 hour. You can also make the sugar syrup ahead of time, let it cool down as it needs to be room temperature as well.
👩‍🍳 Variations
Traditional and most common way is doused in simple sugar syrup. Syrup can be flavored with cinnamon, cardamom, orange blossom, rose water or vanilla flavored. Honey is also common.
Roll hot fried dough balls into cinnamon sugar.
Dust with powdered sugar, not my favorite but very common.
Chocolate covered. This has been very popular recently in Egypt. Make your own chocolate syrup or just use Nutella.
I've seen people serve this as a savory dish too with some cheese sauce on the side. I haven't tried this yet though.
Some people add saffron to the dough which gives it a more yellowish orange color.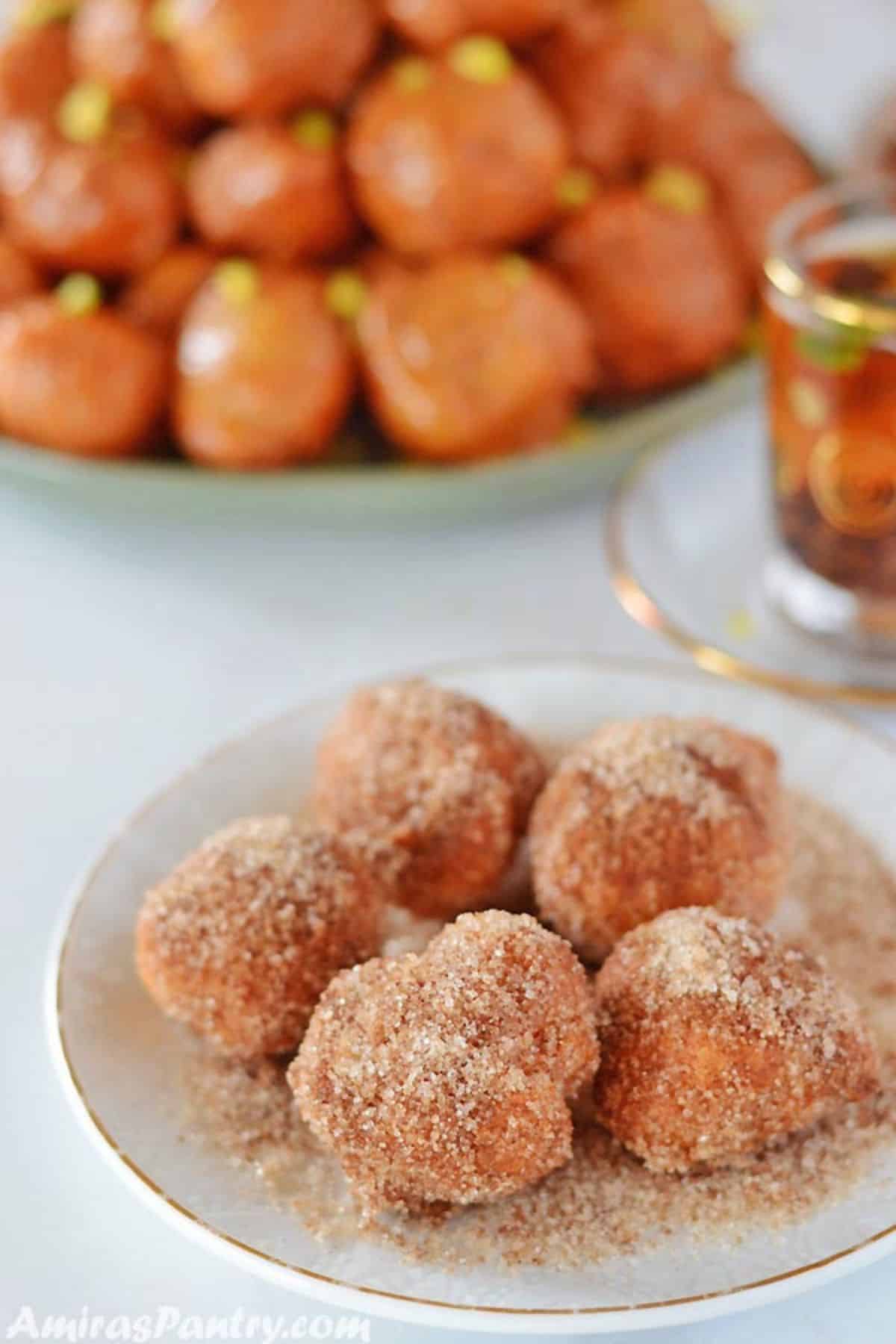 📣 Related Recipes
🥣 Equipment
The following are affiliate links. We are a participant in the Amazon Services LLC Associates Program, an affiliate advertising program designed to provide a means for us to earn fees by linking to Amazon.com and affiliated sites.
I hope you'll like this recipe and please if you make this recipe, snap a pic and hashtag it #amiraspantry — I love to see your creations on Instagram, Facebook, Twitter!
Don't want to miss a recipe? Sign up for the FREE Amira's Pantry newsletter delivered to your inbox with lots of tips and surprises! And stay in touch with me on Facebook, Twitter, Pinterest, and Instagram for all the latest updates.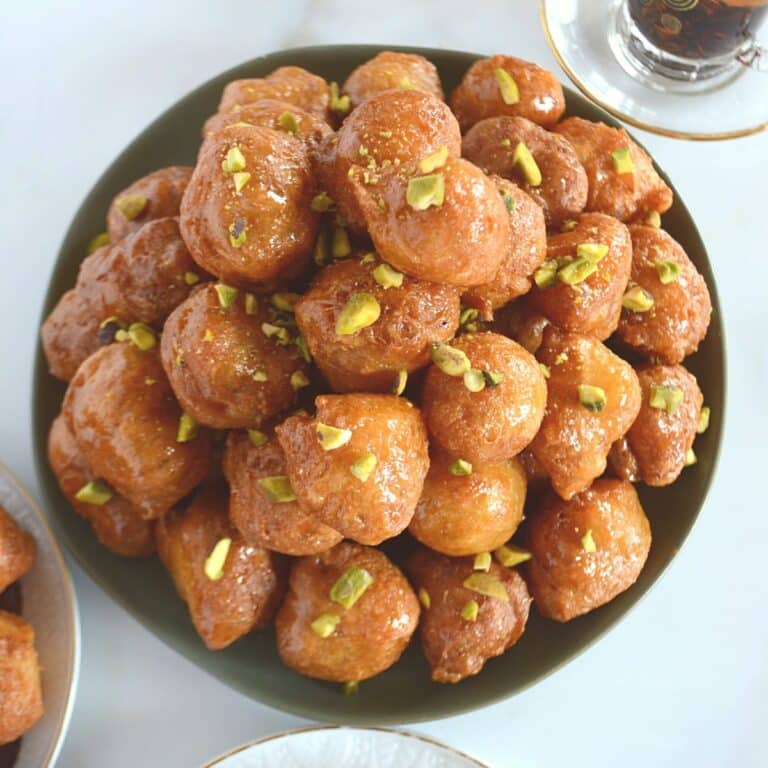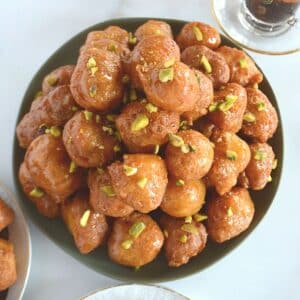 Lokma Recipe
Turkish lokma is a popular sweet pastry made from sweet dough balls fried to golden brown and then soaked in syrup. A common street food throughout many Middle eastern countries.
Print
Pin
Rate
Ingredients
For the dough:
1 ½

cup

all purpose flour

½

Tablespoon

sugar

½

Tablespoon

dry yeast

1

Tablespoon

cornstarch

½

cup

warm water

½

cup

yogurt

plain full fat

Oil for frying
For the syrup:
2

cups

sugar

1 ¼

cup

water

1 ½

teaspoon

lemon juice

¼

cup

honey
Flavors for the syrup: use any of the following
½

teaspoon

vanilla extract

Or cinnamon stick, ½ teaspoon orange blossom water or rose water.
Optional nuts for garnishing:
Roughly chopped pistachios or hazelnuts
Instructions
Start the dough:
In the bowl of a stand mixer, add flour, sugar, yeast and mix for 30 seconds to combine.

Add water until a hard dough forms, if you find it too hard and does not come together add another tablespoon of water and mix.

Cover and let it rest for 30 minutes.
Make the syrup:
Combine syrup ingredients with the flavor of your choice in a medium sauce pan, stir to combine ingredients .

Bring to a boil on medium-high heat then reduce heat and simmer for 10 minutes. Set aside to cool down completely.
Finish the dough:
After the 30 minutes, add yogurt to the mixture and knead with the flat beater for almost 5 minutes or until dough comes together.

Cover and let it rise for 1 hour at least or place in your fridge for up to 24 hours.
Fry dough balls
Heat oil for frying on medium-high heat.

When oil is hot, reduce heat to medium and start frying the dough.

Using a small ice cream scoop, dipped in oil form small balls and drop into the oil to fry.

Oil the ice cream scoop every now and then to ensure that the dough will glide easily from the scoop.

After the pan is full with dough balls, raise the heat up again to medium-high.

Fry the balls until they are golden brown.

Immediately take the dumplings out and dunk them in the simple syrup, stir to coat.

Get the dumplings out of the syrup after 3-4 minutes and place in a colander to drip excess syrup.

You can roll the balls in cinnamon sugar or make the chocolate syrup and pour it over. You can also dust the dumplings with powdered sugar.

Serve immediately as it is better when fresh.
Notes
If you want to make a chocolate syrup you will need:
corn syrup, sugar and heavy cream.

In a medium bowl or measuring cup add chocolate and corn syrup.
In a small sauce pan , stir together sugar and heavy cream until sugar dissolve, heat until just about bubbling at the edges,
Pour the hot cream mixture over the chocolate and corn syrup and mix with a spatula until well combined.

For the cinnamon sugar:

½ cup granulated sugar + 2 Tablespoons ground cinnamon

For more tips and notes please check the post above.
Nutrition
Calories:
160
kcal
|
Carbohydrates:
38
g
|
Protein:
2
g
|
Fat:
0.5
g
|
Saturated Fat:
0.2
g
|
Polyunsaturated Fat:
0.1
g
|
Monounsaturated Fat:
0.1
g
|
Cholesterol:
1
mg
|
Sodium:
6
mg
|
Potassium:
29
mg
|
Fiber:
0.4
g
|
Sugar:
28
g
|
Vitamin A:
8
IU
|
Vitamin C:
0.2
mg
|
Calcium:
13
mg
|
Iron:
1
mg
Sign up and learn more about Mediterranean flavors
First published June 2018 . Last updated March 2, 2023 with important tips, clear step by step instructions and readability.
👩‍🏫 My Personal Experience
Everybody's favorite sweet dough balls, made at home! Shatteringly crisp and golden from outside, just like they should be, and pillowy from inside!
Loukoumades, Lokma or Zalabya, there are so many names and recipes for these simple fried balls. They are a far relative to the doughnut holes, the Indian Gulab Jamun, Italian Neapolitan Struffoli, and the Mongolian Boortsog. These were a favorite for my late father whenever he sees a shop or a street cart selling them, he had to order.
Once when I was in Egypt about 8 years ago, I wanted to make it for him so I did my batter, fried the balls, dunked them in syrup. They tasted great but looked weird and not uniform. I remember he laughed a lot about how they looked back then.