Rawani cake is a very common sort of semolina and coconut cake in Egypt. Almost every pastry shop got this delicious cake in its menu. I've heard that this cake is also common in Greek and it is called Ravani cake. This cake is made from a combination of semolina and flour, drizzled with simple syrup and the Egyptian version is garnished with coconut flakes. This recipe is new to me as this is not how I used to make it. What I like about this recipe is that it does not have milk or any kind of fat i.e oil,butter or ghee!! I was so surprised that it also does not have BP!!! But it turned out great hubby and his co-workers loved it.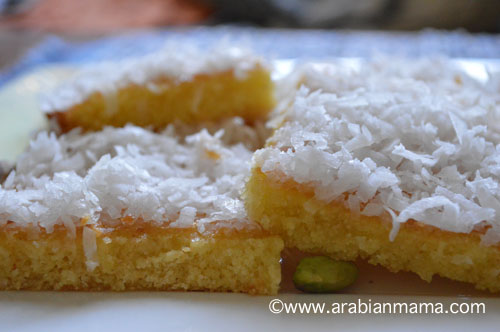 You will need :
3/4 c all purpose flour.

3/4 c semolina.

3/4 c granulated sugar.

5 medium size eggs.

a dash of vanilla powder.
For the syrup:
2 c of granulated sugar.

2 cups of water.

1/2 tsp of lemon juice.

Another dash of vanilla powder.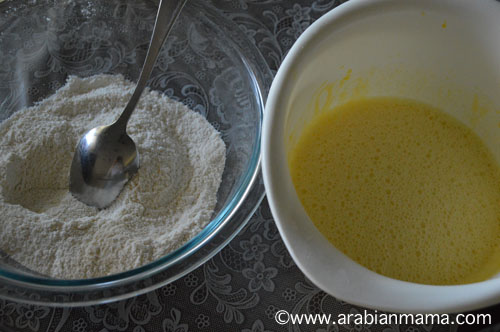 Mix the semolina and flour in a deep dish and whisk the eggs together and add the vanilla and sugar then mix well.

Add the semolina mixture and mix well, pour in a prepared baking dish and bake for 45min in a 350F pre-heated oven.

While it is baking prepare the syrup by bringing the water to boil with the sugar, vanilla and lemon juice, boil for 5 minutes then reduce the heat and simmer for another 20 minutes.

Pour the syrup while it is hot and the cake is also hot, cover with coconut flakes – if you like- cut in squares and serve.