Moulid El-Naby is around the corner and I have introduced you to one of the most famous candies sold around this time of the year. Now for the second most famous candy called Malban.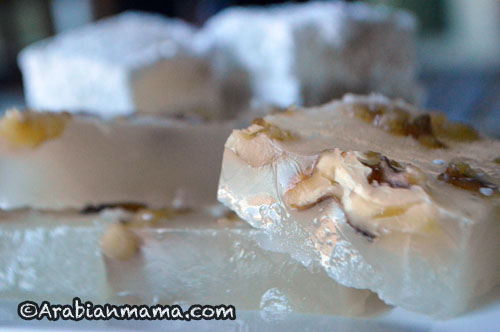 Malban is a kind of gummy or jello candy that is sometimes served with nuts - hazelnuts and walnuts - or plain, White or colored and sometimes flavored too.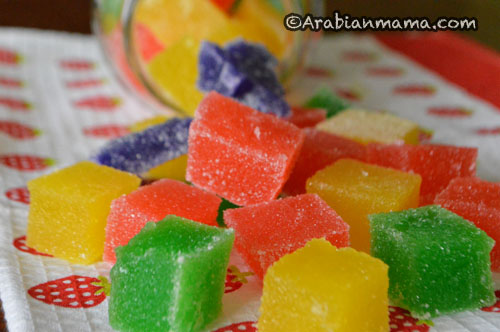 Kids love them so much they are sweet and easy to chew on.
We will need:
3 c of granulated sugar

2 1/2 c of water.

5 Tbsp of gelatin powder.

5 Tbs of corn starch.

a dash of vanilla

rose water- substitute rose water with extract for other flavors.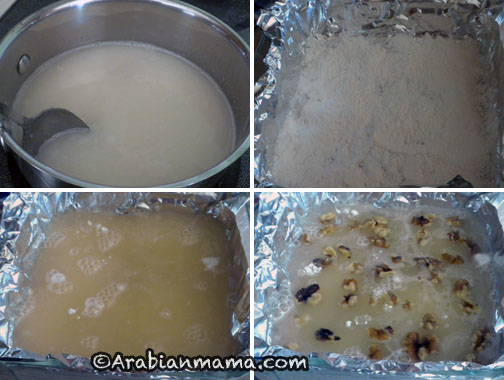 Start by dissolving the gelatin in 1/2 c of water and the corn starch in a cup of water then over medium heat combine all the ingredients together, stir until mixed well.
In a 9x9 pyrex sprinkle a 1Tbs of starch and a 1 Tbs of powdered sugar. When the above mixture start to bubble, turn off the heat and let it cool for 10 minutes.
Pour the mixture in your pyrex, add nuts if you chose too, then let it cool for an hour or so until it is ready to be refrigerated.
Refrigerate over night or for 4 hours at least, then with a sharp knife cut it into the desired size.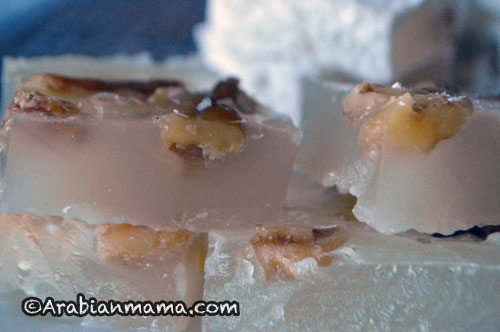 You can serve as is or covered with more powdered sugar.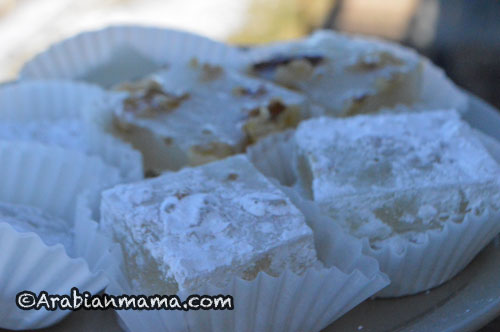 Store leftovers in an air tight container.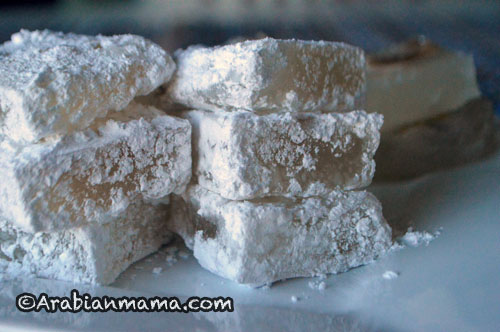 If you wish to make flavored ones, start with an 1/8th of a tsp for every up of sugar, taste and increase the flavor if you wish.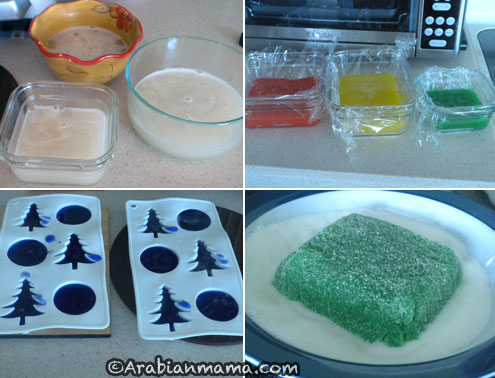 Please make sure the mixture is completely cooled to room temperature before tasting. I've made strawberry - red-, mango- yellow-, mint-green-, and berry-purple- flavored ones.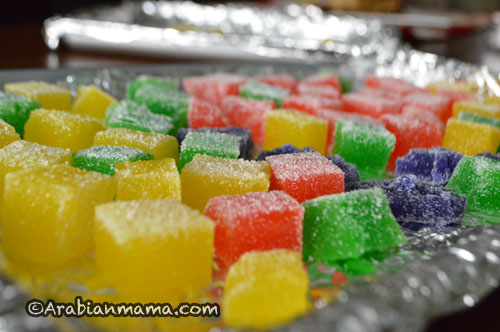 After flavoring and coloring them, I've molded them- notice the purple ones in the winter ice cubes- then refrigerated them for a whole day. After that I've cut them and rolled them in granulated sugar to give them a sparking effect :).
Leave them to air dry for another day or two- my kids could not wait :)- then store them in a container.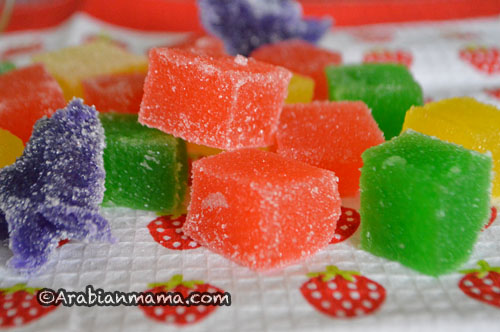 The purple on stuck to the molds and it was very hard to get them off. You can serve them sprinkled with sugar or plain.
Special Notes:
My kids favored the ones that were not sprinkled with sugar... so try both and see which ones you prefer. I remember eating tons of those when I was little.
These  are so so yummy specially for kids, but in the mean time - and in my humble opinion- so so UNHEALTHY, but you can make them better by using fruit juice for flavor and color.