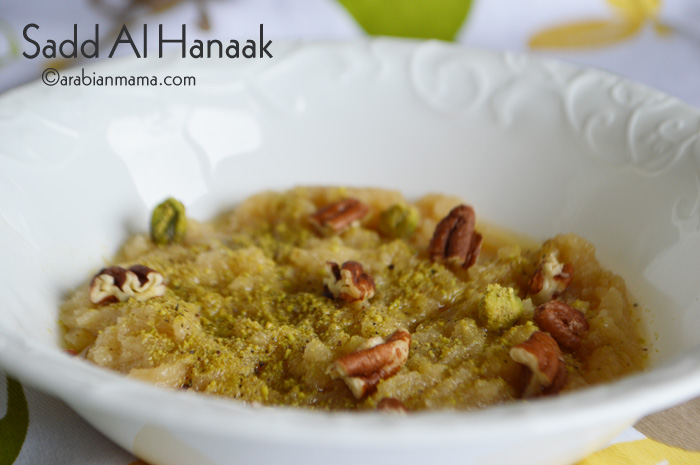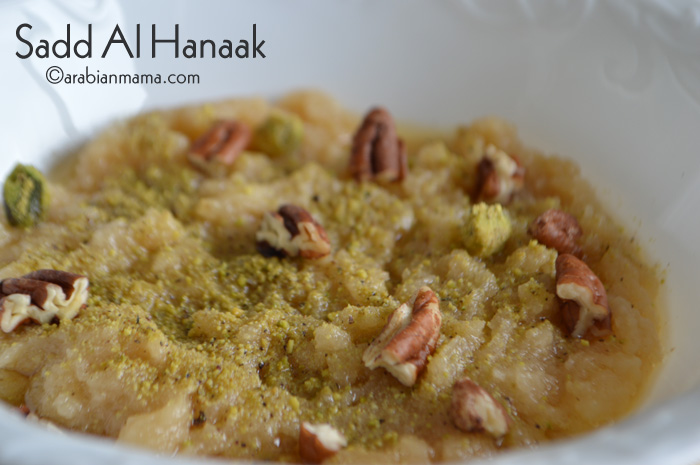 Do your taste buds a favor and taste this dessert once in your life. Ghee lends this dish a heavenly nice buttery flavor, sweetened to your taste, very easy to make, all ingredients are probably in your pantry… in just two word perfect dessert. The only downside is that it is packed with calories so, definitely not for those who are on diet.
I think this dessert is as old as Egypt itself, really it is so old , the kind that great great grannies used to make. I've seen my grandmother make it once and never seen my mom making it !!!. This dessert is one that you do not want to make in the summer heat as it fills you up and gives you lots of warmth.

Sadd Al Hanaak literally means something to SHUT YOU UP :). What does this mean is that it fills you up and makes you unable to open your mouth to eat anything more or talk anymore!!. There is a saying in the Arab world -specially Egypt – when you feel you are having a one sided conversation with someone, so you say " What is the matter with you, did you just have Sadd Al Hanaak?" funny huh?!!
To make this dish, you just need to cook some flour in melted ghee, then add a simple sugar syrup to it, cook until well incorporated, spoon in dishes and garnish with nuts if desirable. Some people though makes some energy balls out of it, by increasing the amount of flour a little to reach a roux or a soft dough consistency then shape it in balls, but my family preferred it the way I show it to you in the video.
Here is a short video on how to make the – I believe – oldest Egyptian dessert of Sadd Al Hanaak, I hope you'll like it…. Enjoy.

Sadd Al Hanaak
Probably the Oldest Egyptian dessert  .. I hope you'll try it
Ingredients
Ingredients

2

Tbs

of ghee- or butter.

6

Tbs

of sugar – I've used only 4.

4

Tbs

of flour.

4

Tbs

of water.

1

Tbs

sesame seeds- optional.

Nuts for garnishing- optional.
Instructions
Dissolve the sugar in the water.

Heat a sauce pan on medium and melt the ghee.

Add the flour, if you are using sesame, add to the melted ghee first.

Stir to cook the flour,until it is golden.

Gradually add the water and stir quickly

Keep stirring until it caramelizes a little

Serve at room temperature and garnish with nuts
Sign up and learn more about Mediterranean flavors