Chocolate covered fruits are this sort of desserts that actually makes you feel good about yourself. Like these cute dates for example and these chocolate covered strawberries are no exception. Make them with dark, milk or white chocolate and decorate them with a variety of ways for the perfect dessert each time.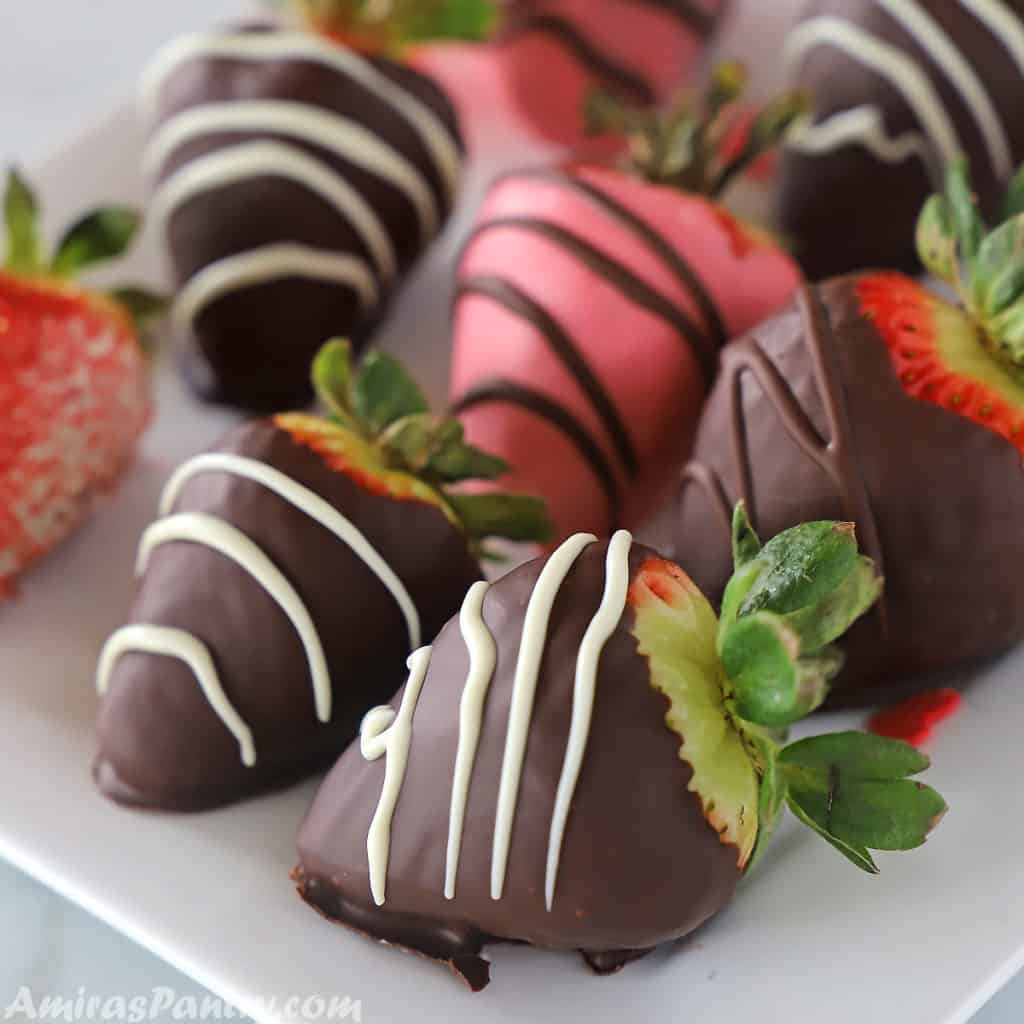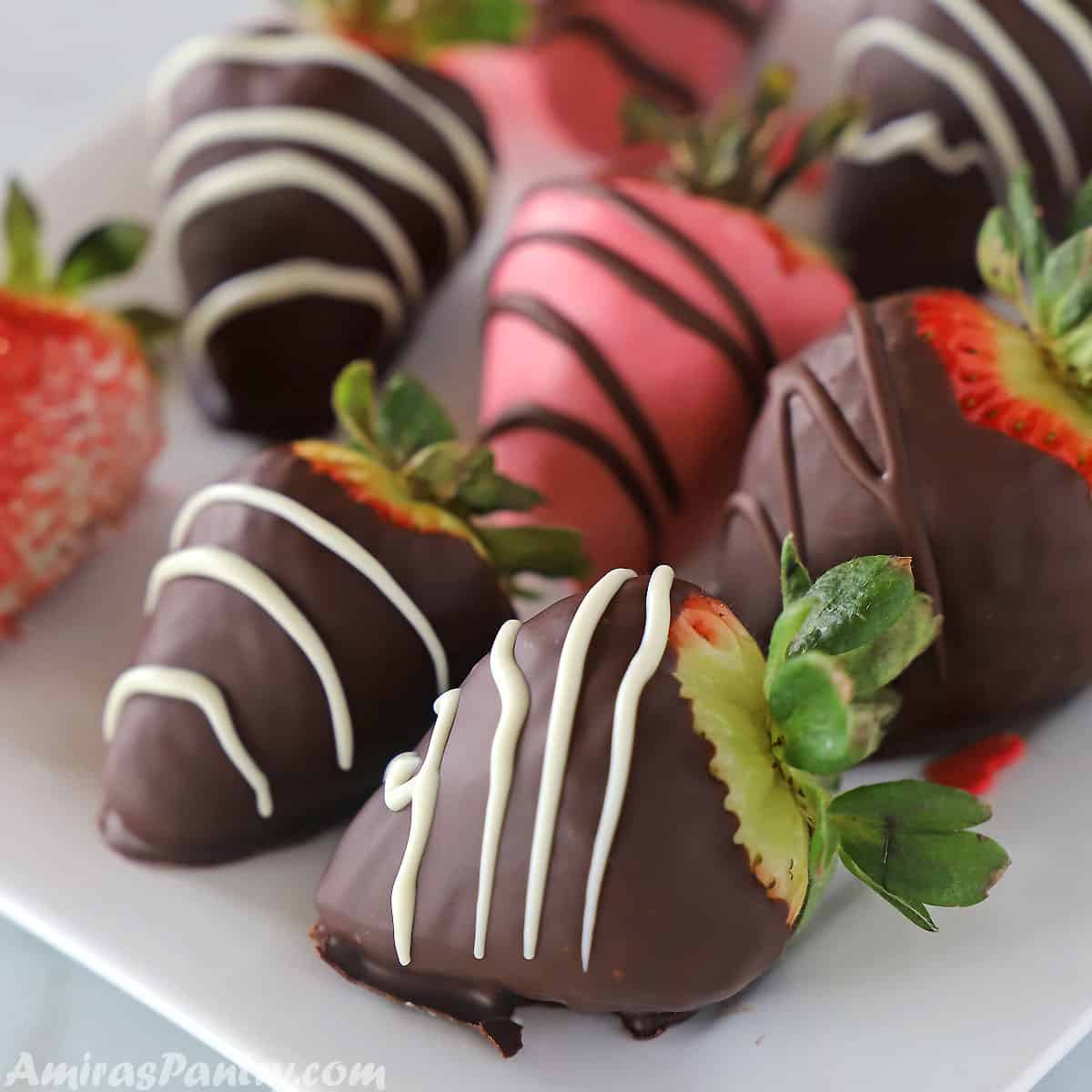 Chocolate strawberries
What comes to your mind when you first hear the word strawberries? I bet it is this luscious mouth watering and fulfilling sense of satisfaction. Actually strawberries do not last a day in my fridge, once they get washed they vanish!! It was really hard for me to hide these strawberries so I can finish the recipe.
Chocolate covered strawberries are most popular during Valentine's day, but guess what? They are just as beautiful and tasty throughout the year! Fun and elegant dessert/gift for any occasion you might have.
Strawberries tips
It is preferable to buy locally grown strawberries and better yet it is better to go and pick the strawberries yourself. But let's face it, this is not always the way things go. If you have these options then great if not, there is no shame in buying strawberries from the store near you, just take a closer look. Here are some tips for you:
Pick the fragrant ones: smell the containers and go for the most fragrant one.
Go for the firm ones: vibrant, firm, bright and fresh looking strawberries with bright green stems are the ones to look for.
Stay away: from any containers with molds or bruised berries. I know this goes without saying but you need to be careful as strawberries get molds quickly. Also pick up dry and unstained containers for best results.
How to wash strawberries?
Yes, strawberries need to be washed and do not wash them ahead of time just when you are ready to use. If you are buying organic strawberries then place them into a deep bowl and fill with cool water. Wash them by lightly and gently scrubbing with your fingers in the bowl. Drain and wash under running tap water.
If they are not organic, it is best to soak them in vinegar solution. Pour 1 liter of tap water in a deep bowl then stir in one cup of white vinegar. Place strawberries in the bowl and let them soak for 15-20 minutes. Drain and wash under running water.
Drying the strawberries is a must. Place them on a clean kitchen towel and dry gently with paper towel.
The best way to melt chocolate
I highly recommend the microwave method. Using a double broiler is great and it gives you the best control over heat but it is not as easy and quick as a microwave. If you have never melted chocolate in microwave then turn the power to 50% as I did in these truffles. If you are experienced then go on full power for 20 seconds then 10 seconds intervals stirring in between.
I used to add vegetable oil when melting chocolate but now I like to add coconut oil. Adding fat helps the chocolate melts more smoothly, gives it a shine and make it less likely to shatter when you bite into it.
How to make chocolate covered strawberries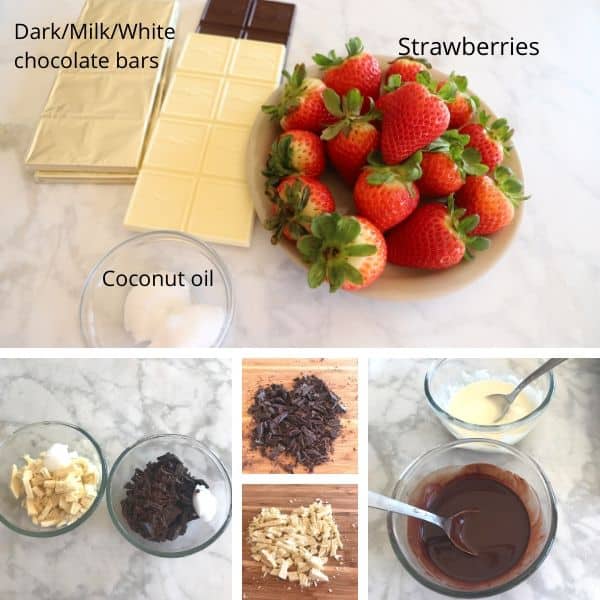 Chop the chocolate bars into roughly equal size pieces.
Place each type of chocolate in a bowl with coconut oil.
Melt in microwave or in a double broiler as indicated before.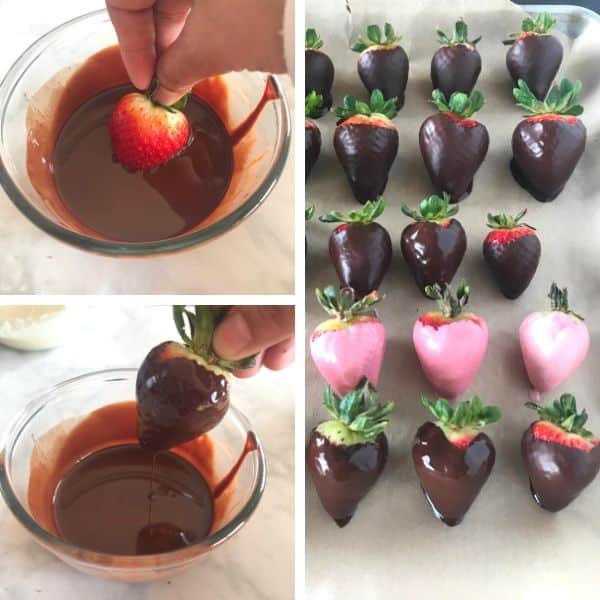 Hold the strawberries by the stem and dip in the chocolate tilting the bowl if necessary to cover the whole strawberry.
Scrape the bottom against the rim of the bowl.
Place on a baking sheet lined with parchment paper and refrigerate for 30 minutes for the chocolate to set.
If you are going to use sprinkles or chopped nuts, coconut then dip the strawberries in the sprinkles before placing in the refrigerator.
place any left over chocolate in a small sandwich bag snip the corner to make a very small opening. Drizzle the chocolate over the strawberries to make lines then refrigerate strawberries again for 10 minutes.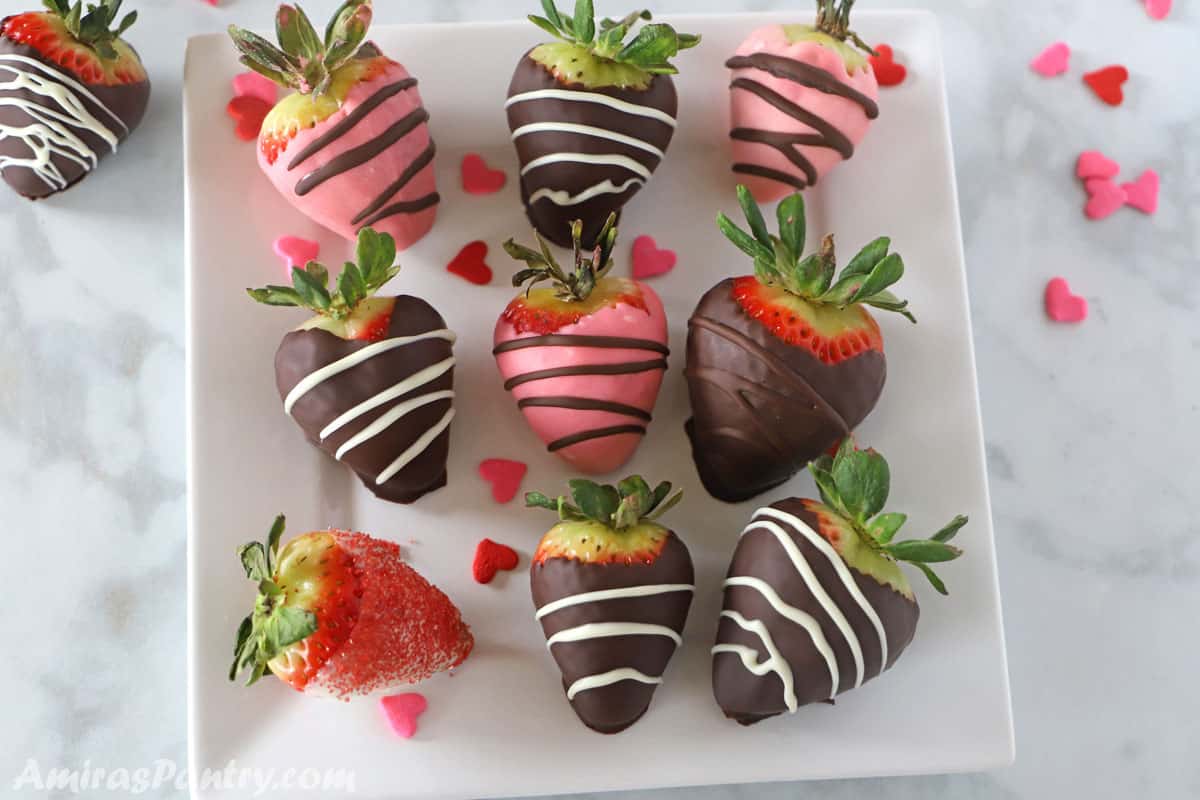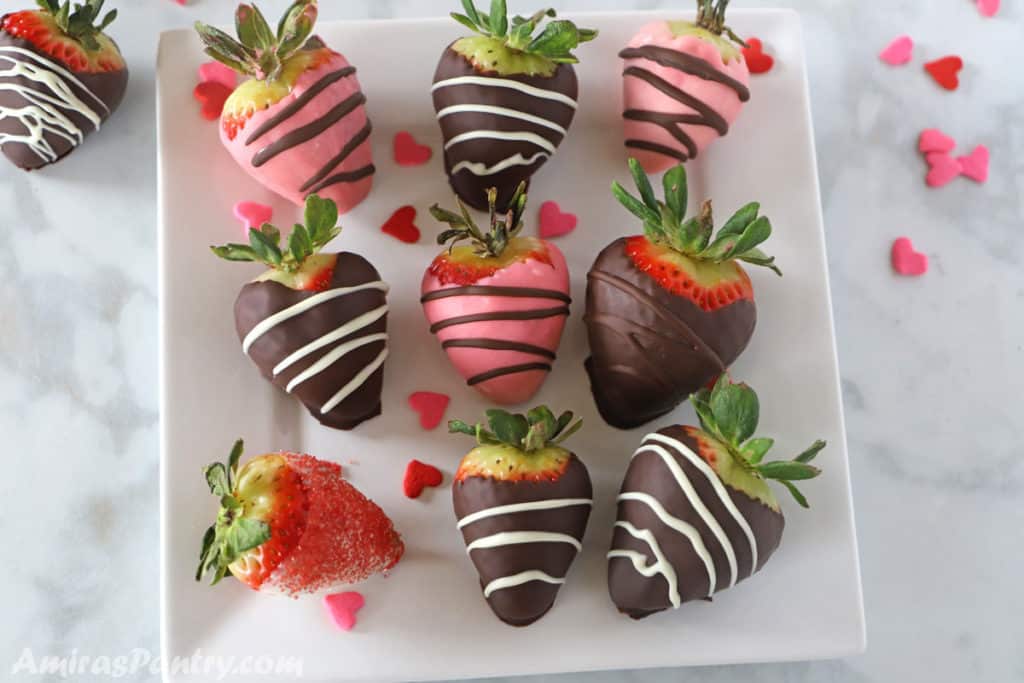 How to store chocolate covered strawberries
It is better to consume the strawberries within one day. You can place them uncovered in the fridge overnight. Take them out one hour before serving and place in a cool dry place and not in sunshine. Do not freeze strawberries as they will release moisture as they thaw.
Chocolate covered treats
Chocodate - chocolate covered dates
A delicious treat from Dubai that is very popular during the holy month of Ramadan
Check out this recipe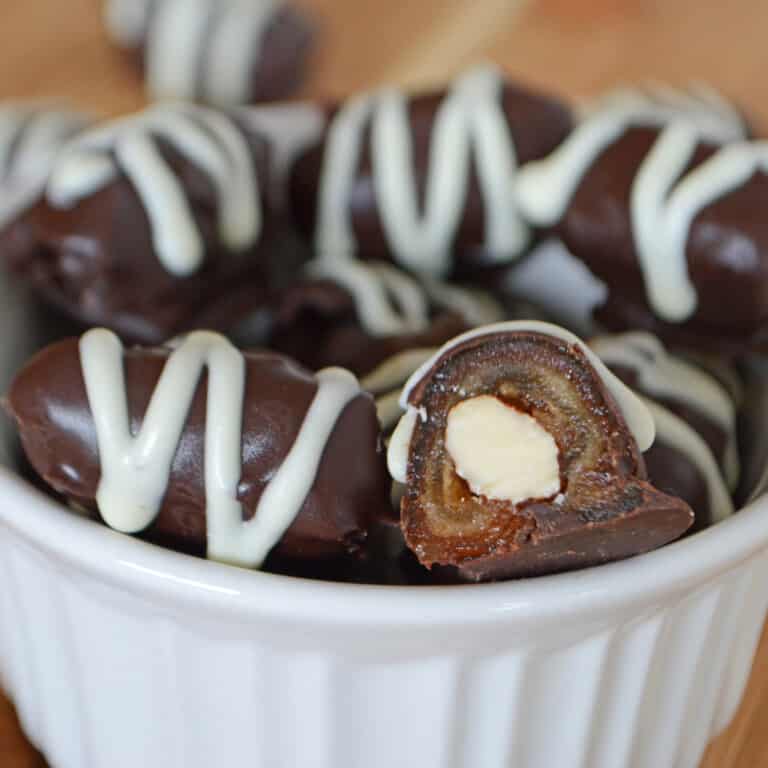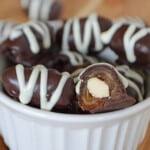 Cookie dough truffles
Cookie dough truffles are chocolate ball cookies with chocolate inside and out. These little cookie dough truffles are spectacular!. Wonderful to snack on or to give as gifts. Egg-less, safe to eat recipe using chocolate chip cookie dough.
Check out this recipe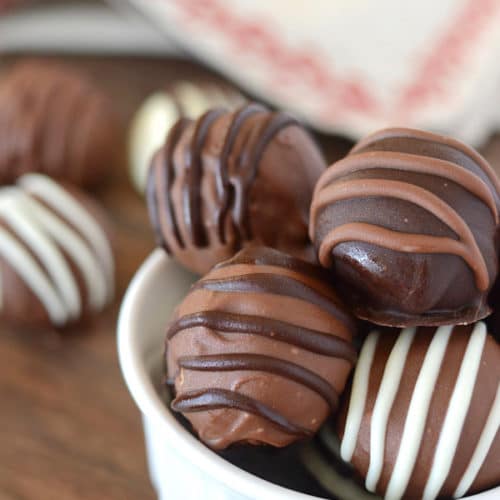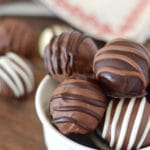 Chocolate covered strawberries recipe
Luscious strawberries elegantly covered with your favorite chocolate and decorated with all sorts of things. Makes for a great gift or after dinner dessert.
If you like this recipe do not forget to give it a ⭐⭐⭐⭐⭐ star rating and attach a photo of your finished dish. It is always a pleasure of mine to see your photos and check your own take of the recipe. Thank you.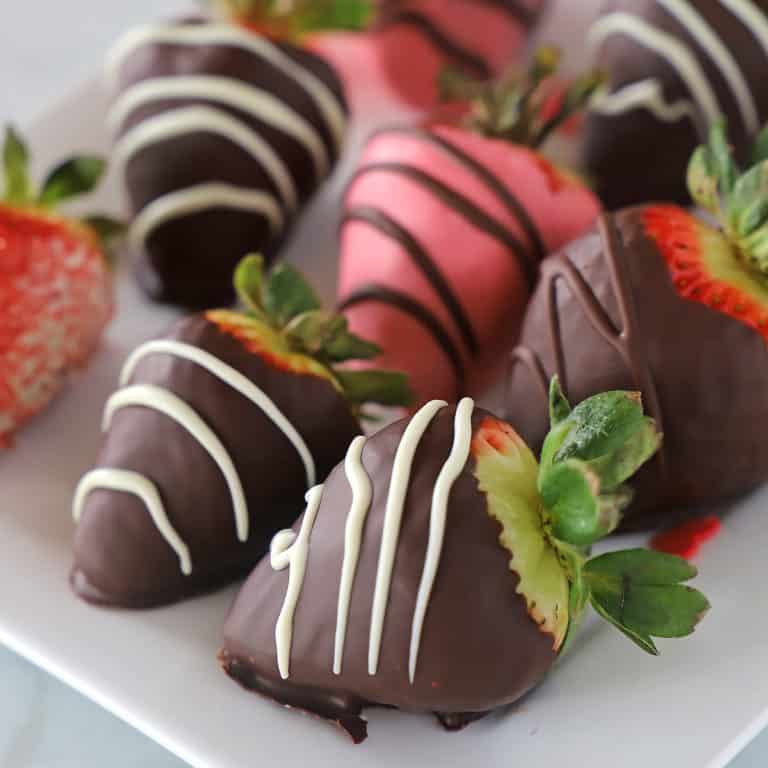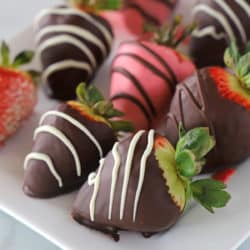 Chocolate covered strawberries
Like anything chocolate covered, these chocolate covered strawberries will bring happiness to your day. Whether you are celebrating a special day or simply ending your meal. Satisfy your chocolate craving in the simplest form.
Print
Pin
Rate
Ingredients
2

pounds

(32oz) fresh strawberries.

Two blocks

(8oz each) baking chocolate. Note1

1

Tablespoon

coconut oil. Note2

Optional for garnishing:

Sprinkles

mini chocolate chips, chopped nuts… etc.
Instructions
Line two baking sheets with parchment papers and set aside.

Wash the strawberries and pat dry well. Note3

Chop chocolate bars into almost equal size and place into a heat proof bowl . Add half a Tablespoon of the coconut oil to each bowl.

Melt chocolate in the microwave. Microwave your chocolate on high for 20 seconds, stir then microwave again for 10 seconds intervals stirring in between.

Hold one strawberry by the stem and dip it into the chocolate to cover. Tilt the bowl a bit if necessary.

Let it drip then scrape the bottom against the edge of the bowl.

If you are using sprinkles or going to dip them in nuts then do it now.

Place on the parchment lined sheet.

Transfer the baking sheet to the refrigerator for 30 minutes for the chocolate to set.

Use any excess chocolate to make ribbons on the strawberries and refrigerate again for 15 minutes.

Serve immediately or in the same day for best quality.
Notes
Note1: You can use semi sweet, dark, milk or white chocolate.
Note2: Coconut oil is good for you but it might leave a hint of coconut smell on your chocolate. If you cannot use coconut then you can use vegetable oil instead.
Note3: Refer to the post for washing method and make sure your strawberries are really dry, chocolate do not stick to wet strawberries.
Please check the nutrition disclaimer policy.
Nutrition
Calories:
114.7
kcal
|
Carbohydrates:
13.3
g
|
Protein:
1.5
g
|
Fat:
6.9
g
|
Saturated Fat:
5.4
g
|
Polyunsaturated Fat:
0.1
g
|
Cholesterol:
1.3
mg
|
Sodium:
19.3
mg
|
Potassium:
94.4
mg
|
Fiber:
1.5
g
|
Sugar:
11.4
g
Sign up and learn more about Mediterranean flavors