Arabian delights chocodates recipe is the best thing you can do with dates.Chocodates are a very delicious treats/snacks/candies and the recipe is a breeze so easy to follow and a foolproof one. I've had it covered with milk, dark and white chocolate.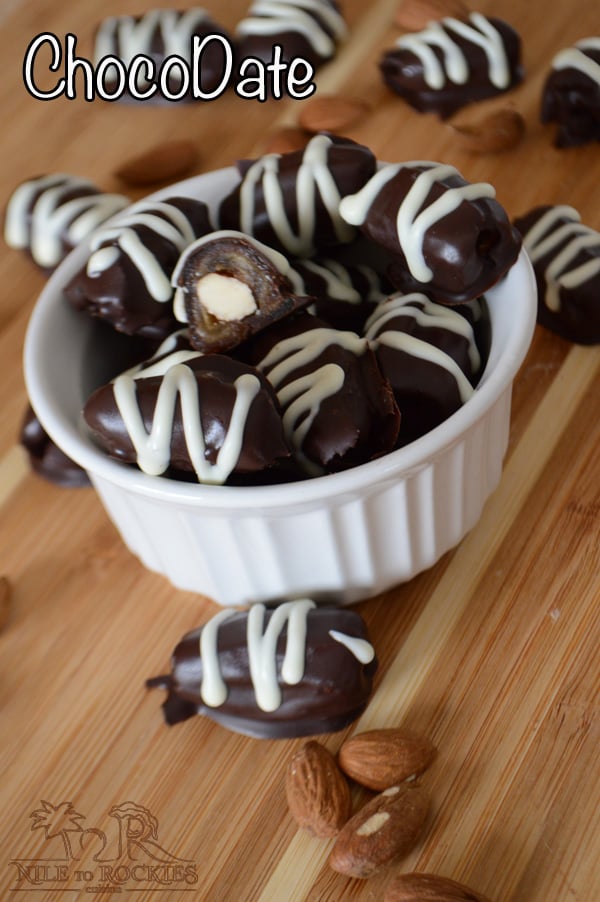 Me and the hubby liked it so much with dark chocolate, for the kids they fell for the milk chocolate and neither of the two groups was thrilled with the white chocolate ones. Chocodates are very common during the holy month of Ramadan as we are very encouraged to break our fasting day with water and dates.
I was first introduced to these heavenly delights about three months ago when they were available here in the International market and one of my friends called me , super excited, to tell me the news, she has found chocodates in the international market , then I replied foolishly what is chocodates?!!. My friend laughed and she said I cannot believe you are a food blogger and still do not know chocodates yet :).
Then she started to explain how these gems are very common in Dubai, specially during Ramadan and that she took some to the PTA and they were liked it and asked for more. So off I went to the international market to get a taste of these delights, I bought a bag and returned home, opened the bag and was very disappointed,the bag literally had 20 pieces and was for $7.99, which was so expensive given the fact that you can eat 3 without even noticing.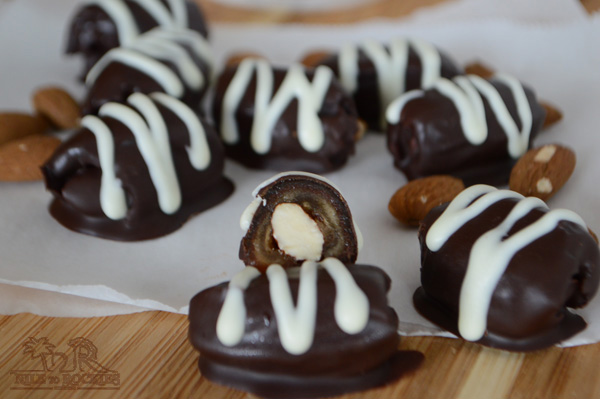 When I had my first bite, I was surprised at how the sweetness of the dates, the crispiness of the nuts and the deep rich flavor of the dark chocolate are in harmony. I liked it so much that I had to recreate it, and even played with it. It was not hard at all and anyone can make it but the best part is, you can adapt it to your liking.
I've experienced with many variations and all went well, so let your imagination go wild. Think about decorating with milk chocolate ribbons or as I did here with white chocolate, may be rolling the dates before freezing them in some coconut flakes, adding orange blossom water to the melted chocolate, adding some ground cardamoms, may be some matcha to white chocolate if you like.. these are a few of my favorite combinations,so just play with the recipe and see what will come up.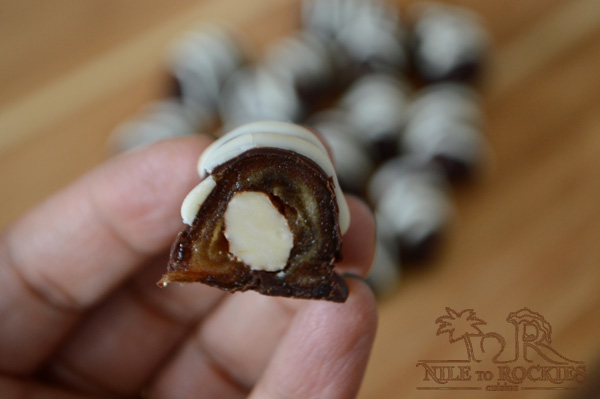 Here I will show you how to make the basic recipe using dark chocolate and some white chocolate for garnishing, this recipe is good for two dozens of chocodates, some of the dates I've stuffed with only one almond and others I've put two, depending on the size of the date, you can also stuff it with your favorite nut or combination like pistachios and specially pecan which goes very well with dates and dark chocolate.
More chocolate covered recipes
Chocolate covered strawberries
Like anything chocolate covered, these chocolate covered strawberries will bring happiness to your day. Whether you are celebrating a special day or simply ending your meal. Satisfy your chocolate craving in the simplest form.
Check out this recipe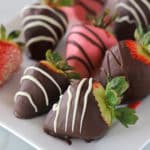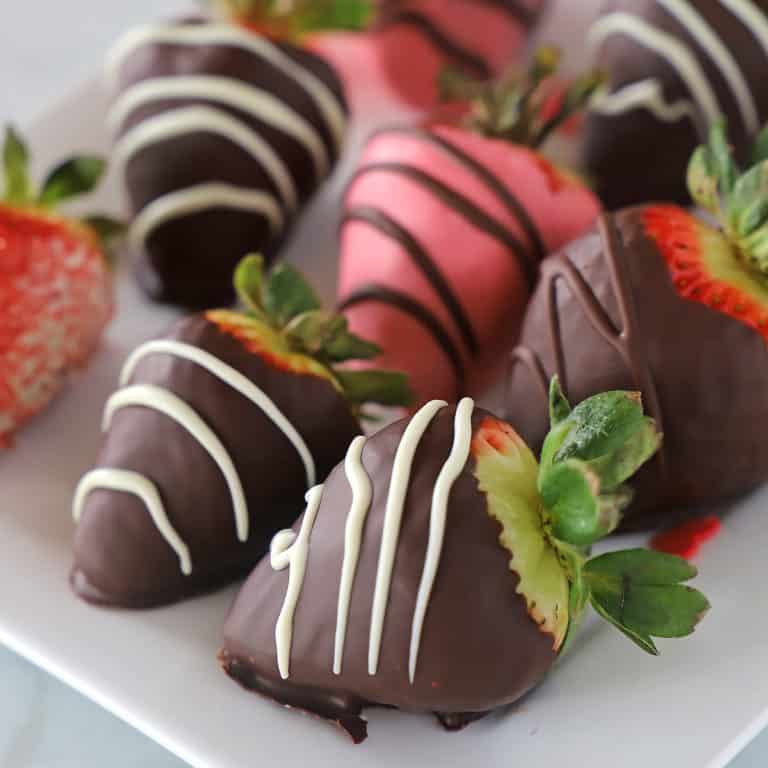 Cookie dough truffles
Cookie dough truffles are chocolate ball cookies with chocolate inside and out. These little cookie dough truffles are spectacular!. Wonderful to snack on or to give as gifts. Egg-less, safe to eat recipe using chocolate chip cookie dough.
Check out this recipe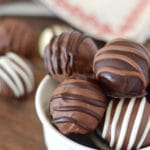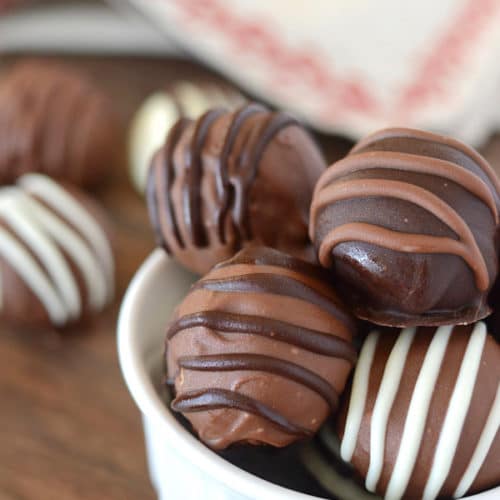 I hope you'll like this recipe and please if you make this recipe, snap a pic and hashtag it #amiraspantry — I love to see your creations on Instagram, Facebook, Twitter! Don't want to miss a recipe?
Sign up for the FREE Amira's Pantry newsletter delivered to your inbox with lots of tips and surprises! And stay in touch with me on Facebook, Twitter, Pinterest, and Instagram for all the latest updates.
Chocolate covered dates
If you like this recipe do not forget to give it a ⭐⭐⭐⭐⭐ star rating and attach a photo of your finished dish. It is always a pleasure of mine to see your photos and check your own take of the recipe. Thank you.
Chocodate – chocolate covered dates
A delicious treat from Dubai that is very popular during the holy month of Ramadan
Ingredients
3

oz

high quality dark chocolate.*

80gm

1

teaspoon

vegetable oil.

24

Dates .

almost

24

almond pieces.
Optional
For more decoration

1/4

cup

white chocolate chips.

1/4

teaspoon

vegetable oil.
Instructions
Make a double broiler by filling a small pot with about an inch of water and bring to a simmer.

Place a small bowl over the pot and make sure the bottom of the bowl is not touching the water.

Add the chocolate chunks and the oil and let that melt slowly stirring constantly.

Cut a slit in each date and remove the pit. Stuff with almonds/nuts and close the date over.

Using two forks, drop the dates in the melted chocolate, roll to cover, then take the date out and carefully shake off any excess chocolate.

Place them on a parchment lined baking sheet. Allow them to set for 5 minutes on your counter and then pop them in the freezer for 10 minutes.

Meanwhile prepare your garnish by melting the white chocolate with the oil again over a double broiler.

Take the chocodate out and garnish with ribbons of white chocolate, pop again in the freezer for more 5 minutes to set completely.

Enjoy!!
Notes
* You can use any chocolate you like dark, milk or white chocolate but make sure it is made with coco butter.
Sign up and learn more about Mediterranean flavors