Cookie dough truffles are chocolate ball cookies with chocolate inside and out. These little cookie dough truffles are spectacular!. Wonderful to snack on or to give as gifts. Egg-less, safe to eat recipe using chocolate chip cookie dough.
While we are at it, try these chocolate covered luscious coconut macaroons.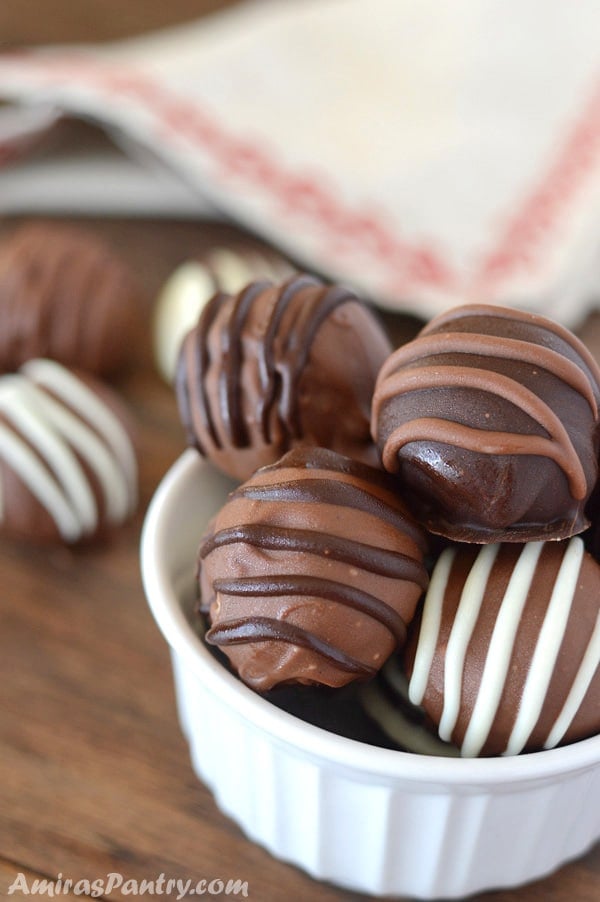 Chocolate chip cookie dough truffles are one of my favorite snacks when life gets hard. Listen, I believe that every woman needs to eat chocolate in her life, one way or another. Chocolate is a handy dandy tool to make life easier on us and to destress.
My favorite chocolate is dark, I like it up to 70% but no more. I once got a 85% one and I could not even make it go through :). Do you love chocolate? What is your favorite kind?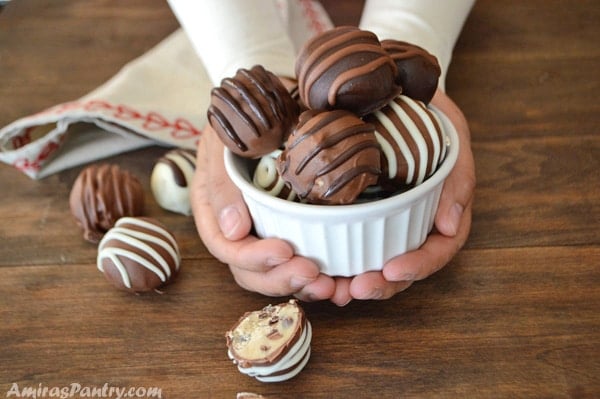 There is something about cookie dough and cake batter that just makes it … oh so right! I keep licking the spoons and beaters when I make cookies and cakes. It is a tradition that runs in my family :). When my kiddos see me making any, we all fight over the beaters, spoons and bowls. Check my little one here looong time ago licking beaters :).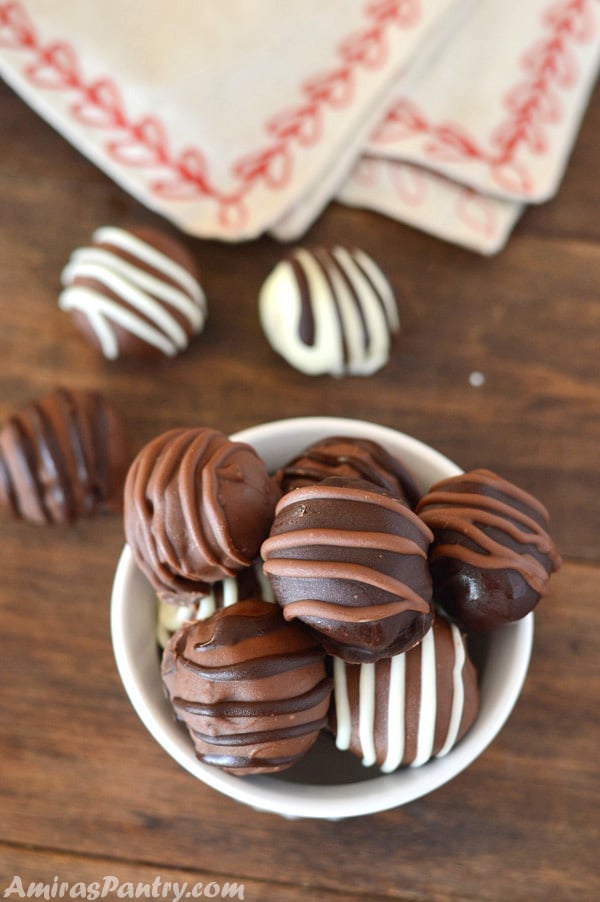 Ok, I get it, you might find it gross if you are one of those people who freak out from raw eggs and flour. But seriously guys, when did these things become unhealthy?. I do not remember anyone in my family dying from licking cookie dough.

Then again, according to FDA, it might cause Salmonella. Consuming raw flour on the other hand might cause other health issues, here is what the FDA says about that.
So to get us all out of this mess and to enjoy a safe cookies dough balls, I did two things:
Omit the eggs altogether.
Cook the flour.
Sounds good?...Let's see in details what you'll need to do.
Chocolate Chip Cookie Dough Truffles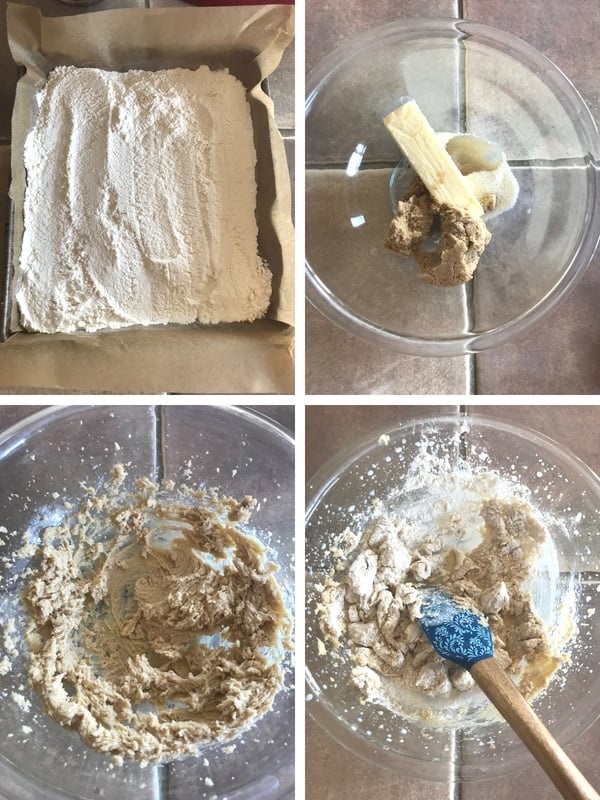 First, How to cook flour to make it safe? You'll need to heat up the flour until it reaches 160F to kill problematic bacteria.Either by microwaving for 1 minute and 15 seconds on high and stirring every 15 seconds OR, simply in the oven. Line a baking sheet with parchment paper and bake flour for 5-10 minutes on 350F.
In a bowl, add room temperature butter, vanilla and sugars then beat with electric mixer until creamy and well incorporated.
Add milk and mix then gradually add warm flour and mix just until flour disappears.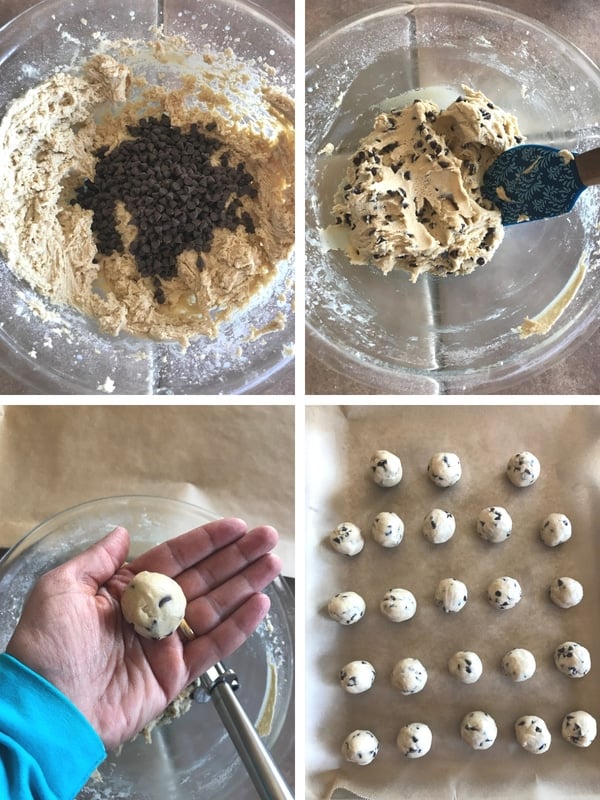 Mix in chocolate chips and chill the dough in freezer for 10 minutes for easy handling.
Take the dough out and scoop into round 1 inch balls using a small ice cream scoop. Arrange balls in a baking sheet lined with parchment paper and freeze for 30 minutes.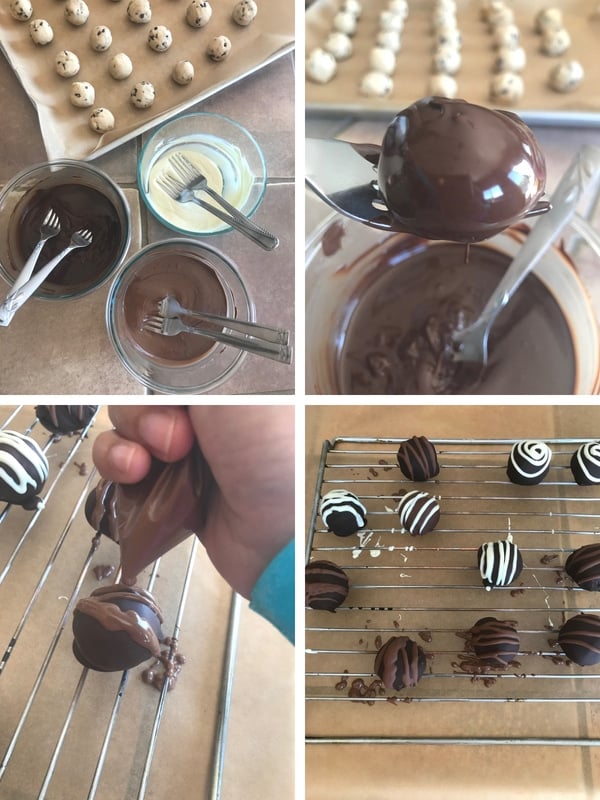 Melt your 16 oz of your preferred kind of chocolate in microwave or double broiler. I've used 8oz black chocolate , 4 oz white chocolate and 4 oz milk chocolate.
Take the cookie balls out of the freezer and roll into chocolate using forks. Let it drip excess chocolate and decorate with more ribbons of chocolate for a fancy look ( tried to do my best in the photos above using one hand while shooting with the other).
Now the hard part is, getting those chilled balls to coat nicely while the chocolate stays warm. The problem is that the melted chocolate gets cooled quickly as you dip in cold cookie balls in them. To overcome this problem you either: 1) Place the cookie balls on a rack and scooping the chocolate over them. 2) Just decorated the balls with chocolate ribbons without covering the whole thing 3) I placed each bowl of chocolate in another bowl of hot water to keep it warm.
Decorate with ribbons of chocolate for a fancier look and chill in fridge until chocolate sets.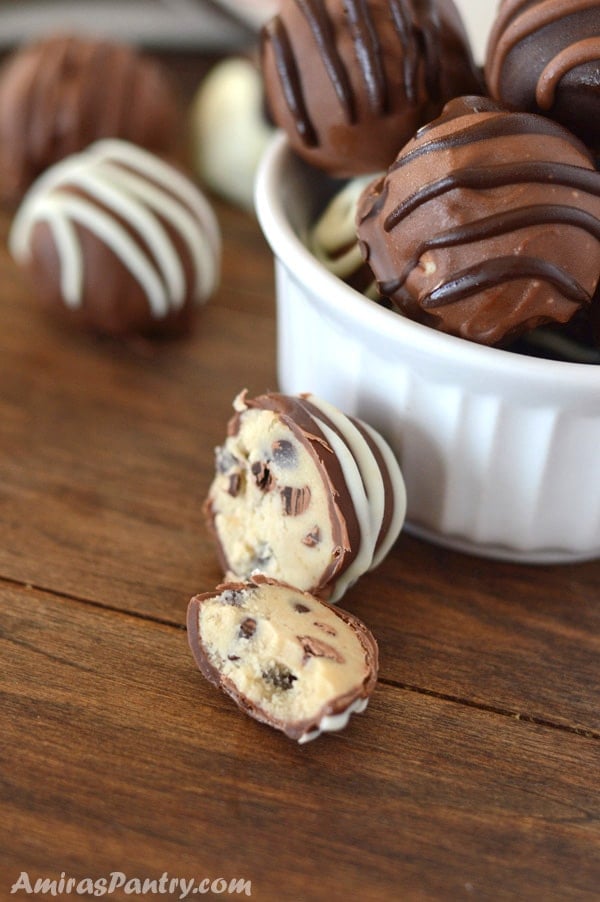 These are soo good to nibble on, you can even make them smaller for a less guilty treat. Keep them in freezer for those upcoming hot summer days or refrigerate in an airtight container.
Now to clarify things again, If you can hunt some heat treated or pasteurized flour, it would be great, but I could not, so I heated up my own. This is a common practice I've seen on the internet for homemade heat treated flour. I just made sure that my flour went a little bit above 160F. But, do not hold me accountable for this please as we are all at various health conditions. So do your homework and research.
I hope you'll like this recipe and please if you make this recipe, snap a pic and hashtag it #amiraspantry — I love to see your creations on Instagram, Facebook, Twitter!
Don't want to miss a recipe? Sign up for the FREE Amira's Pantry newsletter delivered to your inbox with lots of tips and surprises! And stay in touch with me on Facebook, Twitter, Pinterest, and Instagram for all the latest updates.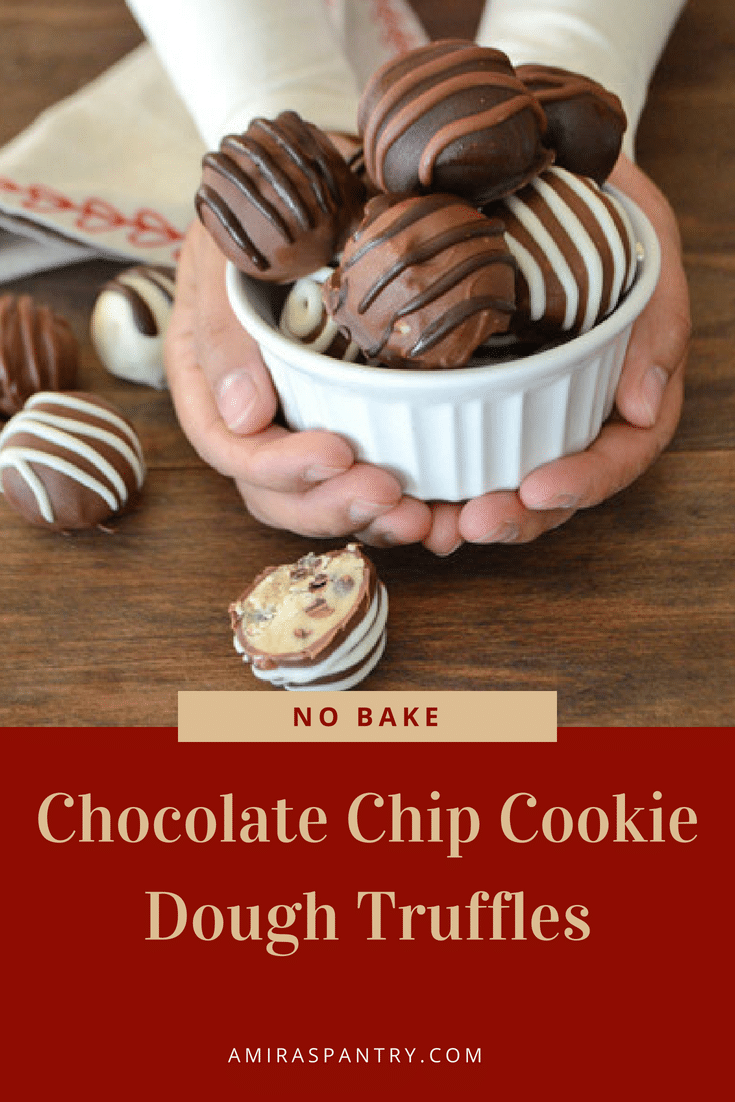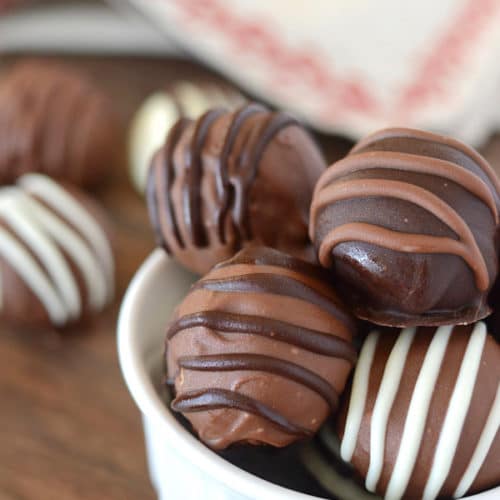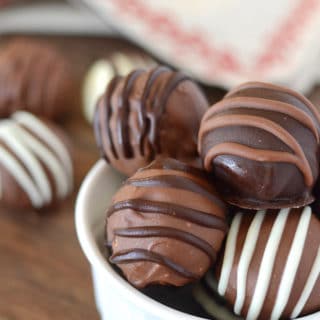 Cookie dough truffles
Cookie dough truffles are chocolate ball cookies with chocolate inside and out. These little cookie dough truffles are spectacular!. Wonderful to snack on or to give as gifts. Egg-less, safe to eat recipe using chocolate chip cookie dough.
Print
Pin
Rate
Ingredients
1/2

cup

unsalted butter

room temperature.

1/2

cup

brown sugar.

2

Tablespoons

granulated sugar.

1

teaspoon

vanilla extract.

A pinch of salt.

1 1/4 to 1 1/2

all purpose flour.*

3/4

cup

mini chocolate chips.
For dipping:
8

oz

56% cocoa chocolate or dark.

4

oz

milk chocolate.

4

oz

white chocolate
Instructions
Preheat oven to 350F.

Spread flour on a rimmed lined baking sheet and bake for just 5-10 minutes. Please check post for other ways to heat treat your flour and about safety.


In a deep bowl, add butter, vanilla extract and both sugars. Beat on medium until creamy and mixed well.

Add salt and gradually add flour half cup at a time until you reach 1 cup then add by two tablespoons until the dough comes to a cookie dough consistency.

Fold in the mini chocolate chips.

Cover the bowl and pop in freezer for 10 minutes.

Line a baking sheet with parchment paper.

Scoop dough and roll into 1-inch balls.

Refrigerate for 30 minutes.
Melt chocolate:
In a microwave safe bowl, place chocolate , each separately, and microwave at 50% power for 30 seconds.

Remove and stir. If not completely melted, return to microwave and repeat heating at 30 seconds intervals. Take care as scorching may occur.

Using forks dip cookies in chocolate and tap off excess chocolate.

Drizzle with ribbons of more chocolate if desired then return to the cookie sheet.

Refrigerate for another 15 minutes or until chocolate hardens.

Keep in an airtight container in fridge. These can be kept in freezer as well.


Enjoy.
Notes
* I've used exactly 1 1/4 cup + 2 Tablespoons of flour.
Nutrition Facts
Cookie dough truffles
Amount Per Serving
Calories 114.3
Calories from Fat 53
% Daily Value*
Fat 5.9g9%
Cholesterol 10.3mg3%
Sodium 2.5mg0%
Potassium 24.3mg1%
Carbohydrates 16.7g6%
Protein 0.7g1%
* Percent Daily Values are based on a 2000 calorie diet.
Nutrition
Calories:
114.3
kcal
|
Carbohydrates:
16.7
g
|
Protein:
0.7
g
|
Fat:
5.9
g
|
Saturated Fat:
3.6
g
|
Polyunsaturated Fat:
0.2
g
|
Monounsaturated Fat:
1.1
g
|
Cholesterol:
10.3
mg
|
Sodium:
2.5
mg
|
Potassium:
24.3
mg
|
Fiber:
0.2
g
|
Sugar:
9.5
g
Sign up and learn more about Mediterranean flavors