Melt in your mouth, perfectly flavored and miraculously rich tiramisu cake with ladyfingers. Classic tiramisu recipe without alcohol and guess what? no raw eggs involved! Need to eat more coffee? try these moist coffee cupcakes.
[mv_video key="fclnzadn6a26bbnpltad" title="CLASSIC TIRAMISU RECIPE (WITHOUT ALCOHOL)" thumbnail="https://mediavine-res.cloudinary.com/video/upload/fclnzadn6a26bbnpltad.jpg" volume="70" doNotOptimizePlacement="true" doNotAutoplayNorOptimizePlacement="false" ratio="" jsonLd=true]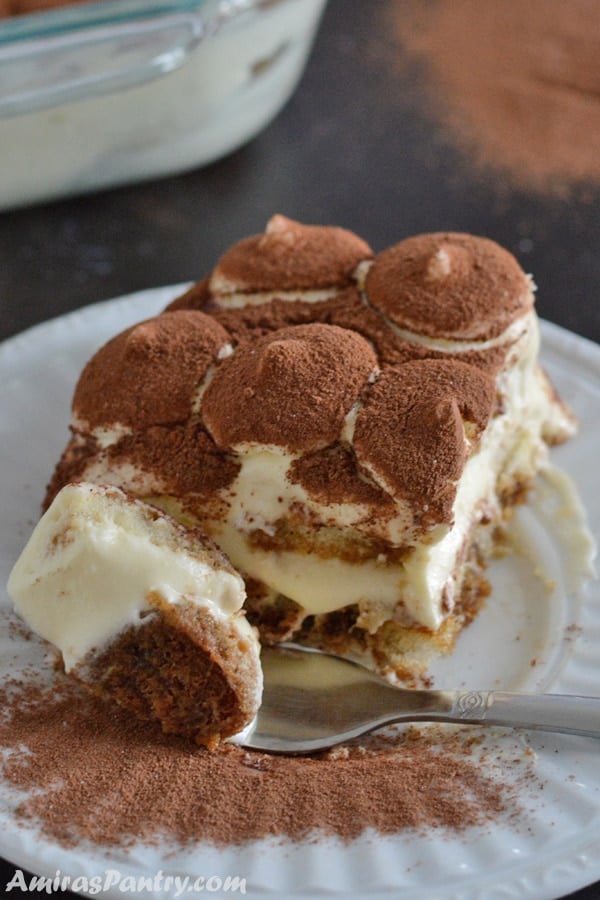 Tiramisu
This is the best tiramisu recipe I've ever made. An authentic tiramisu recipe with a twist for non alcoholic people. An tiramisu that is fluffy, rich, & irresistible. This is how do you make no raw egg tiramisu.
So what is Tiramisu cake?
In case you do not know, Tiramisu is an Italian trifle that is creamy and ethereal. It is made by dipping Italian Savoiardi cookies (Ladyfingers) in espresso and layering them with a magical, creamy filling. Finally it is dusted with cocoa powder and chilled for few hours in the fridge. You'll end up with a cake-y textured cookies flavored with espresso and topped with a lightened up, fluffy and cloudy custard like top. So delicious.
The bad news is, I've never really tasted the classic Tiramisu as the cloudy dreamy cream usually contains some sort of alcohol, usually rum and traditionally Marsala ... how unfortunate is that!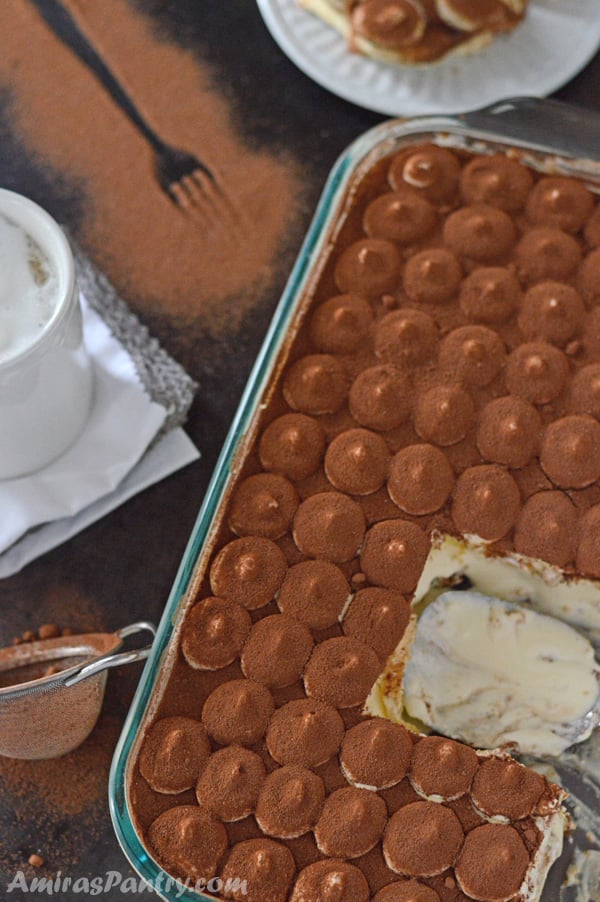 A couple of months ago, or may be more, I've had my first experience with Carbonara sauce. It was not a good one though, and I am sure this was not because of the recipe but rather the recipient of the recipe :). Knowing that it had raw eggs, that is supposed to be cooked with the heat from the pasta, made it hard for the pasta to go all the way through to my stomach 🤣.
I am not totally against consuming raw eggs, it has some rules you need to follow, but somehow this puts a pressure on me. Although, I do not have this issue when licking a cake batter or cookie dough!
I've had Tiramisu, the easy way, many times as I've this amazing friend who makes a delicious "fake tiramisu" as we call it. She usually makes it with plain cookies like Marie, and she uses condensed milk, cream and cool whip for the cream. It was delicious, but I really wanted to taste the classic one so I googled a recipe with no alcohol and I came across really very good recipes but all of them used the raw egg method.
Getting rid of the alcohol was not hard at all, actually the espresso and the cocoa along with some pinches of vanilla powder was more than enough.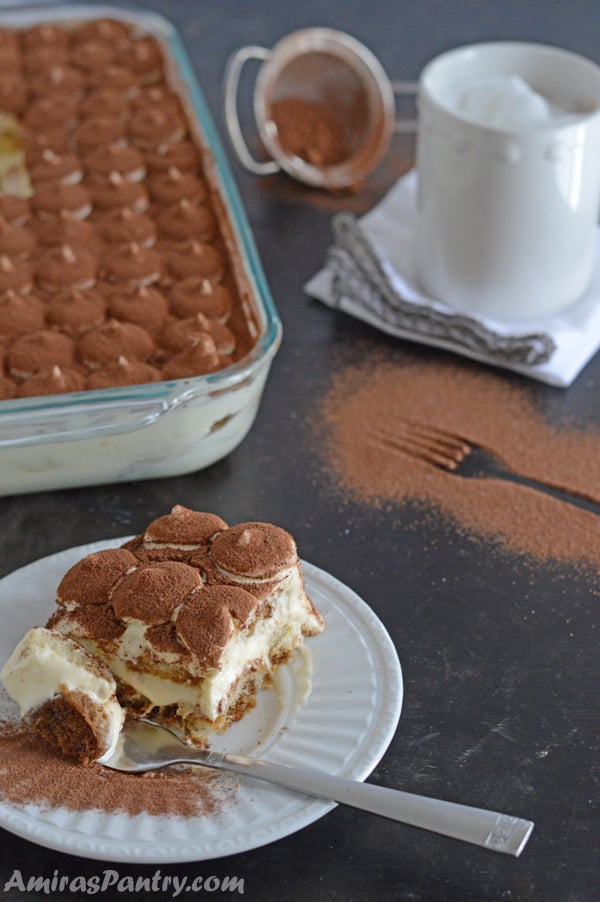 How do I dry my ladies fingers?
I was unable to get a hold of hard large Savoiardi cookies, all what was there in the stores was those packages of mini soft ladyfingers. If this is your case as well then you'll need to harden those before using by either arranging them on a baking sheet, cover with kitchen towel and let it air dry overnight OR heat your oven to 250F, then turn off heat and place the baking sheet and leave it there until they harden, took me about 20 minutes.
Can I make tiramisu the day before?
Sure, make it without the cocoa powder, wrap it in plastic wrap and refrigerate for up to 2 days. Just take care that nothing will squish the domes. Take it out and finish the top as directed.
How long does tiramisu last in the fridge?
Tiramisu can survive for up 4-5 days in the fridge.
Can I put my tiramisu in the freezer?
Yes you can, I've done it several times. Tiramisu can keep up in the freezer for up to 3 months. I usually store left over in portions in the freezer, just to get it away from me or else I will probably finish it off in no time.
How do you make tiramisu?
For the raw eggs, we'll cook the egg yolks over a water bath, this was enough to keep my mind at ease and kept the hunting carbonara memory away 😟. So without further ado let's see what is happening here: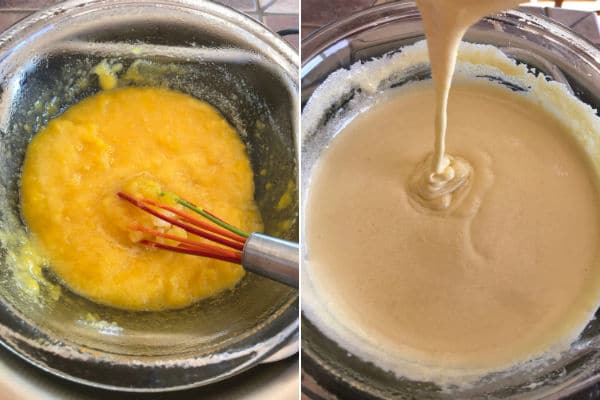 Over a double broiler or a water bath mix egg yolks and sugar. keep stirring and cooking over low flame until it turns pale yellow as shown above.
Remove from heat and stir for a couple of more minutes to make sure that the mixture is no more grainy, set aside.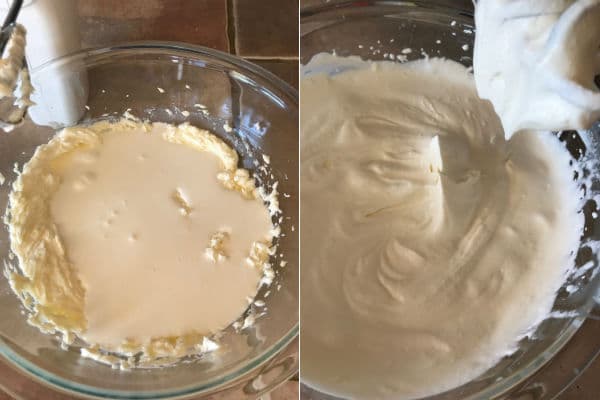 Then beat the Mascarpone cheese to loosen it a bit then add the whipping cream. Beat until hard peak forms.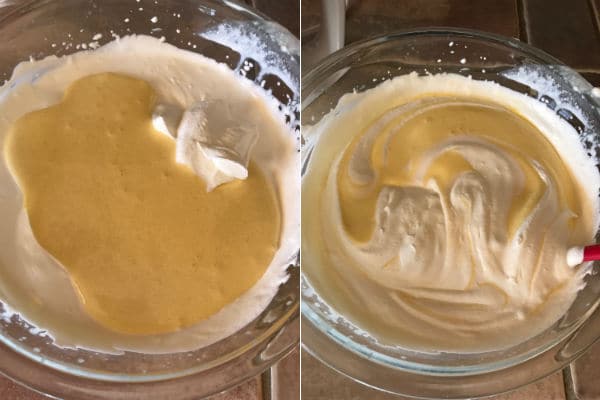 Now fold in the cooked egg yolks gently until everything is well combined.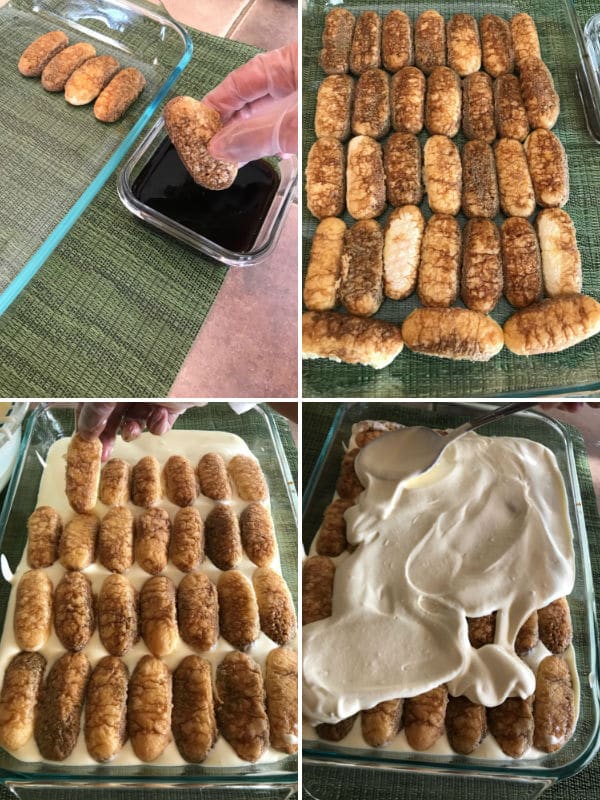 Quickly dip ladyfingers in the coffee and let excess coffee drip.
Place cookies side by side and continue until one layer is formed.
After finishing the first layer add cream, level and layer another dipped cookies on top.
Continue layering cream and cookies until you end up with a nice smooth layer of cream. My 13x9 pan was filled to the top just after two layers of cookies and two layers of cream.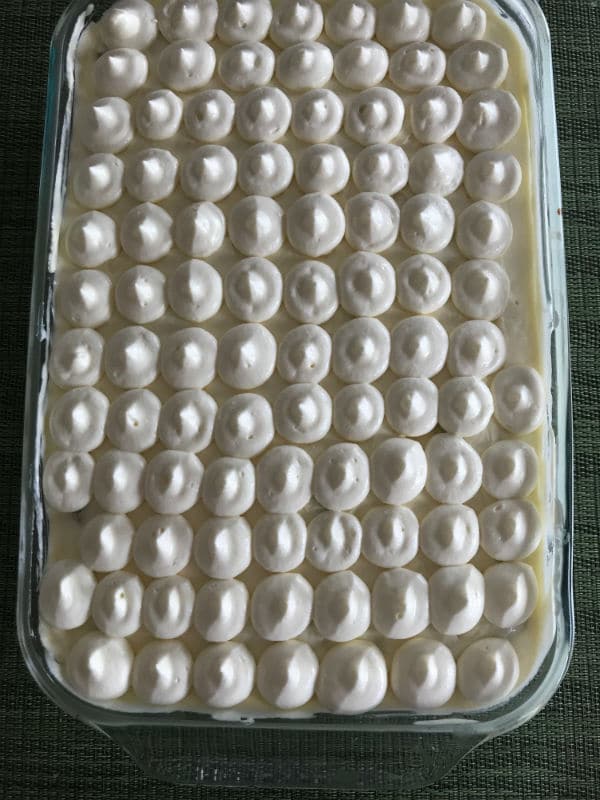 If you wanna get that fancy domes look, just pipe some cream through a piping bag, no tips is necessary as you can see in the video.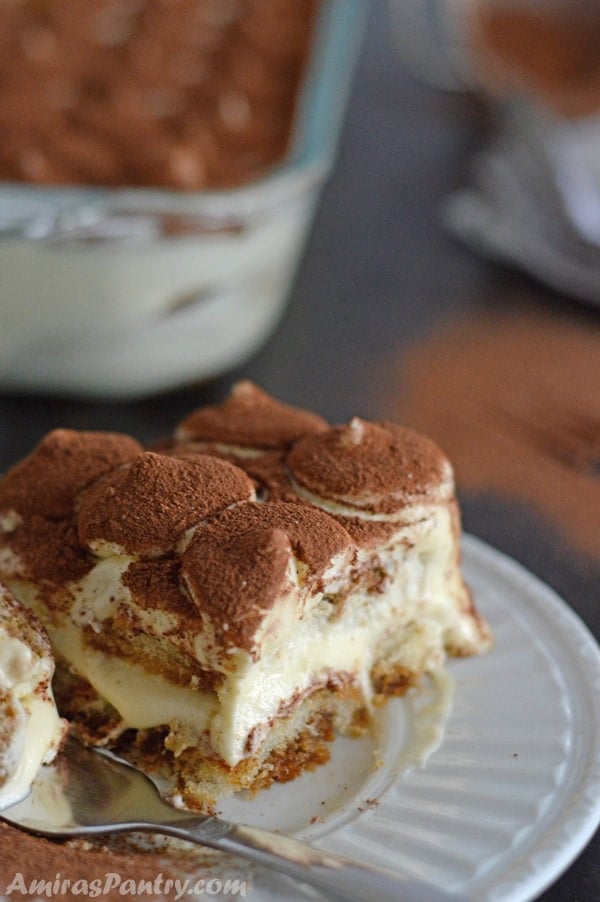 Now brew yourself a nice cup of coffee, set back beside your fireplace and .... enjoy a piece... or may be two :).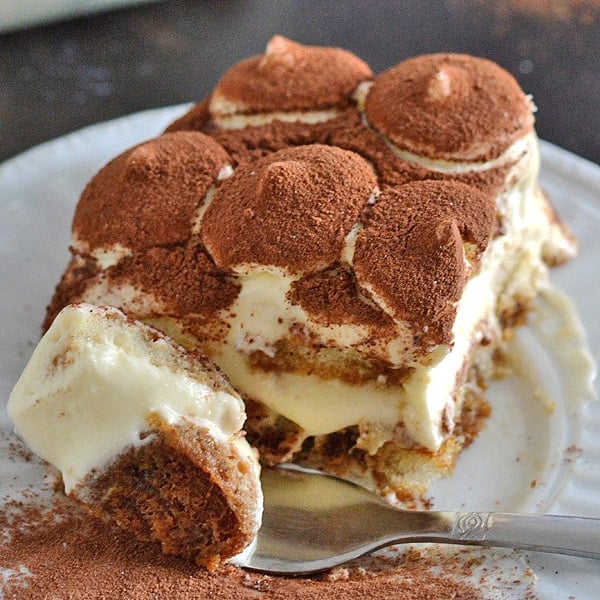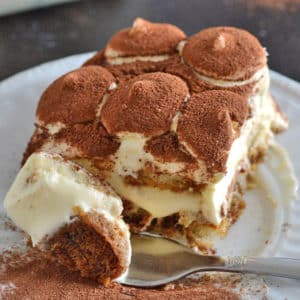 No Alcohol Tiramisu.
A classic Italian dessert made with no alcohol and no raw eggs is involved.
Print
Pin
Rate
Ingredients
8

large egg yolks.

1

teaspoon

vanilla extract

optional.

1 1/3

cup

sugar.

1 1/2

cup

mascarpone cheese

room temperature.

2

cups

heavy whipping cream.

3- 7

oz

packages Italian Ladyfingers cookies

Savoiardi.

1 1/2

cup

espresso/coffee

freshly brewed .

Cocoa for dusting.
Instructions
Start by making the espresso and leaving it to cool to room temperature.

In a deep bowl, mix egg yolks and sugar and vanilla if using, on top of a water bath. Stir and keep cooking for 10 minutes.

Remove mixture from heat and stir for another 2-3 minutes until mixture is not grainy and have a pale yellow color.

In a separate bowl, beat the mascarpone cheese for a minute then pour in the whipping cream and beat until hard peak forms.

Gently fold in the egg yolk mixture until everything is well combined.

Dip the cookies one at a time in the espresso to get them wet and arrange in a 13x9 dish to form one layer.

Spoon almost one third of the cream mixture and level the surface.

Repeat dipping and arranging the rest of the cookies to form the second cookies layer.

Spoon another half of the cream mixture and level.

Fill a piping bag with the rest of the cream, cut the tip and pipe domes on top of the cream to get that fancy look.

Cover and refrigerate 4 hours and preferably overnight.

Dust with cocoa powder just before serving.
Notes
I've only found soft mini ladyfingers in grocery stores near me and I've used 3 packages. If this is your case as well then you'll need to harden those before cooking by either arranging them on a baking sheet, cover with kitchen towel and let it air dry overnight OR heat your oven to 250F, then turn off heat and place the baking sheet and leave it there until they harden, took me about 20 minutes.
A couple of readers brought to my attention that there whipping cream did not harden enough or melted when they added the egg mixture so to avoid that you can allow the egg mixture to cool slightly and mix it in with room temperature mascarpone cheese. Whip the whipping cream alone then fold it into the mascarpone mixture  
I've also used instant coffee and mixed 3 Tablespoons with hot water and a teaspoon of sugar then let it cool down.
If you do not want to make those domes then make sure to add half the filling inside and half on top of the last layer, level then dust with cocoa after refrigerating.
Recipe adapted from Ask chef Dennise
Nutrition
Calories:
478
kcal
|
Carbohydrates:
39
g
|
Protein:
7
g
|
Fat:
33
g
|
Saturated Fat:
19
g
|
Cholesterol:
265
mg
|
Sodium:
75
mg
|
Potassium:
104
mg
|
Fiber:
1
g
|
Sugar:
22
g
|
Vitamin A:
1281
IU
|
Vitamin C:
1
mg
|
Calcium:
93
mg
|
Iron:
1
mg
Sign up and learn more about Mediterranean flavors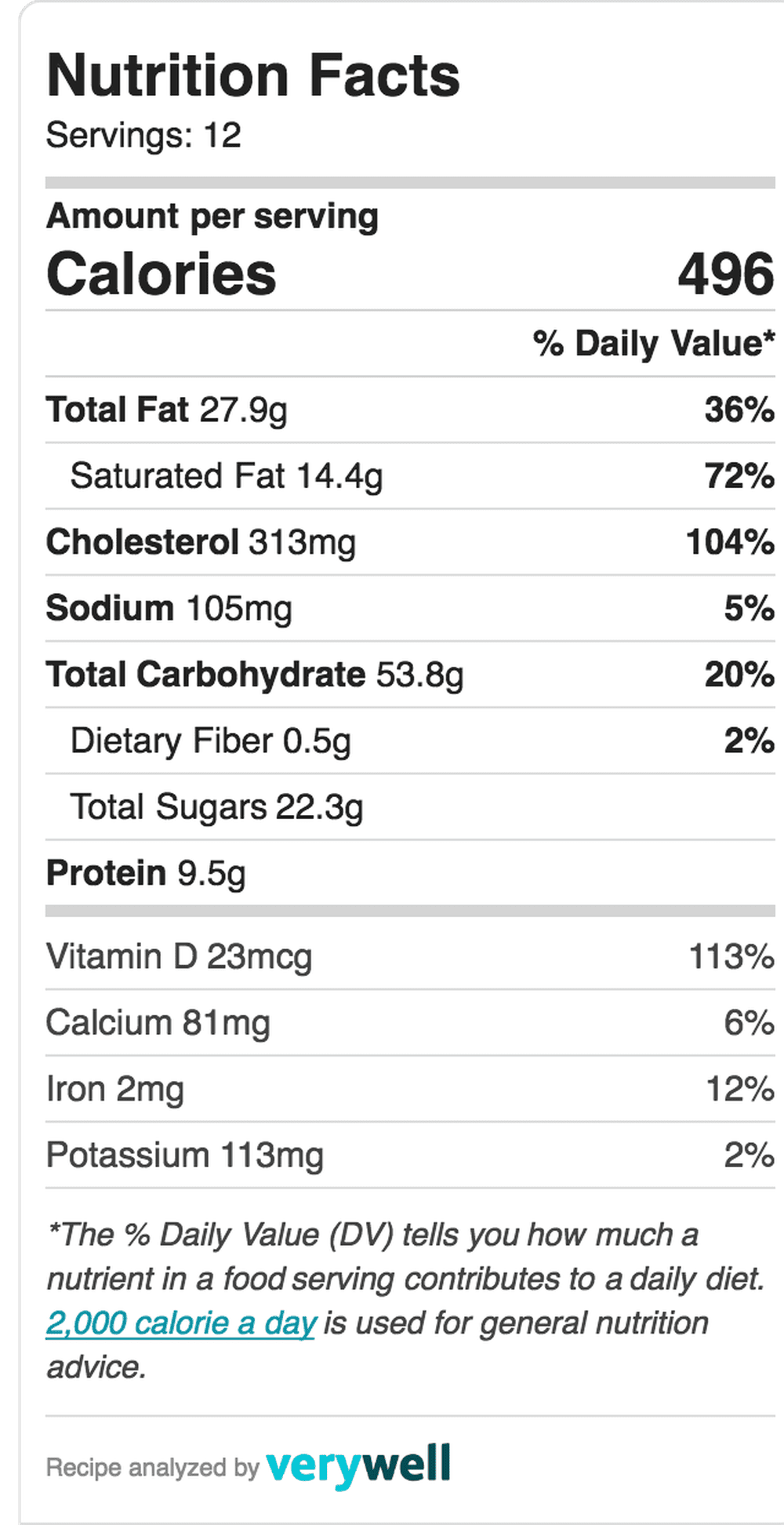 TIME TO SHOW YOU OFF!