Moist and fluffy, rich in coffee flavor cupcakes filled with a luscious raspberry preserve and topped with a delicious coffee buttercream frosting. A coffee cupcake recipe from scratch that is a coffee addict dream.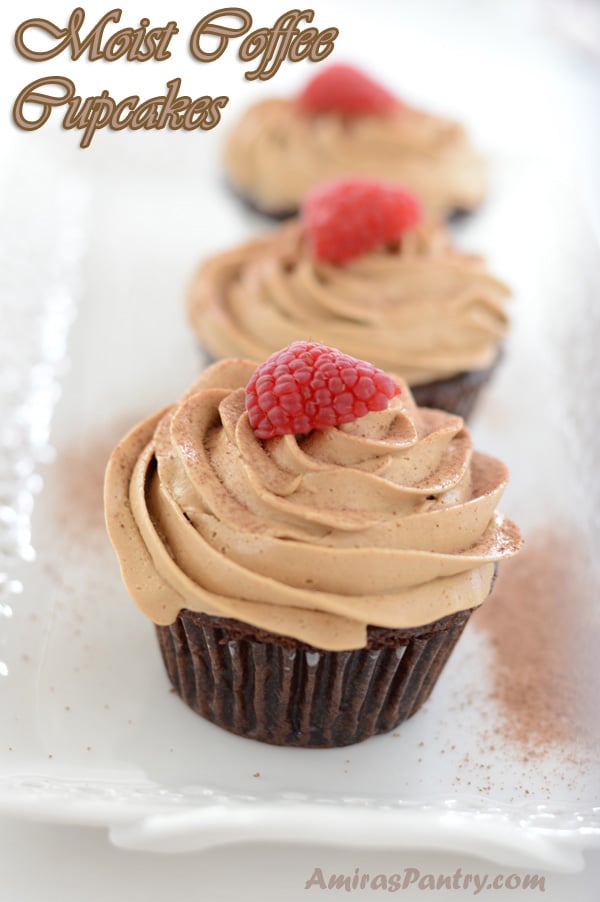 Cupcakes have this thing that makes them appealing more than cakes. Everyone loves cupcakes, kids, adults and seniors. It is like having a cake only for yourself, pretty and very convenient, I think that's probably why almost everyone likes them.
Ok some drama ahead folks, so continue reading or else skip to the recipe here.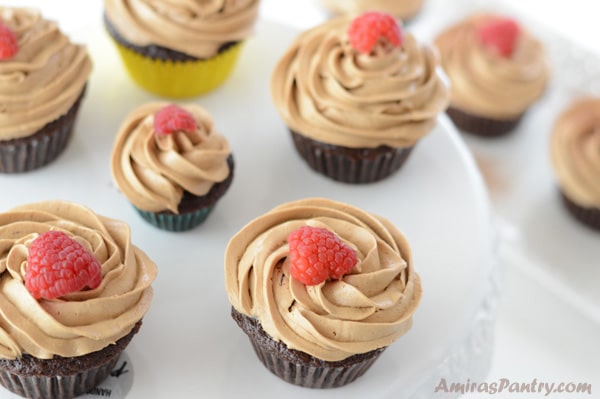 Some recent scenes of my life
Act1, Scene1:
Me and my three kiddos at the breakfast table.
My 6 years old singing: Trump is going koko 🎶 🎶.
Me: Who told you that?
My 6 years old: My friend at school is singing this song.
My 13 years old: Hay!, you do not even know who Trump is?
6 years old responding in an angry tone: Noooo, I know. It is a bad THING😳. Kayla told me.
Act 1, Scene 2: Me and my husband chatting in the kitchen.
Hubby: Did you make up your mind who you'll vote for.
Me: No, I am not voting. I do not like either.
Hubby: But you have to, it is our duty.
Me in a more determination tone: No.
Act 1 , Scene 3: Me and my kids at the public library.
I left my kids downstairs and went up to see some cooking books.
I found what I want and was heading downstairs when all of a sudden, he was in front of me, his middle finger up and whispering the word. I got terrified and ran downstairs with a mother's instinct to protect my kids.
Texted my husband : " I am voting for Hillary".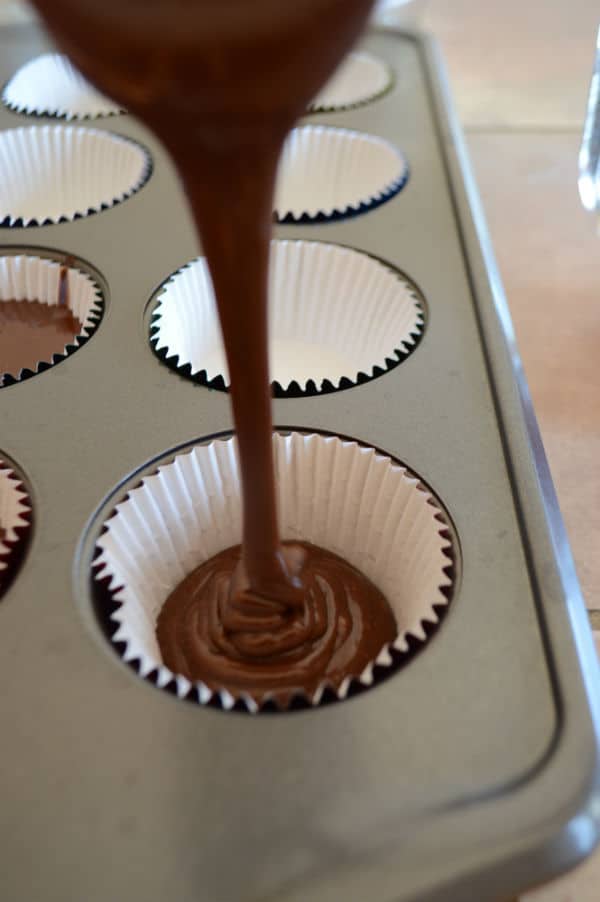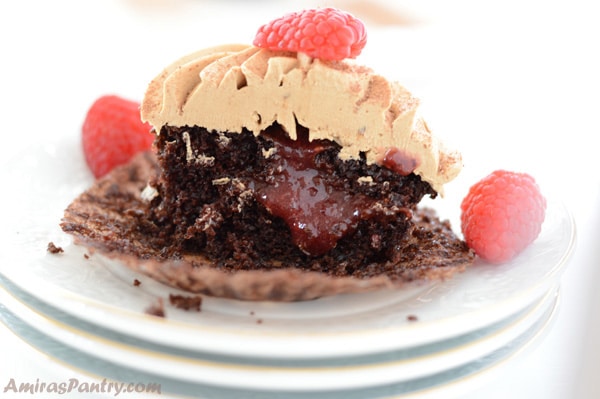 Act 2, Scene 1:
Wednesday morning… Sheesh he won 😥. We were all frustrated at the breakfast table but as we usually say, it is God's will and he knows best with his eternal wisdom.
My phone did not stop buzzing with all kinds of Trumpophobic messages all the day, Whatsapp groups angry and frustrated from the American People with words like " racists" , " now they show us their true color", " all the hate of one man has been validated by an entire country"..etc
I've always resented stereotyping, no not all those who voted for him are racists, may be there is another reason until a friend tweeted this " not all Trump supporters are racists , but all of them decided that racisim isn't a deal breaker. End of story"
Act 2, Scene 2:
Me and my kids back from school on Wednesday.
My 13 years old: Cole said, Trump is going to kill all Muslims in the US.!!
My 11 years old with extreme panic: WHAT!!! are they gonna do to us like what Hitler did to the Jewish?
Me:Hey, guys listen, this will never happen. Don't you be afraid and do not let anyone frighten you. I will never let anything harm you and we still have lots of good people around who will never stay still if something like this happen.
My 13 years old- full of anger: If they kick us and all the Latinos out, they will have kicked out at least 1/3 or the population and they will not have enough people to work. They will then beg us to come back and we will never do.
Me: Nobody is kicking us anywhere , we are not going anywhere. We'll stand for our faith and our morals. I still have faith in this country.
This was just a glimpse of the conversations going around in an ordinary American Muslim home.. wait for more to come.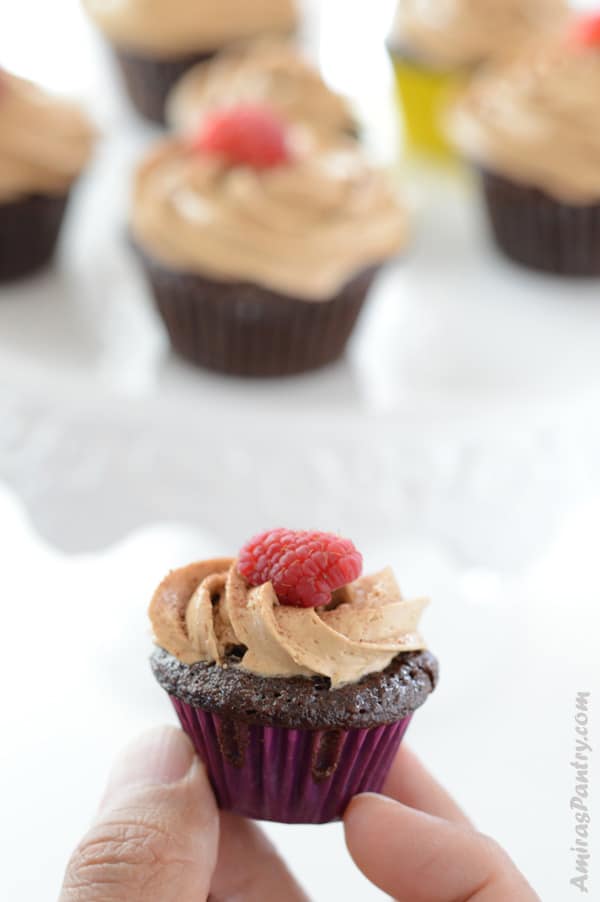 After all these conversations, the panic, my worst fears that my kids might hate being here, I've always wanted them to belong and never feel that they are strangers or hated or abandoned by the society. I felt I need something strong, bitter, sweet and strong to get me through those tough days and nothing is better than a good shot of caffeine and not just any caffeine.
When you first bite into these cupcakes you'll be hit by the bitter sweet coffee rich buttercream frosting, then you'll sense the fluffy moist and airy texture of the cupcake and in the middle you'll roll your tongue around a sweet and tart raspberry preserve filling, a coffee dream that only coffee lovers will appreciate.
I love good coffee and I cherish my Nespresso and consider it my fourth kid :), really it makes one good cup of coffee that I have never tasted anything even close to. Nothing cannot be fixed by a good cup of coffee ☕, and add to that a luscious coffee cupcake.
For this recipe I have used instant coffee because a) I did not want to eat my precious Nespresso pods, I prefer drinking them and b) I've always had this feeling that instant coffee adds stronger flavor in baked goods than brewed ones.
Thank you all for reading so far, I hope you loved this coffee cupcake recipe .. until next recipe, have a good cup of coffee everyday ☕.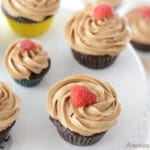 Coffee cupcake with mocha frosting
Ingredients
2 1/4

cups

all-purpose flour.

2

cups

sugar.

3/4

cup

unsweetened cocoa powder.

1 1/2

teaspoons

baking soda.

1

teaspoon

baking powder.

1/2

teaspoon

kosher salt.

1

cup

vegetable oil.

1

cup

strong brewed coffee

cooled- I've used instant coffee.

3

large eggs.

1

container sour cream.

8-ounce

A dash of vanilla powder or 1 teaspoon vanilla extract.
For the coffee frosting
2

cup

unsalted butter.

3

cup

confectioners sugar.

4

Tablespoons

instant coffee.*

2

Tablespoon

cocoa powder.*

3-4

teaspoon

of water.
For the raspberry filling
1

to 1 1/2 cup of raspberry preserve.

Optional : Fresh raspberries for decoration.
Instructions
Preheat the oven to 350 degrees F.

In a bowl mix flour, cocoa powder, sugar, salt, baking powder and baking soda well together.

Add the oils,eggs and your cup of coffee. Mix until everything is very well combined.

Fold in the sour cream.

Pour the batter into your muffin tin, fill 2/3 of each cup.

Bake for 15-20 minutes until a toothpick inserted in the middle comes out clean or do the spring test.
Meanwhile prepare the frosting
First we'll make a coffee mixture by mixing water, coffee and cocoa powder.

Cream butter,sugar and coffee mixture well together.

Fill the cupcakes with the raspberry filling , I've used Wilton tip #230.

Pipe the frosting and decorate your cupcakes.

Serve and enjoy.
Recipe Notes
*To get a stronger coffee flavor in your frosting you may use 6 Tablespoons of instant coffee and do not use cocoa powder at all, for a more chocolate-y flavor use 4 Tablespoons of cocoa powder and 2 Tablespoon of instant coffee.
Need more desserts? check out the full desserts category.
Meanwhile here are some recommendations 👇