Soft unleavened flat bread recipe. A simple 4 ingredient bread recipe with a step by step guide.
An easy to follow recipe to a tasty delicious bread. This is a Yemeni flat bread recipe that I've used in making this delicious savory bread pudding
First Published: November 2015 Last Updated: April 2019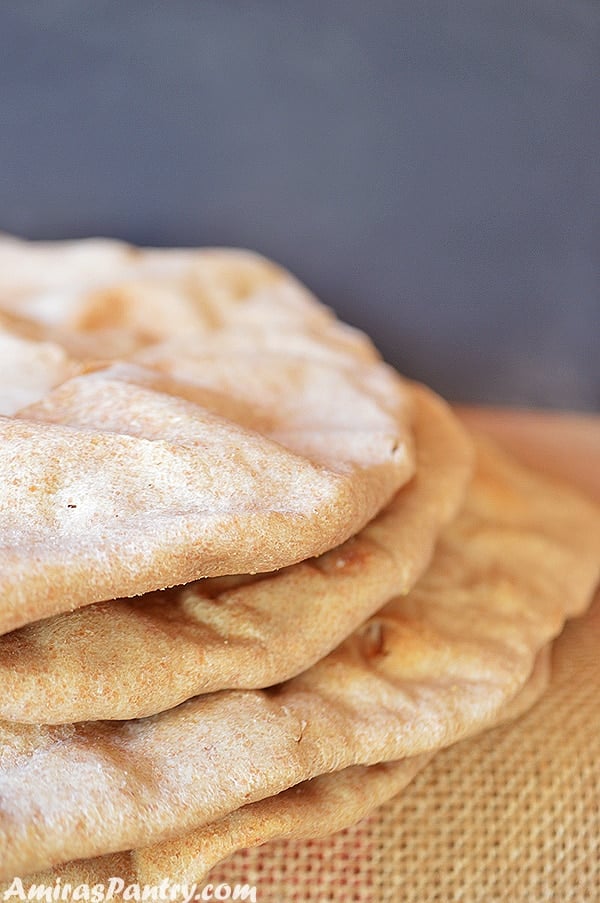 Unleavened Bread
Unleavened flat bread, started out as an experiment- with no hope of success- turned out a lovely and delicious bread recipe. This flat bread is so easy to make, smells and tastes super delicious.
I have a to do list that is longer than Rapunzel's hair. Some days I wake up so overwhelmed from what I should do and so frustrated from what I did not accomplish the day before. When frustration hits here is what I usually do:
1- Sit on the couch with a cup of tea or coffee, watching TV or reading a magazine- not helpful at all.
2- Do something that is not on my to do list - or at least not my urgent to do list- not the best choice either.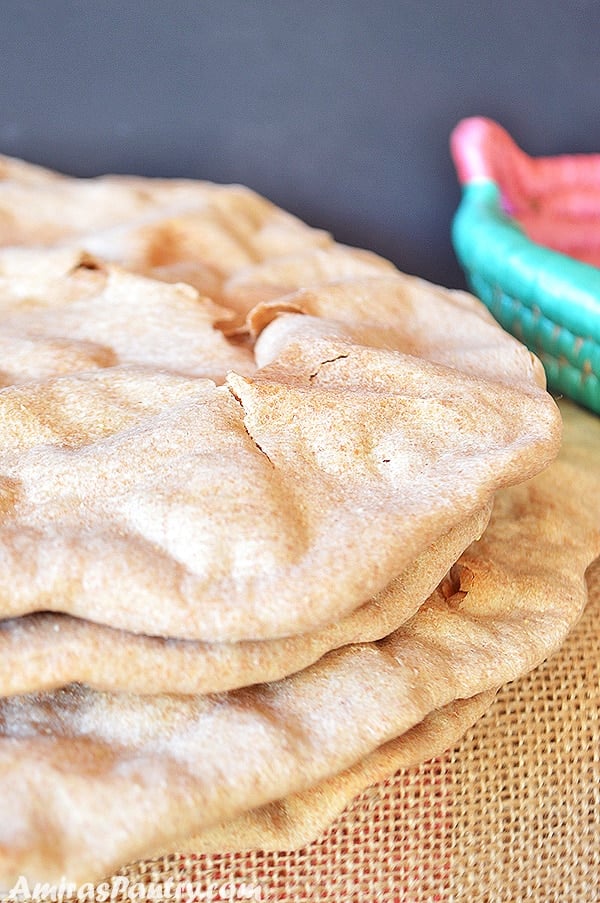 So this time I've decided to go for the second option and bake some bread. I was thinking of baking some fancy bread rolls, when I remembered a reader's request long time ago.
Somebody was asking me if it was possible to make flat bread without yeast !!!. Honestly I did not know why would want to make an unleavened bread. My only thought was allergies perhaps.. but now I know better.
For those who observe Passover, they celebrate with this kind of bread. This is one of my most enjoyed aspects in being a food blogger, I always discover something new and interesting.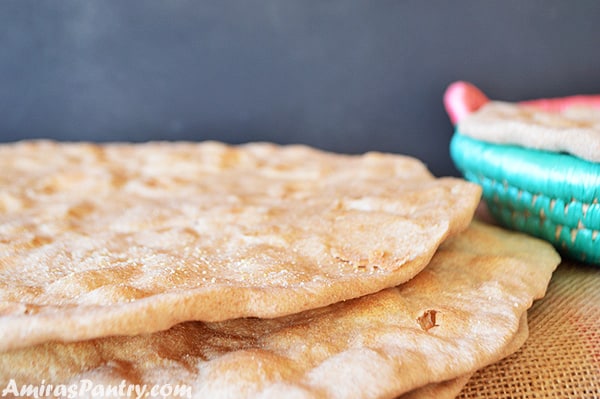 As most of you know last year was hard for me, so the request was forgotten unintentionally and I am really so sorry to the reader who requested this recipe. The worst part is I also cannot find the email :(. Yes, I am that disorganized, I used to be organized but somehow I lost my way this past year.
Anyways, better late than never, I've experimented with some ingredients and this recipe tastes the best and smells so amazingly delicious. Worth mentioning though that this recipe has no milk or eggs, so simple to make and with very few ingredients so let's see.
Unleavened bread recipe:
Dry Ingredients

In the bowl of your mixer, mix all the dry ingredients well.

Liquids

Add oil and mix then gradually add water until a firm consistent dough is formed. Cover and let it rest for 30 minutes.

Cut and rest

Cut the dough into 4 equal parts, cover and let it rest again for 30 minutes.

Shape and bake

Preheat oven to the max, putting a pizza stone or an inverted baking sheet in there to heat up as well. Roll your dough stretching it on every direction to form a 12 inch disc. Take the baking sheet out, sprinkle with some corn meal then put the dough on it. Bake for 4 minutes poking any holes that will rise.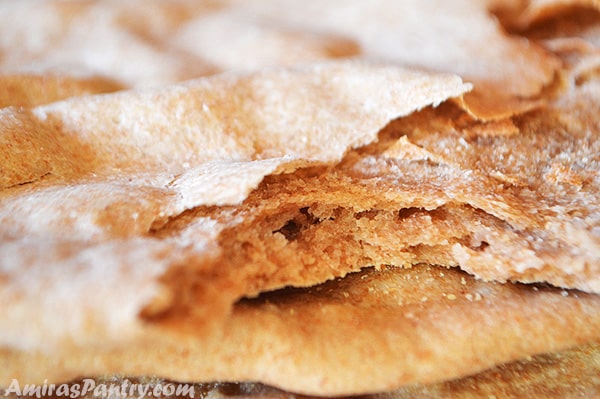 And that's it. Enjoy it with as you would normally do with any flat bread. It smells so good and will make your kitchen smell fantastic!
Other bread recipes we love
You may need
The following are affiliate links. We are a participant in the Amazon Services LLC Associates Program, an affiliate advertising program designed to provide a means for us to earn fees by linking to Amazon.com and affiliated sites.

Cuisinart pizza stone works well in this recipe, I highly recommend it.
Unleavened bread recipe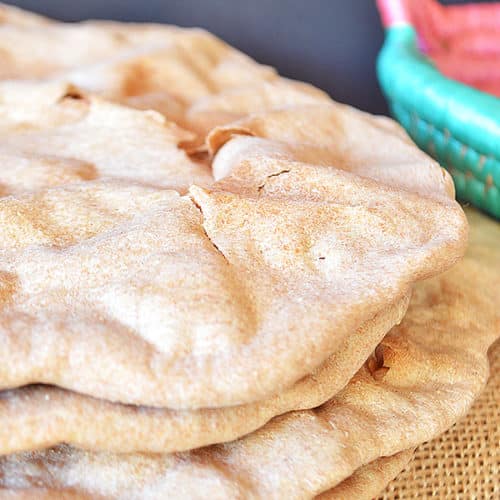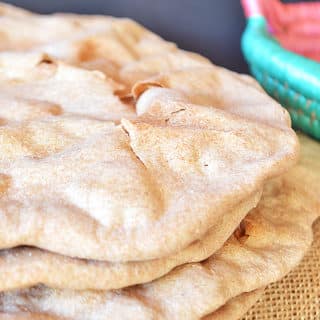 Unleavened flat bread
A delicious unleavened flat bread soft

Print
Pin
Rate
Ingredients
2

c

AP flour

2

c

whole wheat flour.

1 ½

c

water

2

tsp

salt

2

Tbs

olive oil
Instructions
Mix all the dry ingredients until combined.

Add olive oil and gradually add water while kneading.

Knead with a dough hook attached until you have a nice firm dough.

Take the dough out and knead by hand for 3 minutes until smooth and soft.

Cover the dough and let it rest for 30 minutes.

Divide the dough into 4 pieces and brush with olive oil.

Cover again and let it rest for another 30 minutes.

Heat your oven to the maximum temp - mine was 500F - putting a pizza stone in it or any baking sheet.

Roll your dough on another sheet sprinkled with some corn meal.

Place the bread on the pizza stone and bake for 3-4 minutes, poking any air pumps with a fork.

Serve immediately or place directly in a plastic bag to keep it from getting hard.

Leftovers stays fresh in room temperature for up to 2 days or it can be frozen for up to 3 months.

Enjoy.
Notes
Nutrition Facts
Unleavened flat bread
Amount Per Serving
Calories 231.3
Calories from Fat 35
% Daily Value*
Fat 3.9g6%
Sodium 581.4mg25%
Carbohydrates 44g15%
Protein 7g14%
Iron 1.1mg6%
* Percent Daily Values are based on a 2000 calorie diet.
Nutrition
Calories:
231.3
kcal
|
Carbohydrates:
44
g
|
Protein:
7
g
|
Fat:
3.9
g
|
Sodium:
581.4
mg
|
Fiber:
4.7
g
|
Iron:
1.1
mg
Sign up and learn more about Mediterranean flavors
Time to shoe you off!