Fattah
is very popular in the Middle east but it differs from one country to another,
BUT basically
it is a combination of rice, bread and sort of protein. Today I will show you how to make the
Egyptian version of fattah
that has meat as the protein component. Fattah is very common in the Egyptian kitchen specially in Eidul-Adha and also it is a main dish in a new baby banquet or what we call
Aqeeqa
– a
banquet
made for friends and family to celebrate a
new baby
.So let's start 🙂
You will need:
3 cups of uncooked rice – preferred is the Cal rose short grain rice as it is typically the Egyptian rice.

5 Pita bread pockets cut in squares – preferred the Whole grain one.

You can make your own.

2-3 pounds of meat.

1 Tbsp minced garlic cloves.

3 Tbsp unsalted butter.

2 – 3 Tbsp of white vinegar.
For the Sauce:
2 Garlic cloves minced.

1 Tbsp butter.

2 tsp of tomato paste.

1 (15 oz) can of tomato sauce.

Salt and pepper to taste.
To make fattah:
Boil meat or put it in the oven – the traditional way is boiling- until fully cooked.

Cook rice according to package directions.

In a pan over medium heat, melt the butter then add the pita pieces. Stir until the pieces are crispy and golden, lower the heat and make a well in the bread. Add minced garlic in the middle then when it is golden add the vinegar and mix them all together with the bread pieces.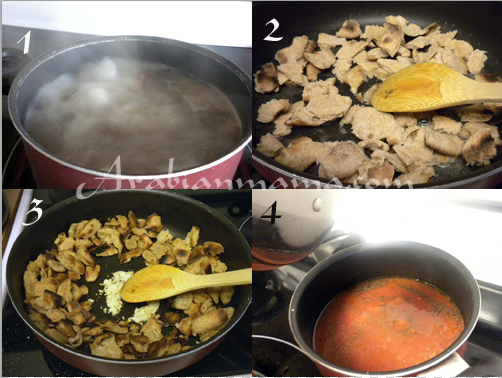 To make the sauce:
In a sauce pan over medium heat melt the butter ,saute the garlic then add the tomato sauce, tomato paste, salt and pepper to taste.
To assemble:
Assemble fattah right before you are ready to eat. In a 13×9 Pyrex arrange the bread pieces in a layer then top with rice – not necessarily the whole amount just add rice to your likeness .

Arrange the meat on top of the rice and garnish with some sauce.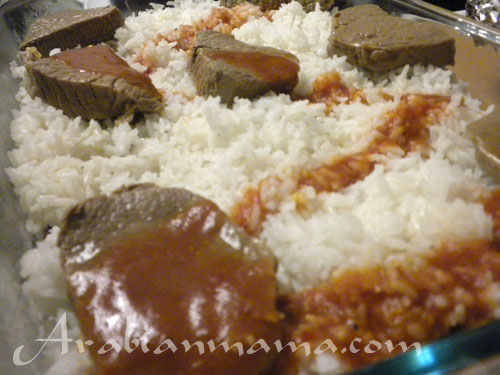 Traditionally, after bread is layered we soak it with beef stock then complete with rice and meat. Frankly I do not like it as the bread becomes so soggy and I do not like that taste I prefer it crispy and dry hence I serve the dish with more beef stock and sauce on the side for those who like it the traditional way.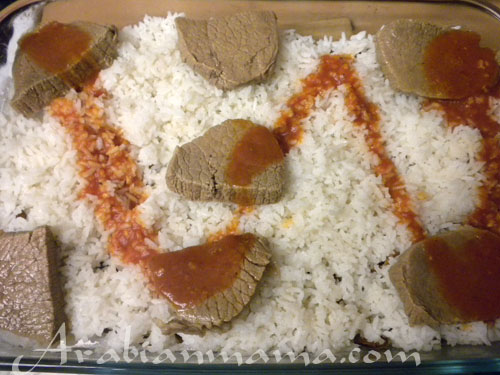 I hope you liked our Egyptian Fattah.