This big mac sauce recipe will take your burgers to the next level. Get your fast food fix at home with this stunning replica of the Big Mac sauce. Try this Homemade Reuben Sandwich, which was made with the same sauce as well.
This recipe originally published December 2017. Updated for some housekeeping things on February 2020. No change to the recipe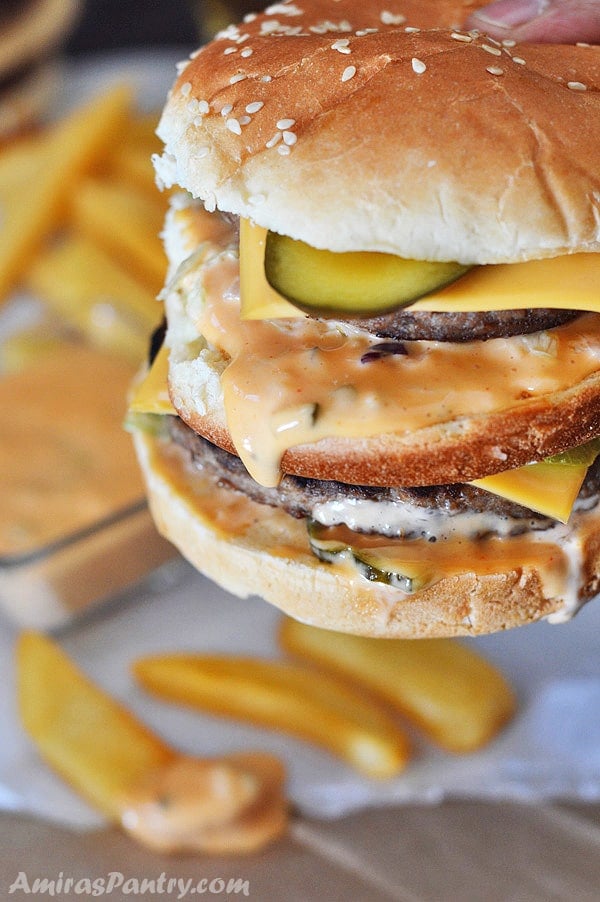 Big Mac Sauce
This sandwich has changed my kiddos' mind about homemade burgers. Was made as close as possible to the McDonals's one and got an 'A' from two kids and an 'A+' from another. This got everything you need in a double decker sandwich even the sauce. This big mac sauce recipe will give any homemade burger a facelift.
My kids only get excited about eating out when we are going to either McDonald's or Chili's!. I try to limit eating out as much as possible for both health and financial reasons, so I was so happy that I got their approval for this one.
I was surprised to know that MacDonalds actually made the sauce available for the public to purchase for a limited time, but the bottles were only sold in Australia. They were gone in 15 minutes!! and they showed up, guess where? Yes, on auction sites like eBay and with prices going up to $100/bottle!! Wow, I am not a person who will spend that kind of money on a condiment bottle of whatever... this is not within my budget.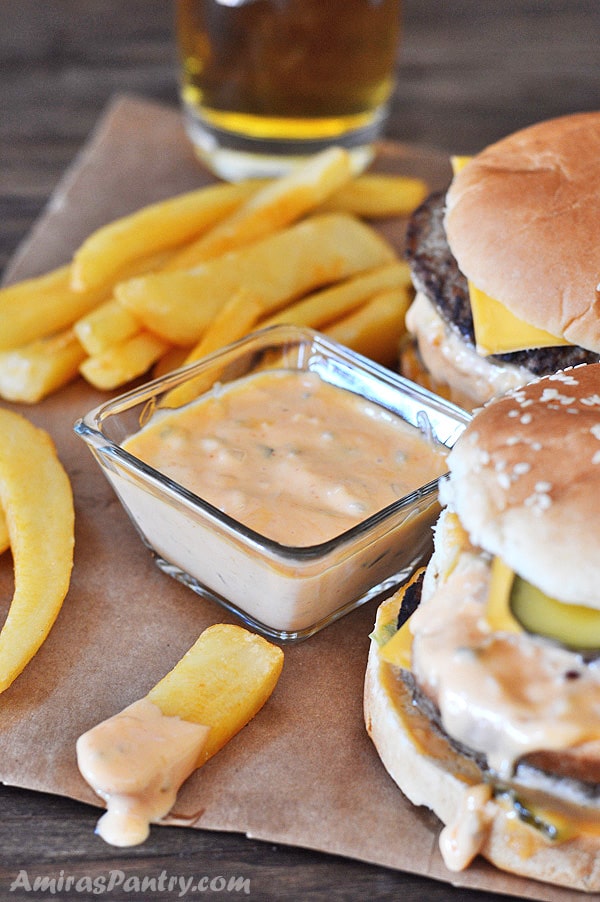 Big Mac Sauce FAQs:
Is Big Mac Sauce Thousand Island?
You'd probably think why would I do this while I can just get myself a bottle of the thousand island dressing, right? Pretty much close. So what's the difference? this sauce has more sweet pickle relish than a typical thousand island.
Some people debate that it is not an exact clone of the big mac secret sauce others say it is very close, I say this sauce goes
What Is In Big Mac Sauce?
If you look up Big mac sauce nutrition on google you'll end up with a list like this:
Soybean Oil, Sweet Relish , Distilled Vinegar, Egg Yolks, Onion Powder, Spices, Water, Salt, Propylene Glycol Alginate, Alginate (thickener), Sodium Benzoate (Preservative), Sugar, Garlic Powder, Caramel Color, Hydrolyzed (Corn, Soy and Wheat) Protein, Extractives of Paprika(color), Turmeric (Color) and Calcium Disodium EDTA (Preservative). source
No, do not worry, I am not going to ask you to get all these weird ingredients to make the sauce. This big mac sauce recipe is much simpler and easier.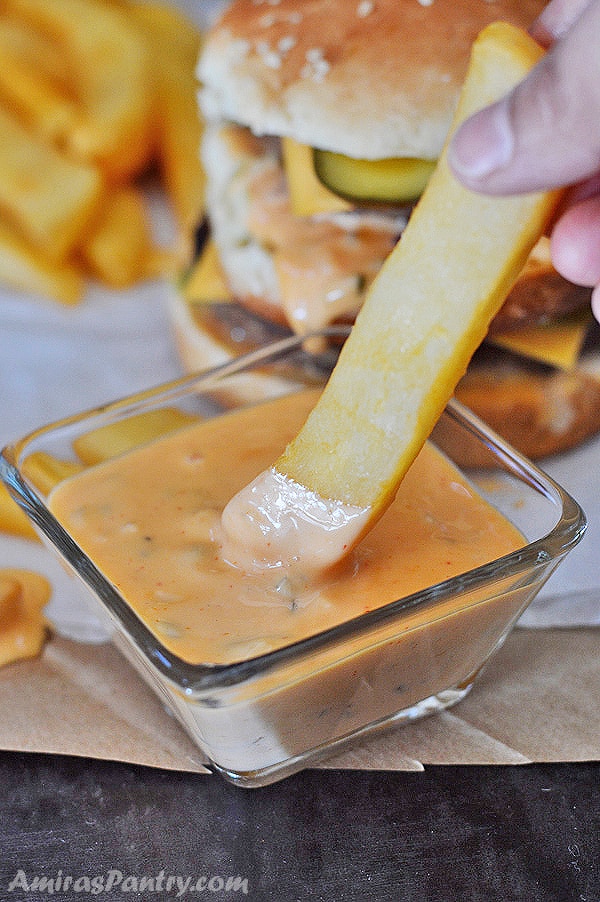 How to make the sauce
Sauce Ingredients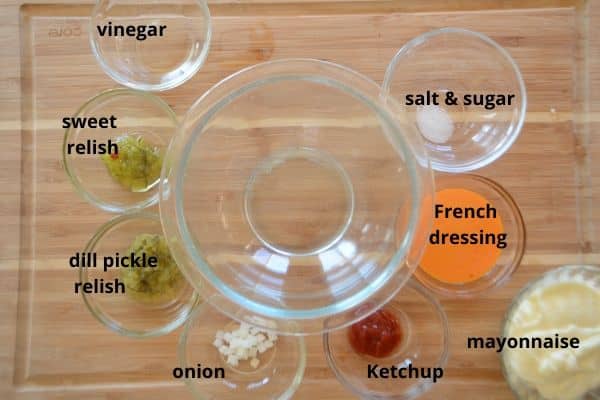 Here is what you'll need: Mayonnaise is the base ingredient for this recipe then comes some condiments that are most probably there in your fridge/pantry. Sweet relish, dill pickle relish, french dressing, vinegar, ketchup, salt, sugar and a little bit of chopped onions. I've tried it without sugar but it did not taste good enough. Also tested it without French dressing but felt it was way better with it. So test for yourself if you wish to and compare.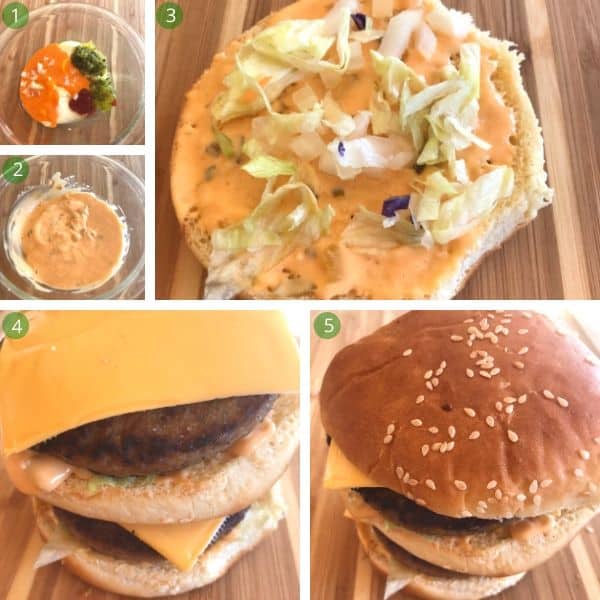 In a deep bowl, add all the sauce ingredients.
Mix everything well and let the sauce chill in the fridge for 24 hours.
Start making the big mac sandwich with the lower half of the bun. Slather some sauce then top with lettuce and chopped onion.
Stack burgers, cheese, lettuce, tomato slices, onions, pickles. Do not forget to add some sauce in between.
Cover with the upper part of the bun and serve immediately with more sauce on the side.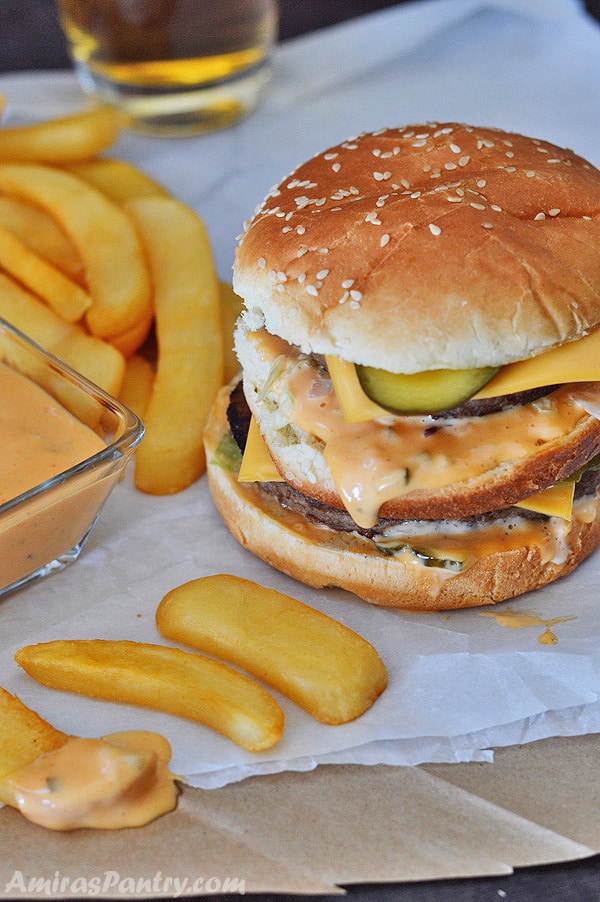 Tips for making the sauce
We've consumed this sauce right after it was done and on another happy occasion after it was refrigerated for almost 24 hours. The difference is biiiig. So I highly recommend making it the day before you fire up your grill, you'll be amazed.This happens to be a very nice sauce that was a game changer for my homemade burgers.
Other sauces on the blog
If you would are following a low carb diet, try this big mac salad from Maya.
I hope you'll like this recipe and please if you make this recipe, snap a pic and hashtag it #amiraspantry — I love to see your creations on Instagram, Facebook, Twitter!
Don't want to miss a recipe? Sign up for the FREE Amira's Pantry newsletter delivered to your inbox with lots of tips and surprises! And stay in touch with me on Facebook, Twitter, Pinterest, and Instagram for all the latest updates
Big mac sauce recipe:
This Big Mac Sauce copycat recipe is so close to the McDonald's sauce, it is guaranteed to take your homemade burgers to the next level.
If you like this recipe do not forget to give it a ⭐⭐⭐⭐⭐ star rating and attach a photo of your finished dish. It is always a pleasure of mine to see your photos and check your own take of the recipe. Thank you.
Pretty damn close!! Nobody noticed a difference.

Andrea Coy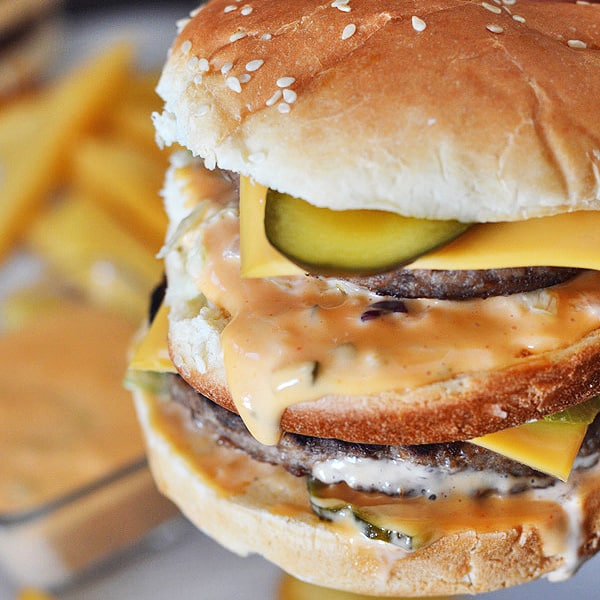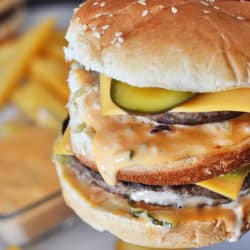 Big Mac Sauce Recipe
This Big Mac Sauce copycat recipe is so close to the McDonald's sauce
Print
Pin
Rate
Ingredients
For the sauce:
1/2

cup

Mayonnaise.

2

heaping Tablespoons French dressing.

1/2

Tablespoon

sweet relish.

2

teaspoon

dill pickle relish.

1

teaspoon

sugar.

1

teaspoon

white vinegar.

1

teaspoon

ketchup.

1

teaspoon

onion

minced.

A pinch of salt.
For each burger you'll need:
1 1/2

hamburger buns.

2

hamburger patties.

1-2

slices

of yellow American cheese.*

Shredded lettuce.

Minced onion.

Dill pickle slices.

Secret sauce.
Instructions
Make the sauce:
Mix all sauce ingredients in a bowl, cover and refrigerate for 24 hours or at least 2 hours.
Assemble the Big Mac:
Fire the grill and make your burgers or cook them in a skillet on stovetop.

Lightly toast the bottom buns.

Slather the bottom bun with about 1 Tablespoon of the secret sauce, add lettuce, onions, cheese then hamburger.

Top that with another bottom bun and repeat the steps above.

Top with the remaining bun top.

Serve with French fries and ketchup on the side.
Nutrition
Calories:
295.8
kcal
|
Carbohydrates:
4.7
g
|
Protein:
0.5
g
|
Fat:
30.9
g
|
Saturated Fat:
5
g
|
Polyunsaturated Fat:
2.3
g
|
Monounsaturated Fat:
0.8
g
|
Cholesterol:
10
mg
|
Sodium:
439.1
mg
|
Potassium:
13.4
mg
|
Sugar:
7.5
g
Time to show you off!