Fish with béchamel !!!! No way I can eat something like that ... This was my first reaction when I heard about this from my older sis but then she encouraged me to give it a try. I made it as a surprise dish for my hubby, he was not so excited about it either. But ever since the first time, we almost never had fish fillet another way. It is delicious, healthy, mouth watery ...... etc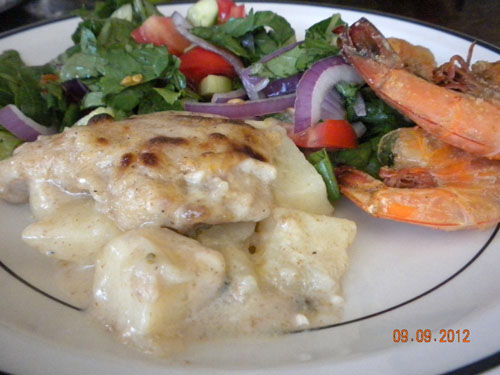 You will need:
6 pieces of

fish fillet

- any kind
3 cups of

diced potato

1 cup of diced

bell pepper

- I used red one
1/2 cup of cut

cilantro

2 tsp of minced

garlic

2tsp of ground

cumin

1 medium

onion

cut
4 Tbs

olive oil

salt to taste
For the béchamel sauce you will need:
4 Tbs of

olive oil

3 Tbs of

flour

- I used whole wheat flour as I did not have an all purpose one in hand
3 cups of

2% milk
How to make this yummy:
In a bowl mix the garlic,

oil, cumin and salt

together then divide in half. Mix the fish with one part of the previous mixture.
In another bowl mix the

potato, onion, pepper and cilantro

together then add the

remaining

part of the mixture and mix well.
In a deep oven dish put the

vegetable mixture first

then top with the fillet, bake in a 350 F pre heated oven for about 25 min. Test with a fork to ensure it is done.
Meanwhile, prepare the

béchamel

sauce as usual by

heating the oil

in a saucepan then add the flour, stir it quickly into the oil. This will make

a wet mixture

, keep on stirring until it is

golden then slowly pour the milk

and whisk vigorously.
Get the fish out of the oven and pour the sauce on it,

return to the oven

for another 15 min.

then broil for

3 min. or until it is nice and

brown

.
I served it with green salad and shrimps with white rice- not shown in the pictures.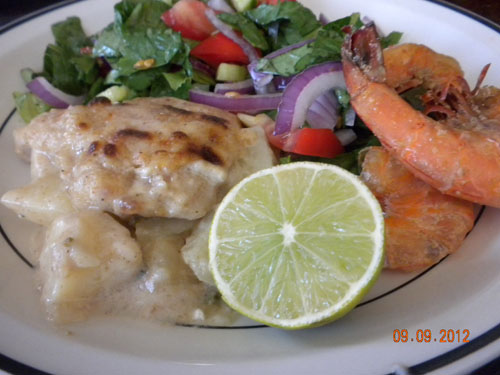 Veeeeery yummy. Trust me.