An easy Mediterranean couscous salad, nutty, fruity and full of flavors. Great to accompany any meal, favorite side with grilled meats and a pleasure to bring to your next potluck.
Pearl couscous combined with arugula, pomegranate seeds and red onion then dressed up in a sweet and sour couscous salad dressing. Finished with chopped pecan for a nutty and crunch factor.
First Published: June 2018 Last Updated: May 2019
[mv_video doNotAutoplayNorOptimizePlacement="false" doNotOptimizePlacement="true" jsonLd="true" key="jhsdxfty8dvvomghmqzi" thumbnail="https://mediavine-res.cloudinary.com/video/upload/jhsdxfty8dvvomghmqzi.jpg" title="MEDITERRANEAN COUSCOUS SALAD" volume="70"]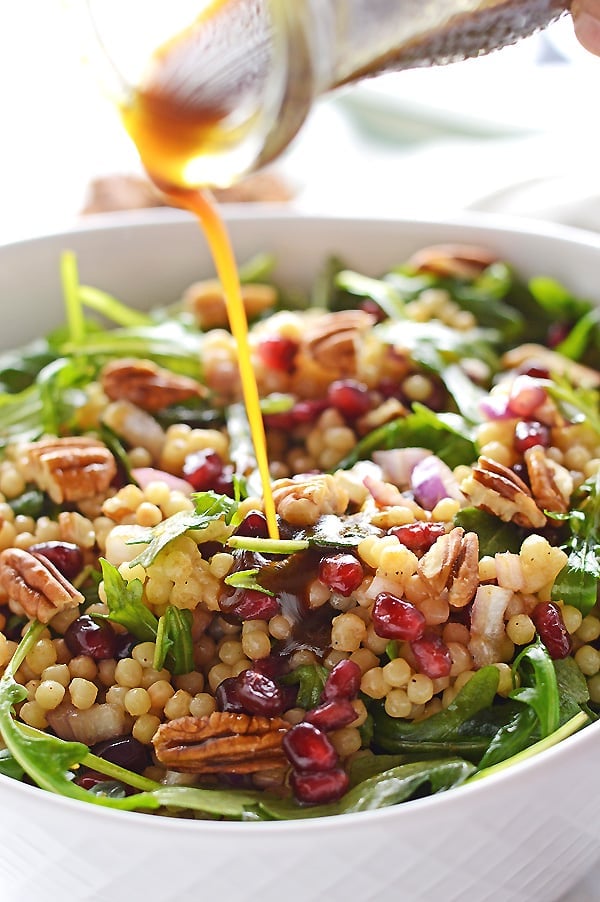 Mediterranean couscous salad
In the Middle East we are more used to regular fine couscous than this pearl couscous. I wanted to try these big pearls for a new look and it did great. You can make this couscous salad with the regular couscous of course, so feel free to use whatever you like.

This Mediterranean couscous salad is great on its own as a light vegan lunch or as a healthy side to your dinner. The salad bears a lot of flavors and textures with bright notes coming from the use of pomegranate molasses. It is really amazing how small amount of the pomegranate molasses can left your dish to an OMG-level of deliciousness.
Choosing a side dish other than rice and pasta is always hard for me. My kids are very traditional when it comes to side dishes. Couscous, however, they sometimes eat. I'm used to buying these ready flavored couscous packets in the market and make them. They can be a bit pricey though, but making plain couscous is not something my kids like.
Two of my kids picked up the pomegranate seeds and put them aside, bummers, the third was happy with everything. With all seriousness, I feel the addition of pomegranate seeds made this dish wonderful. So do not try to skip it unless you are allergic to it of course. I have never met someone, yet who is allergic to pomegranate seeds but who knows🤷.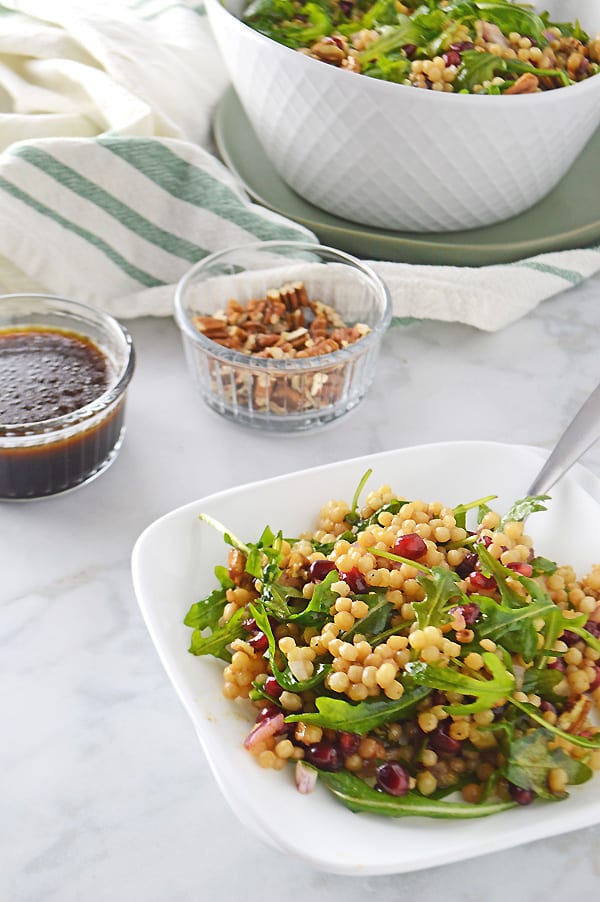 Couscous Salad FAQs
Is couscous part of the Mediterranean diet?
Coucous is a staple in North African cuisines and is he base of most Mediterranean diets. Couscous is traditionally made with moistened semolina rolled in wheat flour.
Is couscous better for you than rice?
If we are talking white rice then couscous has more fiber in it. But what about brown rice? Calorie wise, couscous is lower but brown rice has more fiber and wins in nutrients. Source.
Can Couscous be eaten cold?
Yes of course, actually this salad can be served warm or cold so feel free to serve it either ways.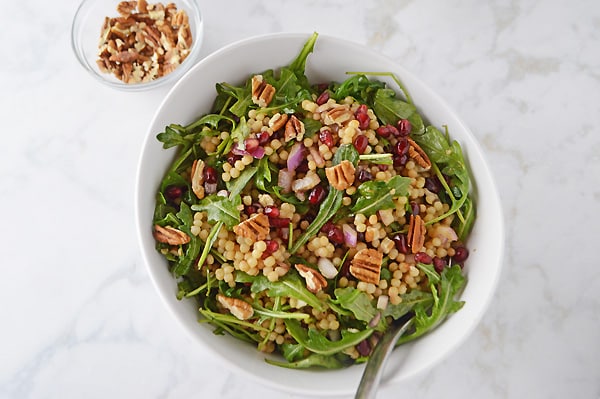 Mediterranean Salad Recipe
This salad is actually very easy, it just needs you to cook the couscous and the rest is dump and serve.
Make sure you have all the ingredients ready before you start as this recipe is served immediately.
Toast couscous in olive oil and butter 1-2 minutes. Then Pour water and season with salt and pepper. Bring to a boil, cover and simmer for 10 minutes. Remove from heat and use a fork to fluff and separate couscous, let it cool down.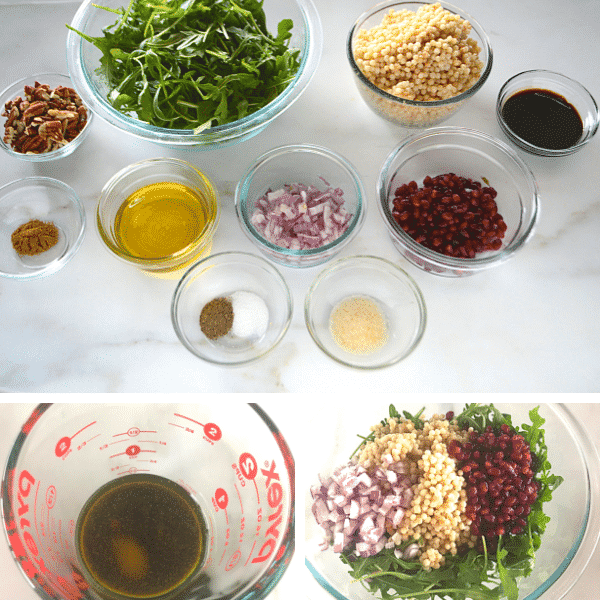 Make the dressing by adding the ingredients and combine well.
In a deep bowl, add couscous, arugula and pomegranate seeds together. Pour dressing over and toss to combine. Garnish with pecans or your favorite chopped nuts.
Some notes about couscous salad
I liked cooking the couscous with only water and no broth or stock involved.I felt that cooking the couscous with chicken broth will make this dish lose its light characteristic.
I've cooked the couscous with 1 tablespoon of butter and with olive oil. Skip the butter for a totally vegan recipe.
This recipe should be served immediately, or at most within two hours. This is because arugula tends to welt quickly. If you want to make it in advance, add arugula just before serving.
Play with the recipe and change the greens, use baby spinach or mixed salad greens.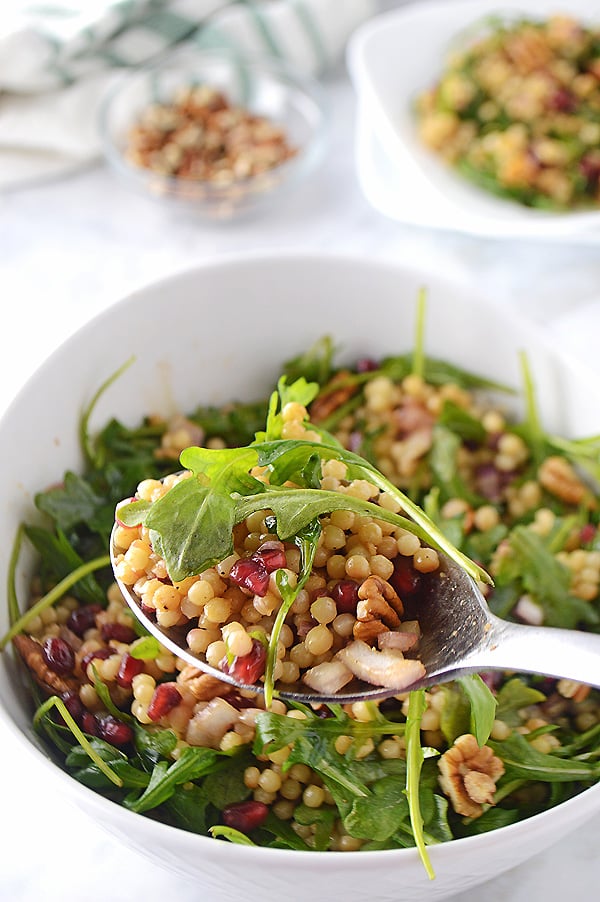 Other irresistible salad recipes
You may need
The following are affiliate links. We are a participant in the Amazon Services LLC Associates Program, an affiliate advertising program designed to provide a means for us to earn fees by linking to Amazon.com and affiliated sites. Thank you so much for being a part of Amira'sPantry!
I like this pomegranate molasses for its complex tanginess that it offers to my dishes, I also love the balance in the sweet and sour flavors.
Fruity, tangy and packed with flavors Mediterranean couscous salad that can be served cold or warm. If you like this recipe do not forget to give it a ⭐⭐⭐⭐⭐ star rating and attach a photo of your finished dish. It is always a pleasure of mine to see your photos and check your own take of the recipe. Thanks you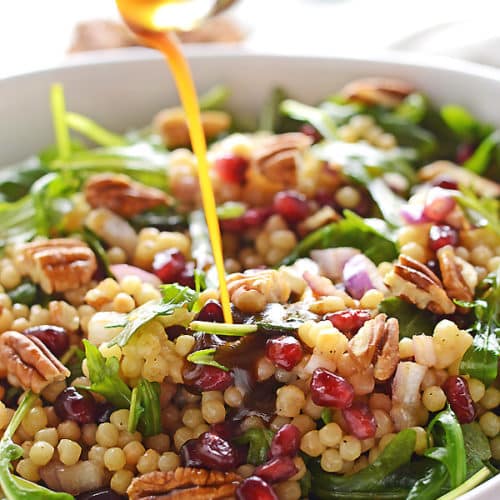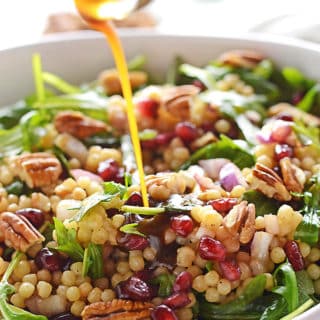 Mediterranean Couscous salad
A light lunch or a side dish for dinner, this couscous salad is healthy, flavorful and easy.
Print
Pin
Rate
Ingredients
For the couscous:
1

cup

(5oz / 145gm) dry pearl couscous.

1

teaspoon

unsalted butter.

1

teaspoon

olive oil.

1 1/4

cup

(300 mL)water or broth.

Salt and pepper to taste.
For the salad:
3

cups

(65 gm) baby arugula.

1/2

cup

(3 oz / 87gm) pomegranate seeds.

1/4

cup

(2oz / 60gm) red onion chopped.
For the dressing:
1

teaspoon

sugar.

1/2

teaspoon

salt or to taste.

1/4

teaspoon

freshly ground black pepper.

1/2

teaspoon

ground cumin.

3

Tablespoons

(44 ml) pomegranate molasses.

1/4

cup

(60 ml) extra version olive oil.

1 1/2

teaspoon

water.
For garnishing:
1/2

cup

(2oz / 54gm) chopped pecan/walnuts or pistachios.
Instructions
Cook the couscous:
In a sauce pan over medium heat, add butter and olive oil stir until butter melts.

Add couscous and toast for 1-2 minutes.

Pour water in and season with salt and pepper.

Bring to a boil then cover and simmer for 10 minutes.

Remove from heat and use a fork to fluff and separate couscous, let it cool down.

Couscous might clump together but it will separate when making the salad.
Make the dressing:
In a jar or measuring cup whisk the dressing ingredients well together until sugar and salt dissolves. Set aside.
Make the salad:
In a large bowl, combine salad ingredients and couscous.

Pour over dressing and toss to coat well.

Garnish with chopped nuts.

Serve immediately
Nutrition
Calories:
281.9
kcal
|
Carbohydrates:
25.7
g
|
Protein:
1.6
g
|
Fat:
17.7
g
|
Cholesterol:
1.7
mg
|
Sodium:
200.7
mg
|
Fiber:
1.7
g
|
Sugar:
8.1
g
|
Vitamin A:
530
IU
|
Vitamin C:
6.4
mg
|
Calcium:
57
mg
|
Iron:
1
mg
Sign up and learn more about Mediterranean flavors