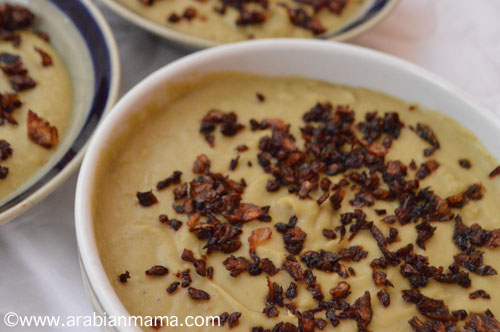 Besara or Busara
is one of what I call "frugal recipes" in the Egyptian cuisine. This dish is economical, nutritious, and very easy to put together.Those of you who like
falafel
will most probably like this dish too.
You will need:
1 cup of yellow fava beans, like the one we used in making the

falafel

.

2 medium onions, diced.

3 garlic cloves. crushed.

1/2 cup of parsley, chopped.

1/2 cup of green cilantro, chopped.

1/4 cup of fresh dill, chopped

salt,cumin, pepper to taste.

4 Tbs of oil.

3 cups of boiling water.
Let's go for it:
In a saucepan, heat half the oil then add the garlic and half the onion , stir until golden yellow then add the beans, fresh herbs , cumin and add the 3 cups of water or enough to cover the ingredients completely.
When the mixture reached boiling , reduce heat and let it cook for about an hour until the beans are done, you may add more water if you need to. Turn off the heat and let it cool down.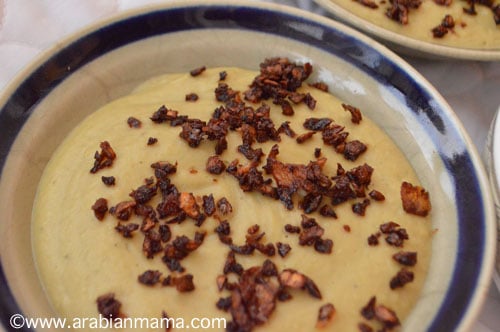 When it is cooled, put the ingredients in the food processor and mix them until it forms kind of a smooth paste.
In a pan brown the remaining onions in the remaining oil. Transfer the besara into serving dish(es) and top with the caramelized onions.
Refrigerate until completely chilled, or you can eat it while it is in room temperature. It is usually eaten cold with pita bread or as a dip.
Some people skip browning the onions and garlic at first and just add all the ingredients with water until done, but I feel it is tastier this way.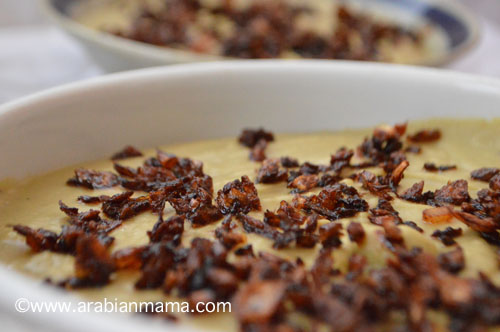 Try it and tell me what do you think.