A healthy, tangy salad, that has lots of fresh vegetables and very filling as it has white creamy beans. This is a stable in my Ramadan banquets, it appeals to all my guests. Make this white beans salad as your side dish or make it for dinner with a slice of crunchy Italian bread, stir in some pasta and you will have a meatless dinner ready in no time.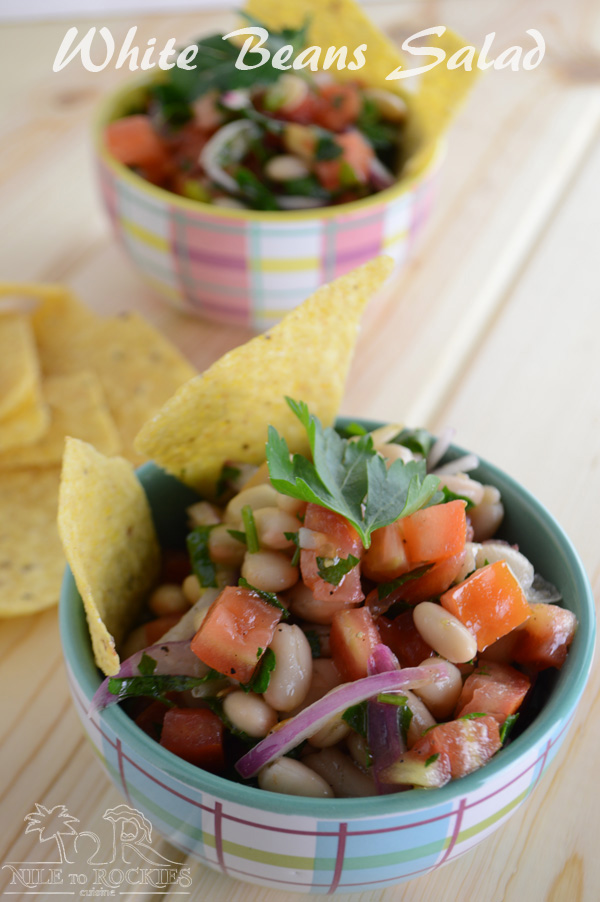 This is a very easy salad, that comes together in less than 10 minutes – excluding the time of chopping. I usually like to make it accompanied with some pasta, so I make it, put it in the fridge until I finish boiling my pasta. Sometimes I serve it with some chicken on the side for those who want more protein but seriously, unless you are so carnivorous like my family, you will not miss the meat.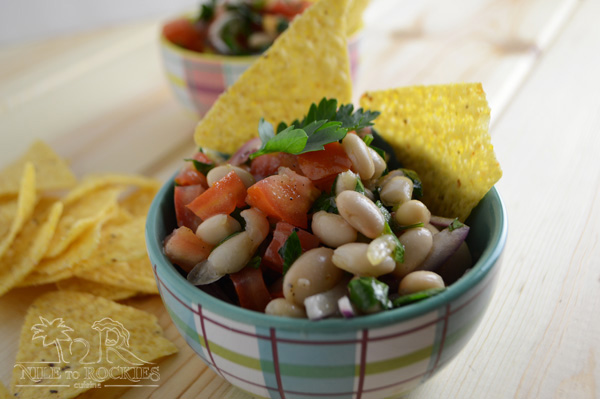 This recipe is so versatile, you also may want to add a can of tuna and have it with some tortilla chips. You can also make it with any kind of beans or bean combination you have but really, you will find that white – cannellini- beans are the creamiest among the beans family, I like this kind of beans as it is easiest for my kiddos to accept as well.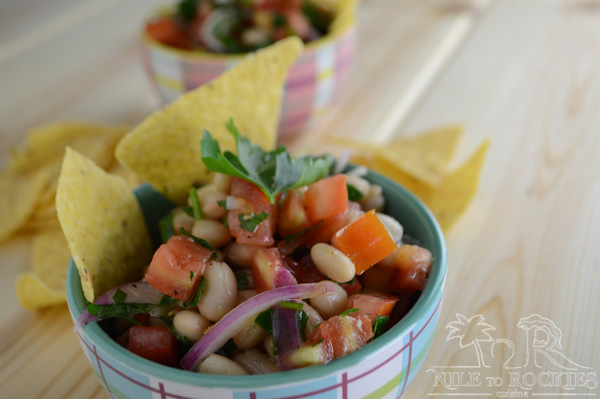 When I am having guests, I would like to serve this refreshing salad with grilled meat and chicken, I have been making this salad for years and it never failed to impress my guests. I hope you will like it and give it a go. Enjoy the rest of your week.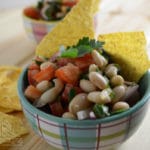 White beans salad
A delicious tangy salad that can easily turn into a healthy lunch or dinner.
Print Recipe
Ingredients
*1 can white beans

12oz, washed and drained.

1/2

cup

red onion cut into wedges= 1/2 small onion.

1/2

cup

parsley - chopped.

1

cup

diced tomato.

1/8

cup

lime juice.

1/8

cup

olive oil.

1

Tablespoon

white vinegar.

1/2

teaspoon

salt.

1/4

teaspoon

freshly ground black peppers.
optional
1/4

teaspoon

ground cumin.
Instructions
In a bowl, add the washed beans, parsley, tomatoes and red onion.

Add the lime juice, vinegar, olive oil, salt and pepper, then mix everything well.

Cover and refrigerate for an hour.

Serve in bowls with some crackers or as a side dish with grilled meats.

Enjoy!!
Notes
* You can use dry beans, soak it over night and then boiling it until tender.
Need more salad recipes?