Fragrant turmeric and saffron rice cooked with chicken and some peas to add texture and color, and all in one pot for more flavor and less cleanup. The perfect one-pot chicken meal.
Chicken with yellow rice also known as Arroz con Pollo is a classic recipe from Spain and Latin America. This is my Arabic version of the recipe inspired by my mom. We love anything and everything yellow rice and this one is a complete meal by itself. Have some salad on the side and dinner is served.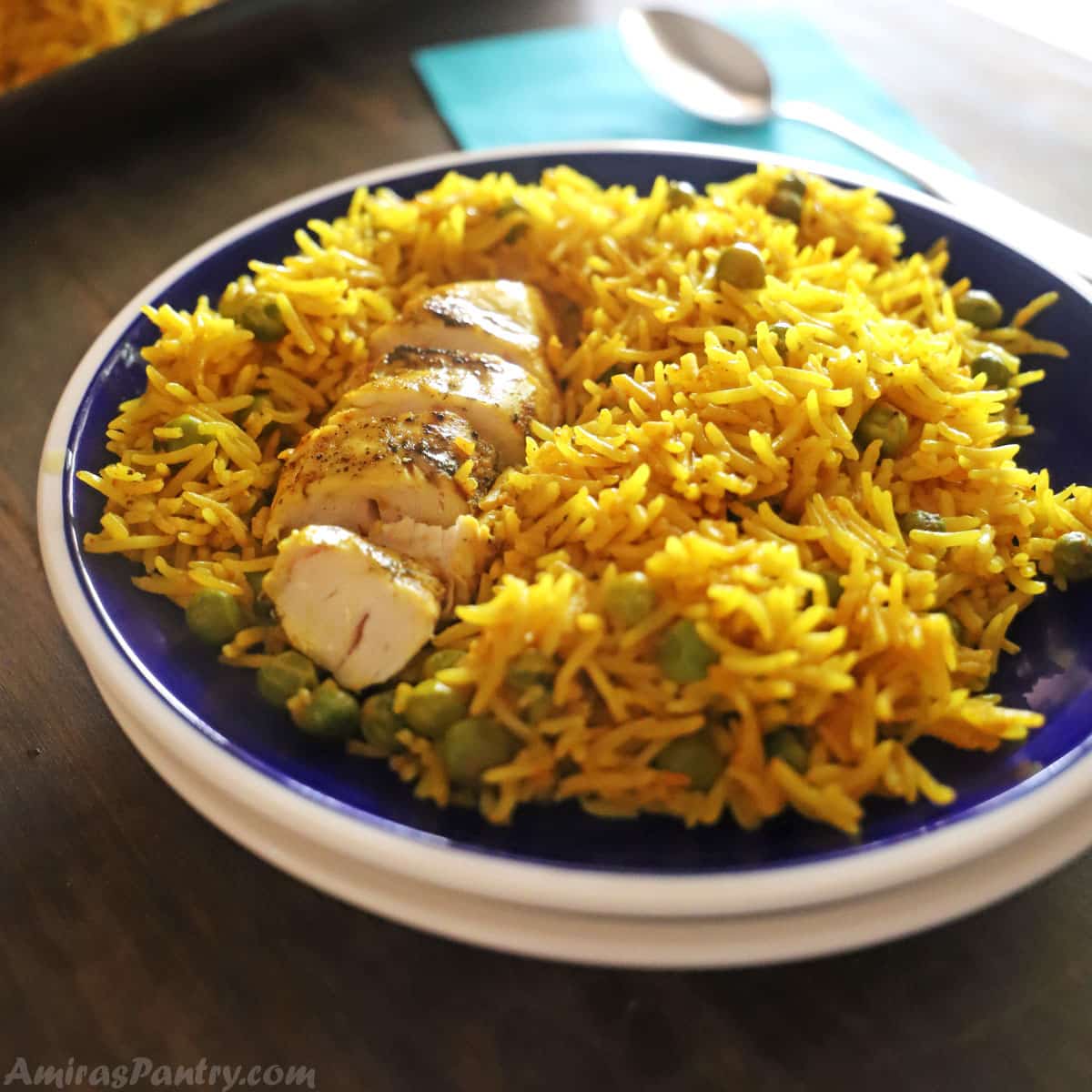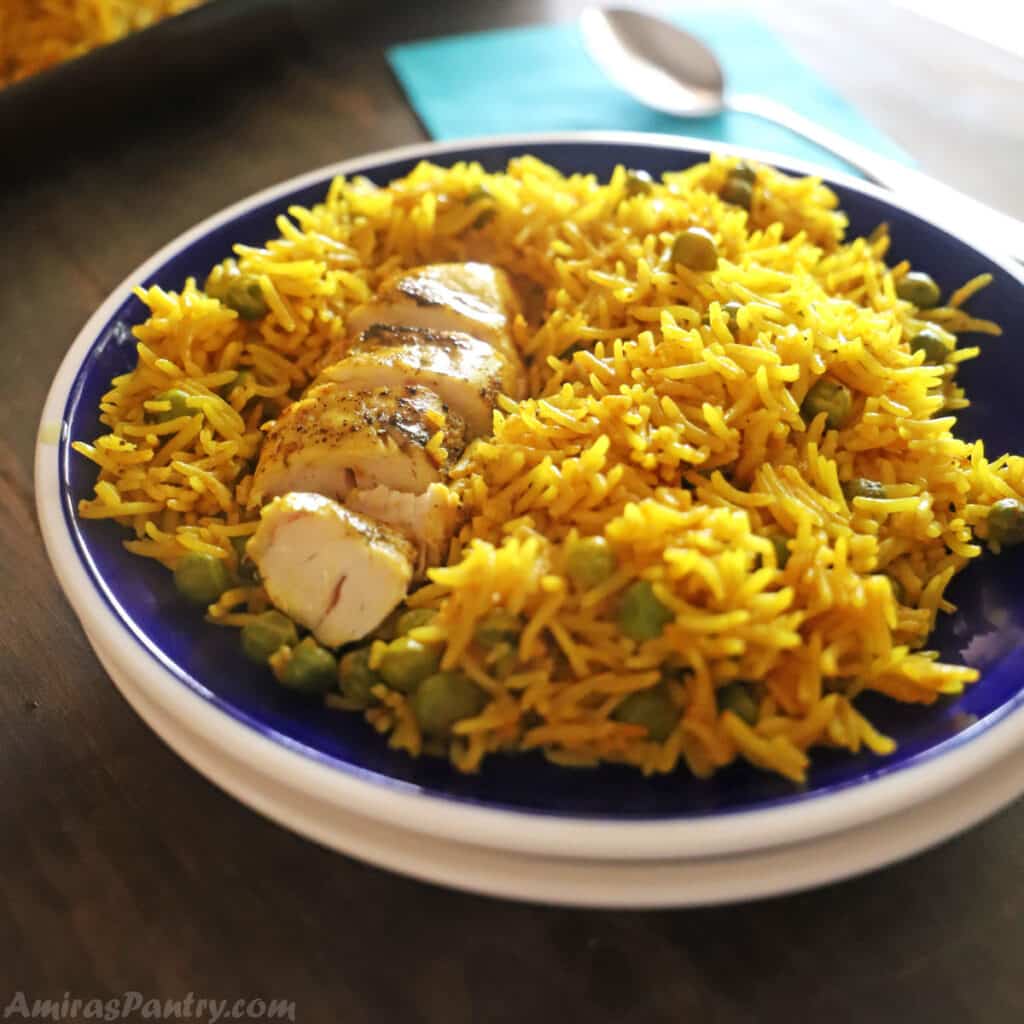 Ingredients: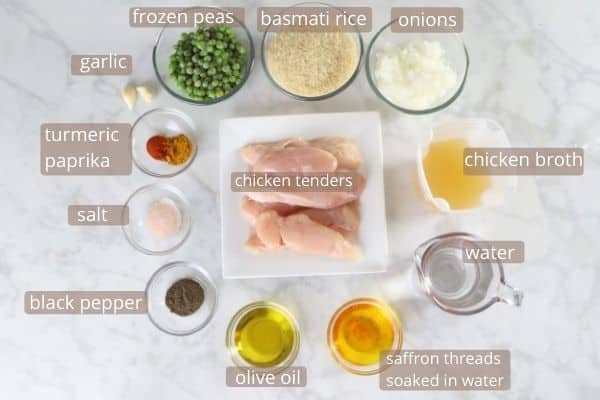 Instructions: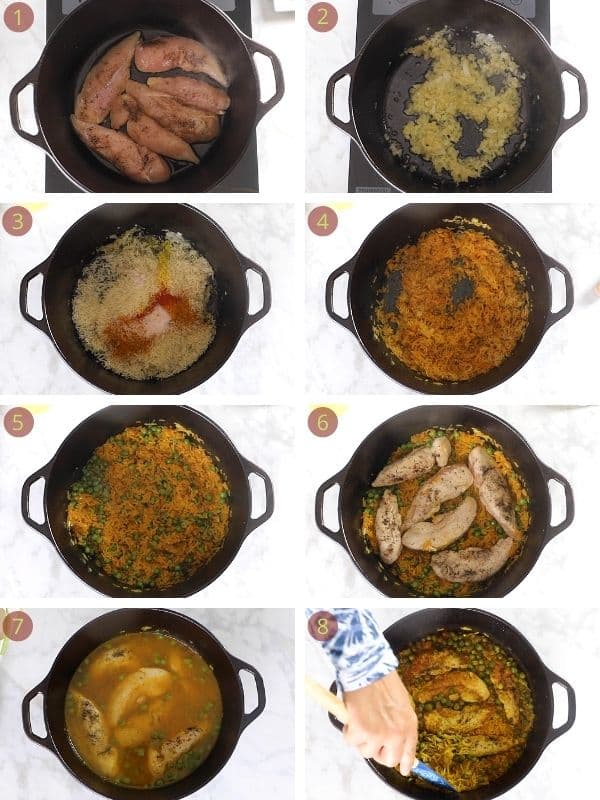 In a pot over medium-high heat, heat oil then add seasoned chicken. Cook on both sides until white. Remove from heat and set aside.
In the same pot add the remaining oil and saute onions for 2 minutes then stir in garlic for another 30 seconds. Remove pot from heat.
Add rice and spices to the pot.
Mix well to combine until all the spices are evenly distributed.
Mix in frozen peas.
Arrange the chicken pieces over the rice.
Pour chicken broth and boiling water, cover, and bake in the oven until done.
Take out of the oven, let it rest for 10 minutes then fluff with a spatula.
What kind of chicken cut to use?
This recipe is so forgiving, meaning you can use whatever chicken you have. In my home my kids prefer chicken tenders but you can use chicken breast, thighs, drumsticks, you can use boneless or bone-in chicken. Make sure to adjust cooking time accordingly.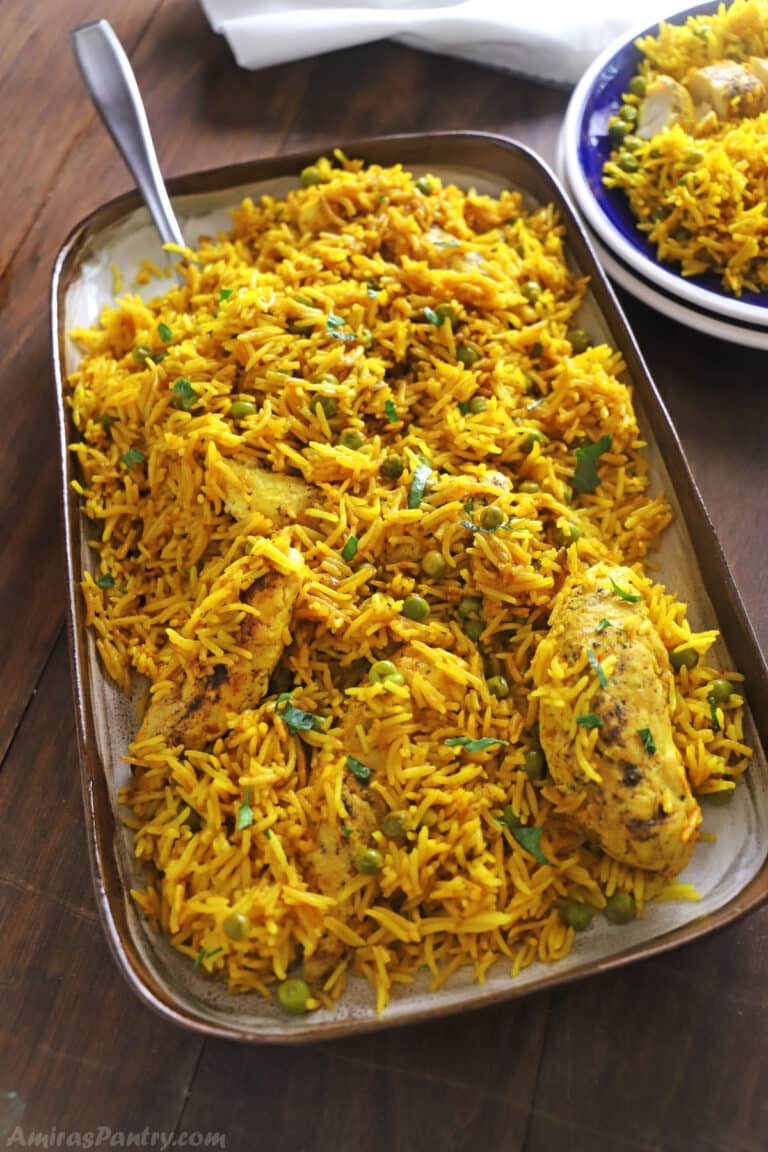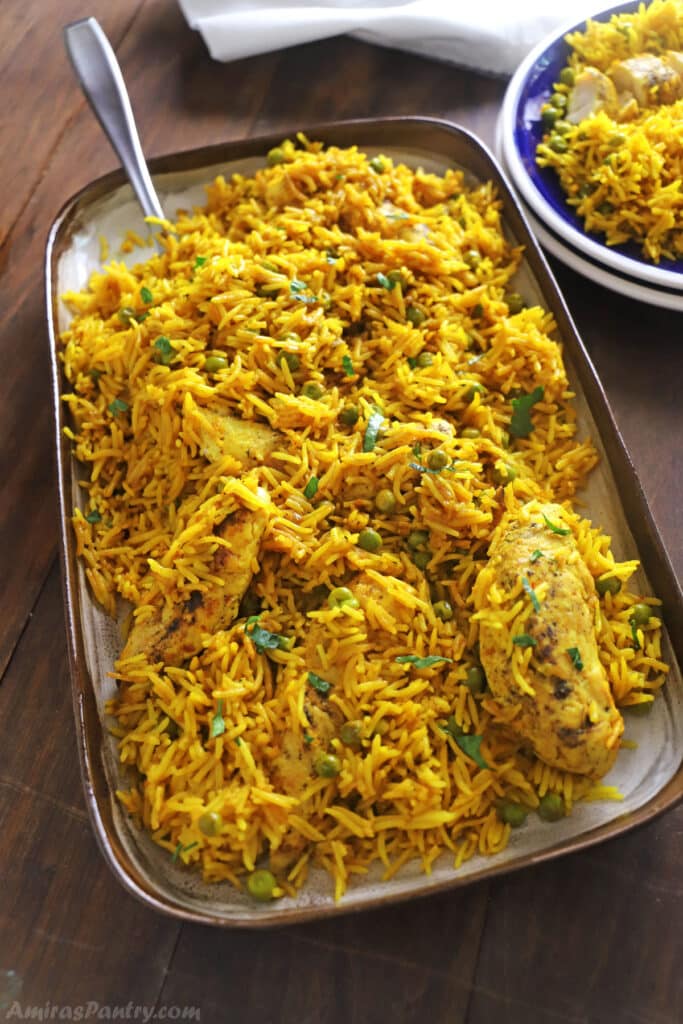 What type of rice to use?
I prefer Basmati or Jasmine and I remember my mom cooking it with short grain rice too. So use whatever you have but just adjust the water level of course.
Variations:
Try making this a new recipe each time. Change the chicken type or make it meatless. Experiment with vegetables to add like carrots, green beans, any type of beans, add diced bell peppers.. etc.
You are going to love this easy chicken and yellow rice recipe especially in busy days. If you do not want it baked, you can for sure finish it off on the stove top or use your rice cooker. When making it in a rice cooker make sure your chicken is halfway done especially if you are using bone-in chicken.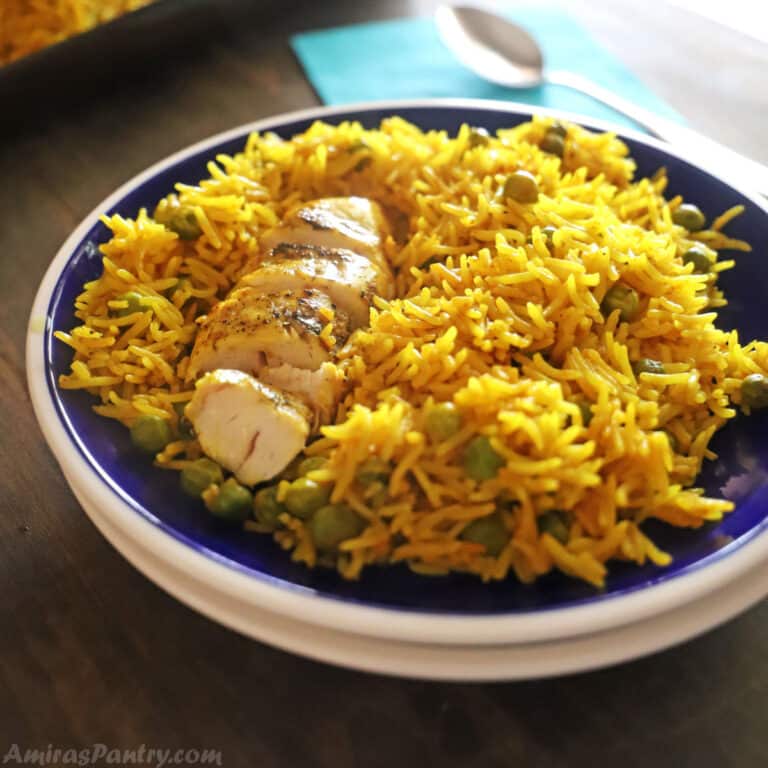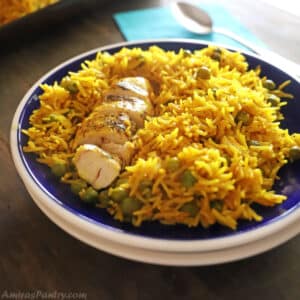 Chicken and yellow rice
This recipe for chicken and yellow rice has tons of flavors with fluffy basmati rice. Make it with whatever chicken you have for an easy one pot meal.
Print
Pin
Rate
Ingredients
A pinch of saffron threads.

1/4

cup

hot water.

4

Tablespoons

olive oil

divided.

1

pound

Chicken tenders.

About 6 pieces.

Salt and pepper.

1

onion (200g)

, diced.

2

garlic cloves

minced.

1 1/2

cups

(300g) basmati rice.

1 1/2

teaspoon

turmeric powder.

1

teaspoon

salt

or to taste.

1/2

teaspoon

paprika.

1

cup

130g frozen peas.

1 1/2

cups

chicken broth.

1

cup

boiling water.
Instructions
In a small bowl, soak saffron threads in 1/4 boiling water.

Sprinkle some salt and black pepper to season chicken on both sides.

In a pot over medium-high heat, pour two tablespoons of olive oil and heat.

Add chicken tenders and lightly brown on both sides. Remove and set aside.

In the same pot add remaining oil sauté onions for 2 minutes.

Add garlic and sauté for another 30 seconds.

Turn heat off and remove the pot from heat.

Preheat your oven to 350F.

If your pot can go to the oven continue with the recipe in the pot otherwise empty pot into a baking dish.

Add rice, turmeric, paprika, salt and the saffron with its water.

Mix them all well.

Mix in frozen peas and return chicken to the pot.

Pour in chicken broth and boiling water. With a spoon try to mix everything so the chicken is covered with the cooking liquids.

Cover and bake in the middle rack of your oven for 30-40 minutes.

Let it rest for 10 minutes then fluff with a rubber spatula.
Video
Notes
Please check the nutrition disclaimer policy.
Vitamins are in percentage value. Percent Daily Values are based on a 2,000 calorie diet. Your daily values may be higher or lower depending on your calorie needs.
Nutrition
Calories:
350.9
kcal
|
Carbohydrates:
43.2
g
|
Protein:
21.7
g
|
Fat:
10.3
g
|
Saturated Fat:
1.6
g
|
Polyunsaturated Fat:
1.2
g
|
Monounsaturated Fat:
7
g
|
Cholesterol:
44.6
mg
|
Sodium:
370.1
mg
|
Potassium:
216.8
mg
|
Fiber:
1.8
g
|
Sugar:
2.9
g
|
Vitamin A:
11.7
IU
|
Vitamin C:
11.7
mg
|
Calcium:
1.9
mg
|
Iron:
16.1
mg
Sign up and learn more about Mediterranean flavors
This recipe originally published November 2015. Updated on August 2020.