Fragrant turmeric and saffron Jasmine rice cooked with chicken and some peas to add texture and color, and all in one pot for more flavor and less cleanup.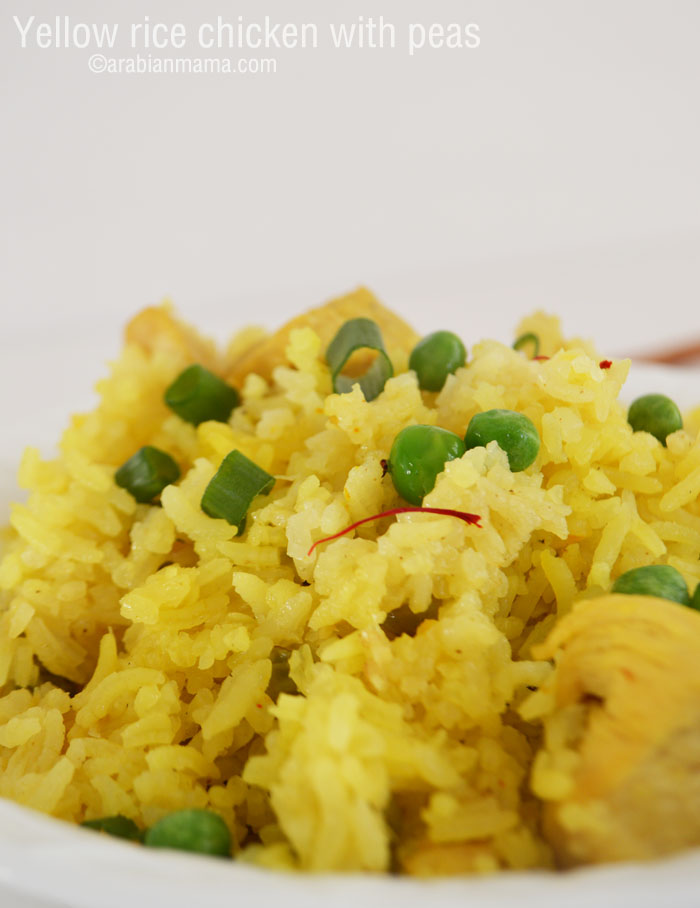 The holiday season officially here, with Thanksgiving coming up everyone is excited about food and ready to present his/her best. Neither me nor my husband grew up celebrating Thanksgiving, as we do not celebrate Thanksgiving in Egypt.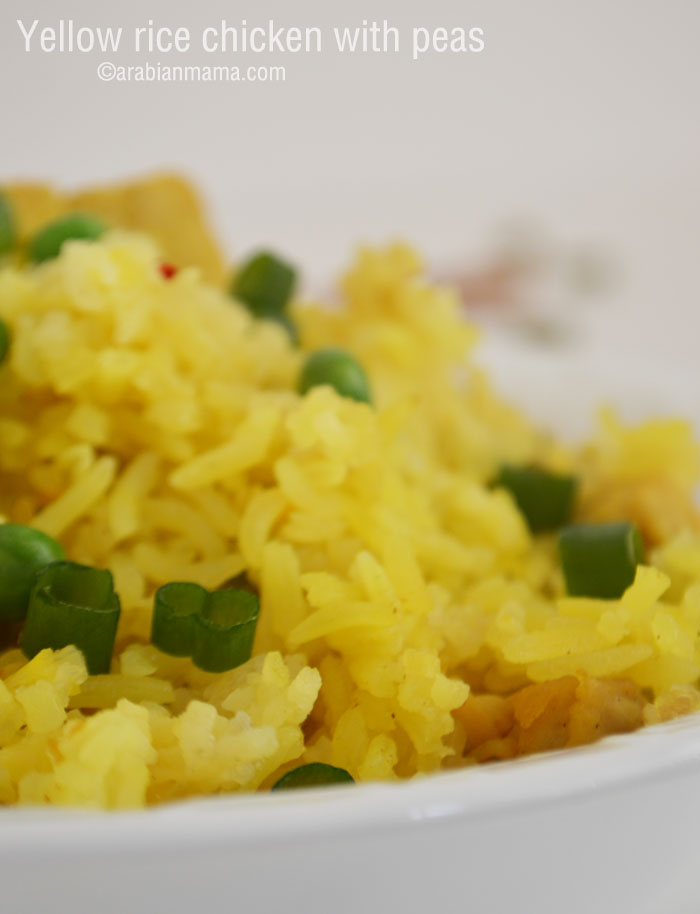 Although we do not celebrate Halloween nor Christmas, Thanksgiving is a whole different story, as it is more of a historic celebration to us and we feel that it is nice to gather with friends around turkey and a zillion of other sides and dessert.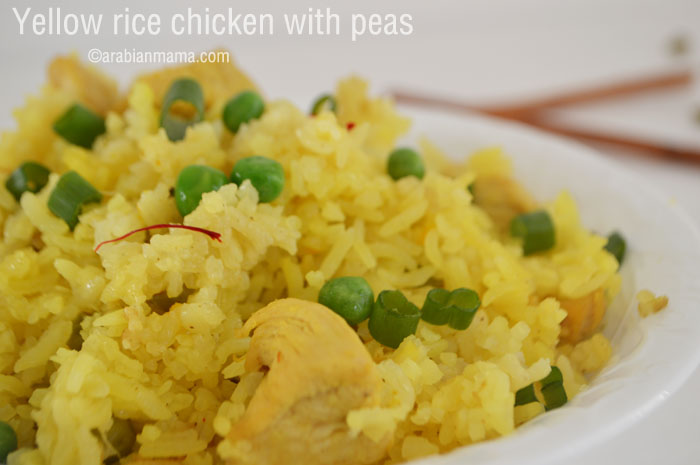 Hosting the celebration this t=year, I am looking these days for easy recipes – preferably one pot meal recipes- to make for my family so I can find time to organize and get ready for the gathering. One of those easy to prepare, one pot meal is my mom's famous yellow rice recipe.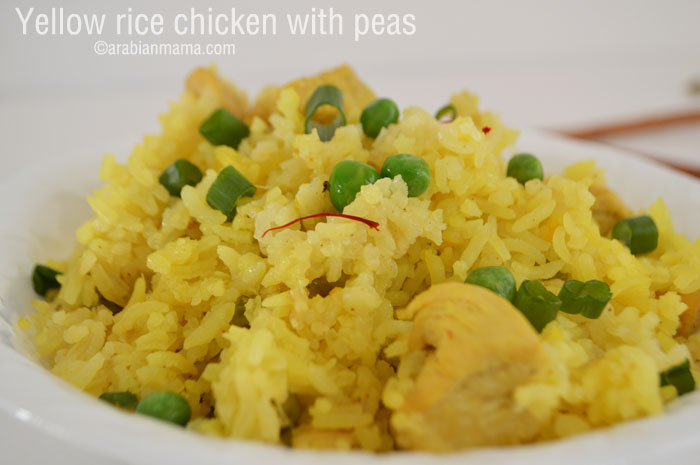 This recipe has been living in my archives for so long that I completely forgot about it. I grew up enjoying this simple- yet delicious- meal every couple of weeks to say the least. My mom was very creative as she changed the contents every now and then but the method is still the same.
You can omit or change the peas according to your family's preference. You also are welcome to substitute meat for chicken or make it meatless.
I do hope you'll like this recipe and enjoy it as much as we do.
Here is a visual step by step and written directions for the recipe. Enjoy!!
Yellow rice chicken with peas - mom's recipe
Ingredients
2

cups

rice- I've used jasmine.

1.5

c

of frozen peas.

1

lb

of boneless

skinless chicken breast or thighs, cubed.

1

medium yellow onion

chopped.

2

Tbs

unsalted butter.

2

Tbs

of olive oil.

1/4

tsp

turmeric.

1/4

tsp

of ground cardamoms.

1

cinnamon stick.

Pinch salt.

A generous pinch of saffron.

Water or chicken broth to cook the rice.
Instructions
Allow saffron to brew in 2 Tbl of hot water while making the rest of the recipe.

Heat a large deep skillet or non-stick pot over medium high heat, add the oil and butter until butter melts.

Add turmeric and give it a good stir until it is fragrant, takes from one to two minutes.

Add ground cardamoms and stir for another 30 seconds.

Add chopped onions and stir until translucent. Throw in the cubed chicken and stir until lightly browned.

Add frozen peas and a half cup of water, when it boils, reduce heat, cover and let it cook for 10 minutes.

Then add rice, brewed saffron, cinnamon stick and enough water or chicken broth to cook the rice according to your package, I've added 3 cups.*

Adjust the salt and bring to a hard boil.

Reduce heat and cover, let it cook until done, takes about 25 minutes.

Fluff and serve as a one dish meal, just have some green salad to go with.

Enjoy.
Notes
* Please note: the amount of liquid is relative to the type and brand of your rice.
Sign up and learn more about Mediterranean flavors